Shown with Optional Fashion 49 White Add-on Serger Table & Fashion 47 White Sliding Quilt Leaf 42x20"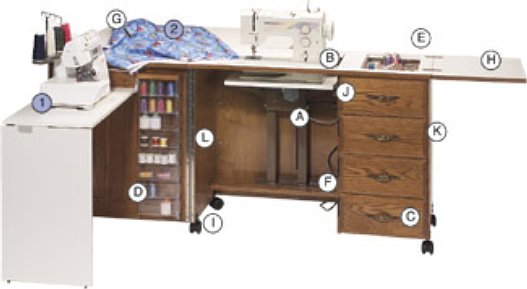 Shown with optional (1) #49 Serger Table & (2) #47 Quilt Leaf
* Beautiful solid oak raised-panel door with strong full-length piano hinge
* Hand stained and finished with smooth, durable catalyzed lacquer
* Available in Honey Oak, English Oak, and Cherry
* Solid oak drawer fronts---smooth drawer glides
* Solid oak and plywood construction
* Patent #4717212
A. Electric Lift
B. Insert II System
C. Solid Oak Front, Plywood Constuction
D. Accessory Bins
E. Notions Tray
F. Power Strip
G. Auto Leaf Support
H. Measuring Tape
I. U-Casters
J. Child Door Lock
K. Drawer Glide
L. Piano Hinge
42" Wide (84" Open) × 19 3/4" Deep × 30 1/4" High

The Fashion Cabinets of America 6900 Sewing Cabinet is for those who want beauty, versatility, durability, and functionality all in one. It has a large opening to fit most sewing machines and an electric lift that is operated with a simple flip of a switch. It raises your machine smoothly and quietly with a strong rack and pinion motor. The tabletop on the Fashion Cabinets of America 6900 Premium Real Oak Sewing Cabinet flips open to two automatically supported leaves and has a removable plastic notions tray located under one side for extra storage. An accessory bin hangs on the inside of the door and a power strip is attached to the inside of the cabinet.
US Warranty 1 year replacement on defective or missing parts.
Non-US Warranty: 30 days parts and labor
Specifications
Electric Lift - 75lb Capacity

Insert II System

Solid Oak Fronts

Accessory Bins

Notions Tray

Auto Leaf Support

Measuring Tape

U-Caster

Child Door Lock

Drawer Glide

Piano Hinge

Child lock

4 drawers with decorative metal handles

Available in Honey Oak, Cherry, and English Oak.

Made in the U.S.A.

US Warranty: 1 year parts, 90 days labor on defects in materials and workmanship

Non-US Warranty: 30 days parts and labor.


6900 Size -42" Wide (84" Open) × 19 3/4" Deep × 30 1/4" High

This items ship assembled except the casters which must be installed.

Please review our Freight LTL Shipping Policies Ships Ground Freight only.* For delivery please select options. "Lift Gate" which means a goods lifting platform installed at the rear of the delivery truck that facilitates the unloading of cargo from truck bed to the ground. Most shipments will require a lift gate, if there is not a loading dock, or fork lift available for delivery.
Other Images

Alder

English Oak
Cherry

Honey Oak

6900 (Closed) Available in Cherry, English Oak, and Honey Oak Finishes

Lift at touch of a switch. Strong, smooth, quiet rack & pinion drive. Patent protected.

Transparent swing out trays and storage bin maximizes storage.
On/Off switch and six outlets with plug. Plug in lift, machine, etc.

19 3/4 inch/centimeter adhesive ruler. You apply where desired.

U shape strengthens cabinet design and protects against breakage.

Metal glide inside the drawer.

Removable plastic organizer tray.

Full length hinge used for maximum strength on all models with doors.
Bundle & Save
Get additional savings when you purchase any of these items along with this product.