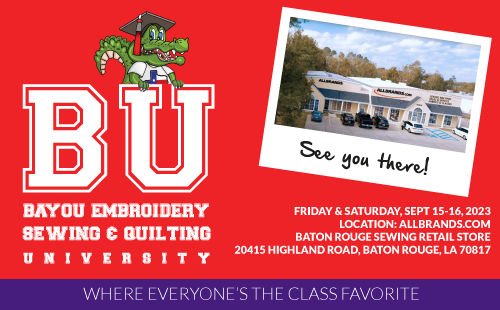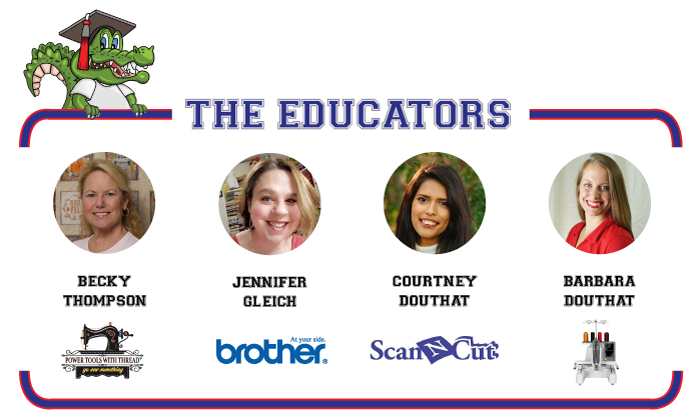 ABOUT OUR EVENT
AllBrands.com is excited to announce that we're coming to Baton Rouge to host our Bayou University! Friday, September 15- Saturday, September 16, 9:30 AM to 5 PM with doors opening at 9 AM and closing at 6 PM both days. Come join us at the AllBrands.com Headquarters in Baton Rouge LA for two days of hands-on embroidery sewing and quilting in our interactive workshops and lectures. We have 4 breakout rooms that will rotate throughout the event in round-robin style. We've assembled some of the most popular and best educators in the business to instruct you. Come meet Embroidery Experts in person for some very unique tips and tricks to help you create your one-of-a-kind masterpiece. We will also have staff and educators to help with projects and answer any questions you might have about Brother Sewing Embroidery Cutting and Quilting Machines
Don't miss this exciting opportunity to spend two days of embroidery, education, and fun. Gain valuable knowledge and experience. Leave inspired with new unique techniques, projects, memories, and most of all, make new friends. You'll learn the secrets and tips to stitch like a pro. Learn how to use embroidery and quilting to transform everyday items into money-making projects with your hobby.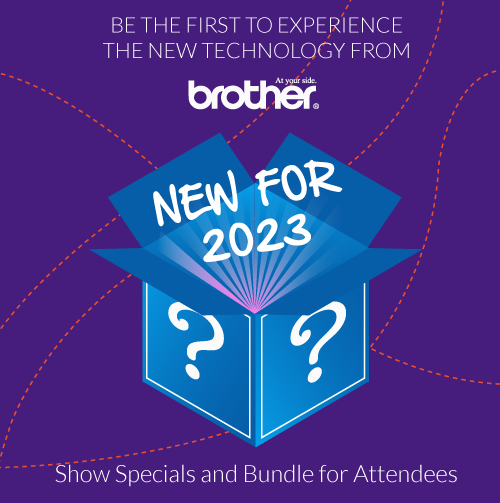 University Highlights
Each Student will take home projects

Embroider on the newest Embroidery Machines that are provided for you

Cut on Brother ScanNCut

Experience Brothers' newest Technology for 2024 just released!

Purchase machines and supplies at deep discounts for attendees

One Student per machine

2 days of embroidery, sewing quilting education friendship and fun

Multiple Classes per day in a Rotation

Complimentary USB stick with instructions for projects to take home

Snacks and Lunch provided

Vendor Mall for Retail Shopping on-site

Test Drive top of line Embroidery Machines with Staff and Experts to help

Plenty of staff to give one on one help

Give-a-ways and prizes

na, na
Enjoyed ALL of the instructors! Really liked the small size classes and the fact that we had time to complete all of our projects. Looking forward to 2024 University. Lynne Hotfelter

na, na
Loved the projects and learning how to get the most out of our brother machines. Also loved the opportunity to see and work on the new machines. Lunch each day was delicious, but we probably didn't need two hours -- one and a half hours would be better. I have been to many Allbrands events in the past and I was just so thrilled to be back in person with you at this new format event!! Thank you all so much for all your hard work on this

na, na
Bayou University was a lot of fun. They were all new people and I have not been to an event for over 5 years. All the new things for the sewing community were great to see and touch. I learned a lot of new things about sewing and was very pleased with the teachers who were very informative. The lunches were great and the classes were just the right size for learning. I was very pleased with the event. Thank You.

na, na
I loved the classes and the instructors! I learned something in each class. I really enjoyed Barbara's class on edge to edge quilting. Its been on my bucket list but I have been too intimidated to try it on my own.

na, na
I thoroughly enjoyed Bayou University. I was very pleased with each demonstration and presentation. My only suggestion would be to shorten the lunch time to 1.5 hours. I appreciated the coupons too. Looking forward to the next one. Thank you

na, na
I have no complaints. I really enjoyed myself and learned a lot. Having a small number of people in each class was a plus. All of the teachers were great. I'm ready for another one.

na, na
Learned a lot and had a blast!

na, na
Had a wonderful time. Loved the small classes and the instructors were amazing! Learned a lot! Looking forward to more classes like this! Ann Keller

na, na
Absolutely amazing. You guys outdone yourselves. Learned so much. Can't wait to the next one. Looking forward to the one in Lafayette.