The Bernette Chicago 7 is the first bernette combo machine that can sew and embroider. It fulfills every creative aspiration and features robust construction and appealing design.
All in-store repairs done by certified technicians.
The Bernette Chicago is the first bernette combo machine that can sew and embroider. It fulfills every creative aspiration and features robust construction and appealing design.
100 embroidery designs

7mm stitch width

Embroidery module

Needle thread monitoring and bobbin thread checking

Semi-automatic threader

Versatile and easy to use
Thanks to its conveniently arranged one-touch buttons, the bernette Chicago 7 is easy to use, making sewing and embroidery a breeze. Sewists will be quick to appreciate the versatility of this sewing and embroidery machine, whether using the bernette Chicago 7 for simple alterations, personalization, embellishments or sewing large projects. The bernette Chicago 7 offers a wealth of options for giving creative expression to your ideas: over 150 decorative stitches, 20 quilting stitches, two alphabets, a maximum stitch width of 7 mm, as well as 100 built-in embroidery designs. The features of the bernette Chicago 7 are guaranteed to set your creative pulse racing. And thanks to the automatic one-step buttonhole and a simple threading system, all sewing projects can be accomplished quickly and easily.

Sewing and embroidery
As a fully-fledged sewing and embroidery machine, the bernette Chicago 7 leads a double life. Not only does it make sewing garments or quilting a piece of cake, but attach the embroidery module and in seconds the bernette Chicago 7 is transformed into an embroidery machine. Selecting embroidery mode takes you to the embroidery area, where a collection of 100 built-in embroidery designs and an alphabet are available. All designs can be rotated or mirrored, and additional embroidery designs of your own can be added via USB stick. The maximum embroidery area of 110 x 170 mm allows attractive custom-embroidered embellishments to be applied to self-made or purchased garments and furnishings. Compatibility with the BERNINA CutWork Software and Accessory gives the especially-creative sewer the additional option of forging ahead in another creative dimension — creative cutting! Whether it's eyelet embroidery, openwork designs or stamping, the bernette Chicago 7 will amaze you with its versatility.

Features:

200 Stitch patterns
8 Automatic buttonholes
2 Eyelets
2 Alphabets
Drop-in bobbin
4 Stitch memories
100 Embroidery designs included
Embroidery field 110 x 170 mm
Upper/Lower thread sensors
Bernina Cutwork compatible
LED sewing light

Embroidery Features:

100 Built in Embroidery Designs
110mm x 170mm Maximum Embroidery Area
Detachable Embroidery Module
Maximum Embroidery Speed of 600SPM (Stitches Per Minute)
1 Alphabet Font (Includes 97 Character's)
Embroidery Mirror Image
90° Design Rotation
Sequence Selection
Move/Shift Designs on Screen
Basting Box
USB Port
Reads (.exp/.exp+) files
Bernina Design Studio Compatible (USB Sticks Only)
Bernina Cutwork Software & Accessory Compatible

Sewing Features:
200 Built in Stitches
10 Buttonhole Styles including Eyelets
One Step Buttonhole
1 Button Sew on Program
14 Utility Stitches
153 Decorative Stitches
20 Quilting Stitches
2 Darning Stitches
2 Alphabets (97 Character's Each)
4 Stitch Memories (20 Spaces Each)
Maximum Sewing Speed of 800SPM (Stitches Per Minute)
7mm Maximum Stitch Width
Infinitely Adjustable Stitch Width
4.5mm Maximum Stitch Length
Pre-Programmed Stitch Length & Width
Drop in Bobbin
Drop Feed
LED Sewing Light
Twin Needle Capability
Thread Cutter
Needle Threader
LCD Stitch Display
Needle Stop Position Up/Down
Start/Stop Key
Speed Control
Reverse Sewing
Pattern Extend
Stitch Mirror
Presser Foot Pressure Adjustment
Edit/Clear Memory Function
US Warranty 25 years head, 5 years electronics, 1 years labor
Non-US Warranty: 30 days parts and labor
Specifications
Brochure and Downloadable Manuals on Bernette Chicago 7
2 Alphabets

Stitch Width - 7mm

Preprogrammed stitch width and length

Feed-dog drop

Start-/ Stop-Function

Speed control

Needle-stop up/down

Hook System - Drop-In

Stitch Patterns - 200

Buttonhole - 1-step

Display - LCD

Embroider functionality

Embroidery Area - 110 x 170mm

Built-in embroidery motifs - 100

USB Port

Editing possibility (flip, rotate, scale)

Stitches per minute - 800

Utility Stitches - 14

Quilting Stitches - 20

Dimensions:

Height: 11.65″
Width: 7.36″
Length: 16.33″
Weight: 14.06 lbs.


Embroidery Module:

Height: 4.76″
Width: 10.98″
Length: 15.98″
Weight: 5.51 lbs..

Tote bag sewing tutorial: how to embroider (5/9). In this video tutorial we will show you how to embroider on a bernette chicago 7 machine. Follow our easy step-by-step instructions and learn how to embroider a cool motorcycle on your tote bag. You will see how to to hoop the fabric and how to set up the bernette chicago machine for embroidery.
Included Accessories
All purpose foot (T)
Buttonhole foot (D)
Blind hem foot (F)
Button sewing foot (H)
Overcasting foot (E)
Satin stitch foot (A)
Zipper foot (I)
Simple embroidery foot
Darning/Embroidery foot
Brush & Seam ripper complete
Needle Set (3 pcs)
Bobbin
Screwdriver
Seam guide / Quilting bar
Screwdriver (L)
Spool pin long (V)
Spool pin felt
Spool holder (large)
Spool holder (small)
Dust cover
Spool net
Embroidery hoop (L-110x170mm)
Scissors

Bobbins
Needles
Screwdriver
Seam Ripper
Spool Pin
Lint Brush
Quick Reference Guide
1 Embroidery Hoop
9 Presser Feet In Total
Dust Cover
Other Images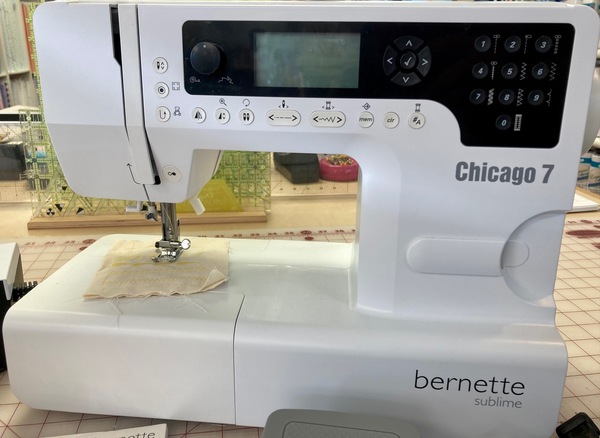 Bernette Chicago 7 Demo machine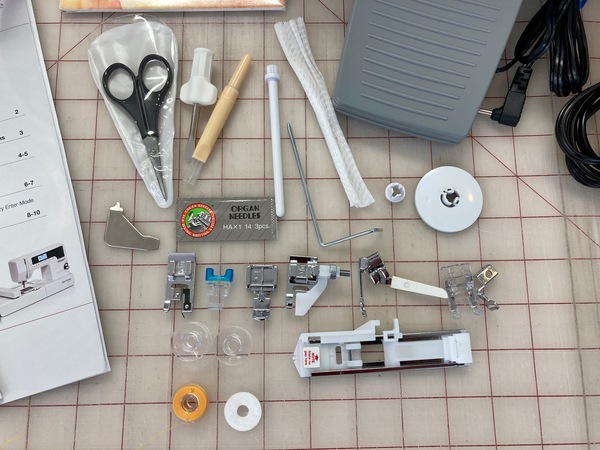 Bernette Chicago 7 Demo included accessories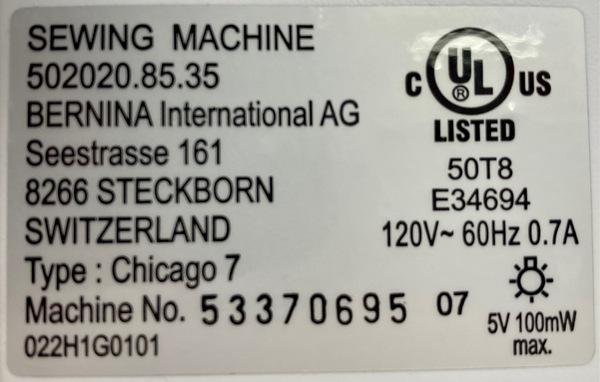 Serial Number

Embroidery Designs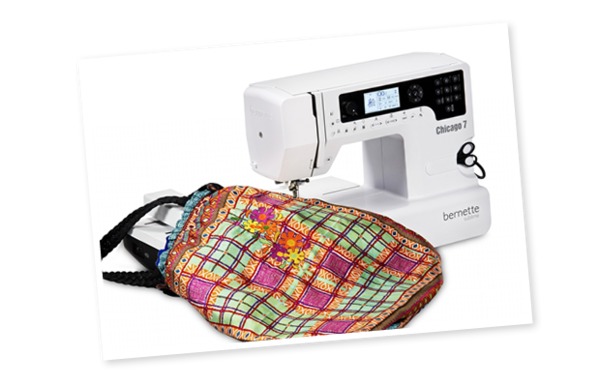 Embroidery Handbags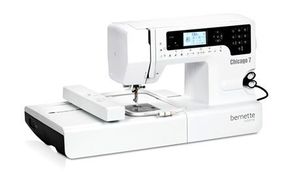 Embroidery module. By removing the slide-on table, the embroidery module, which has a maximum embroidery area of 110x170mm, can be attached quickly and easily.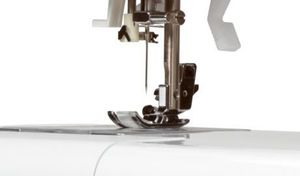 7mm Stitch Width. Especially practical for decorative sewing, Create beautiful trimmings and applique designs with little effort.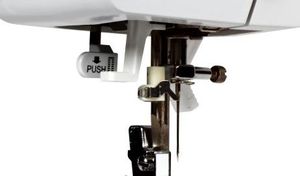 Semi Automatic Needle Threader. Quick and easy threading. With one movement, the thread magically goes through the eye of the needle.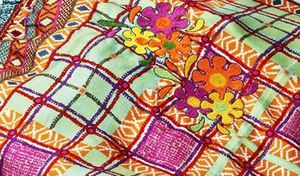 100 stunning embroidery designs. Use the 100 exclusive pre-programmed embroidery designs and enjoy he fine, precise embroidery quality of the Bernette Chicago 7.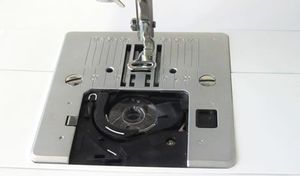 Needle thread monitoring and bobbin thread checking. The needle thread monitor automatically stops the embroidery process if the needle thread breaks or the spool is empty. The bobbin is also checked before each embroidery operation. This guarantees reliable embroidery.