Do It All! The SINGER® QUANTUM STYLIST™ TOUCH 9985 sewing machine makes beautiful results easier than ever. This sewing machine is just like your most trusted sewing friend at your side! Advanced features ensure that this is a sewing machine you will love for years to come!
Large LCD Screen

Built-in Sewing Assistance with Audible and Visual Messages

Easy Treading System with Automatic Needle Threader

6 Styles of Alphabets & Numerals with Memory Function

13 Included Presser Feet

960+ Built-in Stitches

Mirror Imaging and Elongation Function with Stitch Editing

Drop Feed for Free-Motion Embroidery, Monogramming, and sewing on buttons

Easy-to-Load Top Drop-In Bobbin System

Free Arm for easy access to cuffs, collars, pant hems, and difficult to reach areas

Automatic Thread Trimmer

Electronic Auto-Pilot

Automatic Bobbin Winding

Slow Sewing Speed Option

Automatic Locking Stitch Function

Automatic Reverse

Extra-Large Color Touch LCD Screen:
Guides you to sewing success! Provides clear and easy viewing of stitch settings including the number and image of the selected stitch, stitch length and width settings, thread tension, and the recommended presser foot.

Built-In Sewing Assistance with Audible and Visual Messaging:
Simply touch the Help button and instantly learn more about bobbin winding, bobbin setting, threading the upper thread and changing the presser foot.

Easy Threading System with Automatic Needle Threader:
Threading the machine is so easy that you can have the entire machine threaded, from the spool to the needle's eye, in just six seconds. Threading instructions are even printed on the sewing machine!

6 Styles of Alphabets & Numerals with Memory Function:
Personalize projects by adding a monogram, name, phrase or date in five standard styles and one Cyrillic style.

FREE Accessories Including 13 Presser Feet:
Expands your creative possibilities.

Presser Foot Sensor
Ensures the presser foot is in the proper position for an easy start. The machine will not begin to sew if the presser foot is raised, reducing the chance of thread bunching

960+ Built-In Stitches with Stitch Reference Chart:
10 Essential, 21 Stretch, 919 Decorative, 13 Buttonholes, 6 Styles of Alphabets & Numerals. This chart located on the upper lid of the machine allows you to quickly see all of the 960+ built-in stitches and choose the perfect stitch for your project.

Mirror Imaging and Elongation Function with Stitch Editing Capabilities:
With just a touch of a button select stitches can be mirror imaged, adding even more stitch variety. Select the elongation button and a variety of stitches can be made two to five times longer. Control the exact look of a stitch pattern with the stitch editing capabilities.

Drop Feed
Lower the feed dogs for free-motion embroidery, monograms and for sewing on buttons. The feed dogs move in a box motion ensuring perfect feeding throughout the entire feed process.

Adjustable Presser Foot Pressure:
Adjustable presser foot pressure allows you to adjust the amount of pressure exerted on your fabric while sewing. The pressure is optimally pre-set, but feel free to override those settings for high pile fabrics or delicate fabrics like chiffon.

Stitch Memory with Editing:
Program up to 60 characters into the sewing machine's memory for easy retrieval, accessible even after the sewing machine has been turned off. Edit the stitches according to length, width, mirroring and elongation!

Automatic Stitch Length & Width.:
All stitches are automatically set with the optimum stitch length and width settings. Feel free to override these settings for ultimate creativity!

Electronic Auto Pilot:
Unplug the foot control, press the Start button and the machine sews. You are still in complete control over the speed - just slide the Speed Control lever to the desired maximum speed.

Needle Up / Down Button:
Pressing this button when the machine is stopped will change the needle position from down to up or from up to down.

Automatic Bobbin Winding:
Follow the numbered diagram printed on the sewing machine and your bobbin is full in no time! The needle bar automatically disengages when winding the bobbin, making bobbin winding safer because the needle won't move up and down. The bobbin will automatically stop turning when the bobbin is completely filled. Never worry about overfilling a bobbin again.

Slow Sewing Speed Button Option:
Allows you to sew at slower speeds for intricate work.

up to 7mm Stitch Width:
Most stitches can be set for a maximum width of 7mm creating attractive satin and decorative stitches.

High Sewing Speed:
With a maximum sewing speed of 850 stitches-per-minute, projects can be sewn quickly.

Automatic Locking Stitch Function:
Tie-off decorative and utility stitches with just a push of a button. This feature ensures quality stitching and prevents unraveling.

Automatic Reverse:
Push the conveniently located Automatic Reverse Button to sew in reverse and reinforce the stitch.

Horizontal Threading:
Allows for the thread to feed more evenly reducing poor stitch formation and thread breakage. An auxiliary spool pin is included for vertical threading, if desired.

25 Needle Positions:
Needle position can be changed for individual projects like inserting zippers or cording and topstitching.

Automatic Tension:
This system ensures stable stitch quality, whatever type of fabric is being sewn. The tension can be adjusted using the tension adjustment buttons, if desired.

Extra-High Presser Foot Lifter:
The presser foot lifter has two heights. The second offers more clearance, which is needed when placing multiple layers of bulky fabric under the presser foot.

Optimum Power Control:
A control system that senses when additional power is required to maintain speed through thick or changing fabric conditions. This feature is most useful when sewing through multiple (six to eight) layers of fabric.

DC Motor:
Provides instant start up and stop with no casting, for accurate and precise stitch placement.

Heavy Duty Metal Frame:
The internal skeleton of the sewing machine is constructed of heavy duty metal that holds all the mechanisms in perfect alignment for skip-free sewing and overall durability.

Warranty:
Limited 25-year warranty including 5 years on electronic components and 1 year on adjustments.

On-Board Storage:
The accessories are conveniently stored in the removable sewing table, providing easy access to accessories.

Snap-On Presser Feet:
Easily change snap-on presser feet without use of a screwdriver.
US Warranty 25 year head, 2 year electrical, 90 days parts and labor
Extended US Warranty: Extended Warranty Available
Non-US Warranty: 30 days parts and labor
Specifications
Bobbin Class: 15
Light Bulb: 3 StayBright LED Lights
Needles: 2020 & 2045

SINGER® Workroom Social 9985 Quantum Stylist Video

Included Accessories
13 Presser Feet
All-Purpose Foot
General sewing on most fabric

Zipper Foot

For inserting zippers & piping

Buttonhole Foot

Creates perfectly sized buttonholes. The included underplate holds the fabric in place to ensure the material doesn't move even when close to a seem or edge

Button Sewing Foot

Attach buttons to material

Blind Hem Foot

Create invisible hems on skirts, pants, and more

Satin Stitch Foot

Has a deep groove on the bottom that allows dense stitching to pass underneath freely. This foot is perfect for using on appliqué projects

Open Toe Foot

Used for appliqué. It can also be used for decorative stitching and surface embellishment

Overcasting Foot (Overedge Foot)

Used to add a seam finish at the edge of a seam allowance.

Darning & Embroidery Foot

Used for repairing holes or torn areas. It can also be used for freehand embroidery, stipple quilting, and creating monograms

Rolled Hem Foot (Narrow Hem Foot)

Used to sew a narrow rolled hem and providing a professional edge finish on light to medium-weight fabrics

Cording Foot

Used to add surface embellishment to fabrics with cords, thin braids, or yarn

Straight Stitch

Used for quilting 1/4" seam allowances. It can be used for small projects with narrow seam allowances, as well being used to sew lightweight fabrics such as chiffon.

Even Feed Foot

Used for sewing several layers of fabric at one time (quilting). It is also great for matching plaids or stripes with nap or pile to keep them from shifting.
Other Images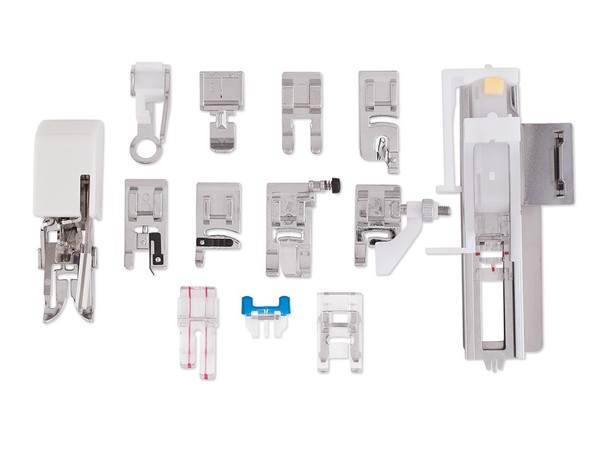 13 Presser Feet Included

All-Purpose Foot

Zipper Foot

Buttonhole Foot

Button Sewing Foot

Blind Hem Foot

Satin Stitch Foot

Open Toe Foot

Overcasting Foot (Overedge Foot)

Darning & Embroidery

Rolled Hem Foot (Narrow Hem Foot)

Cording Foot

Straight Stitch

Even Feed Foot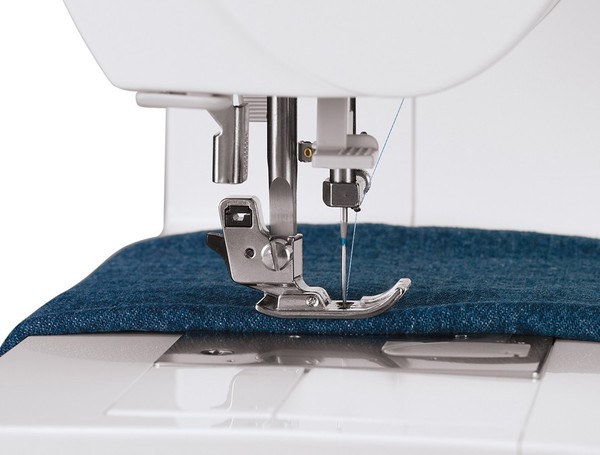 Presser Foot Sensor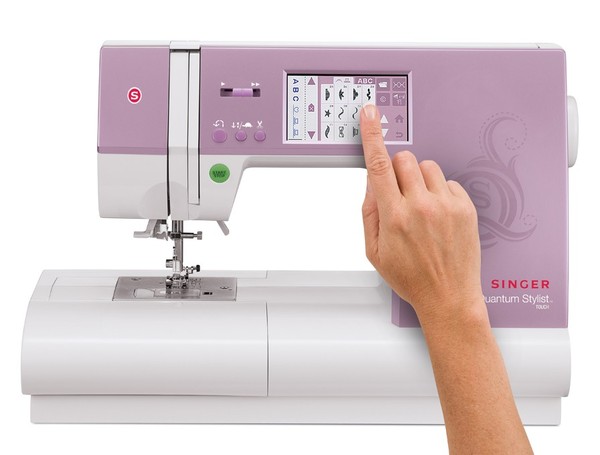 Large LCD touch screen makes selecting from the 960+ built-in stitches a breeze!
Bundle & Save
Get additional savings when you purchase any of these items along with this product.