The Journey Kit is an economical package for sailing and sewing enthusiast.
The Barracuda Journey Kit package efficiently meets many portable sewing needs. The Eco Case provides sturdy protection, while the 120TL LED task light will light up the sewing path. Extra bobbins, needles, screwdrivers, piping and zipper feet are included.
10-POINT QUALITY CHECK
Before leaving our factory, each Barracuda is put through a thorough 10-point quality control procedure with a master technician to ensure that it exceeds our exceptional quality assurance guidelines.
Up to 8 Layers of Sunbrella-Plus
A full .47" (12mm) clearance under the foot allows the barracuda to sew 10 or more layers of heavy canvas or up to 8 layers of Sunbrella-Plus (top of the line material for boats).
Built-In Speed Reducer
The built-in speed reducer gives the machine extra torque to get through the toughest jobs.
Heavy-duty Carrying Handle
A heavy-duty carrying handle makes moving your Barracuda a simple task.
Reverse Lever Mechanism
The Barracuda allows you to reinforce the seams simply by pushing down the reverse lever.
FULL ACCESSORY KIT
Extra needles, bobbins, foot controller, thread stand, screwdriver and an instruction book are included with the unit. The Journey Kit package also includes our Eco Case and 120TL task light for added portability.
Barracuda Information Sheet
(.PDF)
Instructional Videos(links open in a new window):
Inserting and threading a needle:
video
Adjusting thread tension:
video
Oiling instrctions (how often and where):
video
Bobbin winding:
video
Adjusting stitch length:
video
Changing stitch direction:
video
Adjusting zig-zag stitch width:
video
Adjusting bobbin tension:
video
Troubleshooting problems when the machine is not stitching or pulling up the bobbin thread:
video
Replaces 2000u33 and Sailrite LSZ1 Portable straight Stitch, up to 5mm Zigzag Stitches, 9mm Foot Lift, 7" Arm Space, 1/8-3/16" Welt Foot, Left Zipper Foot, 150 Watts, 1.5 Amps, 110V, 800 SPM. Sewing Capacity up to 1/4" material thickness, depending on density.
*Note: Full 1/4" Welting Cording Piping Foot Set is Optional under Recommended Accessories Below.
The Barracuda zigzag walking foot upholstery machine is a remarkably versatile machine.
BARRACUDA™
The Barracuda zigzag walking foot upholstery machine is a remarkably versatile machine. Designed for boat owners, serious hobbyists, and small businesses, the Barracuda does so much, for so little.
Flexibility and performance.
The stitch quality is comparable to an industrial machine, for a fraction of the price... plus the added bonus of a zig-zag stitch, now that's value!
Built for the tough jobs.
The Barracuda has a top and bottom feeding system that is ideal for heavy, bulky material. It produces a perfect, even stitch even when you are sewing over challenging fabric.
Power to spare.
With the extra power from its built-in speed reducer, the Barracuda has no trouble going over 6, 8 even 10 plies of fabric at a time. It is quite incredible to see how easy this machine performs the most difficult tasks.
Features to help you get the job done faster.
All of the convenience features are standard to make your job easier; reverse lever, oscillating shuttle hook, piping feet (1/8" > 3/16") and of course Reliable's trusted reputation for building quality, long lasting equipment.
US Warranty 3 Year Warranty
Extended US Warranty: Extended Warranty Available
Non-US Warranty: 30 days parts and labor
Specifications
Stitch width (0-5mm) adjustment lever

800 stitches per minute

Up to 4 stitches per inch

Sews Sunguard UVR Bonded Polyester thread and up to #92 nylon

Sews up to #138 nylon thread (upon request only)

Up to .47" (12 mm) foot clearance

Toothed belts and pulleys to prevent slippage

Type 135 x 17 needles

All-metal construction

Supplied with Eco Case and 120TL LED task light


High lift walking foot with 1/4" clearance underneath the foot

Sews Up To 1/4" Compressed Fabric

4 stitches per inch maximum stitch length

Up To 800 Stitches Per Minute

Cleated positraction belts combine with new geared hand wheel pulley, geared reduction pulley and geared motor pulley to eliminate slipping

Special heavy duty motor attached up to 150 watts, 1.5 amps, twice as much as home sewing machines

Top And Bottom Feed

Spring loaded reverse

Uses 16 class welt foot

Fabric Presser Foot Pressure Adjustment

All-Metal Construction

Made In Taiwan

Fits regular portable case or cabinets

In straight stitch mode, a needle positioning lever allows for movement of the needle left, right, and center

Uses standard upholstery needles: 135x17, size 22, 20, 18, etc.




TECHINICAL SPECIFICATIONS



Maximum sewing speed: 800rpm

Stitch length: 0-6 mm

Stitch width: 5 mm

Presser foot lift: By hand 9 mm (14 mm with custom adjustment)

Needle size: # 135 x 17 #9-#21

Work space: 7" / 178 mm

Bed size: 14.5" / 370 mm

Hook type: Oscillating shuttle

Lubrication: Manual

Dimensions: head 14" x 7" x 12"

Weight: net 34 lbs

Color: White

Warranty: RELIABLE™ 1 Year Warranty

Threading and oiling the Reliable Barracuda walking foot machine
Included Accessories
Needles

Extra Bobbins

Oil

Foot Control

Carrying Handle

Thread Stand

Instruction manual

Warranty card

Type 135 x 17 needles

All-metal construction

Supplied with Eco Case and 120TL LED task light
Other Images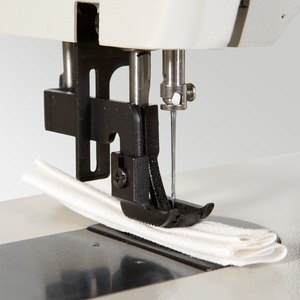 UP TO 8 LAYERS OF SUNBRELLA-PLUS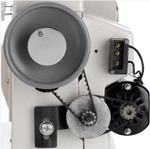 BUILT-IN SPEED REDUCER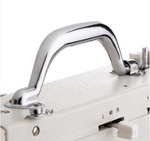 HEAVY-DUTY CARRYING HANDLE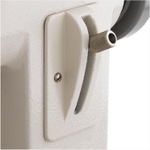 REVERSE LEVER MECHANISM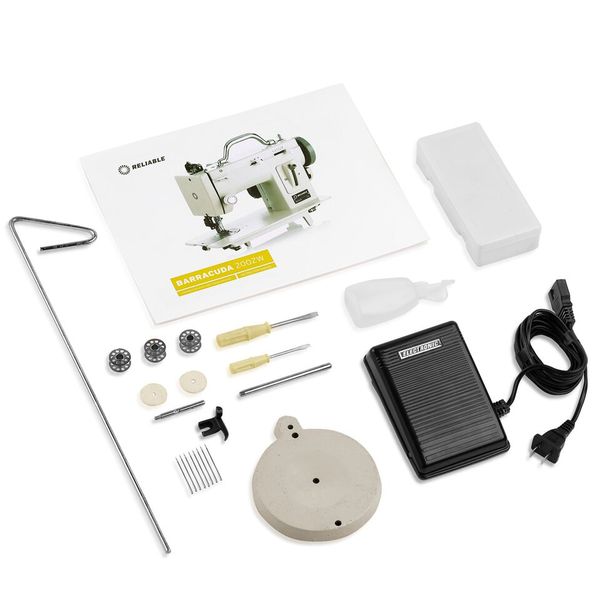 FULL ACCESSORY KIT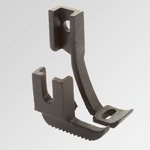 PIPING AND ZIPPER FEET INCLUDED
The inside welting foot allows you to do piping from 1/8" up to 3/16". The extra outside zipper foot is ideal for zippers.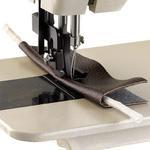 Optional 1/4" Cording, Piping, Welt Foot Set (inner and outer foot) for seat covers, etc. Leave it to the folks at Reliable to come up with a full size 1/4" welting feet set for the Barracuda 2000U-33. The Barracuda 2000U-3 already is equipped with a 1/8"-3/16" welting feet set. For those jobs that need something a little bit bigger we now have you covered.
I can't seem to get the clutch engaged to stop the machine from sewing to wind a bobbin.

1: The balance that comes on the machine is friction locked to the main shaft when the clutch screw is tightened against the 3 prong washer. (The Cuda Crank is tightened to the main shaft with 2 set screws.)
2: Loosening the clutch screw the balance wheel will idle spin on the main shaft to allow for bobbin wind and the same time disengage all other moving parts on the machine. (Because the Cuda crank is tightened to the main shaft with 2 set screws it cannot be disengaged other than loosening the 2 set screws - therefore bobbin wind will have to executed as the machine is being used.)

Angelique, the zigzag length and width on your fabric seems to be equal at 5mm wide and 5mm long which is what they should be at the maximum stitch width and length settings.. The 0-4 numbers on the horizontal stitch width sliding lever knob do not and should not match the actual 5mm width and length shown on the fabric. So the sliding lever is only an indicator, not an actual measurement in millimeters on the fabric. The factory limits the lever movement to prevent the needle from hitting the plate on the left, or hitting the plate on the right hand side of the hole. (lever "won't go all the way to the edge of opening.")

The vertical reverse stitch lever is also an indicator, not an actual measurement of millimeters in stitch length on the fabric. The cylinder nut setting on the reverse lever is to set the stitch length limit for forward and backward stitching. It is not necessary to have the reverse stitch exactly match the forward stitch when back tacking at the end of seams. Forward stitching is done with the stitch length lever pushed down. Reverse stitching is with the stitch length lever pushed up. The more you push down, the longer the forward stitch length becomes. The more you push up, the longer the reverse stitch becomes. Zero stitch length is near the center of the slot for the vertical stitch length lever, where it stitches in place without moving (tacking).

The LCR setting is for starting needle position, either all the way to the left, or center needle position, or all the way right on straight stitch setting (zero stitch width). You can even start a zigzag from the far left needle position or from the far right needle position using the LCR lever, instead of from the center where it is normally set for zigzag stitching.

If you want more more top thread showing on the underside of the fabric, turn the top tension dial left or "lefty loosey" until the bobbin thread stops showing through on top (must have bobbin case and top threaded properly). If you want less top thread showing on the underside of the fabric, turn the top tension dial to the right or "righty tighty" to increase top thread tension so it will pull harder on the bobbin thread.

If you adjust top tension dial too much to the left you will get loose stitches. If you turn the top tension dial too far to the right, it will pull bobbin thread up so it is showing on top. Bobbin thread should show on on the underside, but it is OK if a little top thread shows through on the underside of the fabric.

Whenever you are doing just a straight stitch with the regular foot, the stitch width lever should be on zero. The stitch length lever can set any length up to 5mm on the fabric. Whenever you want to do a zigzag stitch as shown in your pictures, you only have to adjust the stitch width lever for narrow or wide stitching. You can lever the LCR lever in the center.


Hope this information helps. Let me know if you have any questions. John Douthat, Owner & Tech.
Bundle & Save
Get additional savings when you purchase any of these items along with this product.