Also Includes

INCLUDED: 0% APR Financing through Synchrony Financial OAC On Credit Approval
Bundle & Save
Get additional savings when you purchase any of these items along with this product.



Brother SE1900 at the same price, and the new SE2000 with WiFi are better buys with full sewing features than the PE800 with embroidery only functions. See all options under OTHER ITEMS YOU MAY BE INTERESTED IN below. Thanks. John Douthat, owner tech
* Synchrony Bank Sewing & More Fixed Payments 0% No Interest Financing with approved credit!
Click HERE to Apply Online for Synchrony Bank Sewing and More Credit Card Approval to use for Online Checkout or in AllBrands stores
Brother Standard Limited Warranty Statement: 1 Year Parts and Labor, 2 years Electronics, 25 years Casting/Chassis
"AllBrands is a Brother Authorized Dealer and ASC Authorized Service Center for any repairs including warranty parts and labor. We give unlimited technical support by email, fax and phone. We service machines in our stores and/or refer to nearest ASC centers nationwide. Mass merchants do not have tech service or repair departments for your equipment. They are unable to help you directly, only referring any operational, mechanical or electronic questions back to the manufacturer instead of taking care of problems themselves. Manufacturers and customers should expect that any problems will be taken care of by the dealer or merchant who sold you the equipment, not just by referring your requests back to the manufacturer." John Douthat, Owner & Tech
Bring your embroidery to the next level! Create dazzling embroidery designs with a 5" x 7" embroidery field and see them on screen with the large color touch display screen. Choose from 138 built-in embroidery designs or import your own from iBroidery.com or other sources. The PE800 features 138 built-in designs including 10 frame designs and 11 built-in fonts. Use the design editing features to customize your project. You can rotate, mirror-image, increase and decrease the size of your designs, and see how your edited design looks, right on the color LCD display, before stitching.
The PE800 is easy to use and thread, simply follow the numbered threading diagram printed on the machine. Then, with the automatic needle threader, the thread is pushed right through the eye of the needle. View step-by-step tutorials right on the LCD touch screen display. Topics include how to thread the machine, how to attach the embroidery arm, and more! This machine is Perfect for home embroiderers looking for a fast, versatile, dedicated embroidery machine they can grow with over time. Backed by a 25-year limited warranty, and free phone support for the life of the product.
Main Features:
5" x 7" embroidery field for larger designs and lettering
Large color touch LCD screen
138 built-in designs
11 font styles
Extensive design editing - Rotate, mirror-image, increase and decrease the size of your designs
Built-in tutorials
Built-in memory for importing embroidery designs with USB
Fast stitch speed
English/ Spanish manual included
Brother PE800 Review">Brother PE800 Reviews
US Warranty 25 years head, 2 years electronics, 1 years labor
Extended US Warranty: Extended Warranty Available
Non-US Warranty: 30 days parts and labor
Specifications
Manual for Brother PE800
One Page Quick Reference Guide on Brother PE800
Embroidery Designs Pattern List
NEW Brother accessories online catalog by machine model numbers
Expansive 5"x7" field, plenty of space for larger designs and lettering, allows you to combine designs with less rehooping.

Large 3.2" Sew Smart Color LCD Touch Screen. View your designs in color before stitching them out. Easily switch thread colors and preview them on the screen.

138 built-in embroidery designs and 6 lettering fonts: Designs include beautiful scroll work, florals, and quilt patterns; plus 10 frame shapes and 14 border styles.

Virtually unlimited design options, with built-in memory – Import designs from your USB memory stick with the USB port only . Store your purchased or custom edited designs to built-in memory, for future use.

Extensive design editing - Rotate, mirror-image, increase and decrease the size of your designs, and see how your edited design looks on the large, easy-view backlit LCD display before stitching.

Specifications:
Automatic Thread Cutter Yes
Built-In Memory Yes
Display Type LCD
Included Accessory Feet Embroidery Foot
LCD Display Size (W" x H") 3.2" x 1.8"
Lighting Type LED
Needle Threading System Advanced
Number of USB Ports 1
Quick Set Bobbin Yes
Stitch Selector Type Touch Panel
Thread Sensor Bobbin Sensor, Upper Thread Sensor
Thread Tension Automatic
USB Yes

Dimensions:
Carton Dimensions (W" x D" x H") 19.016" x 21.75" x 19.094"
Carton Weight (lbs. / grs.) 30.203
Unit Dimensions (W" x D" x H") 17.48" x 9.48" x 11.81"
Unit Weight (lbs. / grs.) 17.64

Embroidering:
Built-in Embroidery Lettering Alphabet Fonts 7
Drag and Drop Editing Yes
Frame Designs - Shapes 10
Frame Designs - Stitches 14
Included Embroidery Hoops 5" x 7"
Maximum Embroidery Area 5" x 7"
Maximum Embroidery Speed (spm) 650
Pattern Rotating Increments 1 Degree, 10 Degrees, 90 Degrees

Brother PE800 Playlist

You Tube Videos on Brother PE800

We value our customers and stand behind our products. All Brother machines come with free online and phone technical support for the life of the product.
Toll-free tech support helpline: 1-877-BROTHER (1-877-276-8437)
Online support: at www.brother.com

Brother Warranty Statement
Included Accessories
5" x 7" Embroidery hoop, Embroidery foot, Bobbin (3pcs+1pcs is on machine), Needle set (3pcs=75/11x3, 90/14x1), Cleaning brush, Seam ripper, Bobbin Cover, screwdriver (small), Screwdriver (large), Disk shaped Screw driver, Spool Cap (small), Spool Cap (medium), Spool Cap (large), Spool cap mini, Spool net, Scissors, Embroidery bobbin thread, Accessory Bag, Dust Cover, Manual in English/Spanish

What's in the box:
PE800 5x7 Embroidery Machine
Embroidery arm
5"x7" embroidery hoop
Embroidery foot
3 bobbins pre-wound with embroidery bobbin thread
Tools and supplies: Bobbins (4), bobbin clips (3), needle set, disk-shaped screwdriver, 4 spool caps, spool net, scissors, cleaning brush, power cord
Machine dust cover
English/Spanish operation manual and quick start guide
25 year limited warranty
Other Images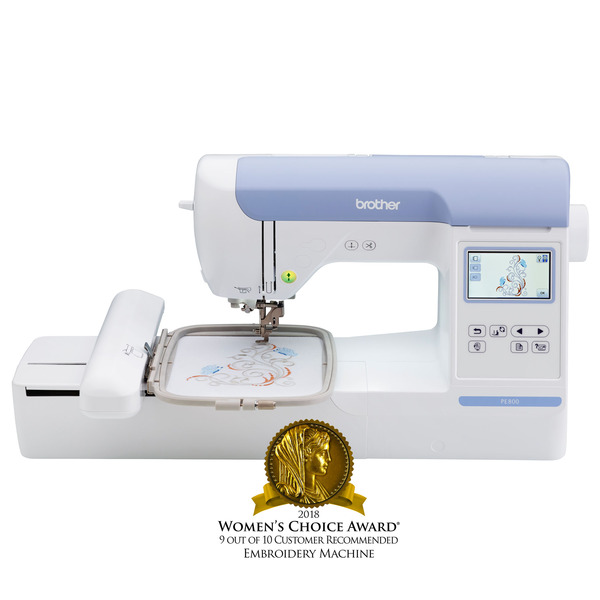 Women's Choice Award 9 out of 10 customers recommended embroidery machine.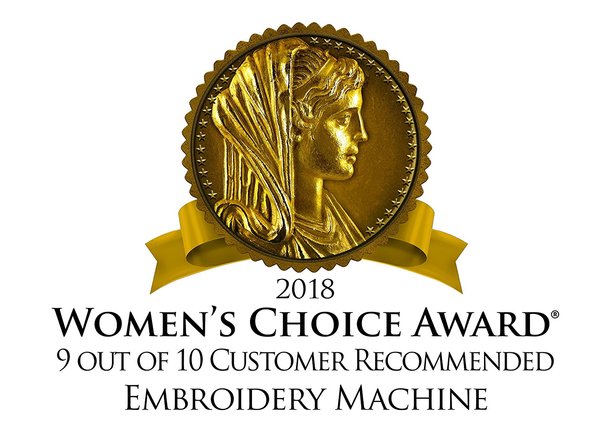 Women's Choice Award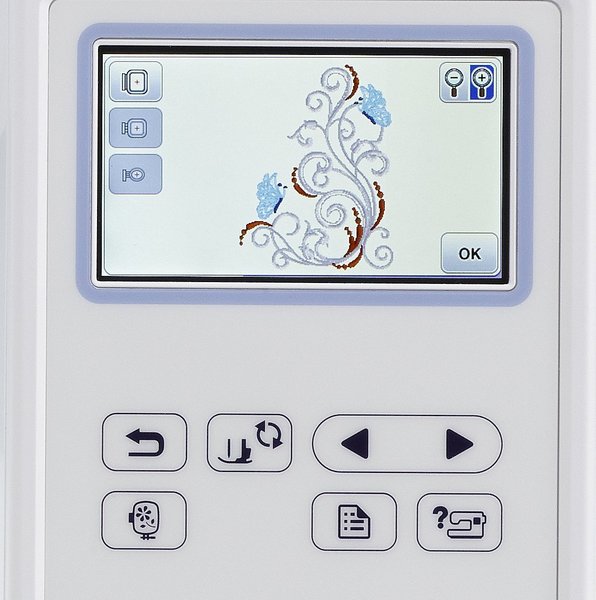 LCD Screen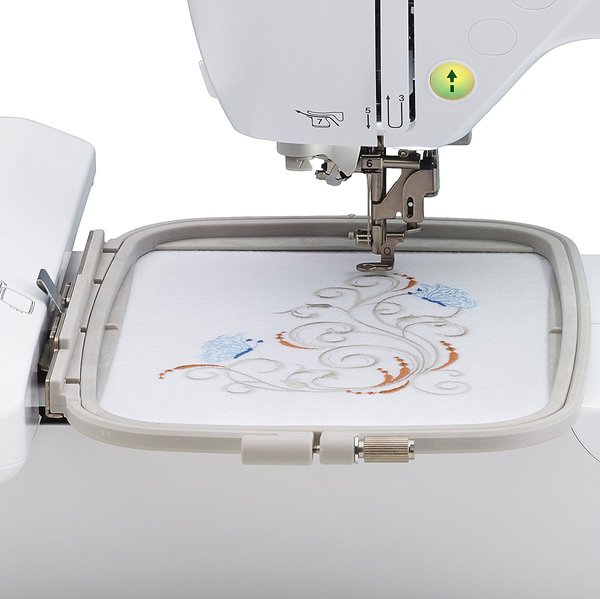 5x7 Hoop Included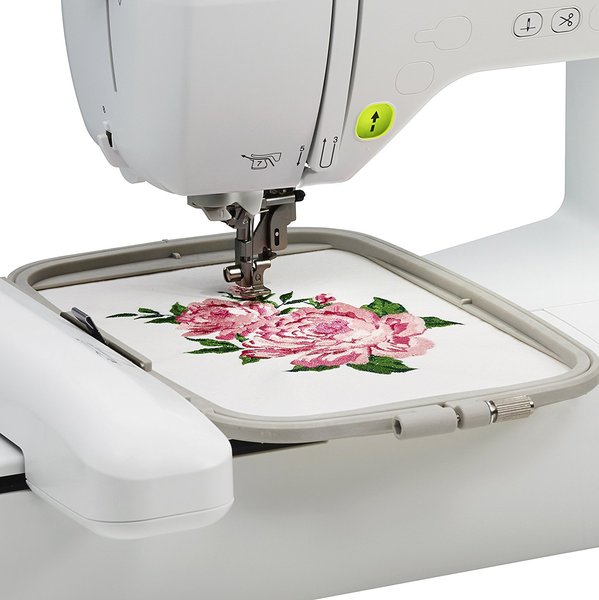 Built in Embroidery Designs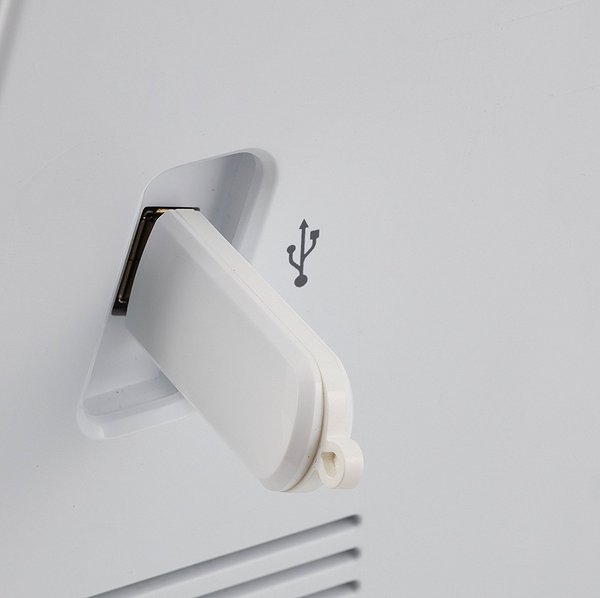 USB Stick Port Only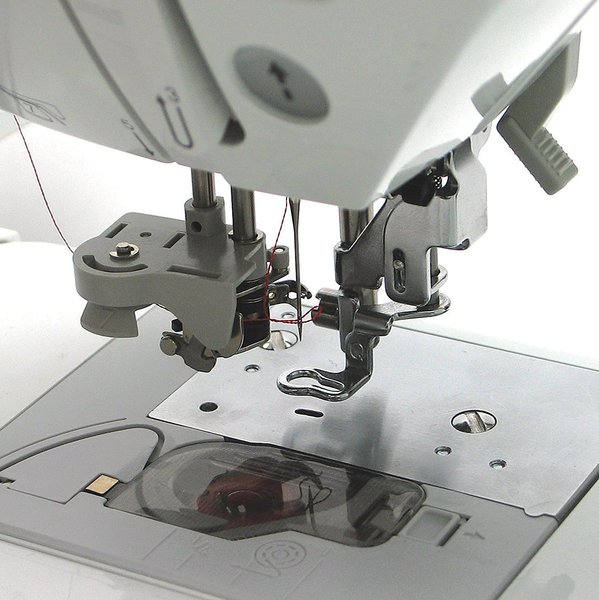 Auto one step needle threader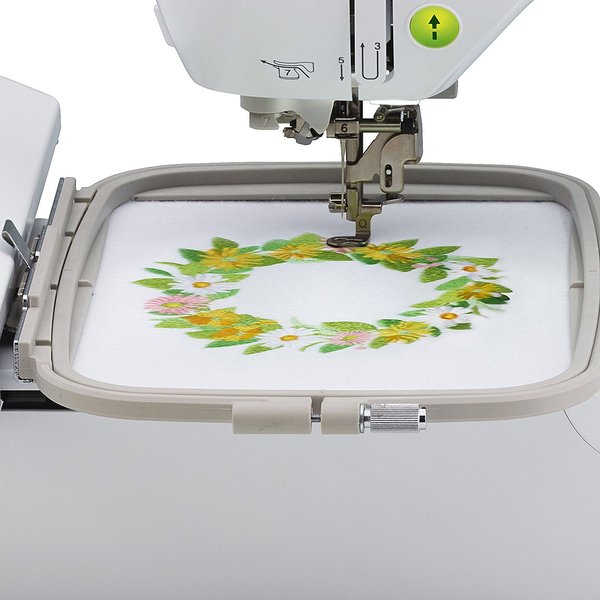 Built in or import embroidery designs and lettering fonts.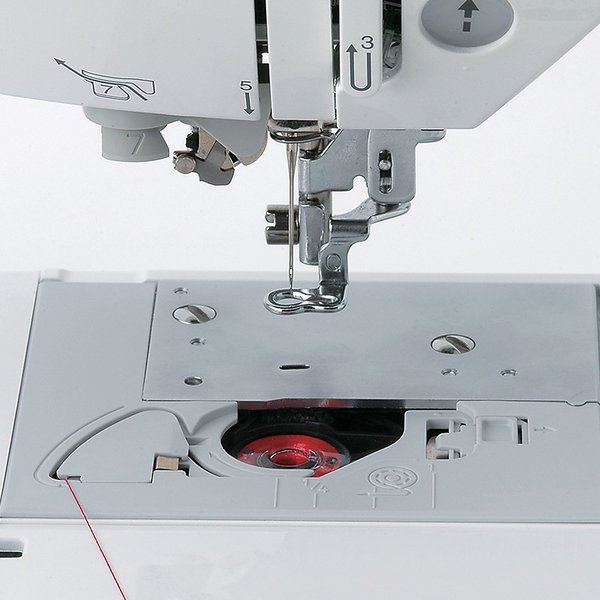 Quick Set Bobbin, Automatic Thread Trimmers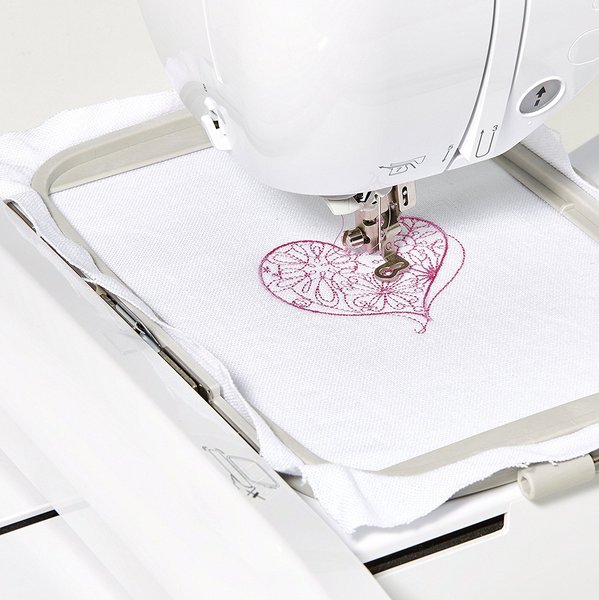 Smooth Embroidery Arm Functions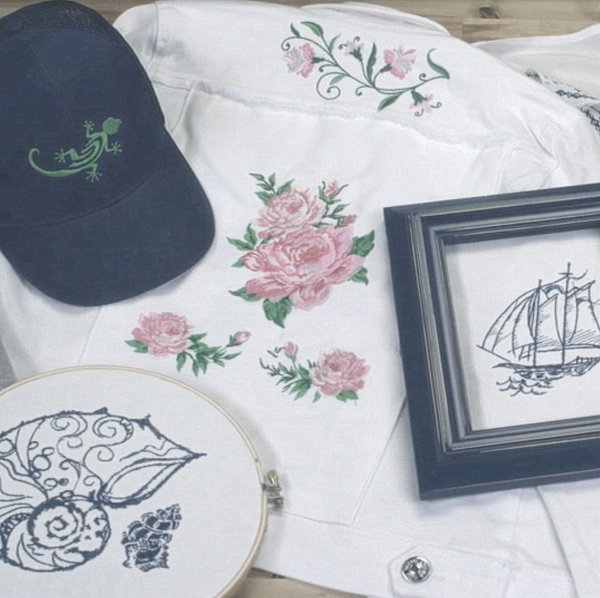 138 Built-in Embroidery Designs Included are beautiful florals, seasonal and kids designs, plus 10 frame shapes with 14 stitch patterns.. Use the design editing features to rotate, mirror-image, increase and decrease the design size.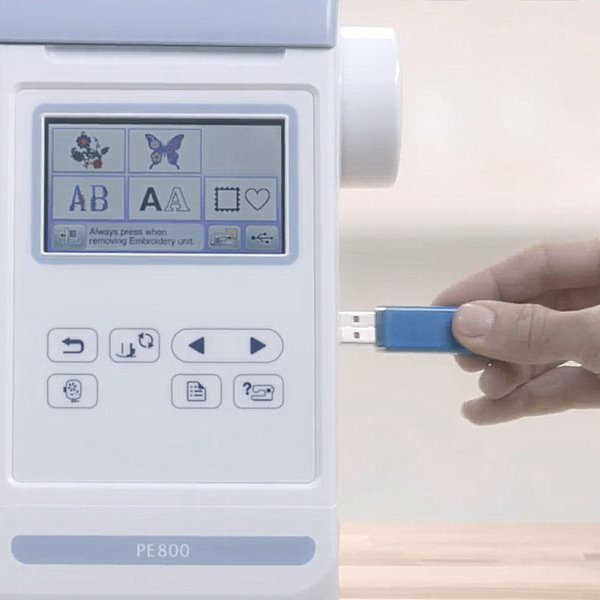 SB port to import designs Import your own .pes embroidery design files using the built-in USB port*, for virtually unlimited embroidery design options. Visit iBroidery.com** for 1000's of designs, including licensed designs, exclusively for Brother customers. *USB stick not included. **Additional purchase required for iBroidery.com designs.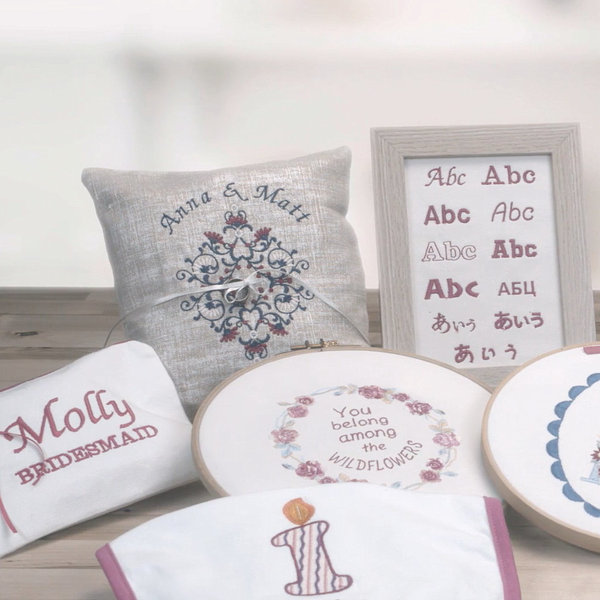 1 Embroidery Fonts Choose from the selection of built-in script, outline, serif and san serif fonts, and combine them with built-in or purchased designs for personalized creations. Included are 7 English fonts, 3 Japanese fonts, and 1 Cyrillic font.
Super Bright Work Area The built-in LED light provides a brightly lit workspace around the needle area. This is especially useful when sewing on dark fabrics, and for positioning multiple embroidery designs in the hoop.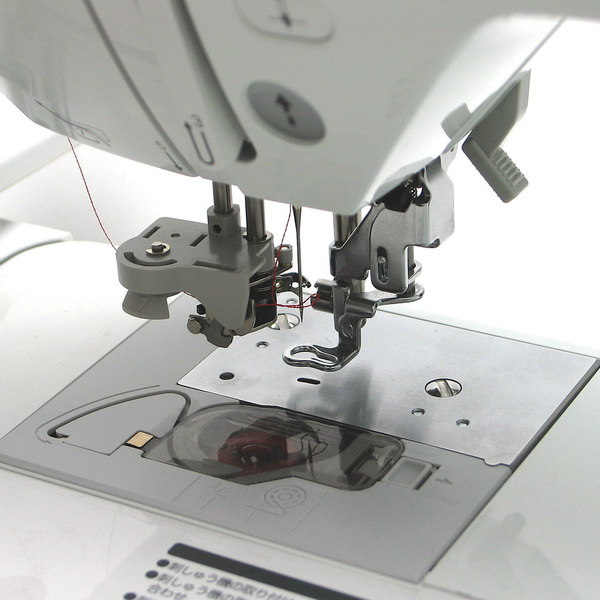 Automatic needle threader The automatic needle threader takes care of threading the needle for you, with just a touch of a lever. A real eye saver, and especially useful when embroidering designs that require multiple thread changes.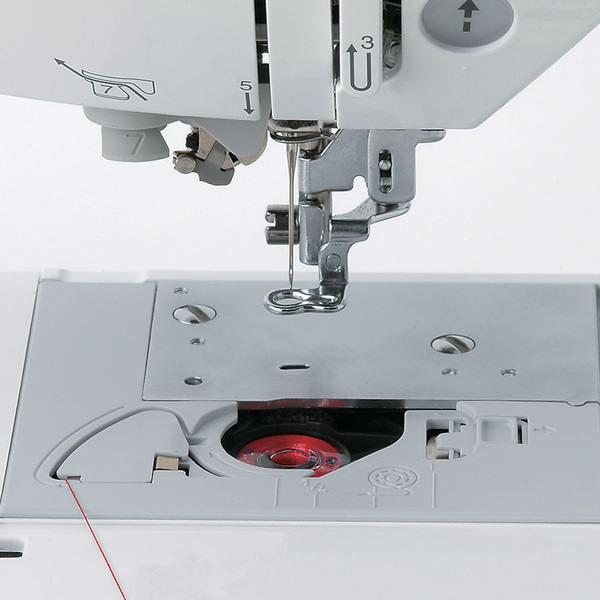 Quick-Set Drop-in Bobbin This exclusive, jam-resistant Brother bobbin system helps provide reliable, even stitch quality. The clear-view bobbin and bobbin cover allow you to see when you're running low on thread.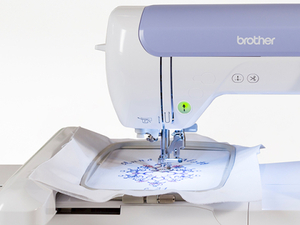 Is the information in this section helpful? Yes / No PE800 PE800 Features 5" x 7" Embroidery Machine. The 5" x 7" field provides ample space for larger projects and combined designs with less rehooping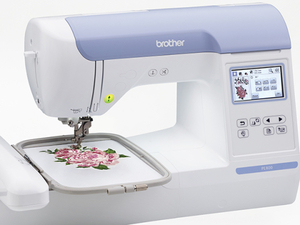 Design Editing Features. Use the 3.2" Color LCD Screen to combine designs, add monograms, rotate, flip, resize and recolor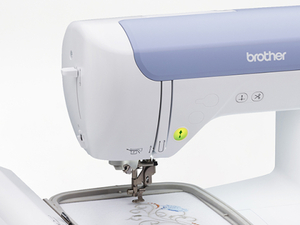 Automatic Needle Threader. The automatic threader takes care of threading for you, taking the eye strain out of thread changes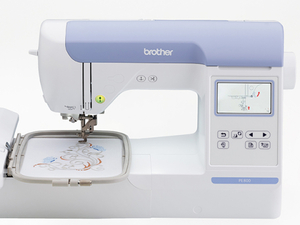 Built-in Steps on Display. This machine includes helpful tips and instructions, easily viewable the LCD touchscreen display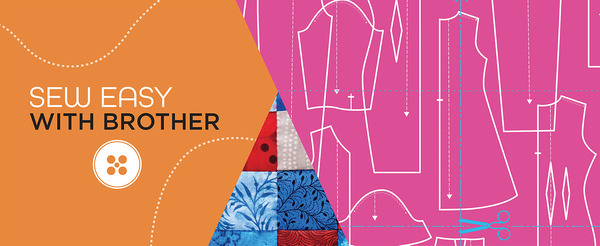 Brother PE800 5x7" Hoop Embroidery Machine +USB (PE770+ Full Color Touch Screen)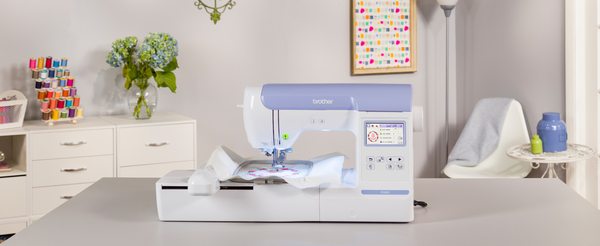 PE800 Lifestyle
Kelly B, Lake Charles LA
So far I am pleased. Hoping to take a class soon to fully utilize my machine

Carol D, Mount Laurel NJ
Good quality product, fast shipping

Carol D, Mount Laurel NJ
Good quality product, fast shipping

Beverly H, Denham Springs. LA
The price was alright, everyone would have liked a lower price. I also have an ES350. I only had to fix the needle threader once and I did it myself. I have been wanting a 5x7 machine and when I saved enough birthday and Christmas money and could get one using a USB,and did not need a card, I had to order. I hope I live long enough to learn to use and enjoy it. So far I have been able to understand and figure things out. I love it. I am 84 and thankful I can still use my brain. Now to get some supplies. I have no complaints. Thanks