Also Includes

INCLUDED: Brother 20 Disney Designs Download for 6' Long Vinyl Roll Feeder on ScanNCut SDX230D

INCLUDED: In Store Instruction

INCLUDED: Brother Warranty: 1 Year Limited Parts, 2 Year Limited Electronic
The BONUS 20 Disney Designs for Roll Feeder are built-in to the SDX230D/DX and are exclusive to those models. There is no download code available for these designs, since they are built in. .
Download link 20 Disney designs for Roll Feeder
* Synchrony Bank Sewing & More Fixed Payments 0% No Interest Financing with approved credit! Click HERE to Apply Online for Synchrony Bank Credit Approval with 0% Interest Financing
The new update software for Brother ScanNCut SDX230D Disney model was just released on the Brother Solutions Center. 20 new scaleable Disney designs for up to 6 foot long banners on vinyl in the Roll Feeder are available by updating your firmware to this new version 1.40. See all 20 Disney designs under Other Images below*.
Bring a touch of Disney to your crafting with the Limited Edition Disney ScanNCut DX Innov-ís Edition.
The latest in the evolution of the successful ScanNCut line comes in the form of the Limited-Edition Disney ScanNCut DX Innov-ís SDX230D, also now known as your Disney electronic cutting machine. The SDX230D has 132 built-in Disney designs, along with 140 quilt patterns, 17 lettering fonts, and endless creative possibilities. Use the SDX230D to scan and cut virtually any materials up to 3mm thick so you can make personalized apparel, fun quilts, dazzling home décor, and customized artwork designs.
BLADE SENSOR TECHNOLOGY WITH AUTO BLADE
Revolutionary, home and hobby cutting machine technology detects the height (thickness) of the material placed on a ScanNCut DX compatible mat to cut precision, custom and built-in patterns. No need to select material type nor adjust blade depth before cutting. Depending on the material, it is best to perform a test cut and/or adjust cutting pressure for a more perfect cut. There is also a setting to select half cut for cutting the top layer of vinyl and not the backing.
THIN FABRIC AUTO BLADE
This blade is designed to cut fabric used for quilting and raw edge appliqué purposes. Quilt with ease and help save time by cutting multiple pieces for your projects. Depending on the material, the Thin Fabric Auto Blade will cut thicknesses from 0.25 mm-0.5 mm. For use only with the ScanNCut DX machine and the ScanNCut DX Thin Fabric Auto Blade
PES/PHC/PHX EMBROIDERY FILE READABILITY
So many more ways to utilize most existing PES/PHC/PHX appliqué files! The ScanNCut DX reads PES/PHC/PHX embroidery data‡ from a USB memory stick (not included). Customize the PES/PHC/PHX file by selecting only the parts you want to cut. Then take the cut pieces to your Brother embroidery machine to tack down and create unique fabric items. Plus, using the Stich Line Detection mode, users can create various draw/emboss/ foil projects‡ from one embroidery file. This is an exclusive function only available in the dealer exclusive, ScanNCut DX Innov-is Edition.
WHISPER QUIET MECHANISM
The Brother ScanNCut DX cuts and scans with little noise compared to previous models. Enjoy your DIY projects, card making, or quilting anytime day or night. The redesigned, quieter mechanism is perfect for use in small office or business setting where noise can be very distracting.
SCANNER HEIGHT POSITION LEVER
The ScanNCut DX machine has 2 positions for the built-in scanner. Position 1 (lower position) is used when scanning thin materials, photographs, and like items for a better-quality scan. Position 2 raises the scanner glass higher to scan thicker materials such as 3mm foam and for typical cutting and drawing.
WIRELESS NETWORK READY
Wirelessly‡ transfer cut data from the machine to the CanvasWorkspace application. No additional activation card needed simply register for a Free account at http://canvasworkspace.brother.com to enable the functionality.
1435 BUILT-IN DESIGNS, INCLUDING 132 EXCLUSIVE BUILT-IN DISNEY DESIGNS, 140 QUILT PATTERNS, PLUS 17 LETTERING FONTS
Get creative! Basic shapes, intricate designs, borders, quilt patterns, fonts, and more are all available on the easy-to-use 5-inch color LCD touchscreen display. Choose from many new appliqué patterns and 3-D paper patterns. Simply select a design, and then have it cut out on your material of choice. For adding even more variety to your creations, combine built-in designs or scan an image to create any number of one-of-a-kind designs.
ON SCREEN EDITING
Editing designs is both quick and easy with ScanNCut DX. Every editing function can be done on the 5-inch LCD touch screen display. Easily convert your scanned designs into custom cut or draw files. Customize designs by changing the shape, size, or position, even using just part of a design. With the ability to weld, rotate and resize your designs, you'll love having the ability to create fully detailed designs to your liking – all without the use of a computer or complicated software.
LARGE SCANNING AND CUTTING AREA
Using the included 12" x 12" cutting mat, or the 12" x 24" cutting mat (available for additional purchase), easily create and cut a wide variety of designs – from one as small as a delicate snowflake for a holiday ornament or one as large as an inspirational wall quote to place in your family living room. Plus, the cutting mat doubles as a scanning mat for ease of use! Now with 12" x 24" scanning capability! (SDX225 and SDX230D models only) Great for scanning 18" doll patterns and large quilt patterns to create cut data.
BUILT IN SCANNER - UP TO 600 DPI FOR SCAN TO USB
Turn your scanned images into unique one-of-a-kind cut designs and patterns. The secret lies in the high-resolution built-in scanner. Scan virtually anything – a handmade drawing, a child's handwriting, cherished photos, and more – to create endless cut designs and save to the machine's memory. As a bonus, use the ScanNCut DX machine as a home scanner to archive pictures, documents, and more and save to your USB memory stick for use in your computer. Enhanced scanning with color recognition. Choose to scan in either grayscale or color RGB mode.
SCAN-TO-CUT DATA
Now with a smooth line feature getting more clean cuts is easy, simply select from three settings (low, middle, high) on the machine to fine-tune your scanned image to a more precise cutting line. Scan and convert to cut data. Using the technology of the smart scanner, scan in your design and save it as data to cut or draw. ScanNCut DX will create cut lines automatically, and then within minutes, hand drawn elements can grace the pages of your artwork as a cut element or drawing with the assistance of the pen draw feature.
SEAM ALLOWANCE AND SEWING GUIDELINES
Have you ever struggled with piecing together your fabric when working on various sewing and quilting projects? ScanNCut DX gives you the ability to add a seam allowance in ¼" increments to assist you in piecing together fabric pieces for your quilts, clothing and more. But wait, it gets better! You can even utilize the erasable pens (air soluble and water soluble) to create sewing guidelines on your designs to assure virtually perfect placement of your stitches.
ROLL FEEDER ATTACHMENT
Expand creative possibilities by cutting up to 12" wide material‡ and up to 1785.3mm (70.2" or 5.85 feet) in length with the roll feeder function that accommodates our ScanNCut adhesive vinyl rolls for home-décor items, car decals, signage and so much more! Plus, using our Universal Pen Holder drawing personalized banners is simple with the ScanNCut DX machine. In conjunction with CanvasWorkspace, create one-of -kind roll feeder cut data (.FCM file format) and get 1 free design included‡ with this accessory.
New from Brother for 2020!
Introducing the Limited Edition Disney ScanNCut Innov-ís Machine | SDX230D
ScanNCut DX Blade Sensor Technology with Auto Blade
Exclusive Disney ScanNCut Innov-ís DX Built-in Patterns and Disney Files
ScanNCut DX Built-in Scanner Faster and Quieter Cuts
ScanNCut DX Roll Feeder Attachment
ScanNCut DX Thin Fabric Auto Blade Feature
Click here for Brother ScanNCut Fabric Cutting Basics!
ScanNCut Canvas Workspace for PDF Tutorials
Specifications
Dimensions
Carton Dimensions (W" x D" x H") 11.75" x 24.4" x 11.5"
Carton Weight (lbs) 18.6
Unit Weight (lbs) 12.79
General
Built-In Designs 1435
Built-In Fonts 17
Built-In Quilt Designs 140
Scanning
File Formats Supported PHC, FCM, PES, SVG
Maximum Scanning Width (in.)
New Optional Scan n Cut accessories coming to AllBrands.com:
Paper Piercing Starter Kit
Paper Piercing Mat
Paper Piercing Tools
Calligraphy Starter Kit
Calligraphy Pen Set (essential)
Calligraphy Pen Set (Tropical)
Calligraphy Pen Set (Basic)
Calligraphy Font Collection (Gothic & Unical)
Small Barrel Pen Holder
Chrismas Decoration Collection Card
Disney Card Collections
ScanNCut Duffle Bag Blue
DX Series Tool Set In Blue Zipper Bag
Version 1.51 Software Update Now Available for the ScanNCut DX Series and Version 2.4.0 CanvasWorkspace for All ScanNCut Series Electronic Cutting Machines
We would like to inform you we have released a software update version 1.51 for the ScanNCut DX Series of Electronic Cutting Machines on Brother Solutions Center. Updating your ScanNCut DX with this software will give you access to a weeding box function, additional size settings in the editing screen, and ability to use "My Collection" with optional Pattern Collections.
Version 2.4.0 of the CanvasWorkspace(Win/Mac) will enhance your experience in this PC application. The software update provides the below:
Updated menu for transferring FCM files
Addition of File Preview (only for macOS® 10.15 or later)
Improved editing settings for Enhanced Image Tracing Function* (only available for macOS®).
Enhanced weeding box function*
Additional Function such as Tiling*
*This is an optional accessory, sold separately. Please click here to visit the Brother Solutions Center to view/download the update. Once at the site, select your Operating System.
Included Accessories

Notification about included accessories: Pictures!
STANDARD INCLUDED ACCESSORIES:
• Auto Blade and Holder
• Standard Tack Adhesive Mat 12" x 12" • Cardstock 12" x 12" (1 PC)
• Pen Holder
• Black Color Pen (1 PC)
• Touch Pen (Stylus)
• Spatula
• Accessory Bag
• Power Cord
• Getting Started Guide
PLUS Over $1,100 in Added Value!
• 132 Exclusive built-in Disney Designs ($132 MSRP)
• 20 Bonus Disney Designs Available ($20.00 MSRP)‡
• Rhinestone Trial Kit ($49.99 MSRP) Trial Kit does not include any activation code.
Just use what is included and whatever design that is already built-in to the machine or Canvas Workspace.
• Universal Pen Holder ($19.99 MSRP)
• 6 PC Tool Set (Case, Scraper, Tweezer, Spatula, Hook and Stylus) ($54.99 MSRP)
• Roll feeder ($89.99 MSRP)
• Thin Fabric Auto Blade and Holder ($43.98 MSRP)
• Color Pen Set (5 PCS) ($17.49 MSRP)
• Erasable Pen Set (2 PCS) ($14.99 MSRP)
• Low Tack Adhesive Mat 12" x 12" ($31.99 MSRP)
• High Tack Adhesive Fabric Support Sheets 12" x 12" (2 PCS) ($13.49 MSRP)
• Iron-on Fabric Appliqué Contact Sheets 12" x 15.9" (2 PCS) ($14.99 MSRP)
• Built-in Designs ($614.79 MSRP)
Click Here To View the New Brother ScanNCut Accessories Brochure for 2020
Other Images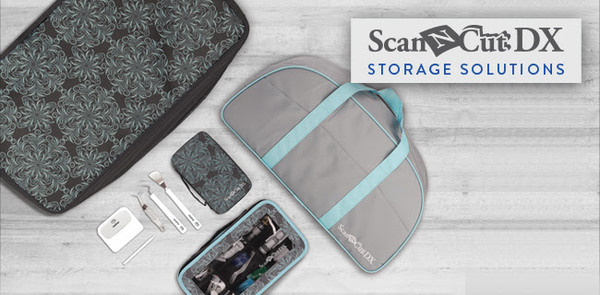 Storage Solutions for Every Crafter Discover the perfect ScanNCut DX storage solution for you by visiting our brand new, dedicated accessories page. Organize your craft room with a stylish tool case, protect your machine with a rolling tote and more.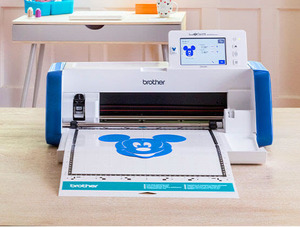 Brother SDX230D Scan N Cut With Exclusive Disney Designs. Bring a touch of Disney to your sewing and crafting projects with the Limited-Edition Disney ScanNCut. The SDX230D model offers 132 built-in Disney Designs, 1435 built-in designs in total, 140 Quilt patterns, and 17 lettering fonts. And, 20 Bonus Disney Designs available. Scan and Cut virtually any materials up to 3mm thick, to make personalized apparel, quilt, home décor, and customized artwork designs.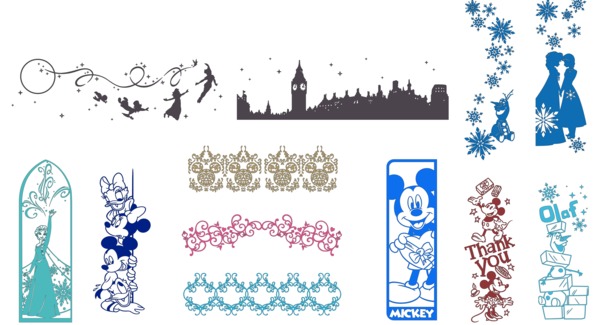 *Exclusive Scaleable Disney Roll Feeder Designs Available with Firmware Update Ver. 1.40 Click here to download.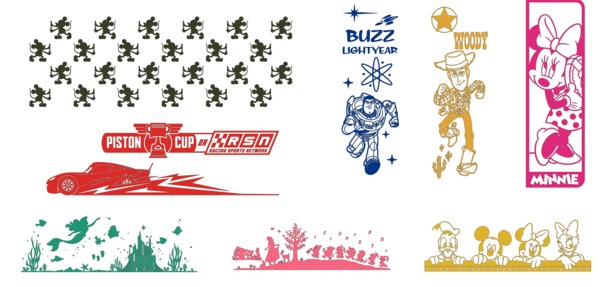 *Exclusive Disney Roll Feeder Scaleable Designs Available with Firmware Update Ver. 1.40 Click here to download.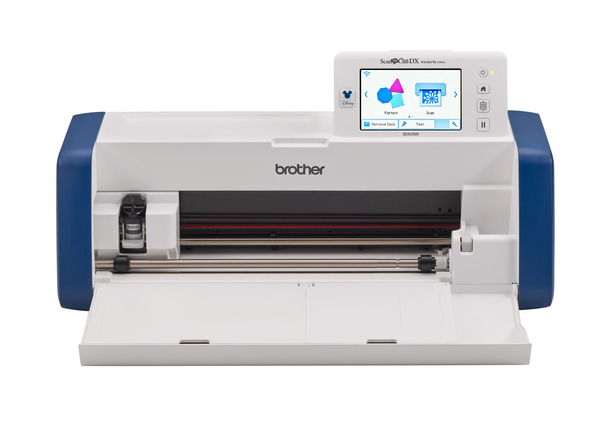 Brother ScanNCut DX Innov-is Edition Digital Cutter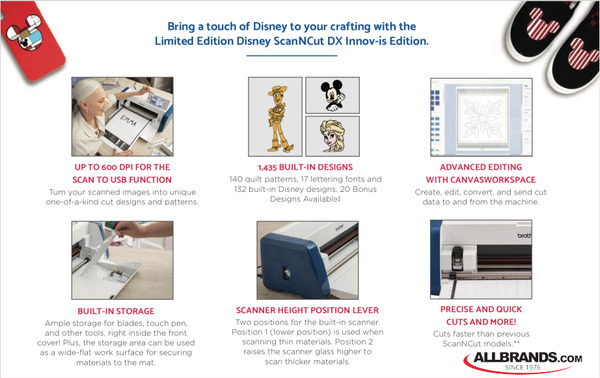 Bring a touch of Disney to your crafting with the Limited Edition Disney ScanNCut DX Innov-ís Edition.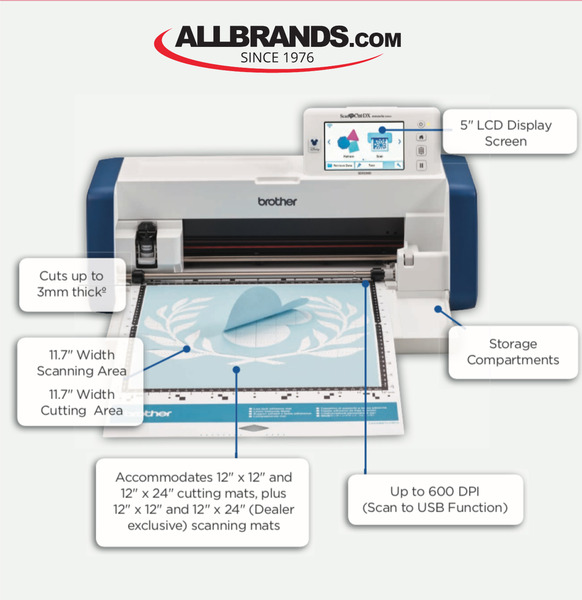 Limited Edition Disney ScanNCut DX Innov-ís Edition.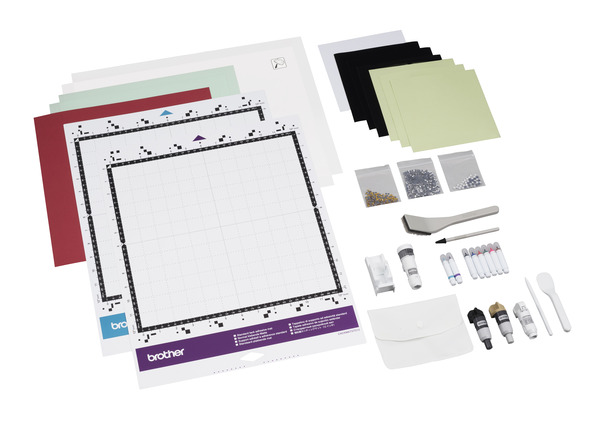 Included Accessories
Storage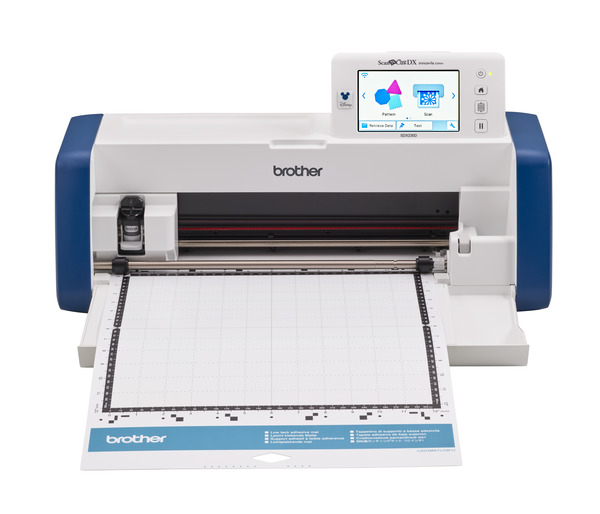 With Mat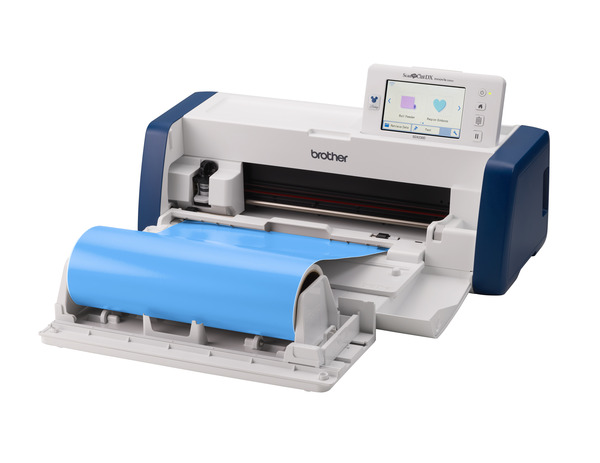 Roll Feeder with Vinyl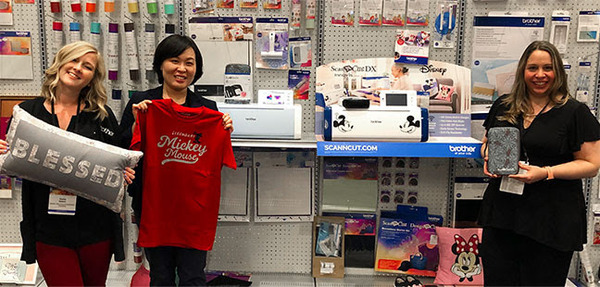 We enjoy sharing tips and tricks, new cutting accessories, a 15 foot shoppable ScanNCut section and beautiful samples.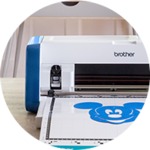 Blade Sensor Technology Auto Blade detects the thickness of material.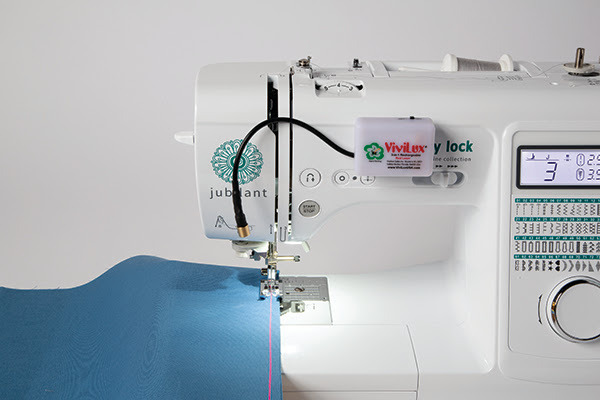 PES/PHC/PHX File Readability Convert PES/PHC/PHXˆ file to cut data directly on the machine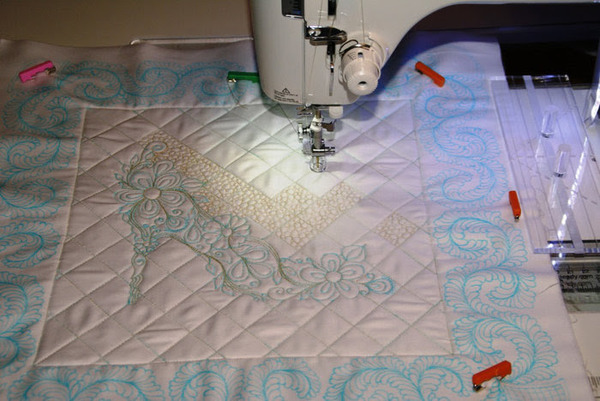 Up to 600 DPI Scanner Turn scanned images into unique one-of-a-kind cut designs and patterns.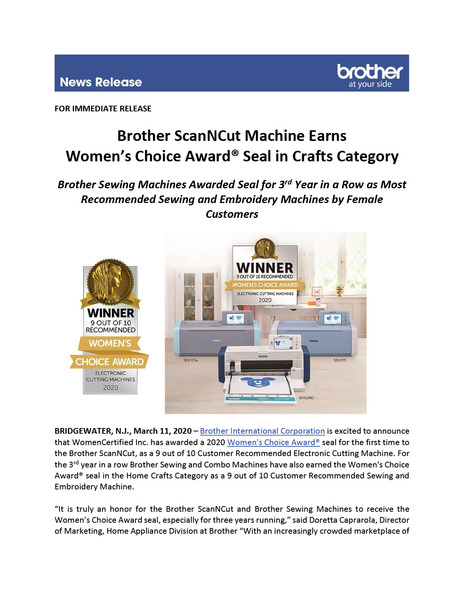 Brother ScanNCut Machine Earns Women's Choice Award® Seal in Crafts Category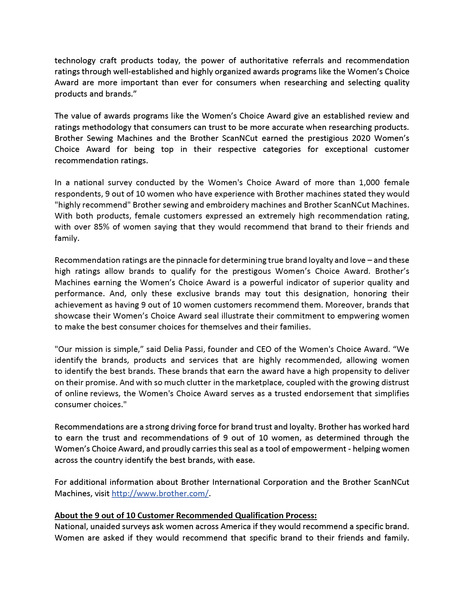 Brother Sewing Machines Awarded Seal for 3rd Year in a Row as Most Recommended Sewing and Embroidery Machines by Female Customers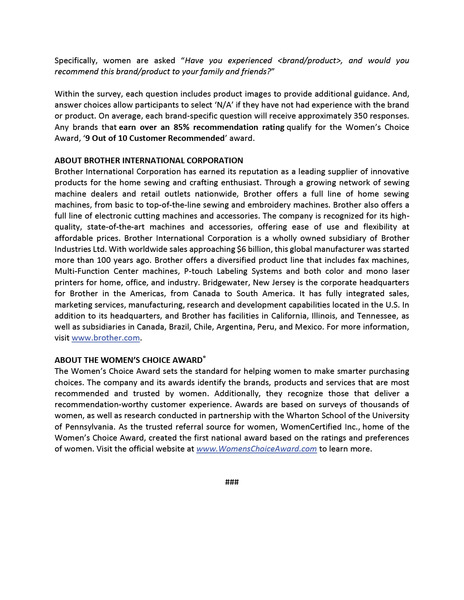 "It is truly an honor for the Brother ScanNCut and Brother Sewing Machines to receive the Women's Choice Award seal, especially for three years running," said Doretta Caprarola, Director of Marketing, Home Appliance Division at Brother "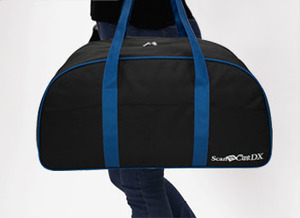 Purchase the ScanNCut DX Disney Innov-ís Edition SDX230D to receive a free ScanNCut DX duffle bag (CADXDUFFLEB) September 4-30, 2020
The new UPDATE for the SDX230D Disney model was released on Brother Solutions Center.
The new Disney patters for the Roll Feeder are available by updating the software to this new version.
Click here to download.
The following UPDATE for the SDX225 / SDX230 and Canvas Workspace was released on the Brother Solutions Center.
- Machine's update software for SDX series version 1.31
- CanvasWorkspace (Win/Mac) version 2.2.0
Please see below for the details:
Related model: SDX225 / SDX230D Version: 1.31 Improvements are:
•Premium function* (Paper Piercing / Calligraphy) has been added.
* The optional accessories are sold separately. The countries of sale are limited.
•Improved so that the pattern can be deleted when the edit screen is enlarged.
•Improved Group/Ungroup of Offset functions.
•Improved machine's functionality when the machine wakes up from sleep mode.
Please click the following URL to go to the download page -
Please click this URL to go to the download page.
CanvasWorkspace (Win/Mac) Related model: All of the cutting machine Version: 2.2.0
Improvements are:
•Improved issue when importing SVG file. (for Windows only) *This for Mac OS has been fixed.
•Revised messages.
•Improved functionality.
Please click this URL to go to the download page.