The Dreamstitcher™ 787 portable 2/3/4 thread overlock has just the right combination of features, toughness, flexibility and ease of use.
Perfect for both professional sewers (custom clothiers and dry cleaners) and for the home sewing enthusiast.
With standard features like an automatic thread trimmer and tension release, overedge cutting width dial adjustment, and a quick release lever for removing the presser foot, you'll wonder how we can pack so much into the 787 for such a low price.
The Dreamstitcher™ 787 portable 2/3/4 thread overlock machine is packed with the features that sewers; professional and home users have asked for.
The 787 is easy to use, does a beautiful professional stitch, and is built to give years of trouble free operation.
It's equipped with handy features like an automatic thread trimmer, automatic tension release when the pressure foot is raised, overedge cutting width dial adjustment, quick release lever for removing the presser foot and many more.
All of the convenience features are standard to make your job easier; a differential feed for difficult or stretchy fabrics, built-in light, motor and foot pedal, and of course our trusted reputation for building quality, long lasting equipment.
Differential feed adjustment

Auto thread trimmer

Automatic tension release

Roll hem stitch

2 thread overlock converter

Built-in light

Catch tray

Color coded threading diagram

Spool nets (4), Spool cap (4)

Spool cap holder for cone type thread (4)

1000 spm

Stitch length adjustment by rotary dial

Narrow & wide removable stitch fingers

Adjustable edge guide

Instructions and accessory kit

Opens up for easy access to lower looper

Differential feed for stretchy fabric

Roll edge stitch

Automatic thread trimmer

Color coded threading

Individually tested and sewn-off before shipping

Best used for:

All types of woven and stretch fabrics

Sewing workrooms, alteration shops, home/cottage use

A GREAT PERFORMER
The 787 portable serger is a great performer. 2-3-4 thread flexibility, robust design and build quality, easy to use threading, and a wonderful, smooth ride. Economical enough for home use, robust enough for light commercial use.

QUALITY AND VALUE
Why spend hundreds of dollars more for features that you will probably never use? The 787 has all of the functions that home sewers and commercial users have asked for.

Reliable Warranty Information (.PDF)

Click HERE for Videos on Reliable MSK588 Open Front Easy Threading Serger



Click HERE to Compare You Tube Video on Viking HClass 200S Serger at $499+ without AllBrands 5 Freebies $150 Added Values.

Instructional Videos(links open in a new window):
Threading the machine: video
Setting penetration level: video
Setting the skip of the stitch: video
Importance of needle quality: video
Needle replacement instructions: video
Needle guard information and installation instructions: video
Oiling instructions: video
US Warranty 1 year parts, 90 days labor on defects in materials and workmanship.
Non-US Warranty: 30 days parts and labor
Specifications
Model: 787
Electrical: 110V
Number of threads: 2-3-4
Maximum sewing speed: 1,000 RPM
Stitch length: 1 – 5 mm
Clearance under foot: 4.5 mm
Differential ratio: 0.7 – 2.0
Roll hem plate: Built-in
Catch tray: Yes
Built-in light: Yes
Adjustable edge guide: Yes
Dimensions - net: 12.5" x 11" x 13"
Weight - net: 20 lb – 9 kg
Shipping dimensions: 15.25" x 12.75" x 13.75"
Shipping weight: 26.5 lb – 12 kg
Country of origin: China
Warranty: Reliable Limited 1 year


Other Images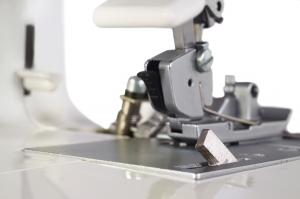 AUTOMATIC THREAD TRIMMER: The auto thread trimmer saves time and energy, allowing you to trim the threads by simply pushing a lever.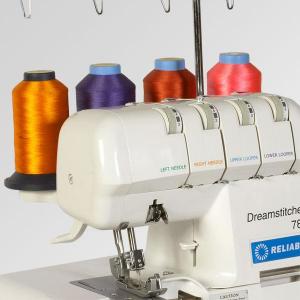 2/3/4 THREAD USE: Highly flexible. Use with the 2-thread converter for edging of fabrics, or as a 3 or 4 thread for wovens or knits.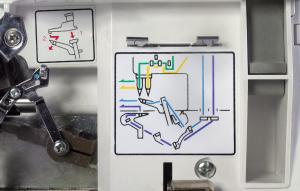 COLOR-CODED THREADING: Threading couldn't be simpler with the color coded threading diagram.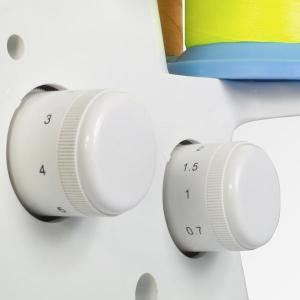 DIFFERENTIAL FEED ADJUSTMENT: A convenient and easy-to-use differential feed adjustment allows you to adjust for stretchy fabrics.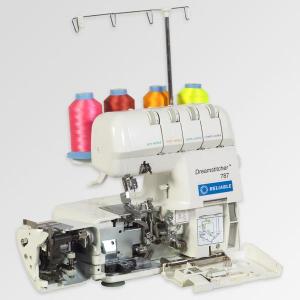 EVERYTHING AT YOUR FINGERTIPS: The 787 opens up for easy access, making threading of the lower looper an easy task.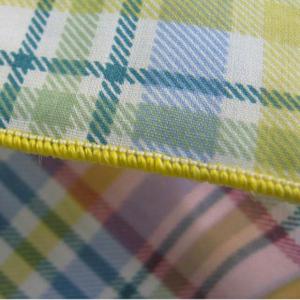 ROLL EDGE STITCH: Creating the perfect handkerchief or tablecloth linen is simple with the roll hem stitch adapter on the 787.
Mrs. Annette, I have a customer that has a white 2000ats serger. She wants to do a ruffle on the serged edge, or she calls it "lettuce leaf edge" how would this be done on this serger? or can it even be done?

Seth, there is a ruffler foot that comes with the White 2000ats/2900d serger and is optional on other brands, but it is only effective on lightweight fabrics and only up to 2:1 gather ratio on one layer of fabric under the foot, or one flat layer in the slot on top while the second layer that gathers underneath the foot. You can increase the gather ratio by tightening the needle tensions, finger pressing the needle thread above or below the tension knobs, and/or holding your finger behind the foot to let the gathers bunch up even more. Try it. It works!
PS. Lettuce edge works on knit fabrics with or without a gathering foot, if you stretch the fabric front to back while serging. When you relax the stretched knit fabric, it will become lettuce edged.
Bundle & Save
Get additional savings when you purchase any of these items along with this product.