* Synchrony Bank Sewing & More Fixed Payments 0% No Interest Financing with approved credit! Click HERE to Apply Online for Synchrony Bank Sewing and More Credit Card Approval to use for Online Checkout or in AllBrands stores
Brother Standard Limited Warranty Statement: 1 Year Parts and Labor, 2 years Electronics, 25 years Casting/Chassis
"AllBrands is a Brother Authorized Dealer and ASC Authorized Service Center for any repairs including warranty parts and labor. We give unlimited technical support by email, fax and phone. We service machines in our stores and/or refer to nearest ASC centers nationwide. Mass merchants do not have tech service or repair departments for your equipment. They are unable to help you directly, only referring any operational, mechanical or electronic questions back to the manufacturer instead of taking care of problems themselves. Manufacturers and customers should expect that any problems will be taken care of by the dealer or merchant who sold you the equipment, not just by referring your requests back to the manufacturer." John Douthat, Owner & Tech
We have 50 of the XR9550PRW without Project Runway label on order with no ETA, we will turn on the Add to Cart button when they come in, you can call 800-739-7374 for a preorder with credit card which does not charge until shipped, but not with Paypal which charges when you place the order.
Includes 100 Built In Stitches with 150 Stitch Functions, Alphabet Lettering FONT, Slide On Extension Table, 8x1-Step Buttonholes, Start/Stop, Needle Up Down, Speed Limit Controls, Advanced Auto Needle Threader, Drop Feed for Free Motion, 8 Presser Feet, 10 Pounds, Hard Case Cover.
*Save up to $160 more with purchase of SA8501 Deluxe Carrying Case Tote Bag, 25 Extra Bobbins, Box of 100 Organ Needles, Brother Starter Kit, Arrow Sewing Table & Chair, Clauss 8" Metal Scissors Made in Italy, plus 3 Year Nationwide Extended Warranty Enhancement: Repair Parts & Labor, Power Surg, Transfer Owner, No Lemon, Replace or Buyout% Depreciation, For Non Commercial Use in the USA.
Add Optional Brother 29 Piece Sewing Machine Starter Kit SASCKIT 16 Threads, 10 SA156 Bobbins, 10 Needles, 3 Feet, SA145 Clearview Applique, SA150 Pearl Sequins, SA157 Cording
Brother XR9550PRW is the low priced computerized sewing machine with a 55 character Alphabet Font, Punctuation Marks, Numbers and foreign language symbols for Sewn Lettering, 7mm Monogramming and Writing.
"AllBrands is a Brother Authorized Dealer and ASC Authorized Service Center for any repairs including warranty parts and labor. We give unlimited technical support by email, fax and phone. We service machines in our stores and/or refer to nearest ASC centers nationwide. Mass merchants do not have tech service or repair departments for your equipment. They are unable to help you directly, only referring any operational, mechanical or electronic questions back to the manufacturer instead of taking care of problems themselves. Manufacturers and customers should expect that any problems will be taken care of by the dealer or merchant who sold you the equipment, not just by referring your requests back to the manufacturer." John Douthat, Owner & Tech
100 built-in garment construction utility, decorative, hand look quilting, and heirloom stitches, each with multiple stitch functions (150 total stitch functions).

Explore your creativity with the Brother XR9550PRW Computerized Sewing Machine, which offers 100 built-in utility, decorative, blanket, hand look quilting and heirloom stitches, each with multiple stitch functions (150 total). Create free-form or traditional quilt patterns with the drop feed. Features 8 styles of one-step auto-size buttonholes. Lightweight with a built-in handle for easy portability.


Built In Block Alphabet and Numerical Sewing Font for Basic Monogramming, including 55 characters.

Large Backlit LCD screen with computerized stitch selection

8 styles of one-step, auto-size reimforced buttonholes, including bartack, keyhole, round, stretch knit, jacket, eyelet, heirloom, and straight stitch outline.

Oversized Wide Table for Quilting and Larger Projects with free arm/flatbed convertible sewing surface

Unique Flip Stitch Guide on the machine

Super-wide (7mm) zigzag and decorative stitches

Automatic one step needle threading

Built-in thread cutters for top and bobbin thread

Fast, automatic bobbin winding

One-step bobbin replacement with quick set top drop-in bobbin system

One-touch start, stop and reverse button operations

Operates with or without foot control. Start Stop Button

Full Assortment of Accessories Including Sewing Feet and Quilting Accessories

Drop feed for free motion quilting and embroidery. Create free-form or traditional quilt patterns

Variable needle positions on straight stitch

Sew fleece, elastic and other stretchy fabrics with the built-in stretch stitches

Embellish or join quilt blocks with the built-in quilting stitches

Use the built-in decorative stitches to embellish clothing, pillows, towels and more. Perfect for creating crazy quilt designs

Create delicate family treasures using the built-in heirloom stitches

Electronic Variable Sewing Speed Control allows you to choose the most comfortable sewing speed for your project - Speed Limit Control Button

Built-in accessory storage on Flatbed extension

Brightly lit LED Sewing Area

Quick change, snap on presser feet

Fully Variable Stitch width and length control buttons

Adjustable thread tension control

Safety power and light switch

Lightweight with built-in handle for portability

Instruction booklet in English and Spanish

Dimensions: 16"L x 6.7"W x 11.5"H

Weight: 9.7 lbs.

UL listed

25-year limited warranty

With 100 unique built-in utility, decorative and heirloom stitches, the XR9550PRW Limited Edition sewing machine is the ideal machine for embellishing virtually everything, from clothing to home décor items, and for creating unique quilt designs. The machine is equipped with a large back-lit LCD screen which enables computerized stitch selection, and a unique flip-stitch guide. Becoming a sewing fashionista has never been easier! Whether you want to use the built-in 55 alphanumeric stitches for lettering or basic monogramming, select one of the 8 styles of 1-step auto-size buttonholes or use the oversized wide table to accommodate your larger quilt projects, the XR9550PRW can do it all—and then some! Lightweight and portable, this computerized machine offers a wide range of convenient features. Get started on your runway creation with the XR9550PRW!

XR9550PRW Limited Edition Sewing Machine Overview. The Computerized Sewing Machine XR9550PRW will allow you to, sew and customize your DIY fashion design projects in runway style. Versatile, it includes wide range of 100 stitches, sewing font, buttonholes and a wide table.

See More Videos on Brother XR9550/PRW

Reviews on Brother XR9550PRW 110 Stitch Computer Sewing Machine

US Warranty 25 years head, 2 years electronics, 1 years labor
Extended US Warranty: Extended Warranty Available
Non-US Warranty: 30 days parts and labor
Specifications
Click HERE to see User Guide Operating Manual Instruction Book for Brother XR9000 XR9500PRW XR9550PRW Computer Sewing Machine
One Page Quick Reference Guide for Brother XR9500PRW XR9550PRW Computer Sewing Machines
Dimensions: 16 x 6 x 11
o Create perfect projects every time with a computerized sewing machine
o Sewing features 100 built-in utility, decorative and heirloom stitches, each with multiple stitch functions (150 total stitch functions)
o Built-in sewing font for basic monogramming feature on sewing machine
o Large backlit LCD screen with computerized stitch selection
o 8 styles of one-step, auto-size buttonholes
o Oversized wide table for quilting and larger projects with free arm/flatbed convertible sewing surface
o Hard cover protects your machine
o Unique flip stitch guide
o Super-wide (7mm) zigzag and decorative stitches
o Automatic needle threading
o Built-in thread cutter
o Fast, automatic bobbin winding
o One-step bobbin replacement with quick set drop-in bobbin
o One-touch start/stop/reverse operations
o Operates with or without foot control
o Drop feed for free motion quilting
o Variable needle position
o Built-in stretch, quilting, decorative and heirloom stitches
o Electronic variable sewing speed control
o Built-in accessory storage
o Brightly lit LED sewing area
o Quick change presser feet
o Stitch width and length control
o Adjustable thread tension control
o Safety power and light switch
o Lightweight with built-in handle for portability
Basic Features:
LCD Size (Horizontal x Vertical) inches: Large Backlit LCD

Stitch Select: LED Stitch Selection

Lighting: LED

Number of Needles: 1

Needle Threading System: Advanced

Thread Tension: Manual

Electronic Speed Control: Yes

Easy Bobbin Winding: Yes

Thread Sensor: Upper Thread and Bobbin Sensors

Automatic Thread Cutter: Yes

Quick Set™ Bobbin: Yes

Full USB: No

Sewing Features:

Feed Dog: Yes

Standard Presser Feet Included with Machine: 7

Built-in Sewing Stitches (Includes Buttonhole Styles): 140

Buttonhole Styles: 8 One-step

Built-in Sewing Lettering Fonts 1

Stitch Width: 7mm

Stitch Length: 5mm

Start/Stop Button: Yes

Speed Controller: Yes

Twin Needle Setting Key: Yes

Needle Position Key (Up/Down): Yes

Presser Foot Pressure Adjustment: Auto

Automatic Presser Foot Lifter: Yes

Drop Feed/Free Motion: Yes

Free Motion Quilting Foot: Optional (additional purchase required)

Built-in Quilting Stitches: Yes

Included Quilting Feet: No (Additional purchase required)

Free Arm: Yes

Table: Yes

Specialty Feet Included: Yes (Additional specialty feet may be available. See Optional Accessories)

Other:

Warranty: 25 year limited warranty

UPC Code: 012502631023

Shipping Weight: 18.7 lbs

UL/CSA Listed
Included Accessories
Accessory Storage:
Yes
Carrying Case:
Hard Cover
Included Accessory Feet:
Buttonhole foot

Overcasting foot

Monogramming foot

Zipper foot

Zigzag foot

Blind stitch foot

Button fitting foot
Extension Table: Yes
Other Included Accessories

Accessory pouch with needle set

Twin needle

Ballpoint needle

Bobbins (4)

Extra spool pin

Seam ripper

Cleaning brush

Screwdriver

Power cord

Operation Manual
Other Images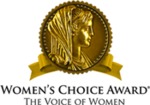 9 out of 10 Customer Recommended Brother Sewing and Embroidery Machine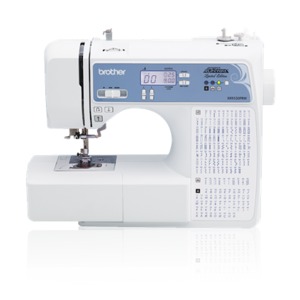 XR9550 Computerized Sewing Machine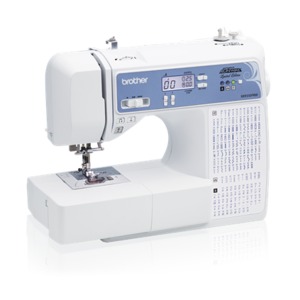 Brother New XR9550 Computer Sewing Machine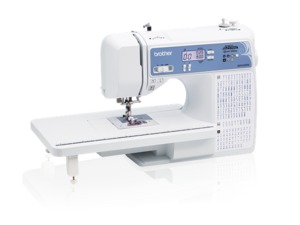 110 built-in stitches, 8 one-step auto-size buttonhole styles, Brightly lit LED work area.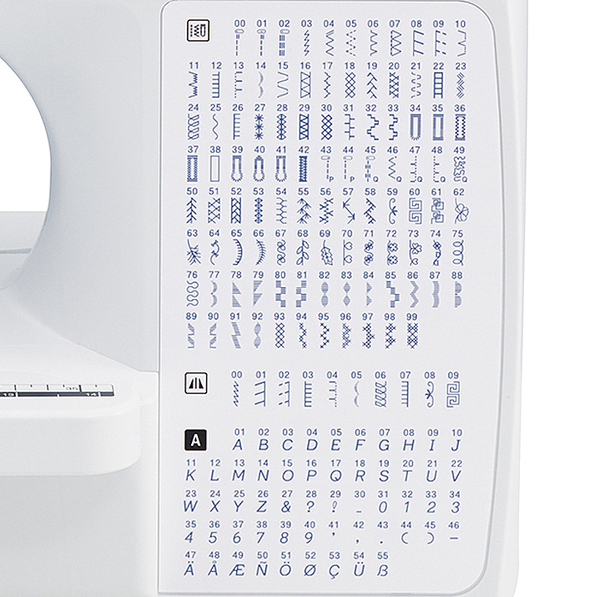 VERSATILE BUILT-IN STITCHES. Choose from a wide selection of 110 unique built-in sewing stitches, including utility and decorative stitches. The 55 alphanumeric stitches are great for basic monogramming.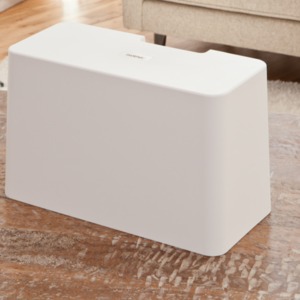 HARD PROTECTIVE CARRYING CASE The protective case helps keep your machine free from dust and makes it easy to take your machine to classes.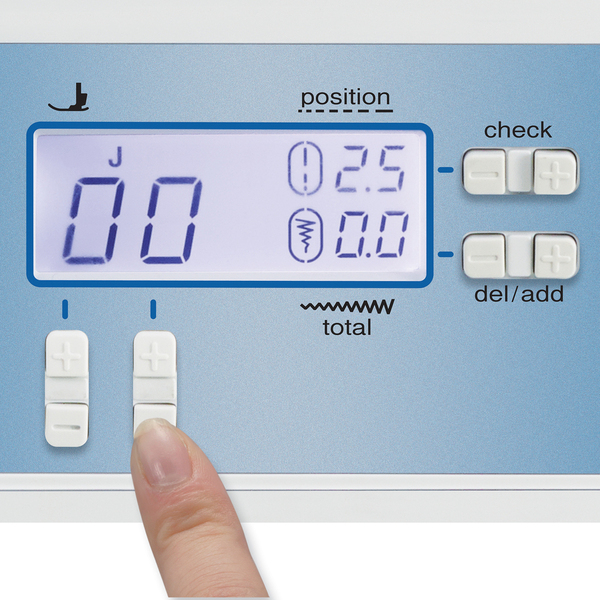 LARGE BACK-LIT LCD DISPLAY This machine features a large back-lit LCD display for easy viewing, even in low light.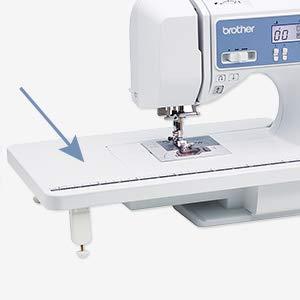 WIDE TABLE INCLUDED The detachable wide table helps provide added stability and a more expansive workspace for larger projects such as quilts, costumes and home decor.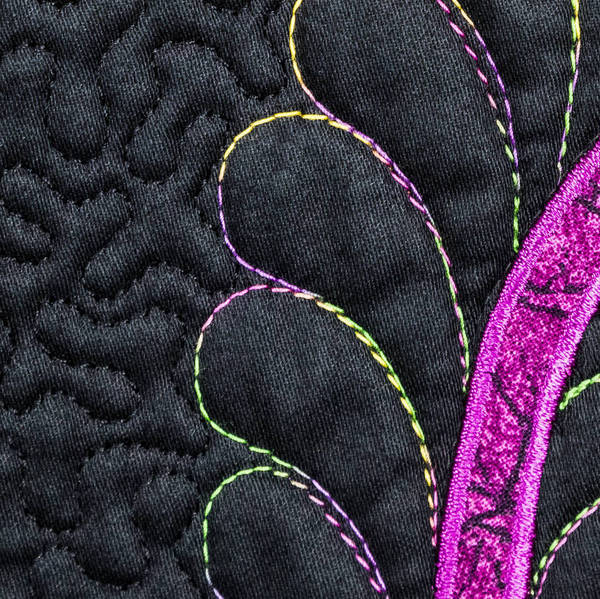 DROP FEED DOGS Expand your creative options with free motion sewing, with the ability to lower the feed dogs.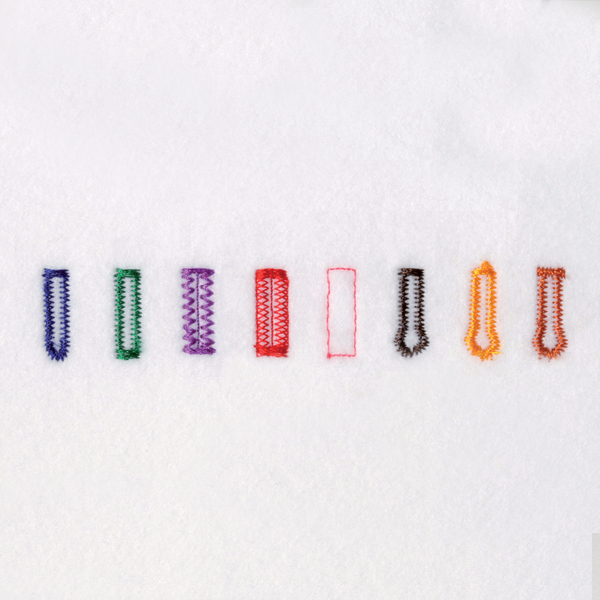 8 STYLES OF 1-STEP BUTTONHOLES Choose from 8 styles of buttonholes, and create buttonholes that are automatically sized to fit your buttons.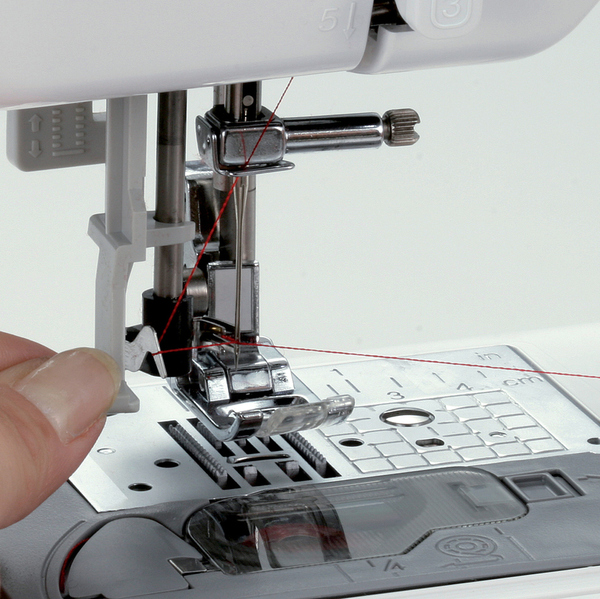 AUTOMATIC NEEDLE THREADER. The needle threader takes care of threading the needle for you, with just a touch of a lever. A real eye saver!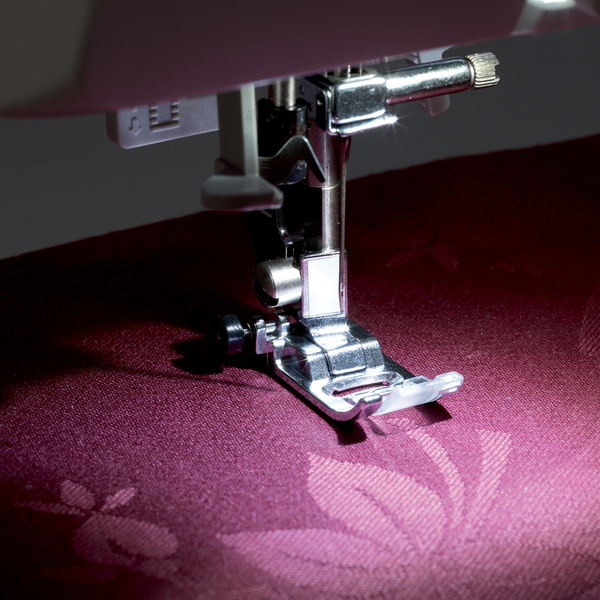 BRIGHTLY LIT WORKSPACE The built-in LED light illuminates the area around the needle. This is especially helpful when sewing on dark fabrics.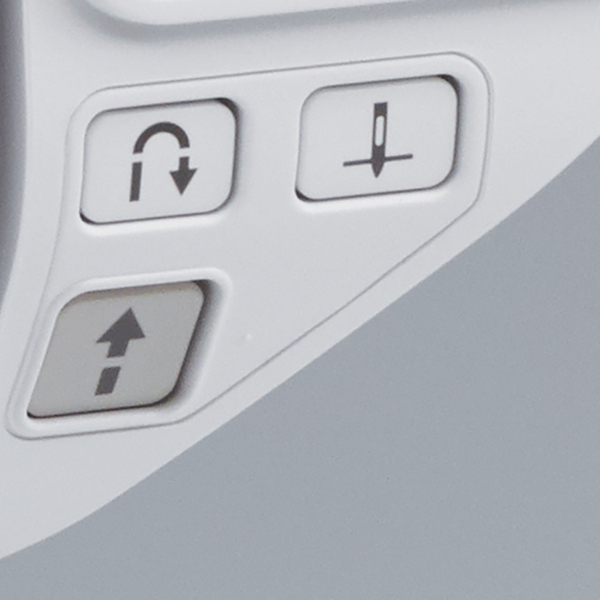 NEEDLE UP/DOWN CONTROL The needle up/down button is useful for starting and stopping your stitching at a precise point.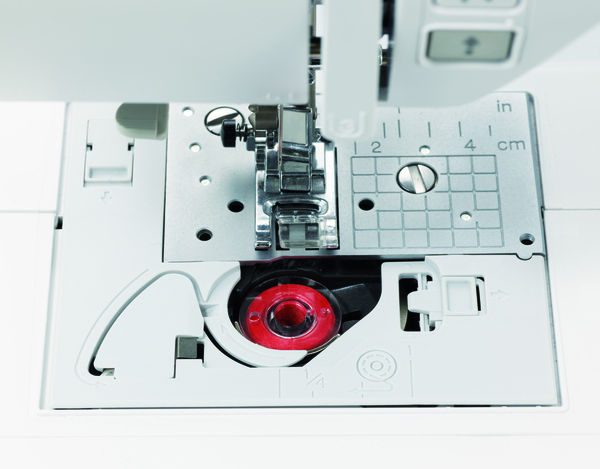 QUICK-SET DROP-IN TOP BOBBIN The Brother exclusive Quick-set bobbin is easy to place, and the clear-view bobbin and bobbin cover help you see when you're running low on thread.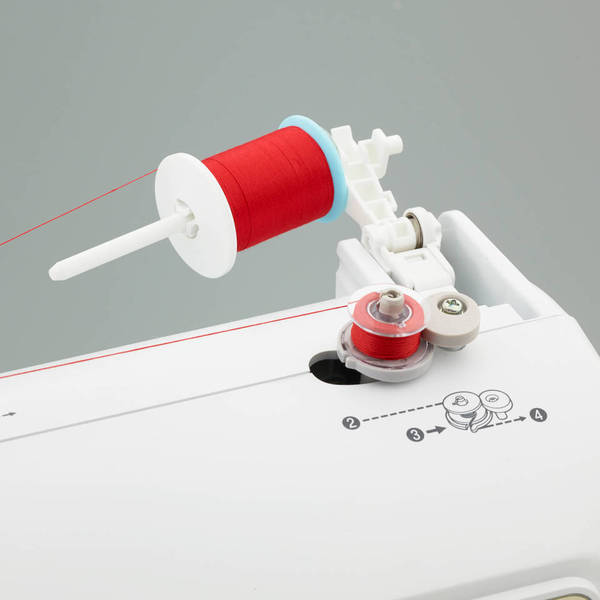 AUTOMATIC BOBBIN WINDER The automatic bobbin winder takes care of winding the bobbin consistently, which is important for smooth and even sewing.
SPRING ACTION ZIGZAG FOOT This foot is invaluable for sewing over varying fabric thicknesses, such as when hemming denim jeans. The built-in spring action helps the foot transition smoothly over the 'hills and valleys' of fabric layers, even when sewing over thick seams.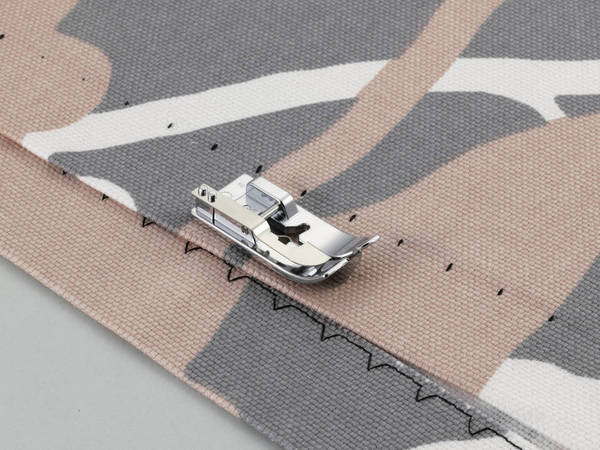 BLIND STITCH FOOT ('R' FOOT) Create virtually invisible blind hems on pant legs, sleeves and home decor projects, on a variety of fabrics. While designed for blind stitching, this foot also works well for edge stitching, lace and fabric edge joining.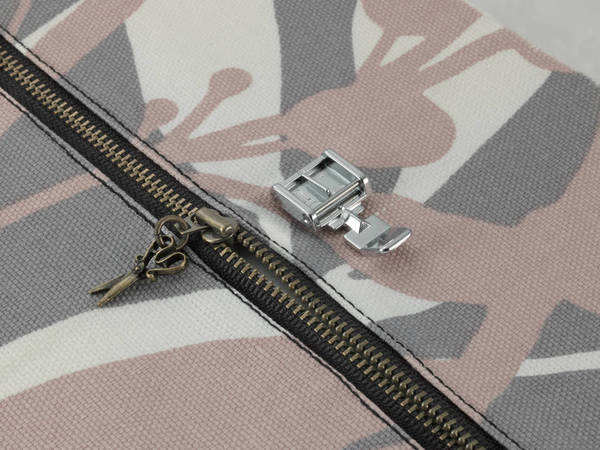 ZIPPER FOOT ('I' FOOT) The design of this foot allows you to easily attach zippers on both the right and left sides. This foot can be positioned exactly on the edge of the zipper, for more precise placement.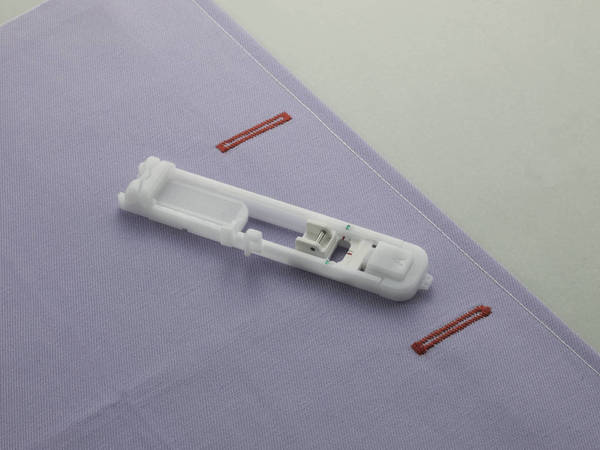 BUTTONHOLE FOOT ('A' FOOT) You'll be amazed how easy it is to create buttonholes with the built-in one-step buttonhole stitch and this useful foot! Your buttonholes will actually be custom-sized to fit your specific buttons.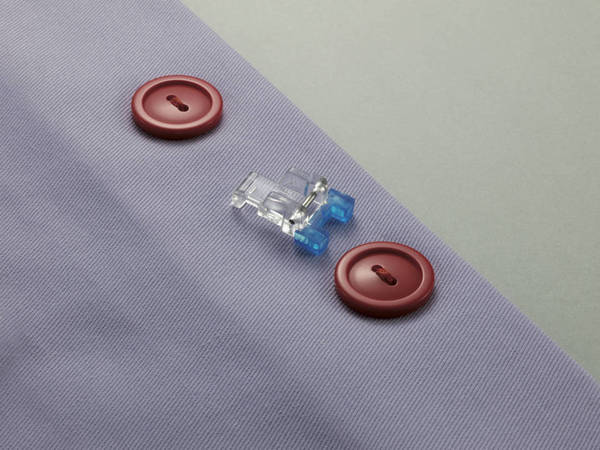 BUTTON SEWING FOOT ('M' FOOT) Instead of sewing buttons on by hand, save time and get better results by letting your machine take care of it with this included button sewing foot.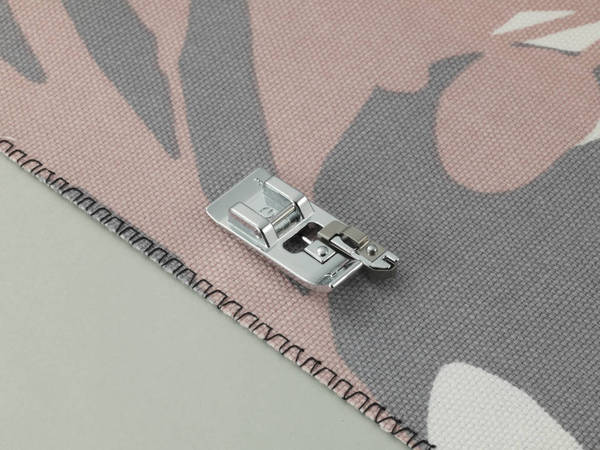 OVERCASTING FOOT ('G' FOOT) The overcasting foot is used for sewing overcast seams and to help protect the edges of your fabric from fraying. It's perfect for knits, and helps provide a more professional finish.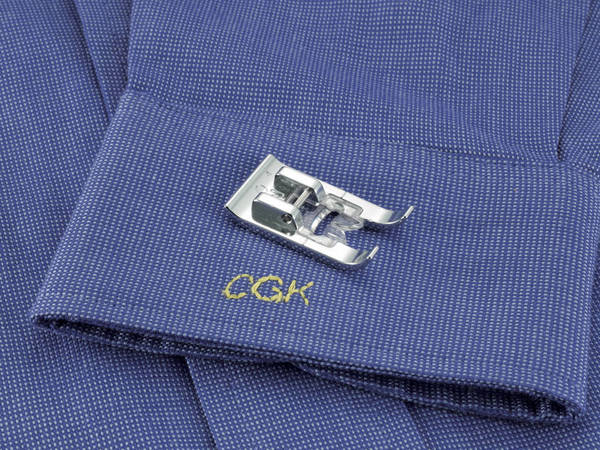 MONOGRAMMING FOOT ('N' FOOT) This sewing foot has a wider opening, and so is useful for any stitches that go side-to-side, such as decorative, heirloom and alphanumeric sewing stitches.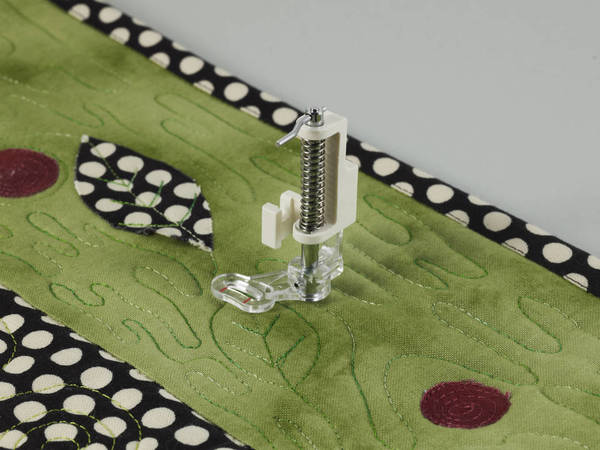 SPRING ACTION QUILTING FOOT The spring action in this foot reacts to varying fabric heights, helping to keep your stitches consistent. It's useful for quilting and when working on other projects that have varying fabric thicknesses.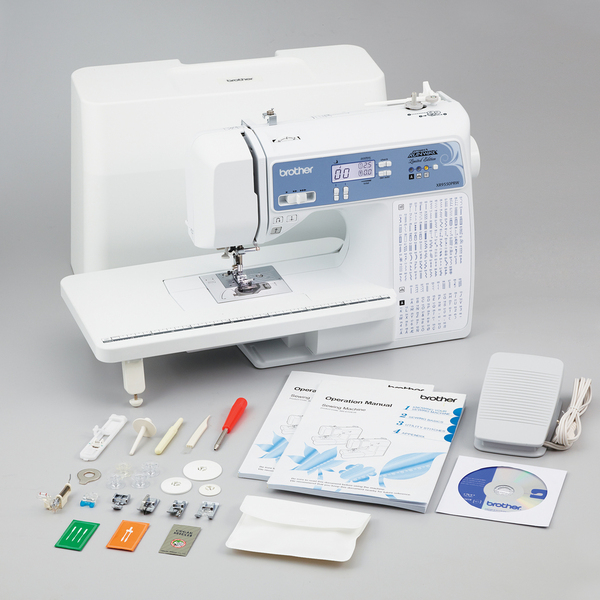 XR9550 Computerized Sewing Machine Wide table Hard protective carrying case 8 Accessory feet: Overcasting foot Monogramming foot Spring action zigzag foot Zipper foot Blind stitch foot Buttonhole foot Button sewing foot Spring action quilting foot Seam ripper, 3-piece needle set, 1 ballpoint needle, 1 twin needle, cleaning brush, screwdriver, extra spool pin, bobbins (4), eyelet punch, small, medium and large spool caps, seam ripper Foot controller, Power cord Instructional DVD, English/Spanish operation manual and Quick start guide

8 Sewing Feet Included Tackle any project with the 8 quick-change presser feet, including zigzag, buttonhole, zipper, button sewing, overcasting, blind stitch, monogramming, and quilting feet.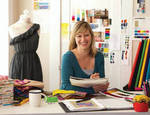 We value our customers and stand behind our products. All Brother machines come with free online and phone technical support for the life of the product. Toll-free tech support helpline: 1-877-BROTHER (1-877-276-8437) Online support: at www.brother.com Connect with the Brother Sews social community to be the first to know about promotions, giveaways, news product information, tips and tricks and more. www.Facebook.com/BrotherSews www.YouTube.com/BrotherSews www.Twitter.com/BrotherSews www.Instagram.com/BrotherSews www.Pinterest.com/BrotherSews
Kaye S, Anniston AL
I knew the model of sewing machine I wanted; therefore, most of my decisions had been made. The delightful surprises were the price and how quickly I received my order.

Kaye Light, Bigfork, Montana
I love this machine. In fact I bought two. One for our summer home and one for our winter home. It's a nice simple machine but has some great functions. My favorite it the buttonhole maker!! When I tell people how this one uses the actual button to make a buttonhole to fit -- they don't believe me. I use mine for making clothing and quilting both. Plus made Roman Shades with black out fabric for the master bedroom in Arizona. It does it all.

Nancy L, Omaha NE
I sent this machine to a relative as a gift and they were extremely pleased.


Bundle & Save
Get additional savings when you purchase any of these items along with this product.