*Free Fitting E-Book, Digital Download. Paperback sells for $24.95 on Amazon, $9.99 on Kindle. Optional Fabulous Fit Patented Dress Form Fitting System 17 Contoured Pads Fit Under 2 Cotton Body Covers. Duplicate your size and shape on any dress form or mannequin
Please use chart below when ordering dress form.
Select ONLY the cover size across from your form size or your shipment will be delayed.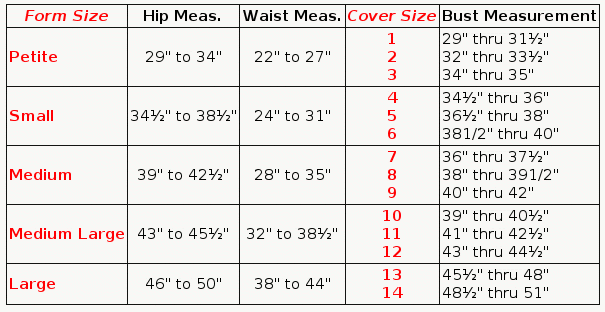 Directions to select the proper dress form and cover size:


1. Take the measurements over under garments at the fullest part of hip and
bust to the closest half-inch

2. Select your form size according to hip measurement

3. Then select your cover size according to your bust measurement. The chart
applies even if you are short-waist (half-size) or long waist.

4. Select only the cover size across from your form size
Available In Five Sizes

Made Of Pinable Foam Rubber

Durable Regular Weight Cotton Cover Ideal For Fitting One Person

Made of durable soft polyurethane also known as foam rubber

Pre-constructed cover/shell included

Adjustable to your height for hemming

Turns a full 360 degrees

Realistic bust with adjustable "bust string" to obtain natural cleavage


US Warranty 1 year parts, 90 days labor on defects in materials and workmanship.
Non-US Warranty: 30 days parts and labor
Specifications
Made of durable soft polyurethane also known as foam rubber

Pre-constructed cover/shell included

Adjustable to your height for hemming

Turns a full 360 degrees

Realistic bust with adjustable "bust string" to obtain natural cleavage

Several women can use the same form with the use of individual covers

Should you change size, simply re-adjust the cover seams to fit your new shape

Solutions for long and short waist sewing problems

Smooth, non-broken body sewing surface

Consumer accepted for 25 years

Pre-constructed cover can easily be adjusted to your shape

Your personal cover provides accurate measurements for flat pattern alterations

The cover is zipped onto the pre-shaped body form and becomes your twin because it compresses to fill the shape of the cover

Ultra durable - you can hem on it, steam press on it, pin it, drape on it, baste on it, design and tailor on it

It is unique for a few reasons; the most obvious being that it is soft. It is made of "high density" foam that allows you to pin into it easily, great for the sewer who uses the draping technique of pattern drafting. Being made of foam means it is ideal for use by corset makers as it can be squeezed and shaped much like the human body.
I hope this video will be helpful for anyone who is in the market for a dress form and considering the Uniquely You. It does take a lot of work, but I think the results are worth it. I think I paid about $175 for mine. Don't make the same mistake I did - make sure you order the correct size form*! Order according to your largest measurement. The foam can squish in to become smaller, but the only way to make it bigger is to pad it out with batting. Also, don't be afraid to cut into it if you need to. Just be careful and try to round it out as well as possible. I give some tips on how to do this toward the end of the video.
For more sewing goodness, check out my blog! shonastitches.blogspot.com
*Uniquely You Dress Form Review & Comparison
*REVIEW: UNIQUELY YOU DRESS FORM
November 19, 2013
My Uniquely You Dressform. I found my Uniquely You at Allbrands.com for the lowest price and it arrived promptly. Diana
FINISHING MY UNIQUELY YOU DRESS FORM
Joan M, Mesa AZ
Received item in time you said. Overall excellent shopping experience. Thank you.
Gail J, Livermore CA
do you have a pants form that is comparable to this dress form?
T Ahrens, Ca
Thank you so much for your perfect price and I am going to enjoy taking my new fashion course. Thank you so much for the easy ordering process. I am so happy.
Vivian P, Winter Haven FL
I recently had to call you and the associate was friendly and professional a combination hard to find these days
Geraldine B, Lake Charles LA
Initial order was inadvertently not placed with warehouse. But an email sent to customer service was handled quickly and problem resolved. Product finally arrived.
Diane H, Brentwood TN
Easy shopping experience & prompt shipping. Thank you!
Stephanie Molstad, United States
This foam dress form is a little deceiving in it's sizing. The foam form itself has an enormous chest, which is very difficult to size down, even with the cotton cover, which is almost tearing at the seams trying to contain the foam under it. If you need a form for a small woman, I would not recommend this one.
Pamela, Massachusetts
FAST delivery.. Love product
M. Hallam, Canada
I purchased my 1st Uniquely You Professional Dress Form about 25 years ago and was very pleased. I recently ordered another as my figure had become more matronly.I noticed that the cords on the foam base were 2" below the eyelets on the jacket so did not line up. When I contacted the company [Maxantbutton] they adamantly insisted there was no problem. With some thought I was able to figure a way to reposition the cords to the proper position between the bust points. As a result I was able to align the cords and eyelets. When tied they created the required "cleavage." Had I not been able to reposition the cords, the dress form would not have been useable
Elaine, Texas
I am very pleased with my purchase. I couldn't ask for a better company to do business with. I will be ordering from you again.
Chantal, Florida
THANK YOU for a great, speedy transaction !
Linda, Texas
I just received it today and from what I can tell, this dress form will fit all my needs better than any other. Can't wait to get started.
Sandy, Florida
The dress form was exactly as expected. I love it! The shipping was quick. I will shop with AllBrands again if I find they have what I need.
Sandy, Florida
I ordered her from AllBrands - late on the evening of the 9th and she came on the 13th. Pretty quick. I am tickled pink with the quality of this dress form and the shipping from Allbrands. Excellent value!! ****Happy Dance**** Thank you!!
Linda, Virginia
I have ordered two sewing machines, a pleater, and a dress form from AllBrands and have been completely satisfied.
Lisa, Illinois
Everything came nicely packaged and shipped and the customer service person was friendly and helpful. I will make future orders with your company.
Margaret, New Hampshire
Great instructions and info for purchasing the correct dress form. Speedy delivery. Great product!!
Angie, Virginia
Fast shipping and looks great! One suggestion if you are flat-chested like me, you can wrap a large Ace bandage around the bust before putting on the cover. Can't wait to start a new project with it.
Nyla, Mississippi
The wrong size form cover was shipped, but your company solved the problem immediately by shipping the correct size promptly. Thank You
Barbara, Sewaholic.net
Did you look at the Uniquely You smallest size form at the Allbrands site? I think Uniquely You is the absolute best.
Rachel, Sewaholic.net
I have a lovely Uniquely You dress form (http://www.allbrands.com/products/3900-uniquely-you-professional-dress-form-tan-29-95-dol). I spend about $200 to get the dress form & the correct cover. It's fitted to my measurements, it's pinnable, & the curves are more like a real body because it's foam. I did end up putting the foam breasts into a bra to give them the right under clothing shape but mostly I' thrilled with my choice. And I can buy add on items like a pant cover, maternity pad, or other items to customize the form as I go along.
Betsy, South Carolina
I enjoy doing business with you! Always have excellent communication and service. thank you.
Lisa, Nevada
First time I've done business with AllBrands, found it by looking for a specific item (on-line). AllBrands offered it at lowest price and the product discription was informative. I saved website and will definately visit again for other sewing needs!
Patricia, Tennessee
I have always been happy with orders placed with your company.
Donna, Florida
Couldn't ask for better service!
jAngela, West Vriginia
Thank you. My daughter will be thrilled with her dress form. This is her Christmas present.
Alison, Pennsylvania
I am very happy with the dress form. Thanks
Yvonne, Ohio
I've ordered from you in the past and was extremely pleased with the service. I was having a hard time finding this particular item and remembered AllBrands. Not only was I able to find the item, but it was sold at a reasonable price with superb shipping! I will definitely be ordering again! Keep up the great work.
Jane, Virginia
I have not had time to truly assess the product, but am pleased to purchase a domestically made product that suited my need. I felt the instructions accompanying it were helpful. This was my first purchase solely through the website and I give Allbrands good marks at this point.
Sylvia, North Carolina
Great service and great price! Fast shipping too!
Della, Virginia
AllBrands is a great company. I can shop with them without concern, or worry of having a problem. Plus they always have the best prices around. The Uniquely You Dress Form I ordered is wonderful! I am so happy I decided on that one instead of the plastic type dress form. After you fit the cover to your body and put it on your mannequin, I am sure you will wonder how you ever made yourself anything to wear before you had your Uniquely You Dress From. Now sewing for me is once more a pleasure.
Gina, Washington
I am not sure if it is the manufacturer or not, but the instructions included with the dressform are not very easy to understand and did not match the product exactly. Still, it did not take long to figure out.
Sylvia, North Carolina
I couldn't believe how fast your shipping was!
Barbara, Indiana
Thank you for making a reasonably priced dress form for bigger women that is made in the U.S.A. I will be back to check out and buy more items from your online store thanks again. Barb
Leigh, Texas
I am impressed with all of the products you offer, and the price is great.
Yngve, North Carolina
Second time shopping with you. It has worked real well both times. Will definitely shop with you again when need arises.
Barbara, Pennsylvania
Excellent speed of delivery.
Mary, California
Placing the order was relatively easy; I was notified when it shipped, received the dressform in less than a week and it is exactly as advertised. My only concern is about the base - but I plan to replace the base (2 metal rods with plastic caps that don't fit) with a more stable base of wood on casters for better mobility. For the price, it's hard to get upset about the base - the form itself is just what I needed. Overall - good experience, and I would order from Allbrands again
Mary, CaliforniaEsther, Las Vegas, NV
I was very very happy with my Uniquely you dress form. I have already recommended it to my sewing friends.
Madalena, Las Vegas, NV
I love my Uniquely You Dress Form. It arrived in a timely matter, with updates at to its arrival. After searching local stores and reading extensive online product reviews, I fortunately found your company in my magazine SewNews. Your unique product and excellent price convinced me. My husband and I had a lot of laughs adjusting the cover to my dress form...that now replicates my body shape quite accurately. I highly recommend Uniquely You!
Therese, Saint Paul, MN
Expect to be shopping here again!
Annette, Lansdale, PA
Dress form arrived well packaged and in perfect shape.
Mary, Mount Carmel, TN
This was my first time to order from Allbrands.com and I was very pleased. Shipment time was extremely quick, price of item was cheaper than anywhere else, and shipping charges were very fair. Thank you for the great service.
Dona, San Leandro, CA
I was very pleased with the transaction. Your customer service called me to make sure of the size dress form I wanted and it was shipped out the same day. I recieved it within 4 days including the holiday weekend. which to me was very fast. Thanks so much! Will buy other sewing items from you in the future!
Julie, San Francisco, CA
Thank you very much for your follow-up with UPS! It worked - the UPS delivery person left the box on the other side of our garden gate (very secure) and now I just have to get this dress form cover altered to fit me. Your help is greatly appreciated. Thanks again. Since I work in a call center where cell phone use is greatly restricted (forbidden) I am glad you took the ball and ran with it. Please share this with your supervisor. I work in Customer Service myself and you made this experience a good one. Best feedback will be left and I will be back to Allbrands in the future.
Kelly C., Racine, WI
I received both purchases within a day of each other, and I was not expecting the dressform for another week. Thank you very much; I am greatly satisfied.
Sanna K., Bradenton, FL
As before, you guys rock! My dress form came in a week and a half before I expected it! Wow!
Charlotte F., East Ridge, TN
I had no problems ordering or receiving the product ordered and was pleased that I could tell when it was shipped. I will definitely look to your website again when I am looking for bargains. Thanks Charlotte F
Marilynn R, Watsonville CA
Thank You, in all areas you have exceeded my expectations. I appreciate this opportunity to comment also. Sincerely, Marilynn
Uniquely Yours, Greensboro NC
The cost to make the smaller body form would raise the cost of the forms by 50% across the board, making it impractical to make the smaller body based on the percentage of sales in that size range. The same goes for extra large sizes. The cost far exceeds the number of sales needed to off set the cost of additional molds and covers sizes. We try to fit largest market range at the most cost effective prices to offer a more universal size range would entail making 6 mores sizes at a cost per unit equal to our current retail ,the foam alone has increased in the last 4 years to almost double and the cost of parts 150%. Boxes have doubled and ups has doubled since lasr year. and as good as our product is the sales don't justify expanding our size range , with the rising materials costs, in a declining industry to try to expand would be a death sentence for our product line. we regret your customer had a problem , but for us we find she is the exception not the rule, as we have many customers that have used and replaced our product after using it for 30 years, as well as many colleges that use our product for teaching fitting. yours truly charles winters
C. R., Bergenfield NJ
First, let me say that I'm very happy with service I've gotten from AllBrands. However, the Uniquely You dress form has a serious flaw, and I'd like you to pass this on to the company, since I can't find a web page for them: The bust on their forms is not good for those of us with smaller frames. While the cover that I fitted on myself fits the foam form in every other respect, the bust of the foam form is much wider (from underarm to underarm) and longer (from bust point to underbust) than my shape. There's no way to make the form take my shape because there is simply too much foam in the bust area. I would like to suggest that the company offer a smaller bust on each form, with the option of sew-in pads, as this is more likely to suit more women. I'm a 34B, which is small but not outrageously so, and if the form can't accommodate that, that should be made clear to potential buyers. I'm going to have a very hard time working around this flaw. Somewhat unhappy, C.R.
Consuelo R, Bergenfield NJ
UPS made a mistake in the shipping, so I won't have the item for another 2 business days, but when I called your customer service number to inquire about the ETA I was given excellent service, with good follow-up, which is rare. I do very much appreciate being given an answer to my questions so quickly and actually hearing back from your company, as promised by the customer service rep, within an hour. And I'm very much looking forward to seeing my new dress form!
Judy B, IN
I was shocked at how quickly my order was shipped to me. Also the price was $70 less than another site that is normaly purchase from. I will definetly be a lifetime customer with service like this!
Joy L, Sevierville TN
We were looking for this specific item and were thrilled to find it still available (the old one is 40+ years of age). Will be back for other things as needs arise.
Judy B, Scipio IND
I was shocked at how quickly my order was shipped to me. Also the price was $70 less than another site that is normaly purchase from. I will definetly be a lifetime customer with service like this!
Terry Carter,





Hi, I ordered this dress form last Friday and WOW, it arrived this morning! It is excellent! I have never had a dress form before so was unsure of which one to buy. Your detailed product descriptions made it much easier to decide. I have purchased a sewing machine and several other items from you in the past and have always been very pleased with your service and merchandise. Ya'll are the best! Anyway, thanks again for the quick shipping and the excellent product! Best Regards, Terry Carter
Cheryl M.,
Really love the dress form. For some reason, I thought it came with two covers, but only received one....but not really a big issue. I expect you'll get three more orders for this in the next few weeks, as several of the ladies in my tailoring class were very interested. Our instructor strongly endorsed this product.