Powered by the Miele Vortex motor and teamed with the SEB 236 Powerbrush, this Miele S5980 Capricorn vacuum cleaner is a complete 1440 watt Power Team. Popular features include a fingertip on/off switch and speed controls on the hose, an Active Certified HEPA filter, over 150 CFM air flow, deluxe direct connect SEB 236 Powerbrush and its extremely quiet operation. Strong suction and high air flow provide outstanding cleaning of all surfaces. See also the Owner's Manual
A very nice feature is the direct electrical connections on the SES 130 Direct Connect Electric Hose, SET 220 Direct Connect Electric Telescopic Wand and SEB 236 Direct Connect Powerbrush.
This is a complete power team including the Miele S5980 Capricorn Canister Vacuum and their deluxe SEB 236 Direct Connect Powerbrush.
The Capricorn S5980 was replaced with the newer Capricorn S5981 with SEB 236 Powerbrush. For similar products see our list of current Miele Canisters w/Power Nozzles. See also the optional accessories and supplies on the Accessories tab below.
Suitable for cleaning all types of floors and floor coverings, Miele's S5 Series blends energy efficiency with standard-setting innovations to create a highly intelligent and remarkably convenient vacuum cleaner.
Power
1200-watt, high-output Miele-made Vortex Motor System
Filter System (Included)
Filters
• Active HEPA Filter
• Pre-motor Filter
Bags
• 4.76 quart, Type G/N, AirClean dustbag, with spring-loaded, self-sealing collar
Canister Construction
• Sealed System construction
Auto-Seal™ Closure FilterBag™
• AirClean Sealed System ™ and HEPA Filter
Included Floor Tools & Accessories
Floor Tools
• SBB300-3 Parquet Twister Floor Brush
Hoses
• SES130 electric hose
Wands
• SET220 Electric, telescopic wand
Additional Accessories
• Deluxe Handle Assembly
• Integrated Accessories


Impressive 33-foot operating radius

Dustbag change indicator alerts you to replace the hygienic bag

Filter Change Indicator

Overheating lamp

Safety shut-off on overheating

Silence insulation

Two-year warranty

Seven Year warranty on Vortex German Motor

US Warranty 7 year Motor, 1 year parts and labor additional Good housekeeping 1 year parts and labor
Extended US Warranty: Free 10-Year Warranty
Non-US Warranty: 30 days parts and labor
Specifications
Click HERE for Miele Brochure on S5981 Deluxe Full Size Canister Vacuum Cleaner
Height: 8.25"
Width: 10"
Length: 19"
Color: Midnight Purple Pearl Finish
Product Features:
Power SourceElectric
Cord TypeCorded
FeaturesDirt Sensor, Ergonomic Handle, Edge Cleaning, Telescopic Handle, Rotating Brushes, Carpet Cleaning, Bag Change Indicator, Cord Rewind, Head Light, Height Adjustment, Handle Controls
ColorSilver
Bagged/BaglessBagged
Suitable ForCanister
FiltersHEPA
Additional Features:
ModelCapricorn
Hose Length (ft.)3
StyleDirt
Product TypeCanister Vacuum Cleaner
Voltage12 Amps
Power12 Amps
Attachment TypeBags
ListingStatusActive
TypeCanister
MaterialUnit
Size TypePlus
Bodypart TypeHead
Cleaning AreasUpholstery
Recommended SurfaceCarpet
vacuum cleaner accessory typeFilters
Videos on Miele S5980 Capricorn Canister Vacuum Cleaner with SEB234/236 Power Head
Included Accessories
SBB300-3 Parquet Twister Floor Brush
SES130 Electric Hose
SET220 Electric, telescopic wand
SEB236 Powerbrush
Deluxe Handle Assembly
Integrated Accessories

Other Images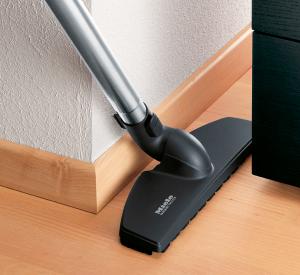 SBB300-3 Parquet Twister Floor Brush: Uses a blend of polyamide adn natural fibers to clean tile, wood adn other smooth surfaces with fibers to clean tile, wood and other smooth surfaces with extreme care. The 90 degree rotation offers easy maneuverability around obstacles.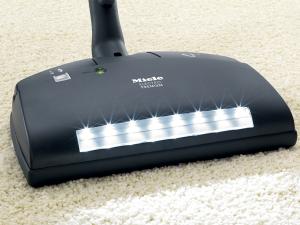 SEB236 Powerbrush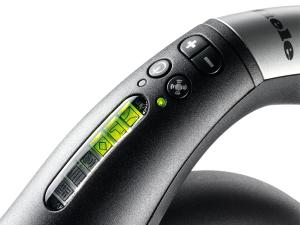 Deluxe Handle Assembly: This new ergonomic handle makes vacuuming a breeze, keeping the strain off your wrist.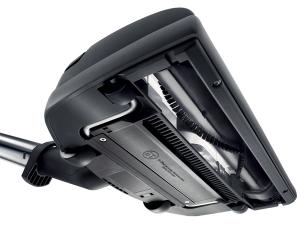 Powerbrush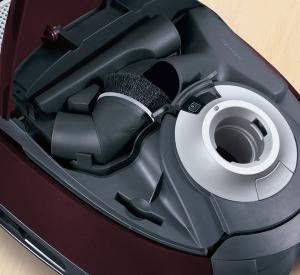 The crevice nozzle, dusting brush and upholstery tool are conveniently stored inside the canister vacuum cover providing optimal cleaning for every corner and surface including upholstery, hard to reach plaaces and delicate items.
The Miele Capricorn was a premium fullsize canister which featured electronic speed controls in the handle (with an available automatic setting), HEPA filtration standard, a 'soft touch' finish, and your choice of motorized powerheads. The Capricorn was Miele's flagship model at the time it was manufactured. Early versions had a silver canister, with a later version being produced in a burgandy/maroon color with an S5981 model number.