Navigation
Product Description
Product Features
Product Videos
Product Specifications
Product Accessories
---
Introducing the Sirena™ S10NA Total Home Cleaning System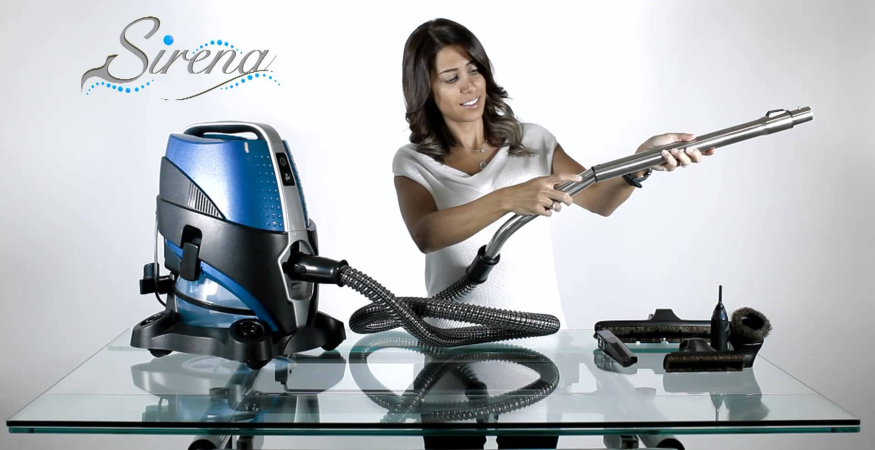 Why should you buy the Sirena? Here are six easy answers.

Healthy. Never buy a bag or filter again—both recognized as germ/bacteria hotbeds.
Natural. Bags are man-made and manufactured, but water? Water isn't.
Purified. Bags and filters pollute indoor air. Sirena water-washes your air, returning it fresh.
Powerful. Powered by Amatek—the strongest motor in the vacuum industry.
Efficient. Sirena cleans with 100% efficiency, whereas bags and filters lose efficiency over time.
Easy. Bags and filters are messy, smelly, hard to find, and expensive. Water isn't.

The water-based filtration system makes Sirena a fundamentally superior total home cleaning system. This allows it to clean your home in ways your traditional vacuum simply just can't. This is because of the inefficiency of bag/filter-based vacuums. When dirt and dust pass through a bag or a filter, it clogs the pores that allow air to flow through them. This clogged airflow means less cleaning ability, and the efficiency of such devices drops drastically over use. Without good airflow, the usefulness of your machine dwindles downward.

Filters have to be replaced regularly; every time you open the vacuum to deal with the bag or filter, germs, bacteria, and dust can leak back into the air you breathe. They thrive in dark, warm, filthy places, and when they contaminate the air, they get into your lungs. This is particularly dangerous over time to sufferers of breathing disorders, asthma, and allergies.

But all of that is a thing of the past.


A high-definition look at the Sirena, straight from Sirena Inc.

From the beginning, Sirena was designed to work in tandem with nature. The system utilizes a unique method to clean with the power of the most bountiful element of life—simple, life-granting water. The element of working with Mother Nature, and not against, is a recurring element in the design of the Sirena. Furthermore, the carbon footprint of the machine is offset by its lack of disposable bags/filters, and as opposed to the contaminants released into the air by dealing with the removal, cleaning, and maintenance of these articles, the fact is that the water actually washes the air as it cleans.

Further, exciting features of the machine include:

     • Quiet Mode to remove odors and dust from your home.
     • Specialized Fragrances to transform the machine into an air freshener.
     • Ocean Breeze Deodorizer to sanitize germs and bacteria.
     • Eucalyptus Oil to transform your Sirena into a vaporizer.

The real thrill of the Sirena total home cleaning system is what's behind it. Sirena is the combination of modern design and engineering, based upon years of experience in the vacuum industry. High quality, affordable, and water-based, the Sirena system is healthy, natural, and cleans with 100% efficiency. The water-based filtration system removes the need to ever replace a bag or filter again, cutting down on costs and on refuse.

Furthermore, the Sirena is proven to eliminate the following contagions:

Dust mites

Embedded carpet dirt

Pet fur/dander

Household odors

Ragweed

Smoke


---



US Warranty 10 years motor, 3 years parts, 1 year labor
Extended US Warranty: Extended Warranty Available
Non-US Warranty: 30 days parts and labor
Specifications
Motor: 1200 w / 8.72 Amps / Italian Motor / 1,500 + test hours
Speeds: 2 speeds – 4 second delay between High - Low
R.P.M.: 19,527 rpm
R.P.M. free spin: 24,350 rpm
Water lift: 86.31 inches
Noise Level: 69-71 DB (decibels)
Power Nozzle: 85w / 3 level height adjustment
Warranty: 3yr. part / 1 yr. Labor / 10 yr. motor
Water Filtration: Yes
Filter Concept: Water with HEPA
HEPA Cartridge: Washable / Dimensions - 3.5" x 3.5"
Vacuum reservoir: 3.5 L
Blower Function: Yes
Hose length: 77''
Power Cable: 21'
Dimension: 12" x 12" 18"
Hoses: 2 High Quality Hoses – Highest Grade Available
Wands: 12ft over reach. High grade stainless steel
Talcum Powder Test: 99.97% filtration
Tools: 5 Pcs / High quality
Net Weight:13.23 kg / 43 lbs.
Shipping Weight: 18.34 kg / 47 lbs.
Dimension of Box: 22" x 22" x 16"

Bundle & Save
Get additional savings when you purchase any of these items along with this product.