Backorder of construction parts leaves the Uniquely You form unavailable in the near future,
not able to get all the parts needed to assemble forms and stands, do not know when. No ETA
Sizes 1-14, Seam Adjustable for Dress Form's Pinable Foam Rubber Foundation USA
Please use chart below when ordering dress form.
Select ONLY the cover size across from your form size or your shipment will be delayed.
If you have any questions concerning sizes, please contact Uniquely You at:
1-800-951-FORM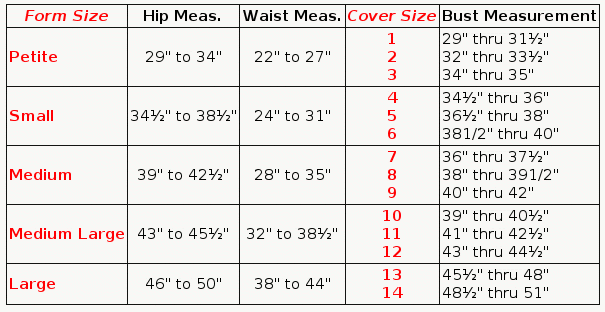 Directions to select the proper dress form and cover size:


1. Take the measurements over under garments at the fullest part of hip and
bust to the closest half-inch

2. Select your form size according to hip measurement

3. Then select your cover size according to your bust measurement. The chart
applies even if you are short-waist (half-size) or long waist.

4. Select only the cover size across from your form size
If you are unsure about the size you need, especially if you are on the borderline between 2 sizes, you may call with sizing questions.
Available In Five Sizes

Made Of Pinable Foam Rubber

Durable Regular Weight Cotton Cover Ideal For Fitting One Person

Made of durable soft polyurethane also known as foam rubber

Pre-constructed cover/shell included

Adjustable to your height for hemming

Turns a full 360 degrees

Realistic bust with adjustable "bust string" to obtain natural cleavage

Please do not request next day, second day or even three day shipping because of the extra oversize shipping charges. Regular ground usually takes no more than 5-7 days from date of shipment anyway. Tracking info not always available for this item.

For hip, waist and bust measurements that overlap within size chart, or measurements not shown, or specific fitting questions please call Uniquely You toll free at 1-800-334-0524

My experience with the Uniquely You Dressform. I hope this video will be helpful for anyone who is in the market for a dress form and considering the Uniquely You. It does take a lot of work, but I think the results are worth it. I think I paid about $175 for mine.
Debra, Tucson AZ
Just received and slipped on to see how it fits. Wasn't really sure about this however after comparing my measurements to their size chart I ordered a size 6 and fits almost like a glove! Over time my size 8 dress form has somehow become a little smaller than i am:). I find that this will prove me with exact proportions and will not require too much fill out on my form. Additionally, It is much less expensive than buying the fabric and making your own form fitting cover. Another plus is that I do not have anyone that i could use to fit a custom one on me - this is a life saver. The small adjustments to the cover will be easy for me to make on my own. If you're hesitant like I was just give in and buy one. Hope you'll be as happy with your's as I am with mine.

Diane H, Brentwood TN
Easy shopping experience & prompt shipping. Thank you!

Betsy, South Carolina
I enjoy doing business with you! Always have excellent communication and service. thank you.

Kathleen, Washington
Thank you for the great service and products.

Deborah, Delaware
You've been highly recommended to me and by me in the past and that shall continue. You're a great company!