Do you have Pet Odors, Hair, Dander, Germs and other Allergens and Pollutants? Breathe easy!

Suitable for the family room, large bedroom or living space; The Winix WAC9500 Ultimate Pet Air Cleaner with True-HEPA Filter and PlasmaWave™ Technology combines the best air cleaning technologies to deliver the cleanest air you can make yourself.

99.99% efficient True-HEPA Filtration; Washable Advanced Odor Control Carbon Filtration; Anti-microbial hair collecting Pre-Filter; and PlasmaWave™ Technology combine to offer superior control of Pet Dander and Odors, as well as other Household Odors and Allergens. 3 – Smart Sensors deliver Set-and-Forget convenience; 4 Fan Speeds; Auto Mode and Sleep Mode. Energy Star Qualified; AHAM Room Size Rating 284 sq ft

Winix – The Cleanest Air You Can Make Yourself.

5 - Stage Air Cleaning
Effectively removes a broad range of Odors, Allergens and other Airborne Pollutants Including: Dust, Smoke Pollen, Pet Dander, Mold, Viruses, Bacteria & VOCs

True HEPA Filtration
Captures 99.99% of airborne pollutants, pet dander and allergens as small as 0.3 microns.

Washable Advanced Odor Control Carbon Filter
Especially formulated to capture offensive Pet Odors; as well as Smoke, Cooking and other Household Odors. It is coated with a Nano Silver Anti-Microbial Shield to neutralize germs and bacteria on contact.

Washable Pre-Filter
The Washable Anti-Microbial Pre-filter extends the life to your filter by capturing Pet Hair and larger airborne particles.

PlasmaWave™ Technology
Attacks pollutants at a molecular level to Neutralize viruses, bacteria, chemical vapors, odors, and gasses in the air - without producing harmful ozone.

Smart Sensors with Auto-Mode
Odor, Dust and Light Sensors automatically adjust your air cleaner settings to meet the needs of your environment.

Remote
Control the operation for your air cleaner from across the room.

CADR Room Size Rating
284 sq ft - Suitable for the large family room or bedroom.

Energy Star Qualified
To save you money.
US Warranty 1 year limited warranty on defects in materials and workmanship.
Extended US Warranty: Extended Warranty Available
Non-US Warranty: 30 days parts and labor
Specifications
Detailed Specifications
AHAM Room Size Rating
Large Room; 284 sq ft
AHAM CADR (Dust/Smoke/Pollen)
182/183/194
Replacement Filter #
119110
5-Stage Air Cleaning
1) Washable Anti-Bacterial Pre-Filter
2)99.99% effective True HEPA
3)Nano Silver Anti-Microbial Mesh
4)Washable AOC (Advanced Odor Control) Carbon
5)PlasmaWave™ Technology
PlasmaWave™ Technology
Yes
True HEPA Efficiency
99.99%
Carbon Filter
Washable AOC (Advanced Odor Control)
Anti-Microbial
Nano Silver Mesh
Pre Filter
Yes Washable Anti-Bacterial
Energy Star Qualified
Yes
Warranty
1 Year Limited
Remote Control
Yes
Dust Sensor
Yes
Odor Sensor
Yes
Light Sensor
Yes
Sleep Mode
Yes
Auto Mode
Yes
Replace Filter Indicator
Yes (Based on Actual Usage)
Off Timer Settings
1, 4, 8 Hr
Number of Fan Speeds
4
Electronic Display
Digital
Color
White/Silver
Technical Specifications
Unit Dimensions (in.)
(L)16.5 x (W) 8.9 x (H)21.9
Unit Weight (lb.)
18.8
Packaged Dimensions (in.)
(L)19.1 x (W)12.7 x (H)24.4
Packaged Weight (lbs.)
21.9
Voltage / Hertz / Amps
AC 120V / 60 (Hz) / 0.9
Power Cord
2 Prong / 6.8 ft.
Wattage (Low/High)
6 / 70
Dust CADR/Watt
2.8
Air Intake
Front
Air Intake
Front
Air Out Vent
Top
CFM (Quiet/Med/High/Turbo)
49 / 92 / 124 / 184
Certifications
UL / CUL Listed
Yes
CARB Certified
Yes
Warranty Information
Warranty
1 Year Limited
Other Images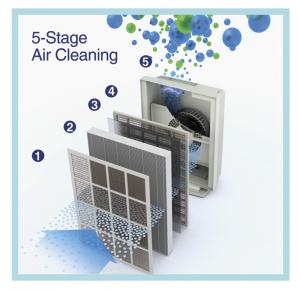 Stage 1:Washable Anti-Bacterial Pre-Filter traps large particles such as pet hair, lint and pollen, and inhibits the growth of impurities and extends HEPA filter life.
Stage 2:True HEPA Filter removes 99.99% of all pet dander, dust, pollen, smoke, mold spores and airborne microbes as small as 0.3 microns.
Stage 3:Nano-Silver Mesh neutralizes viruses and bacteria on contact.
Stage 4:Washable Activated Natural Carbon Filter effectively absorbs and neutralizes odors caused by ammonia, bacteria and other compounds associated with pets and household objects.
Stage 5:PlasmaWave Technology creates negative and positive ions (no harmful ozone) that combine with water vapor to form Hydroxyls that neutralize harmful viruses, bacteria, odor causing compounds, chemical vapors and gasses - leaving only fresh air.
Bundle & Save
Get additional savings when you purchase any of these items along with this product.