Also Includes

INCLUDED: Dritz D11150 Iron Off Hot Soleplate Cleaner 3Pk 1oz, 24g Squeeze Tubes
This lightweight cordless 360 Freestyle Iron by Panasonic comes in its own heat-resistant carrying case for easy traveling to quilt retreats or on trips!
It has a detachable water tank, with a built- in, lifetime anti-calcium build-up cartridge, so you can use tap water.
It features a double elliptical soleplate (points on both ends) trademarked by Panasonic, automatic- shut-off feature, (after 10 minutes) electronic temperature control, and anti-drip system.
It even steams in the vertical position. Won the Good Housekeeping Seal of Approval.
Iron heats up in 1 minute to maximum (392 degree) temperature, after removing from base-you have 2 minutes, 30 seconds of ironing at set temp, before iron begins to cool You may iron for a full 6 minutes before the iron reaches low. Every time iron is replaced on base, it reheats.
Base features an auto-wind cord reel. This iron is perfect for quilters especially for applique methods.
Also features adjustable steam, spray mist and jet of steam for tough wrinkles or self-cleaning.
Electronic Temperature Control
Easy touch system to select desired temperature.

Anti-Drip System

Anti-Drip System provides a water seal inside the iron to protects fabrics from water spotting.

Vertical Steam

With the push of a button, the vertical steam feature allows you to direct a burst of steam to hanging garments.

Auto Shut-Off - Remembers to Turn Off the Iron When You Don't

Our electronic sensor automatically shuts off the iron after 10 minutes if it is left in the base.

Stay Clean Vents

An anti-calcium system prevents clogged steam vents by reducing the sediment build-up in the vaporizing chamber of the iron.

Select the Amount of Steam for the Job

The adjustable steam button allows you to select just the right amount of steam required for your ironing needs. Choose regular steam for heavier fabrics or light steam for touch-ups.

Steam or Dry Ironing - the Choice is Yours

With our steam/dry selector, you can select to steam or dry iron by simply pushing a button.

2-for-1 with Jet-of-Steam and Self-Cleaning

A powerful burst of steam helps remove stubborn wrinkles when ironing. It also helps clean the steam vents on the soleplate after ironing.

Spray Mist the Wrinkles Away!

The spray mist button helps eliminate stubborn wrinkles by directing extra moisture where necessary.
US Warranty 1 year limited warranty on defects in materials and workmanship.
Extended US Warranty: Extended Warranty Available
Non-US Warranty: 30 days parts and labor
Specifications
Soleplate Style: Multi-Directional & Curved Soleplate
Soleplate Finish: Stainless Steel, Curved
Water Tank: Detachable
Iron Handle: Molded Plastic
Built-in Retractable Cord Reel: Yes (On Base)
Temperature Control: Push button Mirco-processor
Tempurature Ready Indicator Light: On/Off - 3 Settings
Heat Resistant Carrying Case: Yes

PERFORMANCE
Easy Glide - Curved Soleplate: Yes
Time Saving - Multi-Directional Soleplate: Yes
Selectable Fabric / Temperature Dial: 3 Fabric Settings
Adjustable Steam Amount: High / Low / Dry
Extra Jet-of-Steam: Yes
Water Mist: Spray
Water Tank Capacity: 4oz

CONVENIENCE
Vertical Steam: Yes
Automatic Water Seal: Anti-Drip System
Stay Clean Steam Vents: N/A
Quick Reference Fabric / Temp. Chart: On Charging Base
Easy Storage / Carrying Case w/ Handle: Yes

SAFETY
Auto Shut-Off: In Charging Base (after 10 min.)
Power Supply: 119 Volts; 60 Hz
Rated Power: 12.5 Amps, 1500 Watts
Iron-Temperature Range: 176°F - 392°F
Dimensions: 5-1/8" x 3-15/16" x 8-11/16"
Weight: 4.4
Other Images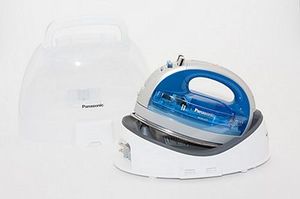 Blue Option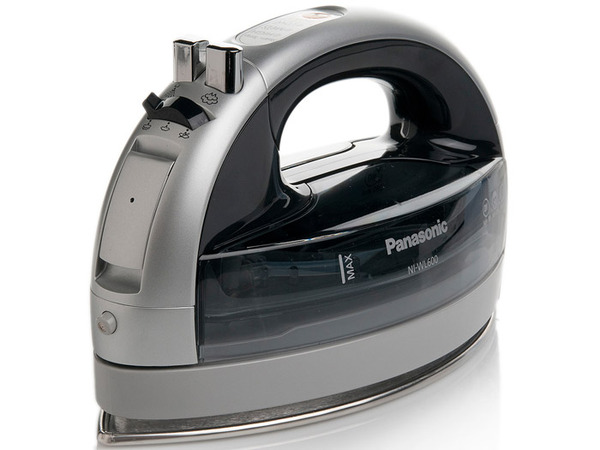 Ergonomic handle for easy forward and reverse ironing movements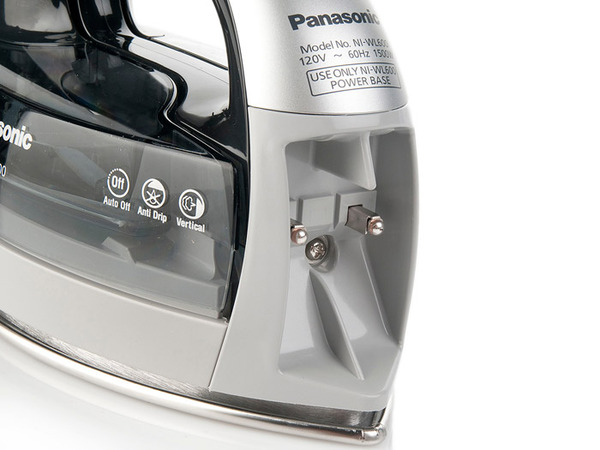 Spray mist nozzle in front of water tank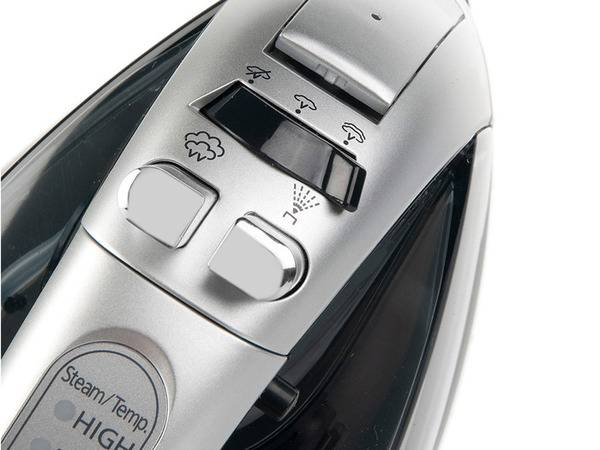 Steam and Spray thumb buttons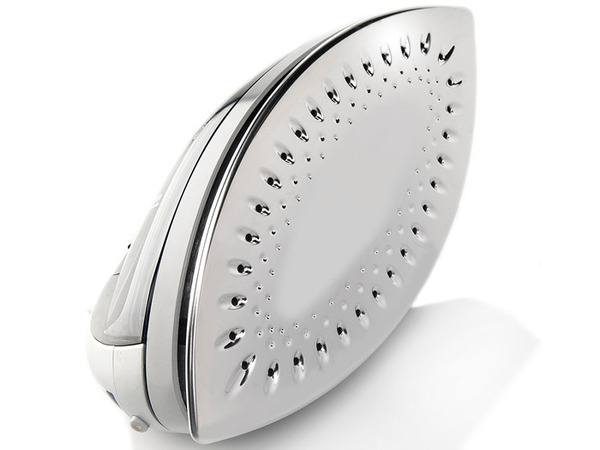 Curved on both ends to allow movement in any direction. Contains a series of round indications that trap pockets of air between the soleplate and the fabric that lets the iron glide smoothly for crease-free results.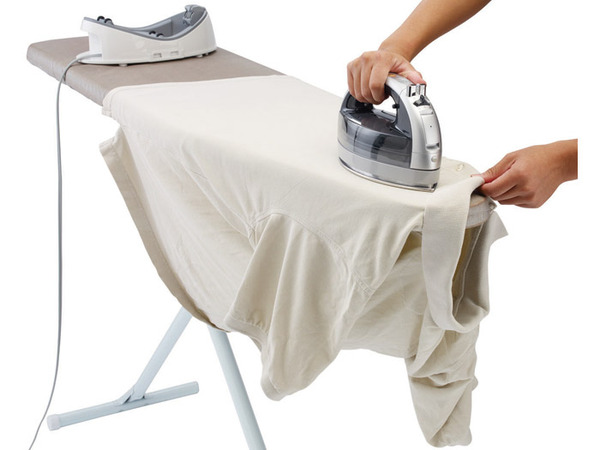 Use ironing board or extension tray to keep home base charger close at hand
Diagram of parts and operation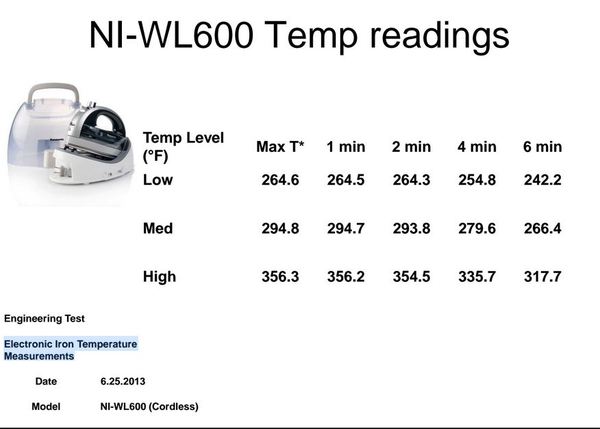 Temperature range from 265 to 318 degrees F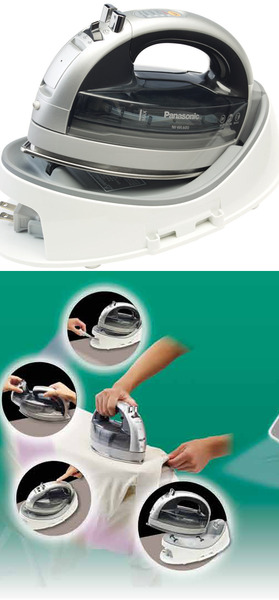 Panasonic 360 Freestyle Cordless Iron
Bundle & Save
Get additional savings when you purchase any of these items along with this product.