The new Velocity 230IR Iron with its eco-intelligent system and anodized aluminum soleplate is here to help you press like the pros.

This iron's hard anodized aluminum soleplate enhances its glide over fabric, it is also scratch resistant and stronger than aluminum alone. As an answer to every quilter's plead this iron also has the capacity to press at the lowest soleplate temperature without spitting or leaking while mainting steam consistency. Its sensor responds to your touch and auto shut-off bypass has it ready to work when you are.

The Velocity 230IR has our patented technology of dual heating elements. What does it mean? Steam is produced by the built‐in steam generator and not in the soleplate, which is the case for all other irons. This ensures continuous steam even at low temperatures, without spitting and leaking. Other great features include sensor technology, eco and turbo settings and more!






US Warranty 1 year limited warranty on defects in materials and workmanship.
Extended US Warranty: Extended Warranty Available
Non-US Warranty: 30 days parts and labor
Specifications
The Velocity 230IR uses our patented 2 heating element and micro pump technology to provide our most advanced level of steam output with both eco and turbo temperature settings. Spitting and leaking are over as the 230IR turns the irons water into steam before it reaches the soleplate. The iron's sensor technology means you have steam on demand when you need it. The anodized soleplate is the hardest, most scratch resistant and best gliding material that exists for ironing.
Full of technological features including the sensor steam handle, the Velocity 230IR is an advanced home iron that can take care of the toughest creases while being gentle on delicate fabrics with its eco and turbo settings. The Velocity 230IR's patented built-in steam generator produces up to 55% more steam than traditional steam irons for perfect ironing in less time. While traditional irons are prone to leaking and spitting, the Velocity irons use a patented 2-heating element and micro-pump technology that pre-heats the water and turns it into steam before it reaches the soleplate. The Velocity 230IR iron will give you perfect constant steam at even the lowest temperatures, yet are 100% safe for all fabrics.
Anodized Aluminum soleplate

Horizontal steam release

1800 watts of power

Water tank capacity of 10 oz.

8.2' cord length

110v / 15 amps power consumption

Built-in anti-scale cartridge

15g or 30g per minute of steam volume

Also has a patented two element heating design allowing iron to contain steam within that can be released on demand.

Size: 13" x 5" x 6.5"



ANODIZED ALUMINUM
SOLEPLATE

NO SPITTING - NO LEAKING

SENSOR TOUCH
TECHNOLOGY

AUTO SHUT OFF WITH
BY-PASS ABILITY

DUAL HEATING SYSTEM
WITH MICRO PUMP

ELECTRICAL
110V

WATER CAPACITY
1.26 cups 300 ml

WATTAGE
1800W

ELEMENTS
2

ECO-INTELLIGENT
Yes

ANTI-SCALE CARTRIDGE
Built-in

POWER CONSUMPTION
15 amps

CORD LENGTH
8.2'

SHIPPING WEIGHT
4.5 lb 2.0 kg

NET WEIGHT
4.05 1.84kg

PRODUCT DIMENSIONS
12.5" x 5" x 6.5" 32 x 13 x 16.5 cm

SHIPPING DIMENSIONS
13" x 5.75" x 7.75" 33 x 14.5 x 20 cm

COUNTRY OF ORIGIN
China

ELECTRICAL APPROVAL
cETLus

WARRANTY
1 Year Limited

BUILT-IN ANTI-SCALE
SYSTEM

Warranty Statement
Other Images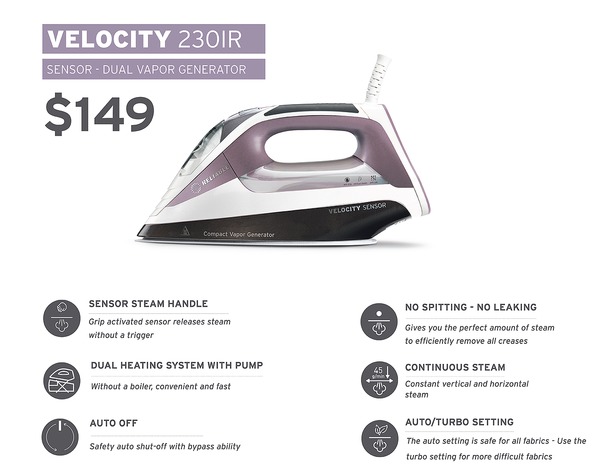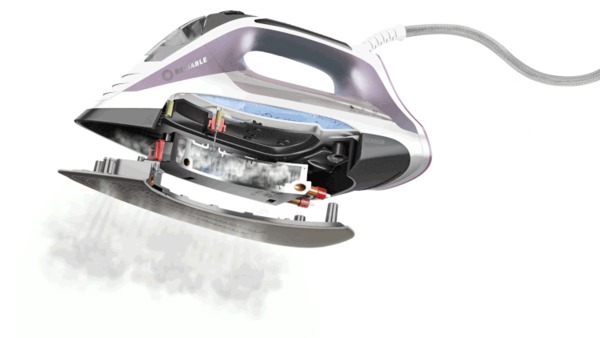 COMPACT VAPOR GENERATOR. Is continuous steam at low temperatures possible? Yes! With our patented dual heating element technology, water is heated before it reaches the soleplate, eliminating leaking and spitting.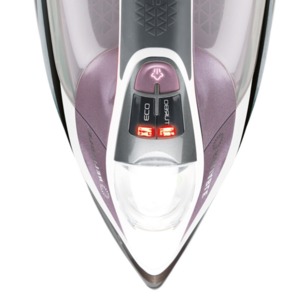 YOU'RE IN CONTROL. Ironing delicates and heavy fabrics in the same load? The Velocity 230IR has an AUTO setting that's safe for all fabrics, and a TURBO setting for heavier fabrics that need a little extra heat and steam.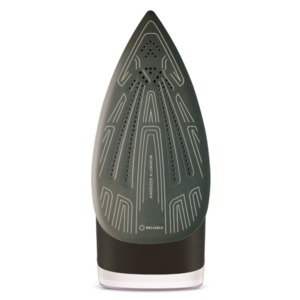 ANODIZED ALUMINUM SOLEPLATE. Gliding smoothly along fabrics, the Velocity 230IR has a scratch-resistant soleplate that is superior to ceramic and conventional soleplates.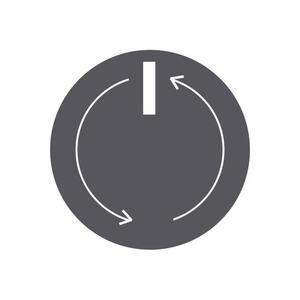 AUTO OFF BYPASS. 8 Minute auto-shutoff and the option to bypass it puts you behind the wheel, or rather, behind the iron! You can step away and come back to a hot iron that's ready to keep going.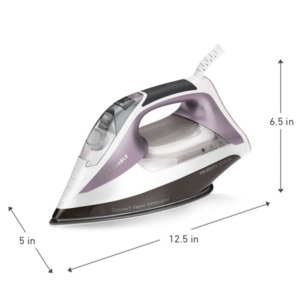 DETAILS, DETAILS... Auto shut-off with bypass, Anodized aluminum soleplate, 8'2" electrical cord Auto/Turbo setting, Dual heating with pump, Sensor touch technology, 360° swivel cord.
Marc, Toronto, Ontario CA
I iron twice a week, and this machine is perfect for the task. Very easy to use, the touch start is amazing, I don't have to worry about turning it on and off. And it starts back as soon as I pick it back up. The Velocity 230IR is so smooth with the perfect weight not too heavy nor too light, the iron glide effortlessly over the garments. I iron more clothes with less effort and less time than with my previous iron. It is a great Iron overall. With nice transparent water reservoir and sensor feature that control the steaming. It does a great job of pressing out wrinkles, or pressing in creases in standard as well as challenging fabrics such medium to heavy weight stretch cottons I strongly recommend to people that still enjoy ironing their work shirt their kid's cloth as well as for professionals. Very well priced. Great quality I strongly recommend it. I ordered another one for my cottage. ✔ Yes, I recommend this product.


Bundle & Save
Get additional savings when you purchase any of these items along with this product.