Ontario has issued the closure of all non essential businesses due to COVID-19 starting Monday, March 23rd, 2020 until April 8th. This item ships directly from Reliable who not open for shipping until it is safe to do so. Stay safe everyone!
The Board 300LB is not your ordinary ironing board. Like all Reliable home ironing boards, they are handmade in Italy and built to last, with premium features that make it a proven top performer.
The Board 300LB started with an idea after listening to the concerns of our customers in the quilting, sewing and knitting communities. A traditional pointed tip was not ideal for pressing squares and other large fabrics. After dozens of prototypes and tests, the rectangular removable cover was born. With a 55" wide pressing surface, the 300LB provides the largest pressing area in its class while still maintaining portability and stability.
The Board 300LB is a 2-in-1 home ironing table. It was designed to provide maximum stability and features to make ironing clothing less work, and provide the ideal extra large work surface for quilters and knitters.
Not all ironing boards are made the same. We use traditional tube-frame construction and a galvanized metal mesh screen so your investment will last.
Features
18.9" X 47.25" PRESSING SURFACE (MAIN BOARD)

WITH EXTENSION 55"

7 step height adjustable from 30" - 38"

18.9" x 3" x 60" folded dimensions. With extension -67"

Wire rack to keep material from floor.

Unique 2-in-1 Design
Convert The Board from the regular ironing surface, simply remove the cover, slide the extension over the board followed by the cover.

Double Wishbone Legs
Double wishbone leg for maximum stability. Lead free, high gloss white finish will continue to look great for many years.

Tube Frame Construction
The Board 300LB is made using tube frame construction, which offers maximum rigidity and stability.

Ergonomic Support for Iron
Support tray when used with an iron, sits on an angle eliminates wrist fatigue.

Laundry Rack
A convenient laundry rack is supplied with The Board's 300LB. The rack doubles as a catch tray when ironing longer garments like dresses or robes.

Extra Strong for Ironing Stations
When used with an ironing station, there's no need to wory as the support is extra strong.

Reliable Ironing Table Warranty
US Warranty 10 years on materials and workmanship
Non-US Warranty: 30 days parts and labor
Specifications
Fabrication:
Heavy-duty Tube Framed
Color:
White Powder Coat – Lead Free
Cover Sets:
2
Cover Material:
Cotton/polyester
Locking System:
Magnetic
Laundry Rack:
Included
Iron Tray:
Iron Station Or Iron Only
Height Adjustment:
30" – 38"
Pressing Dimensions:
18.9" X 55 (With Extension)
Pressing Dimensions:
18.9" X 47.25" (W/out Ext.)
Folded Dimensions:
67.5" X 19" X 4"
Shipping Dimensions:
65" X 20" X 4.5"
Net Weight:
25 Lb – 11.3 Kg
Shipping Weight:
31 Lb – 14 Kg
Country Of Origin:
Italy
Warranty:
10-year
Watch Video
Other Images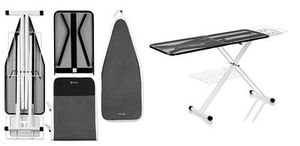 Reliable The Board 300LB/C60LB 2in1 Home Ironing Board, Extension to 55"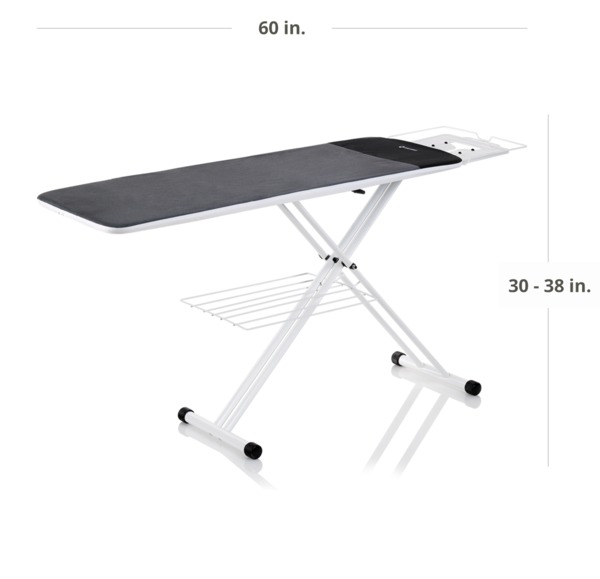 Reliable The Board 300LB C60LB 2in1 Home Ironing Board, Extension to 55"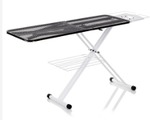 Unique 2-in-1 Design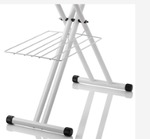 Double Wishbone Legs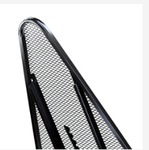 Tube Frame Contruction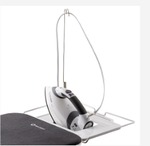 Ergonomic Support For Iron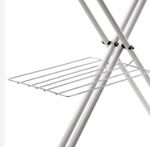 Laundry Rack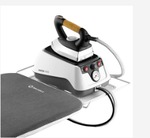 Extra Strong Iron Rest For Optional Ironing Stations

The Board 300LB (Long Board, not Pounds)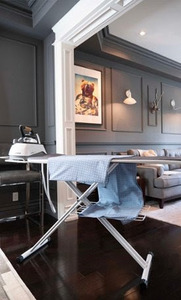 Very Sturdy Construction.
Lauren, California
i finally found a real ironing board to replace my 25+ year old (american) board.... unfortunately, the ironing boards i found locally were like toys and very low quality. :-( on the other hand, italians take ironing seriously.... i should know, i have an italian mother in law and a lot of linens to press properly. thanks!

Geraldine, California
My new board arrived in fast time. Thank you so much for the fast service. I do love that ironing board.