Bonus $700 Value 30x15 Wide Extension Table for flat hoops that came in with this trade in
Fully Serviced with 90 day parts and labor warranty! For Pick up in Baton Rouge store.
* Synchrony Bank Sewing & More Fixed Payments 0% No Interest Financing with approved credit!
Click HERE to Apply Online for Synchrony Bank Sewing and More Credit Card Approval to use for Online Checkout or in AllBrands stores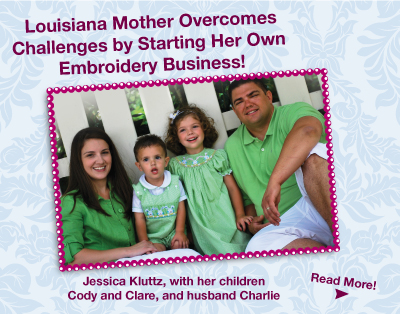 Achieve professional results with the PR650e six-needle embroidery machine. When it comes to powerful, multi-needle embroidery machines, Brother set a new standard with the enhanced, 6-needle, Entrepreneur® PR650e home embroidery machine.
Boasting an array of features that make it the first word in multi-needle embroidery, the PR650e offers everything you need to take your embroidery projects to the next level.
The PR650e offers the perfect combination of easy-to-use features, innovative technology, and affordability for embroidery enthusiasts and budding entrepreneurs looking to take their embroidery projects to the next level.
This enhanced model combines the easy-to-use features and innovative technology from the first generation PR-650 with exciting time-saving enhancements like a group/ungroup feature fro the design editing ease, and a speed advance feature which allows you to move through your design by 500 stitches at a time, so you can find your needle drop area more quickly.
Exciting Features!
improved Advanced Super View (ASV) HD LCD touch screen display by Sharp® Corporation

LCD adjustment feature allows you to change the brightness of the LCD display

Enhanced design & editing features including group/ungroup feature, individual stitch backup and thread spool reset

Improved, energy efficient LED lights have no mercury and consume 15% less power than before

Choose from an expanded library of built-in designs and fonts or download exclusive designs from www.ibroidery.com

Built-in link-ready function so you can streamline the operation of four machines with just one computer

Easy Embroidering With 6 Needles And Automatic Needle Threading
Embroider multicolor designs quickly and easily. At the press of a button, the thread is pushed through the eye of the needle.

Advanced Super View (ASV) HD LCD Touch Screen By Sharp® Corporation
• View your designs in crisp, sharp clarity on the 4.4" x 7.3" touch screen
• 16.7+ MILLION possible colors with little or no color shifting
• Enhanced viewing angle of 176 degrees vertical and horizontal
• Almost instantaneous design rendering—no more waiting to preview your designs
• adjustment feature allows you to change the brightness of the screen to suit your room's lighting environment or for better viewing of light designs, such as lace
• IMPROVED LED lights consume 15% less power, making it energy efficient
• Customizable screensaver so you can promote your business while demoing

Built-In Link-Ready Function* - Perfect For The Small Business Owner
Link up to four PR650 Series and PR1000 Series machines (Optional PE-DESIGN® NEXT software required)
• Monitor all machines from a single computer
• Queue up to 100 designs

Group/Ungroup Feature
Combine designs and edit them as one, or separate design elements and edit pieces separately.

Improved! Individual Stitch Backup
Back up through designs by individual stitches, color blocks or groups of 500 stitches (an increase of 400 stitches).

Stitch With Confidence Using The Basting Function
Apply a basting stitch outline to the perimeter of any design to hold the fabric to the stabilizer. Great for larger fabrics and hard-to-hoop items.

Expanded Library Of Embroidery Designs And Fonts
• 25 built-in embroidery designs
• 25 size-adjustable embroidery lettering fonts
• Greek, Appliqué, Floral and Renaissance alphabet designs
• 3 monogramming font styles, and 15 coordinating accents
• 10 frame designs


Large Embroidery Area Of 12" X 8"
Includes four sizes of embroidery frames: 12" x 8", 5" x 7", 4" x 4" and 2" x 1.5".

Three USB Ports
High speed port for fast design transfers. A second port for machine peripherals. A third port for computer connectivity and future upgrades

Adjustable Embroidery Speed Up To 1,000 Stitches Per Minute
Save time when embroidering large projects.

Automatic Color Changing And Thread Trimmer
Pre-program the correct thread color sequence for the entire design. The upper and lower automatic thread trimmers mean no time-consuming trimming after the embroidery is complete.
US Warranty 90 Days labor on defects in materials and workmanship.
Non-US Warranty: 30 days parts and labor
Specifications
Sewing Stitches
Built-in Alphabets: 29
Maximum Embroidery Speed (stitches per minute): Up to 1000
Embroidery Pattern
Decorative Patterns: 14 sample designs, 25 size-adjustable embroidery alphanumeric fonts, Greek, appliqué, floral and Renaissance alphabet designs, 3 monogramming font styles and 15 coordinating accents, 10 frame designs, BONUS! 60 additional designs on included USB memory stick
Embroidery Rotation: 1°, 10° or 90° increments
Media Recognition: USB Host, Memory Card
Monogramming Fonts: 3
Frame Patterns: 10 frames
Screen/Software
On-Screen Editing: Designs can be manipulated and edited on screen, including rotation, mirror image, enlarging, reducing, positioning, combining designs and much more
Display Control Panel: HD LCD by Sharp Corporation
Compatible with PE-Design/PED Basic: Yes
Design Memory: Yes
Software Upgrades: Yes
Compatible Media (requires separate purchase): Secure Digital (SD) Card, Compact Flash, Memory Stick, Smart Media, Multi Media Card (MMC) XD-Picture Card and USB Floppy Disk Drive (USB Flash Memory), USB CD-ROM, CD-R, CD-RW drives -(reading only) Floppy Drive
Embroidery Data Formats: dst(tajima), pes(PE-Design™), phc(actual machine format), pmu(utility)
USB Update Capabilities: Yes
On-Screen Help: Yes
Needle/Thread Feature
Thread Trimming System between jump stitches: Yes
Bobbin: Vertical, auto thread delivery
Needle Threading System: Automatic, all 6 needles
Thread Sensors: Yes, upper and bobbin
Upper Thread Tension System for perfect stitches on any fabric: Manual, bee-hive style
Thread Cutter Button: Yes, all 6 needles
Thread Wiper to pull thread tail out of embroidery area: Yes
# of needles: 6
Machine Features
USB Ports: 3
Resume Function (This function goes back to the last exact stitch before the machine was turned off): Yes
LCD Touch Control Panel: 7" x 4.5" HD LCD
Super Bright Work Area: Light turns on for threading and editing and shuts off when embroidering to avoid shadows
Maximum Embroidery Field: 12" x 8"
Other
Machine Dimensions: 36.54" H x 29.84" W x 32.28" D
Microsoft® Windows® 7 support for Brother Home Sewing Machine Products
(.pdf)
Included Accessories
Includes four sizes of embroidery frames: 12" x 8", 5" x 7", 4" x 4" and 2" x 1.5".
Does not include card reader holder as card readers are no longer available.

Other Images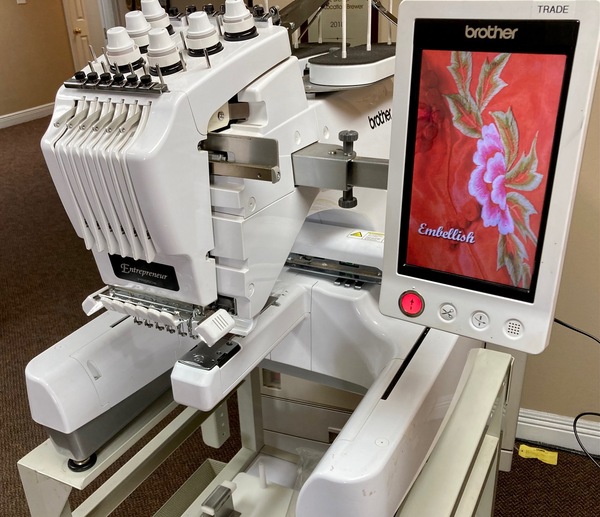 Brother PR650E Trade In 6 Needle Embroidery Machine USB, 4 Hoops to 8x12", 68 Fonts, 3 USB Ports, HD LCD Touch Screen Display by Sharp, Serviced, Wnty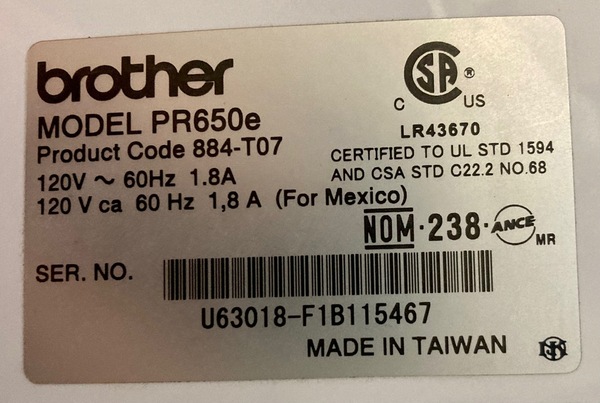 Serial Number U63018-F1B115467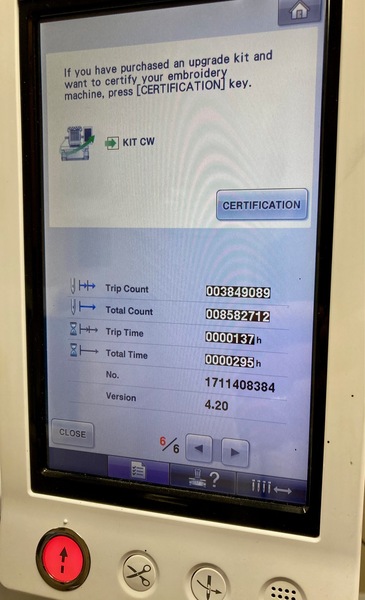 Total Stitch Count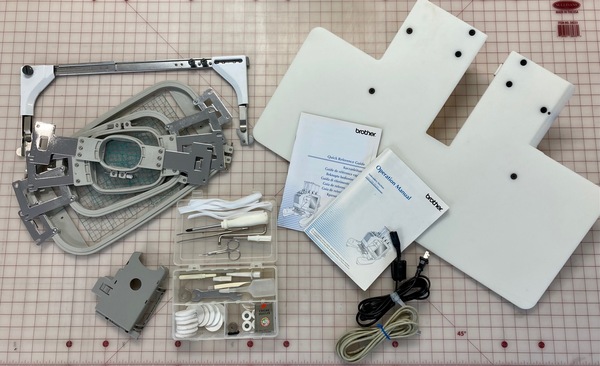 Accessories Included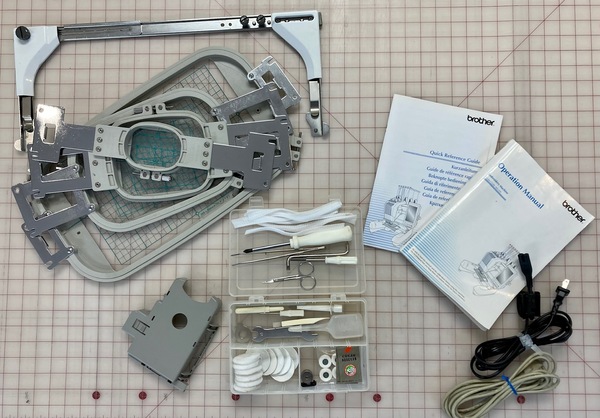 Closer look at Accessories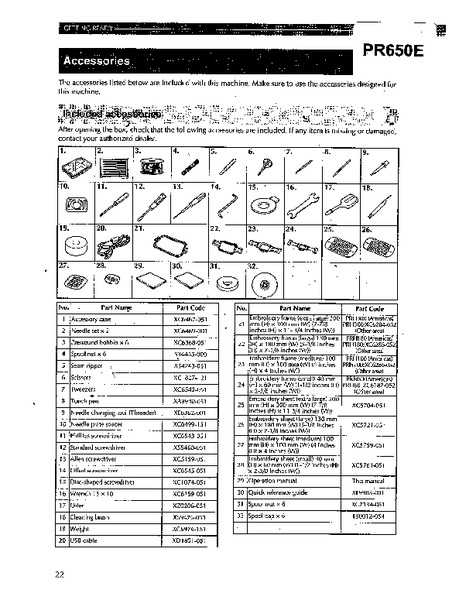 Included Accessories except card reader holder.
Terry B, Lake Charles
I love, love this machine! Just want to say thanks again for going above and beyond to help me with this purchase and with the dog. I have kept in contact with the adopter and it is an awesome fit for the family and the dog. I went online with your company and ordered the set of fast frames and the Durkee hoops and they are all already here. Going upstairs to get busy. Have a wonderful holiday weekend. Terry B. Sent from my iPad