Click here to download Bernina's new app. View products, promotions, and more!
The B 590 with the embroidery module is the top-of-the-line 5 Series model that boasts full embroidery functionality with sewing and embroidery speeds of up to 1,000 stitches per minute (SPM). Additionally it offers a 9.0 mm stitch width, 8.5" freearm space right of the needle, 8 embroidery alphabets, 275 built-in embroidery designs, 500 stitch patterns, and comes standard with the BERNINA Stitch Regulator (BSR). Other embroidery features available include: Pinpoint Placement, Undo/Redo, Group/Ungroup, a new Color Wheel and access to a Creative Embroidery Consultant.
1. 8.5 free-arm length to right of the needle.
2. 4.3" touch screen
3. BERNINA "B9" hook system.
4. Automatic Thread Cutter
5. BERNINA Adaptive Thread tension.
6. Maximum speed for optional embroidery 1,000 spm
7. Pinpoint placement.
8. Thread Away,
9. Undo & re-do, un-group & re-group
and much more.
US Warranty 90 Days labor on defects in materials and workmanship.
Non-US Warranty: 30 days parts and labor
Specifications
Bernina Blog: The new BERNINA 5 Series is finally available
Is Your BERNINA Embroidery Module STILL IN THE BOX?!?!
We are excited to announce all new BERNINA branded videos have been added to the existing Embroidery Essentials online course. Click here to learn more about this course: https://sewing-mastery.teachable.com/...​
Included Accessories
Presser Feet:
 Reverse Pattern Foot #1C
 Reverse Pattern Foot #1D
 Overlock Foot #2A
 Buttonhole Foot #3A
 Zipper Foot #4D
 Blindstitch Foot #5
 Open Embroidery Foot #20C
 BERNINA Stitch Regulator #42

Additional Accessories:
 Instruction Manual
 Power Cord
 BERNINA Foot Control
 Free Hand System
 Slide-on Table with Seam Guide
 Soft Cover
 Accessory Wardrobe (magnetic and attachable)
 1 Pkg. Asst. Needles
 Height Compensation Tool
 Small Screwdriver
 Touch Screen Pen
 Straight/CutWork Stitch Plate
 Oiler
 5 Bobbins (total)
 Seam Ripper
 Lint Brush
 2 Foam Pads
 3 Spool Caps


1 Presser Foot:
 Drop-shaped Embroidery Foot #26
3 Embroidery Hoops
 Large Oval Hoop and Template
 Medium Hoop and Template
Additional Embroidery Accessories
 2 Template Holder Clips
 Thread Net
 1 pkg Asst. Embroidery Needles
 USB Connecting Cable
Other Images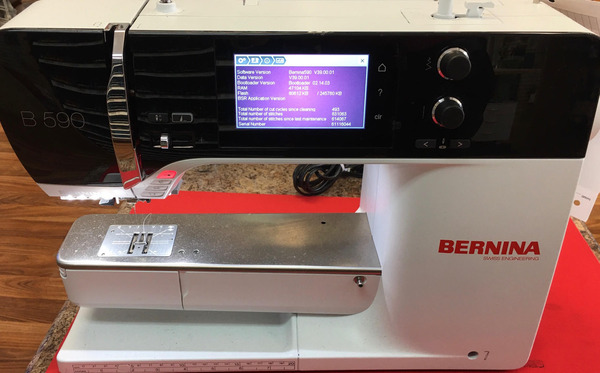 we took a B590 with embroidery module on trade in recently which is $1000 less than brand new. Here is the stitch count.

As you requested: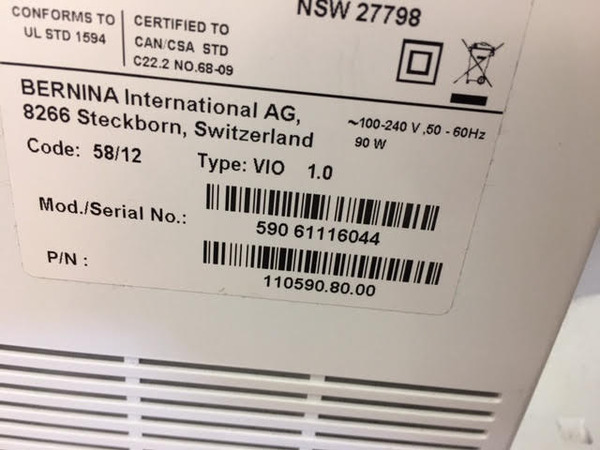 The trade I took in today will be ready to sell shortly. The threader was damaged and Seth will be replacing it for me, otherwise it looks to be in perfect shape. I'll put it on the retail floor here in BR. Robert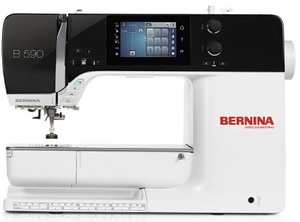 Bernina B590E Next Generation Sewing Machine with Embroidery Module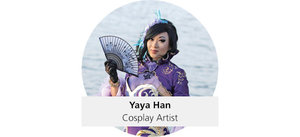 Yaya Han, Cosplay Artist uses and recommends B590
Bundle & Save
Get additional savings when you purchase any of these items along with this product.