Also Includes

INCLUDED: Bernina Crystal Edition Suitcase System

INCLUDED: Bernina Inspiration Kit with Swarovski Crystals

INCLUDED: Bernina 032960.70.00 Foot #10D Edgestitch Foot w/Guide

INCLUDED: Bernina 008461.73.00 Button Sew On Presser Foot #18

INCLUDED: In Store Instruction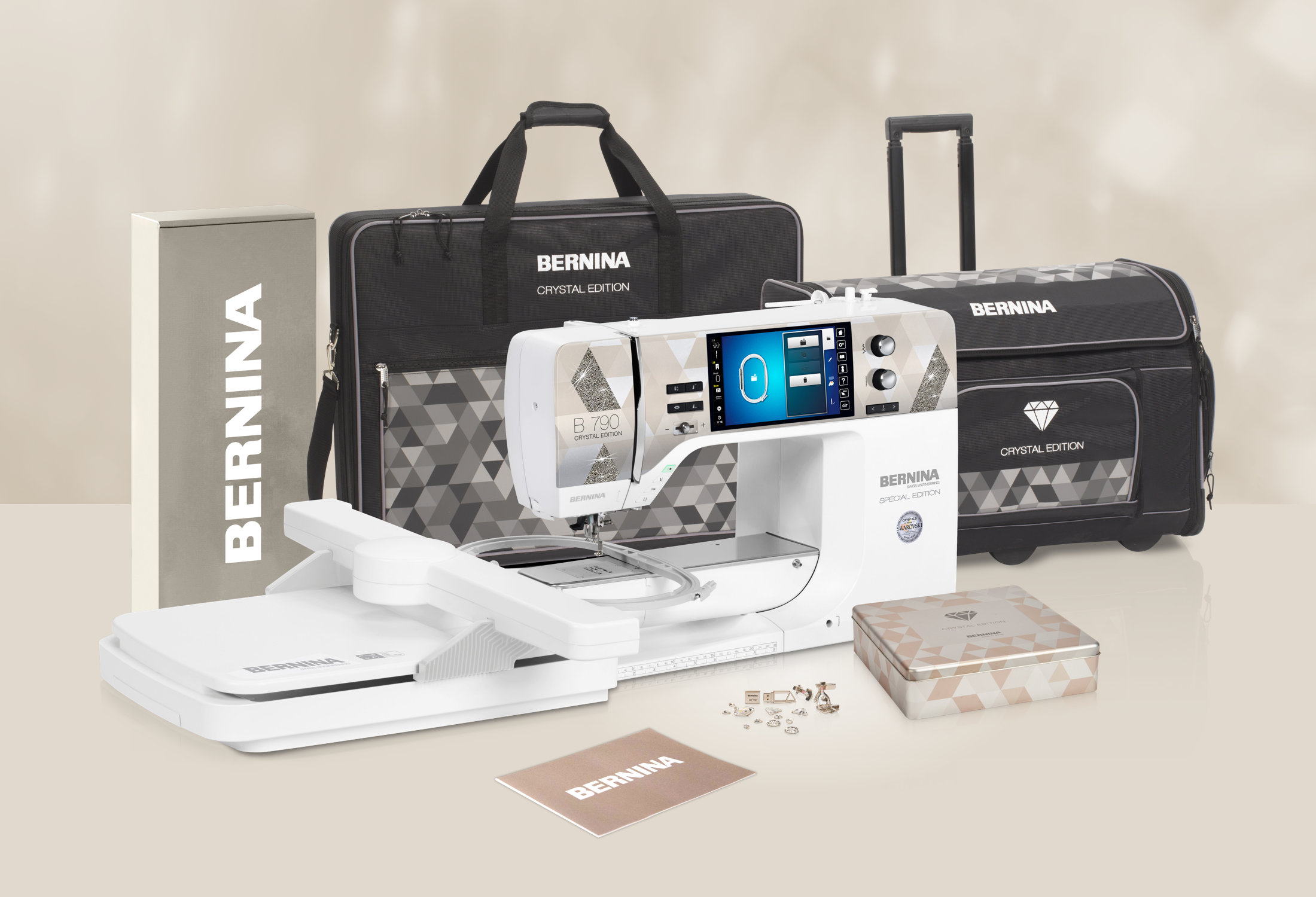 ADORNED WITH REAL SWAROVSKI ® CRYSTALS
THIS IS REAL SPARKLE!
INCLUDES BERNINA CRYSTAL EDITION SUITCASE SET,
INSPIRATION KIT, EMBROIDERY BUNDLE, ONLINE
SOFTWARE AND SEWING INSTRUCTION, PLUS 50% OFF MSRP
ON BERNINA EMBROIDERY SOFT WARE 9
*Financing Available*
*Up to 48 Months Bernina Credit Card Fixed Payment No Interest Financing with approved credit!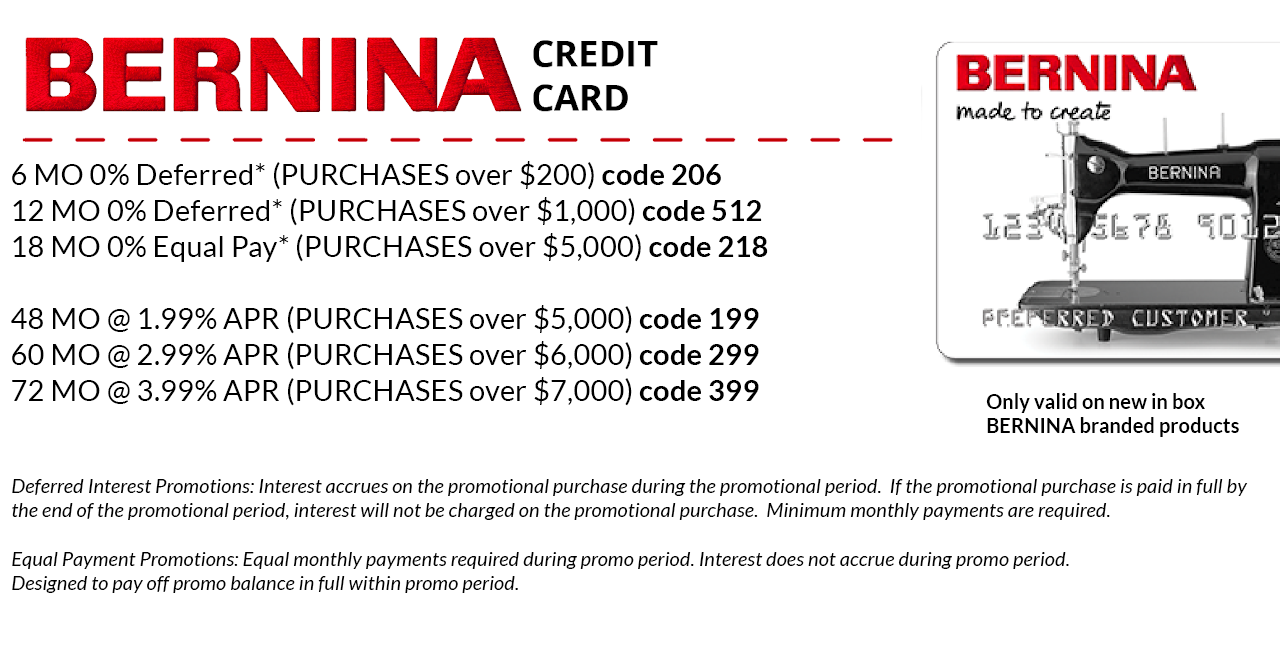 Click HERE to Apply Online.
Click here to download Bernina's app. View products, promotions, and new Accessory/Foot Organizer!
Download the Bernina Sewing Workbook here
Download the Bernina Embroidery Workbook here
Download Bernina ARTlink 9 here
Addendum for the B 880 PLUS and B 790 PLUS and Embroidery Plus Upgrade - My BERNINA Embroidery Workbook
Short Description: Download this embroidery workbook for the owners of the B 880 PLUS and B 790 PLUS machines or those owners that have purchased the Embroidery Plus Upgrade for the B 880 and B 790.
Compare Bernina machines here
Click here to view the Bernina comparison sheet
Get inspired by the sparkle of crystals! The B 790 PLUS Crystal Edition will charm you with real Swarovski crystals and the beguiling set of additional accessories, including the new high-performance embroidery module with BERNINA Smart Drive Technology (SDT).
Glamourize Your Sewing Room

Get Inspired by Shining Crystals

Additional Presser Feet Included

Eye-catching suitcases included

Sew silk & leather like a pro

Automatic features

Love the BERNINA Innovations

Ask you on-screen support

Quiet & Precise Sewing

Finest Embroidery Every time

Enhanced Editing

Create your personal stitch

Total embroidery stitch control

Advanced embroidery module

The BERNINA 790 is a sewing and embroidery combo machine with a 7-inch high-resolution color touch screen and programmable foot control, and comes standard with the BERNINA Stitch Regulator (BSR), which ensures stitches of the exact same length when free-motion sewing. The B 790 is also equipped with the one-of-a-kind Stitch Designer, which allows users to draw their own stitches on the touch screen and in one click, convert them into a stitch pattern. Additionally, it features 554 stitches, including newly designed sideways motion stitches, 270 embroidery designs, and eight embroidery alphabets. The B 790 also comes with the embroidery module that accommodates the Maxi Hoop for a large embroidery area.



MEET THE B 790

The B 790 does it all and with the legendary stitch quality and superior performance you only get from a BERNINA. Every project is an experience in sewing perfection with this top-of-the-line machine.


NEXT GENERATION TOP-OF-THE-LINE EQUIPPED WITH:

Stitch Designer

Programmable foot control

New BERNINA Adaptive Thread Tension for perfect stitch quality front and back

Newly designed stitches including sideways motion stitches

New embroidery designs built into the machine

Ability to import and export sewing stitches via USB

BERNINA Hook System for legendary stitch quality

KEY FEATURES

Sewing, quilting and embroidery combo machine

7.0" high resolution color touch screen

Large bobbin

10" to the right of the needle

Maximum sewing speed of 1,000 stitches per minute

BERNINA Dual Feed

BERNINA Stitch Regulator (BSR) included

BERNINA Free Hand System (FHS)

Large embroidery area that is Maxi Hoop compatible

9 mm stitch width

BERNINA 790: The best technology for sewing and embroidery.
Innovation marries creativity and you sew happily ever after. The BERNINA 790 combines innovative functions and features with plenty of space, high speeds and an extra-large embroidery module. Use the colour touchscreen to effortlessly access all the functions. Discover something new and create your own stitches with the Stitch Designer. Drag and drop to edit embroidery motifs directly on the touchscreen. The fast and quiet BERNINA Hook sews high-precision stitches up to 9 mm in width and with the integrated BERNINA Dual Feed even hard-to-manage and fine fabrics can be sewn easily for superb results.


With the launch of the 7 Series, BERNINA presented a world's first, the BERNINA 9 Hook (B 9 Hook). Combining the two best hook technologies.Since June 2014 BERNINA holds the US patent for the B9 Hook, rest of the world is pending. The new heart of the BERNINA machine features a novel, centrally-placed driver, which allows the B 9 Hook to run steady and quiet. The B 9 Hook sews high-precision stitches up to 9 mm in width with speeds up to a 1,000 stitches per minute. And the bobbin has 80 percent more thread capacity than our standard bobbins allowing you to sew longer without interruption. Finally, the B 9 Hook is made of high-quality materials that allow the thread to run smoothly at consistent tension.


Unboxing the Bernina B790. I love old machines, but definitely get excited with new technology. Bernina B790

MAKE A STITCH SAMPLER BOOK by quilter Pat Holly
US Warranty 25 years head, 5 years electronics, 1 years labor
Non-US Warranty: 30 days parts and labor
Specifications


Features of the Embroidery Plus Upgrade for B 880 and B 790

Welcome to our How to Video Series on the Bernina 790 Plus Sewing and Embroidery Machine! Sara from sewingmastery.com has completed over 70 videos on the Bernina 790 Plus!


Is Your BERNINA Embroidery Module STILL IN THE BOX?!?! We are excited to announce all new BERNINA branded videos have been added to the existing Embroidery Essentials online course. Click here to learn more about this course: https://sewing-mastery.teachable.com/...​

This promotional price is set to expire at the end of the month
Included Accessories
10 Presser Feet:
 Reverse Pattern Foot #1C
 Reverse Pattern Foot #1D
 Overlock Foot #2A
 Buttonhole Foot #3A
 Zipper Foot #4D
 Blindstitch Foot #5
 Jeans Foot #8D
 Open Embroidery Foot #20C
 Sideways Motion Foot #40C
 BERNINA Stitch Regulator #42

Additional Accessories:
 Instruction Manual
 Power Cord
 BERNINA Foot Control
 Free Hand System
 Slide-on Table with Seam Guide
 Soft Cover
 Accessory Wardrobe
 1 Pkg. Asst. Needles
 Height Compensation Tool
 Seam Guide Right
 Torx Screwdriver (Gray)
 Angular Torx Screwdriver
 Small Screwdriver
 Touch Screen Pen
 Straight/CutWork Stitch Plate
 Oiler
 6 Bobbins
 Seam Ripper
 Lint Brush
 2 Foam Pads
 3 Spool Caps

B790 PLUS EMBROIDERY:
1 Presser Foot:
 Drop-shaped Embroidery Foot #26
3 Embroidery Hoops
 Large Oval Hoop and Template
 Medium Hoop and Template
 Small Hoop and Template
Additional Embroidery Accessories
 2 Template Holder Clips
 Thread Net
 1 pkg Asst. Embroidery Needles
 USB Connecting Cable
Other Images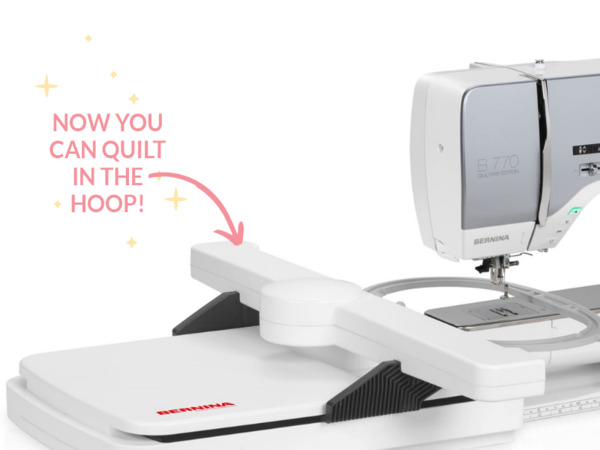 Embroidery Module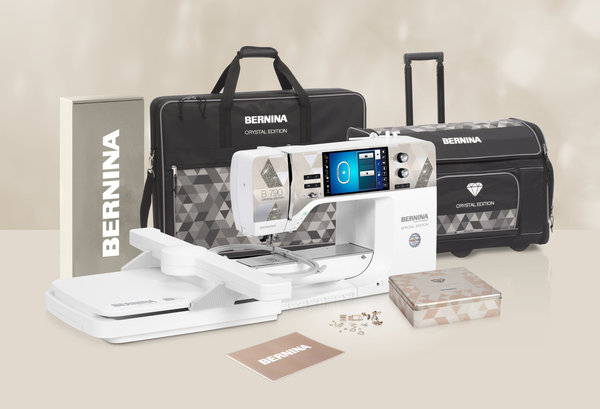 Get $4,660 in FREE gifts: • Crystal Edition Suitcase System • Inspiration Kit with Swarovski Crystals • Online Software and Sewing Lessons • Advanced Embroidery Module with Smart Drive Technology (SDT) • USB Stick with 300+ Embroidery Designs, 35 Unique Crystal Edition Designs • Edgestitch Foot #10D • Button Sew-On Foot #18 • 50% off MSRP on BERNINA Embroidery Software 9 DesignerPlus • BERNINA Crystal Edition Embroidery Bundle including Stabilizers, Thread, and Embroidery Designs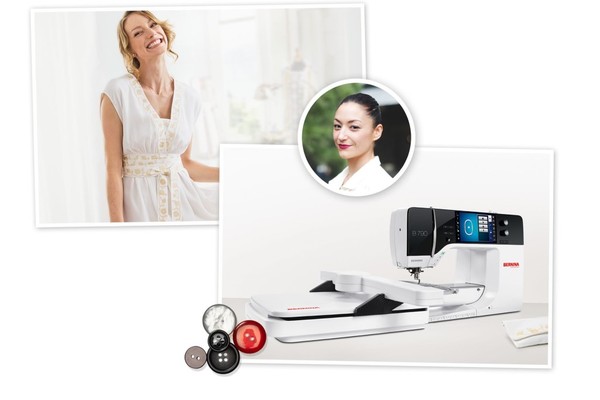 BERNINA 790 – the ideal sewing and embroidery machine for fashion designers. The BERNINA 790 is the ideal machine for sewing fine fabrics for Japanese-Swiss designer Kazu Huggler: "The BERNINA 790 lets you embroider designs over a particularly large area, and offers a range of luxury features. The Dual Feed is brilliant at feeding my silky fabrics." The daughter of a Japanese mother and Swiss father, Kazu Huggler belongs to a new generation of international couture fashion designers. She runs her studio and fashion label "KAZU" in Zurich. Her creations combine Japanese aesthetics and simplicity with Swiss quality. The first dress of her bridal fashion collection was created on a BERNINA 790.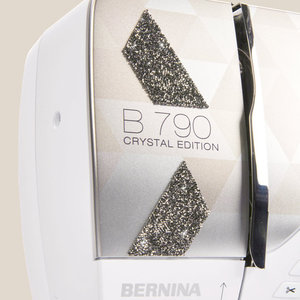 Glamourize Your Sewing Room
• Exclusive shimmering faceplate
• Adorned with real Swarovski Crystals
• Puristic, yet very elegant design
The faceplate and the service panel are designed in an exclusive geometric white-and-beige pattern and embellished with dazzling crystals from Swarovski. The B 790 PLUS Crystal Edition adds glamour to any sewing space!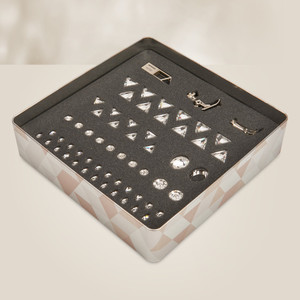 Get Inspired By Shining Crystals
• Real Swarovski Crystals to sew on
• USB Stick with 300+ Embroidery Designs
• Edgestitch Foot #10D and Button Sew-On Foot #18
The Crystal Edition Inspiration Kit features a wide variety of sew-on Swarovski crystals, the Edgestitch Foot #10D and the Button Sew-On Foot #18. The elegant tin box also contains a USB stick with over 300 embroidery designs, including 35 exclusive Crystal Edition designs, which adds that little glitz to your project.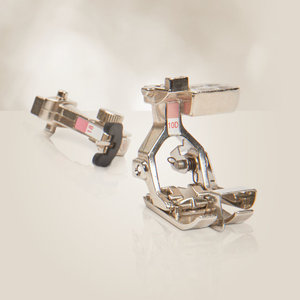 Additional Presser Feet Included
• Edgestitch Foot #10D
• Button Sew-On Foot #18
• Must-have presser feet
The Edgestitch Foot #10D is a practical help for sewing finished edges even and straight. The Button-Sew-On Foot #18 is the perfect tool for easy sewing of buttons and decorations. Thanks to the help of both presser feet, you will be able to let your garments shine even brighter.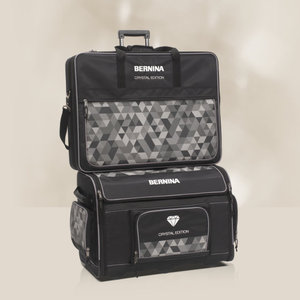 Eye-catching Suitcases Included
• XL Trolley
• XL Embroidery Module Bag
• Exclusive Crystal Edition Design
The advanced padding system and the high-quality outer material will provide thorough protection for your B 790 PLUS Crystal Edition machine and the embroidery module.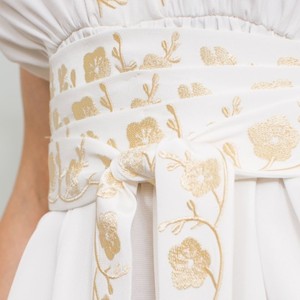 Sew Silk & Leather Like a Pro
• Handle special materials with ease
• Enjoy superb fabric feed
• Optimum visibility while sewing
The innovative BERNINA Dual Feed is easily engaged when needed and tucks completely out of the way when it's not.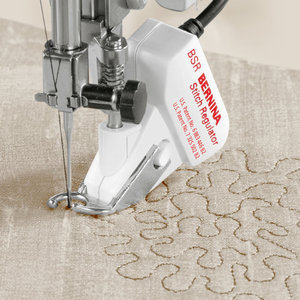 Love the BERNINA Innovations
• Achieve the finest stitching results
• Stitches are kept consistent
• Assistance with free-motion sewing
The BERNINA Adaptive Thread Tension provides ideal thread tension for each and every stitch type, in any variation. The BERNINA Stitch Regulator guarantees precise stitch quality and results.
Ask Your On-screen Support
• Ask for the type of stabilizer
• Find the proper needle and foot
• Learn more about sewing and embroidery
The Sewing and Embroidery Consultants and the built-in tutorials offer direct on-screen support and answer your questions whenever you need them.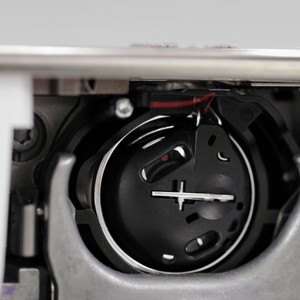 Quiet & Precise Sewing
• Ideally suited for decorative stitches
• Sew & embroider even longer
• ​More time for your creativity
The BERNINA Hook sews high-precision stitches up to 9 mm in width with speeds up to 1,000 stitches per minute. The bobbin holds 70% more thread than standard bobbins.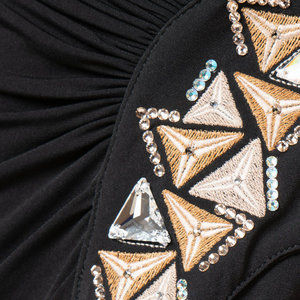 Finest Embroidery Every Time
• Place your design where you want
• Clean embroidery results on the top
• Intuitive & very easy to use
The B 790 PLUS Crystal Edition is enriched with exciting embroidery features like Pinpoint Placement, Enhanced Editing Functions, Total Embroidery Stitch Control and much more.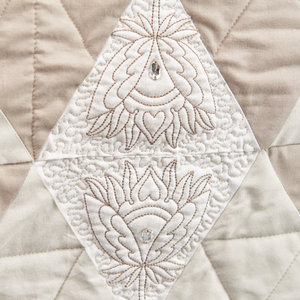 Enhanced Editing
• Undo & Redo steps while editing
• Group & Ungroup designs
• Rearrange designs
Undo or redo steps while editing or combining designs to return to your initial position. Combine designs to edit all at one time with group. Break apart designs to edit individually with ungroup. The design layer stitch-out sequence can also be customised.
Create Your Personal Stitch
• Design & create your own stitches
• Draw your stitch design directly on the screen
• Convert the design into a stitch pattern
Edit stitches and create your own by drawing your ideas right on the touch screen. At the touch of a button, your design is converted into a stitch pattern. The creative possibilities are endless and your stitch library is continuously expanding.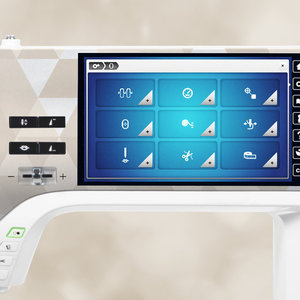 Total Embroidery Stitch Control
• No more manual trimming on the top side
• Invisible securing stitches
• Smart tie-on/off stitches
Threads are automatically pulled down thanks to the Thread Away Mode. The Smart Secure function conveniently adds tie-on/off stitches to a design if none are pre-programmed. And the Invisible Secure makes the tie-on/off formation completely invisible.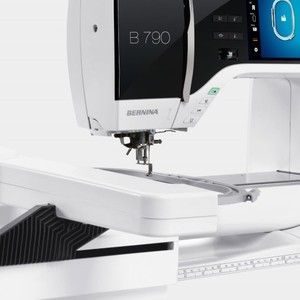 Extended Freearm for Grand Ideas. The BERNINA 7 Series includes a meticulously engineered extended freearm with 10 inches of space to the right of the needle. The BERNINA 790 not only provides plenty of space for large, beautiful sewing and embroidery projects - with its stitch width of 9 mm, it is also ideally suited for sewing decorative stitches. The extra-large embroidery module lets you stitch out maxi-sized motifs. And should your ambitions grow, th BERNINA 790 can be updated with a wealth of accessories.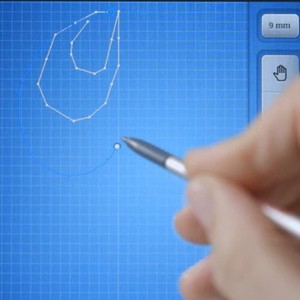 Create Your Own Stitches. The BERNINA 790 features a very special innovative function: the Stitch Designer. Create your own stitches by drawing your ideas right on the touch screen. With a click, the BERNINA 790 transforms your design into a stitch pattern. Or alter existing stitches as it takes your fancy. Save your very own stitch creations to steadily expand your stitch library.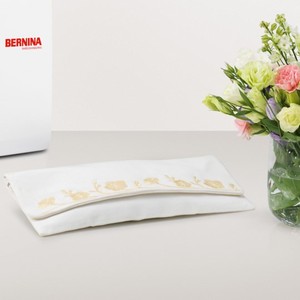 BERNINA Dual Feed. The innovative BERNINA Dual Feed tames hard-to-manage fabrics providing superb fabric feed and optimum visibility while sewing. Easy to engage when needed, the BERNINA Dual Feed tucks completely out of the way when it's not.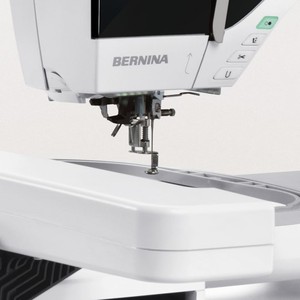 Semi-automatic needle threader. The BERNINA 790 responds to your needs. The presser foot automatically lowers at the start of a seam and lifts at the end. The machine will cut the thread for you at the end of your seam or color change. Also included is a practical extension table with ample space to hold your larger sewing projects.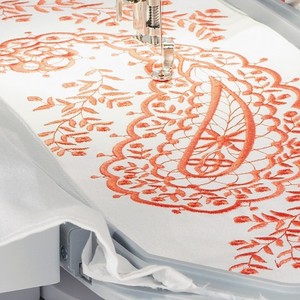 Beautiful Embroidery Is Simplicity Itself. The BERNINA 790 is our embroidery expert. Switch to embroidery mode directly via the touch screen. Embroidery mode lets you easily position, mirror, rotate and resize motifs. Design editing on the B 790 offers a wealth of additional options, letting you create curved lettering effects, alter stitch density, and combine decorative stitches or alphabets with embroidery designs. Complex combinations can even be resequenced according to color, and alternative color options can be reviewed before stitching out. The finished design can be saved directly on the machine or on a USB stick. The embroidery module comes as standard with the B 790.

Bernina Financing Available