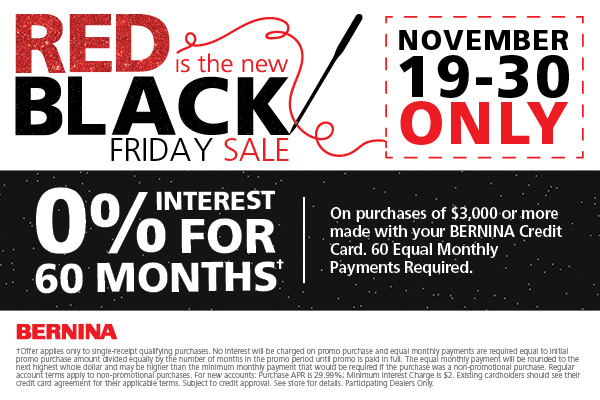 *Financing Available*
*Up to 48 Months Bernina Credit Card Fixed Payment No Interest Financing with approved credit! Click HERE to Apply Online.
Click here to download Bernina's new app. View products, promotions, and more!
Download Bernina ARTlink 9 here
* AllBrands retail stores in TX and LA, Call 800-739-7374
With commercial class construction and reliability combined with an innovative feature set that makes it intuitive and fun to use, the BERNINA E 16 PLUS offers a compelling upgrade path for prosumers wanting to take their embroidery to the next level.
New Upgrades from the E 16:
Redesigned thread tree to accommodate a wider variety of thread

Hoop arm upgraded to accommodate heavier goods without flexing

New, improved trimmer is now a movable blade under the needle plate (makes the tails shorter)

Improved hook guard door opens wider, and released by thumb screw

Improved retaining finger

BERNINA E 16 PLUS at a glance

Industry's smallest cylindrical lower arm

400 mm x 350 mm embroidery field

Up to 1,400 SPM

Automatic thread tension system

Laser alignment

16 striking thread colors

Fancy stitches / micro chenille

Industry's largest embroidery field for caps

Everything you need to get started!

1 x BERNINA E 16 PLUS Embroidery Machine package

1 x Bernina E 16 PLUS Operating System Kit, SE V11

1 x Design Shop Lite Software

1 x Cart

1 x AC Power Cord

1 x Crossover Ethernet Cable 25'

1 x Isacord Starter Kit

1 x Wide Angle Cap Option

1 x 9cm Hoop

1 x 12cm Hoop

1 x 15cm Hoop

1 x 30x44cm Jacket Back Hoop

1 x 2-Day On-Site Training Option ($1,500 List Price) with Ed Orantes

Features No Other Commercial Embroidery Machine Can Touch:

MULTI-HEAD FLEXIBILITY
Imagine a scalable embroidery system that allows you/your business to your embroidery production as-needed. The BERNINA E 16 grows with YOU! This modular embroidery system is simply better than a standard multi-head embroidery machine, because you can add single-heads to the system at any time. You also have the freedom to configure your embroidery machines to match your production needs. Even when in multi-head configurations, individual heads can be setup for embroidering on different products. FOR EXAMPLE: you may have three heads running baseball caps and one running a polo shirt.

LASER ALIGNMENT
Embroidery postitioning is easy & accurate with Laser Alignment.

THREAD SYSTEM
The BERNINA E 16 PLUS delivers the precise amount of thread needed at any given time, resulting in the highest quality stitching at the fastest speeds possible.

SMALL, CYLINDRICAL LOWER ARM
Embroidery on socks, shirt pockets, golf club covers and other tight spaces is possible due to the small size of the lower arm on the BERNINA E 16 PLUS.

*16.2 x 15.2 Maximum Sewing Field with Melco XL Hoop Kit. This is compatible with XT, XTS, EMT16, EMT16PLUS, EMT16X, Bravo (C-Packages) and Bernina E16. Hoop Inner Dimensions are 17.72 x 16.93in (45 x 43cm) - Maximum Sew Field is: 16.2 x 15.2
US Warranty 5 Year Electrical 1 Year Parts and Labor
Non-US Warranty: 30 days parts and labor
Included Accessories
E16 PLUS Everything you need to get started!
- E 16 PLUS Machine
- Machine Stand
- Bernina Operating System Software DesignShop V11 Editor Digitizing SoftwarH
- Cap Option: Cap Driver, 2-WACF, Cap Gauge
- 30cm x 44cm Jacket Back Hoop
- One (1) each Round Hoops: 9cm, 12 cm, & 15cm
- Isacord Starter Kit
- Technical Support Package
- 2-days Training at Dealer Location
Other Images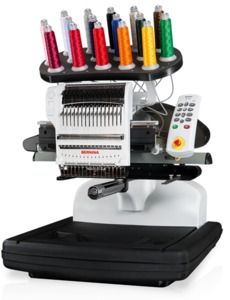 Bernina's first multi-needle embroidery machine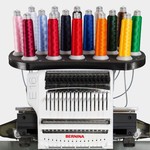 Go Pro Tension System: This unique system ensures threads are fed smoothly and with automatic tension adjustments, for the same perfect quality on every sew-out. Embroider confidently, knowing each stitch-out will be as beautiful as you envision.
Extra large embroidery field 400 x 350mm. From jacket backs to embroidered quilt blocks, your BERNINA E 16 will handle large projects with ease.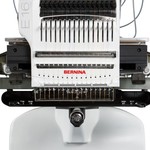 Laser Alignment: The ultraprecise laser registration assures accurate design placement.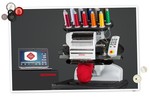 BERNINA E 16: Make it Personal – Keep it Professional. With 16 needles, speeds of up to 1,400 stitches per minute (spm), automatic tension settings, and a narrow cylindrical arm—the BERNINA E 16 will complete the task like a pro—whether embroidering a jacket back or small pocket. Personalize team uniforms and caps, monogram stylish totes, commemorate a special occasion, use the Chenille technique for a special 3-D effect, or complete an elaborate embroidered quilt—the results will be everything you ever dreamed of.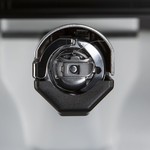 BERNINA Rotary Hook: Speed, precision, and a high-performance thread trimmer are the benefits of the BERNINA rotary hook system. Compatible with convenient pre-wound bobbins for even more time saving.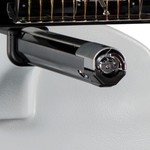 Industry's smallest cylindrical lower arm: Your BERNINA E 16 handles all of your embroidery needs, large and small. Slide baby items, T-shirts, pockets, or tote bags easily over the narrow arm, eliminating the need to open seams or deconstruct the item prior to embroidering.

WHAT CAN YOU EMBROIDER WITH BERNINA E 16? Bring your imagination to life! Polo Shirts, Backpacks, Hats and caps, Tote Bags, Beanies, Duffel Bags, Hoodies, Shoes, Quilts, Blankets, Towels, Monograms, Letterman Jackets, Jeans, Leather, Patches, Carhartt Jackets, And Much More.!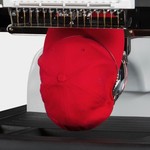 Optional Cap Equipment: High-speed embroidery with 16 needles: Complete more embroidery more quickly by eliminating the time spent re-threading for each color change. Less time spent managing the embroidery process means more time for creativity and more custom jobs completed. Complete more embroidery projects confidently and more successfully with 1,400 spm and the quality of a true commercial system.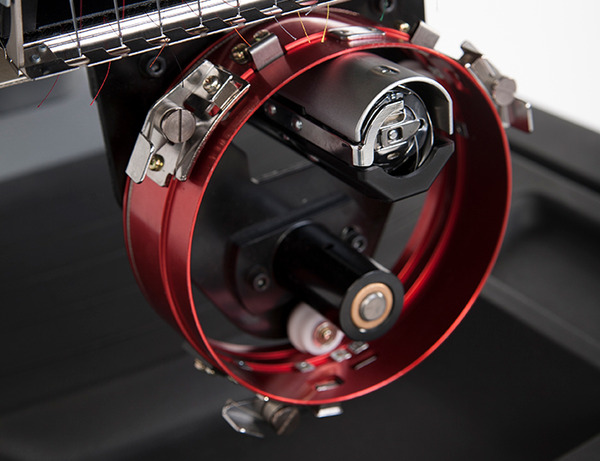 Optional: There are dozens of popular hat styles, Bernina E16 embroidery machines can handle them all! Simply remove the hoop arms, install the cap driver, hoop your hat using our supplied frame, and go to work.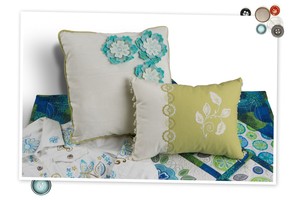 Embroidery dreams become reality. With roots in the industrial world, BERNINA is excited to share with you the dream of faster, more professional and larger embroidery than ever before. The dream of 16-needle embroidery suitable for home, studio, or commercial use is now a reality. Whether you're new to machine embroidery or more experienced, you will appreciate the thought behind the details.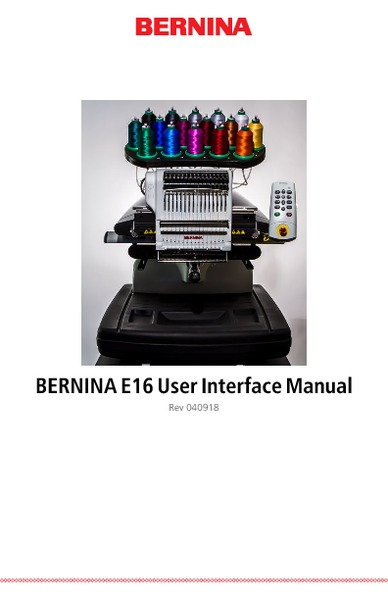 Manual

The Go Pro System. Your BERNINA E 16 includes an assortment of standard accessories and time-saving features, providing a massive amount of value for this package. When your growing business or creativity is ready for more, the Go Pro system has you covered. With the optional cap driver & wide frame, customizing ball caps is a breeze like never before - whether you need to make one, or twenty! The narrow cylindrical arm combines with the unique pocket frames for perfect stitching in confined spaces. You will discover unlimited embroidery possibilities with the addition of the optional BERNINA Embroidery Software 7. Create custom monograms, edit existing designs or digitize your own creations.

OPTIONAL ACCESSORIES: Specialty frames and hoops, Three sizes of pocket frames, Compatible with BERNINA Embroidery Software 8, Compatible with BERNINA Exclusive Design Collections, Cap Driver, 2 Cap Frames, Gauge, 3.0" x 3.75" Pocket Hoop.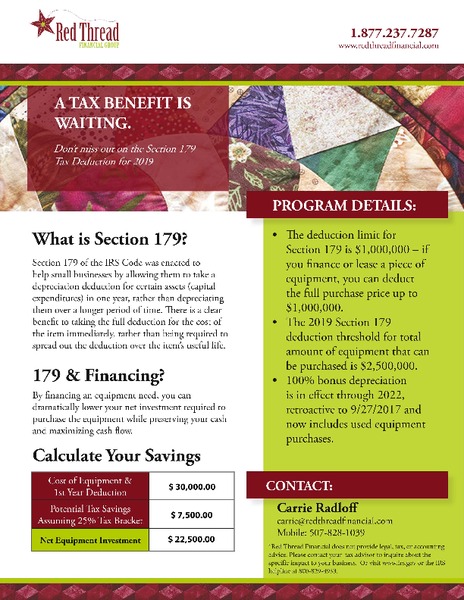 Section 179 is a tax code created to help businesses. By allowing businesses to deduct the full amount of the purchase price of equipment (up to certain limits), Section 179 is a fantastic incentive for businesses to purchase, finance or lease equipment this year. To qualify for a deduction, equipment has to be placed in service by December 31st. I attached a Section 179 flier which has a section to enter the customer's equipment cost which then figures their potential tax deduction if they proceed with that equipment. This could be a helpful sales tool

Bernina Credit Card Financing