Start-right Precision cloth leaders help you manage your quilt from start to finish.
A time-saving product for accurately installing your fabric layers to your quilting frame.
Includes:
3 Hemmed King-Size (112") printed cloth leaders

Velcro® attachment kit
Other Images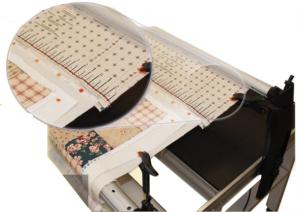 Grace Start Right 112" Grid Quilt Frame Cotton Cloth 3 Leaders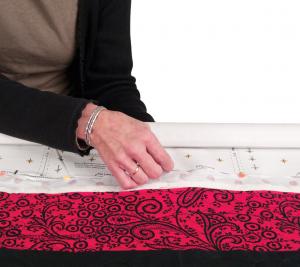 Comes with velcro strips for holding fabric to back rails.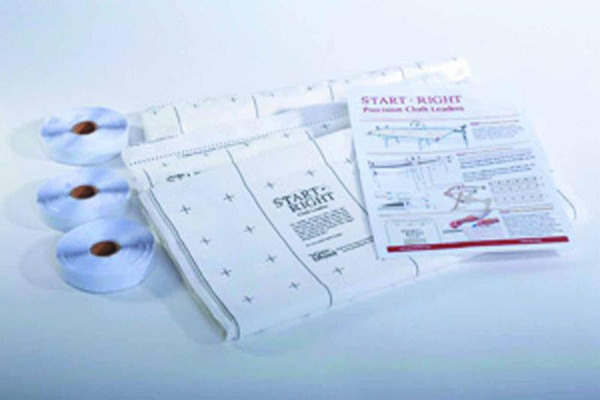 Same as Juki 3 Piece Set of Leader for Attaching Quilt to Rail With this leader cloth, excess fabric is not needed for wrapping around rails and the printed guidelines help with aligning. MSRP: $108.00 for 4STRL-112" 10ft Frame and $135.00 for 4STRL-136" 12ft Frame
Dotti O , Union KY
I'm so impressed with All Brands and my Grace SR2 quilting frame. My only issue was I did not get notification that it shipped; but I received it faster than I imagined, so it is by no means a complaint.

Pamela W, Gastonia NC
Pleasantly surprised to have both shipments arrive earlier than expected. Had one issue that required Customer Service report (manufacturer sent incorrect component), but Kim with Customer Service took care of the issue immediately. I would highly recommend Allbrands.com to family and friends.

Barbara, North Carolina
The order was one of many placed in a sale. After a week I contacted the company to see where it was. got a lovely response about the huge response causing the delay and a delay from the vendor. Then I got a notice that the order had shipped. I certainly wasn't asking for special service, but I got it. Thank you!

Deborah, Massachusetts
Thank you for such prompt service.

Vanessa, Kansas
thank you. the order came very quickly.

Margaret, Georgia
I love my leaders.

Linda, South Dakota
You are great, always good products at a good price and excellent shipping.

Ann, Oklahoma
Thank you so much for your help. I plan on ordering from you again in the future. The manner in which you handled this shipping problem was excellent. It seems you know the true meaning of "customer service:.

Kathy, California
I have been very satisfied with all orders through All Brands.

Betty, Cal
Keep up the good work!

Teresa, Wisconsin
I will be ordering from you again! Thank you!

Curtis, Oklahoma
At first I was concerned about the price and having to alter the size. I'm new at quilting and didn't really understand what cloth leaders were used for. But after receiving the product, wonderful! I am very pleased with this product.


Bundle & Save
Get additional savings when you purchase any of these items along with this product.