The Same Ultra High-Performance Particle Control for Allergy Sufferers in a Smaller Design
The HealthPro Compact has the same HyperHEPA particle filtration as the HealthPro Plus but it's not upgradeable to include V5-Cell gas and odor filtration. The HealthPro Compact features the same advanced micro- and nano-particle filter technologies as the HealthPro and HealthPro Plus, but in a smaller housing to make it more convenient in size for small apartments and offices. The HealthPro Compact effectively removes every type of particulate air pollutants with the same ultra high efficiency as the larger models, including all common allergens, microorganism and all types of dust. This makes the HealthPro Compact the ideal choice for allergy sufferers and other health-conscious individuals that need high-efficiency particle removal in a smaller size.
IQAir's HyperHEPA filtration is tested and certified to filter dust particles down to 0.003 microns (the world's smallest particle) with a guaranteed minimum efficiency of over 99.5%. This is 100 times better than what can be achieved by ordinary HEPA technology. The outcome is the elimination of those particles that can do the most damage to your body's cells.
IQAir Filters Out What Other Air Purifiers Don't

The molecular effectiveness makes this device also suitable for asthma sufferers, as asthma sufferers are often sensitized to molecular irritants, as well as allergens. The HealthPro Compact removes the most allergens and household pollutants. It's ultra-high efficiency filtration is so powerful, it can remove as much as 100 times the amount of air pollutants and allergens as some commonly sold air cleaners. Advanced testing shows that the IQAir HealthPro Compact is the first air purifier to ever achieve a "0" (zero) reading on a particle counter test. That means no particles can escape our advanced HyperHEPA filtration... Now that's really clearing the air!
Why Ultra-Fine Particles Are Dangerous

Numerous scientific studies have proven that ultra-fine particles (defined as 0.1 microns or smaller) are the most harmful to our health. They can be absorbed through lung tissue right into our blood stream. These ultra-fine particles are small enough to penetrate a cell's mitochondria (the center and brain of the cell) and cause cell damage. It is estimated that ultra-fine particles subtract 10 years from a person's life.* Furthermore, a study by The American Heart Association shows that these ultra-fine particles can increase the risk of heart attacks and strokes. IQAir air purifiers are guaranteed to filter out these harmful particles down to 0.003 microns (the world's smallest particle), giving you the cleanest and freshest air possible in your home.
*California Air Resources Board
Some Popular Air Cleaners Only Meet 10% Of Their Claims

Efficiency statements of many air purifiers can look impressive at first glance, but the actual effectiveness of the products often doesn't match the claims. Air cleaners with HEPA filters claim a 99.97% efficiency rating for filtering products 0.3 microns or larger. System leakage and inferior construction reduce the air filtration efficiency so much that independent testing shows that some popular air cleaners don't even meet 10% of their claims.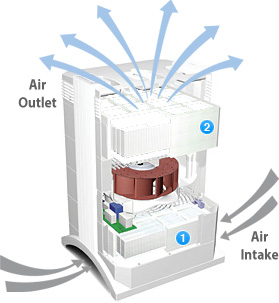 1. Micro-particle filtration
Eliminates micro-particles such as pollen, pet dander and mold spores.
2. HyperHEPA filtration
Eliminates bacteria, viruses and combustion particles from automobiles and smoke, through a nano-fiber structure. IQAir's patented HyperHEPA filters are certified to remove 99.5% of all particulate down to 0.003 microns in size.
Chosen By The American Lung Association

IQAir is proud to have been chosen by the American Lung Association as their sole educational partner for the air cleaner industry. We are honored to be selected by the world's most reputable organization committed to lung health. This exclusive partnership combines the American Lung Association's 100 year long commitment to lung disease prevention and promotion of good lung health with IQAir's 45 year commitment to air cleaning excellence!
Engineered and built in Switzerland.
Home filtration of mold spores, pet dander, dust mites, allergens, and pollen. Great for allergy sufferers.

EN 1822 Certified. EN(European Norm)1822 is the world's most advanced and stringent air filter standard for H.E.P.A.(High-Efficiency Particulate Arrestance) filters.
Used in many of the world's finest hospitals and laboratories.
Each unit comes with it's own two-page Certificate of Performance, detailing the test results for that very machine. Each unit is tested for particle filtration efficiency, filter leakage, and air delivery.
5 year parts and labor warranty on unit including fan motor, excluding filter elements.


The IQAir HealthPro Compact is an investment in clean air for many years to come. IQAir is proud to cover the HealthPro Series in the US and Canada for a full five (5) years against defects in parts and labor. Filters are consumables and exempt from this warranty.

HealthPro Series data & comparison sheet (printable PDF-file)
US Warranty 5 Years on Defects in Materials and Workmanship.
Extended US Warranty: Free 10-Year Warranty
Non-US Warranty: 30 days parts and labor
Specifications
IQ Air Purifier New Edition Promotional Video
Covers 1100 sq. ft.

Minimum particle efficiency is 99.97% at 0.3 microns. 99% for smaller particles.
Replace all filters in seconds. No tools needed.
Six fan speeds allow you to select the ideal performance-to-sound ratio.
Uses the highest quality German engineered, high performance fan available. Centrifugal, backward curved fan delivers an astonishing 700 CFM rating at 2950 RPM. Each fan is individually balanced, and uses steel ball bearings to provide reliable quality performance for many years to come.

Ultra Quiet Design : Fan is positioned between noise absorbing filters. Sound is absorbed in between double housing walls. 8 shock absorbers reduce vibration to a minimum.
Programmable timer.
Intelligent Filter Life Monitor tells you when each filter needs to be replaced, down to the hour. This allows you to save money on filters.
Low energy consumption. Costs only pennies per day to use.
No air drafts. Unit evenly disperses the clean air through a large 320 degree vented diffuser, so you will always feel comfortable.
Electronic Control Panel: Four-key touch pad. Timer Status LED. Filter Life Status LED. Fan Speed Indicator LEDs. 5 Display Languages include English, Spanish, French, Italian, and German.

Unit comes with one Pre-Filter, and one Cleanroom grade HyperHEPA filter installed.
Since I really don't need the odor or gas filters would the IQAir HealthPro be a better option rather the IQ HealthPro Plus? Also, my husband's office is adjacent through double french doors to the master bedroom. He spends most of his time upstairs in the den/office or in the bedroom. The kids have pretty much taken over much of the house. Can you use this unit with the windows open or is it preferred to have them closed. Is the price the same for the HealthPro as for the HealthPro Plus?

If it is a nice day with good air quality you can open the windows and not run the unit at all. If your husband is allergic to pollen that may be a bad idea to open the windows on a bad pollen day. If he is allergic to pet dander, pollen, and dust you should run the unit in the bedroom where you sleep. If his allergies clear up, then you know it is your indoor air quality causing the allergies. The HealthPro is less money because it does not come with the V5 gas and odor filter.


What's better about the IQAir "New Edition" room systems?

IQAir's New Edition room air purifiers, introduced in September, 2012, have taken the best air purifiers in the world to a new level of air purifier perfection.

With a powerful new fan and innovative new filter designs, the New Edition systems produce more clean air than ever before. New Edition filters also last longer, as a result of greater particle-holding capacity designed into them. And the world's most effective air purifiers are now the quietest high-performance air purifiers, thanks to the new fan, filters and other design improvements.

Are all IQAir room systems now "New Edition?"

As of September 2012 all IQAir residential room systems (HealthPro and GC Series) manufactured by IQAir and sold in North America are New Edition. In some cases IQAir Authorized Dealers may still have some inventory of previous edition IQAir room air purifiers. Commercial room systems (Cleanroom H13, GCX and Dental Series) will be announced at a future date.


How can I tell the New Edition model from the older model?

The item label on the outer box and the serial label on the base of the room system have "NE" next to the model name to identify them as New Edition.


How much quieter is the New Edition room system?

Despite the significantly higher airflow rates, all IQAir models are quieter than ever before due to a completely redesigned fan which moves more air at lower sound levels. The new HealthPro Plus system, for example, is 32% quieter than before (average across all 6 fan speeds).

Our technical specifications now include sound levels (decibels). You can find these specifications included inside your user manual supplied with your room air cleaner or on our website at www.iqair.com.

For assistance please call our Technical Support Team at 888-560-1020 or end-users may contact IQAir online at www.iqair.com/support.

What's different about IQAir New Edition filters?

The particle filters in IQAir room air purifiers have been undergoing a process of continuous improvement since mid-2011, when we began switching from pre- and HyperHEPA filters made with hot-melt separators to filters made with inert thermoplastic separators. Since then, we have continued improvements by reducing the weight of the separators and improving the pleating.

The new pleat-spacing pattern and the replacement of hot-melt separators with inert thermoplastic separators has resulted in an increase of active surface area, more even filter loading and more than a 10% reduction in total weight for the PreMax and HyperHEPA filters.

The overall filter improvements result in greater airflow and higher particle holding capacity. Bottom line – when using the improved filters in any IQAir room system, you get more clean air and spend less on filter replacement costs than before (up to 20% savings over the life of some systems). For example, HealthPro Plus owners running their system (at Speed 3) can save 16% per year on filter replacement costs.

Are my filters New Edition filters?

If your system is a New Edition system, you received the new, improved filters inside the system. Also, because IQAir has been continuously improving its filters since September 2011, it's possible you may have already received an improved New Edition particle filter.

However, because the outer appearances of the PreMax and HyperHEPA filters have not changed, you could if you have a New Edition filter by checking the lot number. The lot number is a 5 digit number found on the label on the side of the filter.

For assistance please call our Technical Support Team at 888-560-1020 or end-users may contact IQAir online at www.iqair.com/support.


How often do I replace my New Edition filters?

Knowing when to replace your filters in an IQAir New Edition system is as convenient as ever: the red LED light will appear on the control panel to let you know. Because of longer filter life, owners of the New Edition will replace filters less frequently, about 20% on average.

If you own a previous-edition IQAir system (not a New Edition) you can achieve similar filter-life improvements by installing the improved New Edition particle filters. However, instead of changing your New Edition filters as usual when a solid red light appears on the control panel, wait for the red BLINKING light to appear. This will generally account for the difference in the longer filter life of the New Edition filters and will allow you to realize the cost savings of this improvement.

For assistance please call our Technical Support Team at 888-560-1020 or end-users may contact IQAir online at www.iqair.com/support.

Can I mix New Edition and older filters together in my IQAir room system, or will I experience any problems? Should I do anything differently?

No, simply wait for the red light (or the red BLINKING light, if the filter is a New Edition model) to appear on the control panel as usual to make your next filter change. IQAir is currently only shipping the New Edition filters so you will receive these filters with your next order. Because all operating instructions, including how to replace your filters, are unchanged, it's easy because there's nothing different for you to do.

Please keep in mind that once the new, improved HyperHEPA and pre-filters are installed in an previous-generation model (not a New Edition), filter changes can be made when a red BLINKING light appears, instead of when a solid red light appears. This will generally account for the difference in longer filter life of these filters and will allow you to realize the cost savings of this improvement.


What is the maximum filter life in hours for each New Edition filter (per the control panel)?

Maximum filter life (i.e., the total hours for a brand new filter) can be seen from the control panel when the system is brand new (unused) or when the filter life for a particular filter has just been re-set.

The improvement in filter life hours for the HealthPro Plus at speed 3 are shown below:

(F1) PreMax Pre-Filter has improved from 4500 to 5400 hours, an increase of 900 hours (20%).
(F2) V5-Cell Filter has improved from 7000 to 7100 hours, an increase of 100 hours (1%).
(F3) HyperHEPA Filter has improved from 11,000 to 15,200 hours, an increase of 4,200 hours (38%).

Note: Although current filter life can be seen from the control panel's "Remaining Life" Menu, IQAir does not recommend re-setting your filter life for the purpose of locating the maximum hours because once re-set it cannot be reversed.

Do New Edition gas and odor filters/cartridges also last longer?

Based on our experience, additional testing, and some improvements made over the last few years, we've taken this opportunity to update the software programming for the gas and odor filters (V5-Cell and MultiGas cartridges). This programming now accounts for the capacity and weight differences more accurately, which has resulted in slightly longer filter lives of these filters.

For example, the V5-Cell Filters now have 100 more hours and the GC MultiGas Cartridges now have 700 more hours of filter life at speed 3.


Can I exchange my recently purchased previous-generation IQAir room system for the New Edition?

IQAir North America does not offer exchanges or trade-ins. We recommend that you contact your IQAir Authorized Dealer to discuss any options that may be available to you.
Can I upgrade my previous-generation IQAir room system to the New Edition?

Upgrading an older model to a New Edition would require installing a new control panel, radial fan and improved pre- and HyperHEPA filters. Please contact IQAir Technical Support or your IQAir Authorized Dealer for more information.

However, you'll get most of the New Edition benefits just by using the improved New Edition filters in your previous-generation IQAir system.

NOTE: Please keep in mind that once the new, improved HyperHEPA and pre-filters are installed in an previous-generation model (not a New Edition), filter changes can be made when a red BLINKING light appears, instead of when a solid red light appears. This will generally account for the difference in longer filter life of these filters and will allow you to realize the cost savings of this improvement.


My older IQAir room system (older version) was sent in for repair and the fan was replaced. Did I get the New Edition fan?

Yes, when fan replacement is necessary, IQAir is currently installing New Edition fans in all room systems, whether or not the system in need of repair is one of our original models or the New Edition.

Is the warranty the same for the New Edition room systems?

Yes, the warranty is unchanged. For more details about the warranty for a particular system, please refer to the warranty information supplied with your air purifier or online at www.iqair.com/support.

Will IQAir be able to support repairs or supply replacement parts for the older room system? I own the previous-generation IQAir room system.

Yes, our support for older systems is not affected by the introduction of the New Edition.

Have the technical specifications for the NE models changed?

New technical specifications, including airflow, sound levels and filter life, are included with every IQAir New Edition room system. You can also find them on our website at www.iqair.com and at the back of the user manual supplied with your air cleaner.

For assistance please call our Technical Support Team at 888-560-1020