* Synchrony Bank Sewing & More Fixed Payments 0% No Interest Financing with approved credit! Click HERE to Apply Online for Synchrony Bank Sewing and More Credit Card Approval to use for Online Checkout or in AllBrands stores
The steam will not shrink or distort your fabrics, kills up to 99.999% of germs in your fabrics, and won't leave any stains or watermarks on your fabric.
The unique DMS (Dry Microfine Steam) is one of the top reasons world-class quilters worldwide use Laurastar to create professional-looking results.
The Lift Plus has all the features of the Lift, PLUS more: the revolutionary pulse steam, a backlit LED water tank, and the fantastic 3D active soleplate. Includes steam cord holder.
Compact and light, Laurastar Lift Plus is the first steam generator with a handle that lets you take it everywhere, from the ironing board to the clothes hanger. It eliminates creases in a single movement for perfect results..
Start and auto stop

Easy to carry handle

Safe iron storage

Removable backlit water tank

Cable rewinder



The Laurastar brand strives for quality and excellence. Though already recognized as the world's leading specialist in ultra-fine and powerful steam, it is constantly innovating to push the limits of perfection. Pulse steam, 3D active soleplate, automatic steam, active board and professional iron are all unique technologies which help you to obtain unparalleled ironing results.


Professional Iron - All Laurastar irons are equipped with a unique professional soleplate. It diffuses an ultra-fine, powerful steam which adapts to all kinds of fabric and allows you to steam your clothes vertically. Its round shape prevents creases.

Active 3D soleplate - To keep your clothes looking beautiful for longer, Laurastar designed an iron with an exclusive 3D active soleplate. This Swiss technology offers incomparable ironing quality in a single movement. The 3D iron soleplate straightens the fabric while steam is injected onto its entire surface to effortlessly eliminate creases. Fibers are therefore thoroughly refreshed.

Pulse steam - Imagine being able to tame the energies of water and heat to restore volume and beauty to your clothes. This is now a reality with Laurastar's high-end models which are equipped with pulse steam technology, the ultimate finishing touch in caring for your clothes. Diffused in short intermittent bursts, pulse steam guarantees optimal steam distribution for perfect results, whatever the color and material of your clothes. Though already recognized as the world's leading specialist in ultrafine and powerful steam, Laurastar is constantly innovating to push the limits of perfection.

All Laurastar irons shipped after April 2020 allow the auto shutoff feature to be turned on and off.
Hold the power switch when turning the system on for about 5 to 10 seconds. The power button should blink to indicate it has been over ridden
Specifications
GENERAL FEATURES
STEAM PRESSURE: Constant pressure, 3.5 bars (double volume)
AUTONOMOUS IRONIN: Unlimited
DEVICE POWER: 2200 W
STEAM READY LIGHT: Yes
IRON:
IRON SOLEPLATE: Aluminium, brushed finish
IRON REST: Yes
IRON WEIGHT: 2.2 lbs
WATER TANK:
TANK CAPACITY: 37 oz.
WATER LEVEL VISIBLE: Yes
TANK EMPTY LIGHT: Yes
TANK HANDLE: Yes
ANTI-LIMESCALE TREATMENT:
LIMESCALE SYSTEM: Yes
TYPE OF LIMESCALE SYSTEM: Filter cartridge
DIMENSIONS AND WEIGHT:
LENGTH OF ELECTRIC CABLE: 7.5 feet
LENGTH OF STEAM CORD: 6.4 feet
TOTAL WEIGHT: 12 lbs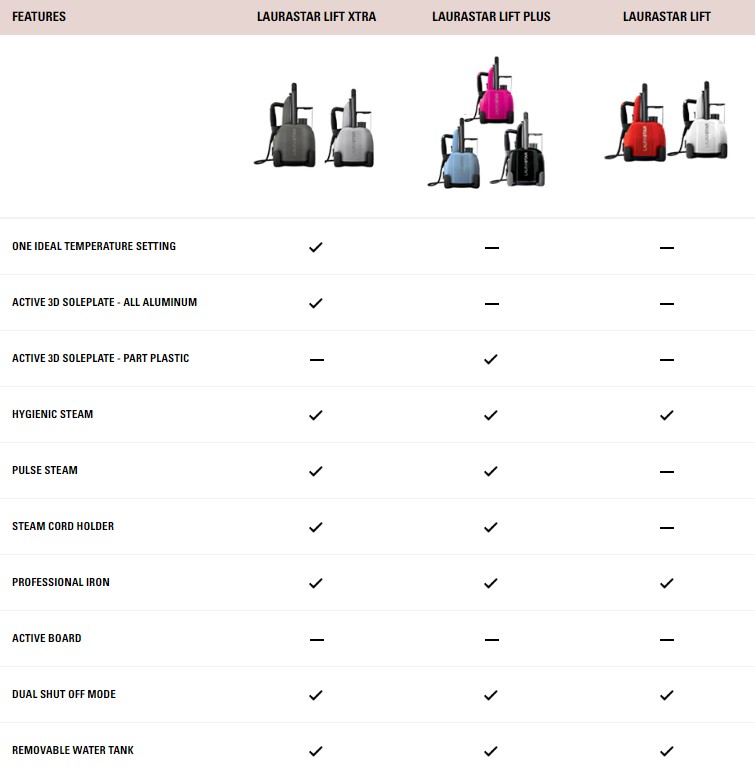 HYGIENIC STEAM WHICH ELIMINATES UP TO 99.999 % OF BACTERIA
The Laurastar range features a unique type of steam, which purifies fabrics deep down. It eliminates the organisms that cause the allergies of modern living (humidity, insulation, heating, etc.) and prevents them from multiplying. Its high temperature, its ability to penetrate fibres, and its power mean that this unique steam destroys dust mites, bacteria and other fungi that resist warm wash cycles (40°C). Laurastar steam ensures that your clothing and linen are completely clean and hygienic.
Other Images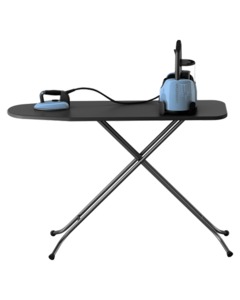 with optional ironing boards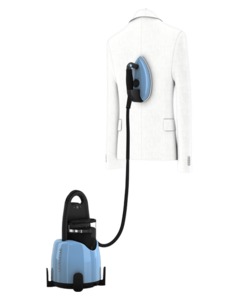 Vertical steam for removing wrinkles and freshening garment, drapery and upholstery fabrics.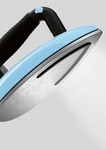 3D soleplate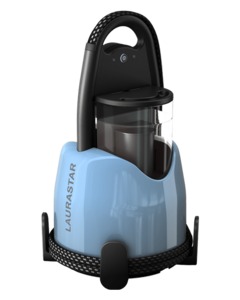 complete set up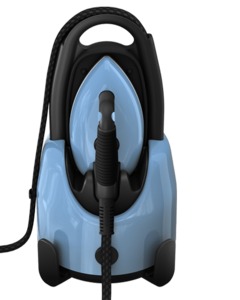 iron side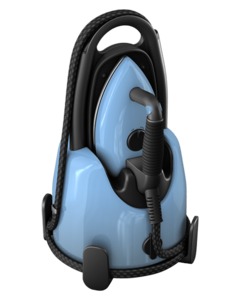 Laurastar Lift Plus Blue Sky,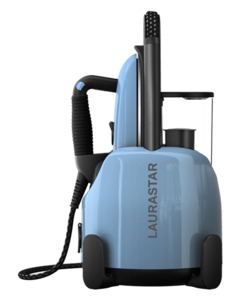 side view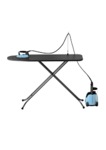 steam hose is long enough to put steam generator boiler on the floor while using the iron up on the board.

LAURASTAR Dry Microfine Steam (DMS), a unique technology, helping you be more efficient and precise. The steam will not shrink or distort your fabrics, kills up to 99.999% of germs in your fabrics, and won't leave any stains or watermarks on your fabric