Manufacturer's US warranty 2 years parts, 90 days labor
Extended US Warranty: Extended Warranty Available
Non-US Warranty: To view the warranty for this combo, please view specific warranty information on the individual product pages.
Specifications
Includes:
Q'nique 21 Pro

Luminess Light Bar (10 or 12 ft.)

Continuum Frame (8, 10, or 12 ft.)

QuiltMotion QCT5




Grace Manufacturer's Warranty: 5 Years on Casting, 2 Years on Mechanical Parts, 1 Year on Electrical Parts,
1 Year limited warranty on the front handles/buttons, LCD, Encoders, Laser, Stitch Regulator, Cables, Power Supply, Motor, Wiring, and Electronics.
2 Years on non-moving, non-electrical, mechanical parts.
5 Years on the cast metal head








Other Images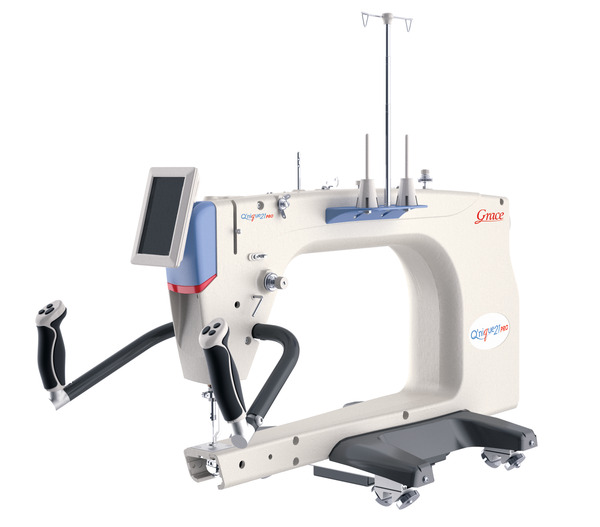 Grace Qnique 21 PRO Longarm Quilting Machine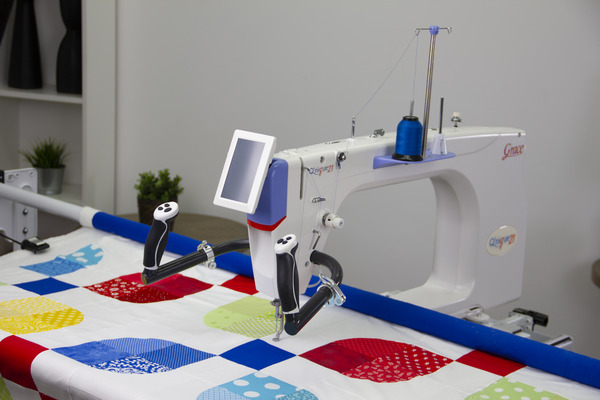 New Modern and Larger 5" Square Touch Screen with Presets.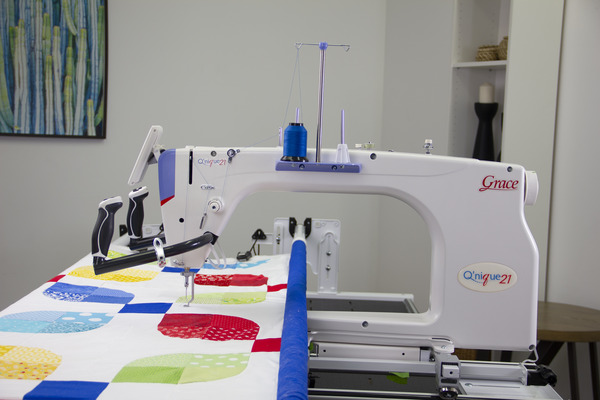 Grace Qnique 21 PRO Longarm Quilting Machine, 8, 10 or Optional 12ft Continiuum Frame, Creative Touch 5 Beginnings Software, Luminess LED Floor Lamp Light Bar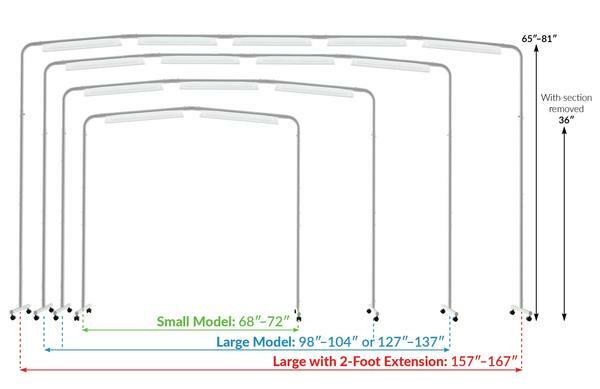 Luminess Size Specification
"You should be able to remove one of the middle sections to make it an 8' light." -Grace
"You install one less of the led bar modules to make the light an 8' versus a 10'. Illustration from Grace shows these options." -AllBrands Tech
Manufacturer's Warranty
THE GRACE COMPANY GUARANTEES THE FOLLOWING ELECTRICAL PARTS ON THE QNIQUE GRACE SEWING MACHINE SYSTEM WITH A 1-YEAR LIMITED WARRANTY:
Front Handles/Buttons, LCD, Encoders, Laser, Stitch Regulator, Cables, Power Supply, Motor, All other wiring and electronics.

The Grace Company guarantees these electrical parts against manufacturing defects for the first year of ownership on all Qnique models.

NON-MOVING PARTS:
The Grace Company warrants all non-moving, non-electric, mechanical parts on the Qnique Quilting Machine against mechanical failure due to manufacturing defects for up to 2 years after initial purchase.

The Grace Company warrants the cast metal body of the Qnique Quilting Machine to be free of defects or imperfections causing product failure for up to 5 years after initial purchase.

This means Grace Company will replace parts that they deem to be faulty, or that fail due to what the Grace Company determines to be manufacturing defects. The customer pays all shipping and labor fees. The warranty period begins at the date of purchase. The warranty does not transfer to a secondary owner.

Any parts damaged by the customer do require payment.

The Warranty period begins at the time of the customer's purchase from SewingMachinesPlus.com. Customer proof of purchase should be obtained if no warranty card for the customer exists.

Warranty Exclusions: The warranty does not apply to any costs, repairs, or services for repairs necessitated by use other than normal home use, or damage resulting from misuse, abuse, accidents, alterations, or lack of proper machine maintenance.
Bundle & Save
Get additional savings when you purchase any of these items along with this product.