TAKE YOUR QUILTING TO THE NEXT LEVEL Unlock The Full Potential Of Quilter's Creative Touch 5 With Grace QCT Quilters Creative Touch 5 Gold Access Membership Card. For customers who already own QCT .

Gain access to everything QCT has to offer by purchasing QCT Gold Access Card Membership Card. Think of QCT Gold as a key that unlocks additional benefits and powerful features beyond even the standard QCT tiers.

Purchasing QCT Access Card takes your quilting to a whole new level, with new exclusive creation tools and features. Get advanced control over pantographs, borders and corners, font stitching, and more!

All Gold Card Access holders also receive premium extras and benefits like exclusive patterns and more!

Only for use with QCT5 Virtuoso PRO
US Warranty 1 year limited warranty on defects in materials and workmanship.
Non-US Warranty: 30 days parts and labor
Specifications
Features with Card Access
Borders and Corners™

Virtual Longarm™

Font Stitcher™

Card Access Benefits

For use with QCT5 Virtuoso PRO
Other Images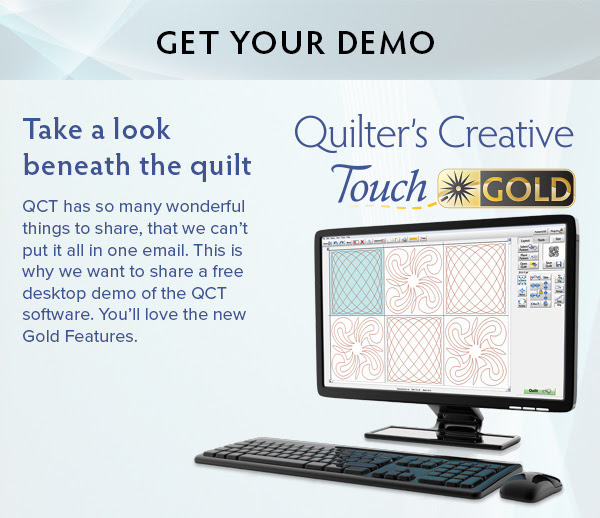 DEMO of Quilter's Creative Touch Gold Access Card For customers who already own QCT5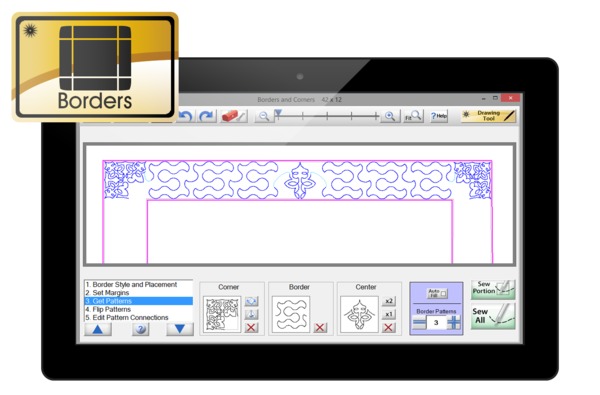 EASY BORDER DESIGN (GOLD ACCESS ONLY). Simple layout of borders Use any pattern you have created to design a border for your quilt. As with other sections, there are different levels from simple border creation to advanced creation of sections and custom layout fitting. Complete your quilt by framing it like the work of art it is.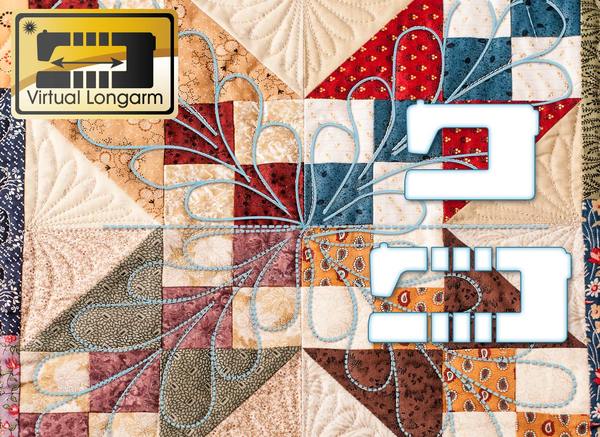 EXTEND YOUR REACH (GOLD ACCESS ONLY) You don't need a bigger machine If you have a pattern that is bigger than your machine's throat, this is the section for you. Virtual Longarm will take your oversized pattern and break it up based on your individual throat size. You can create those large designs without having to calculate a grid. We do the hard work so you don't have to.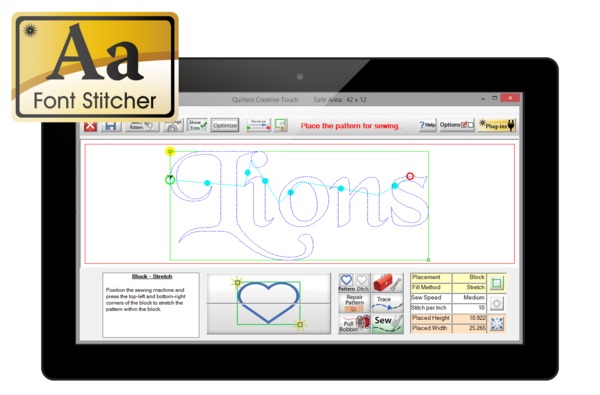 DESIGN WITH FONTS (GOLD ACCESS ONLY) Different placement methods for different pattern shapes You can also create pantographs in the format of any font installed on your system. Simply pick a font, type what you wish to say, and save the pattern for insertion in any placement method you desire. Beautiful type layouts are sew easy!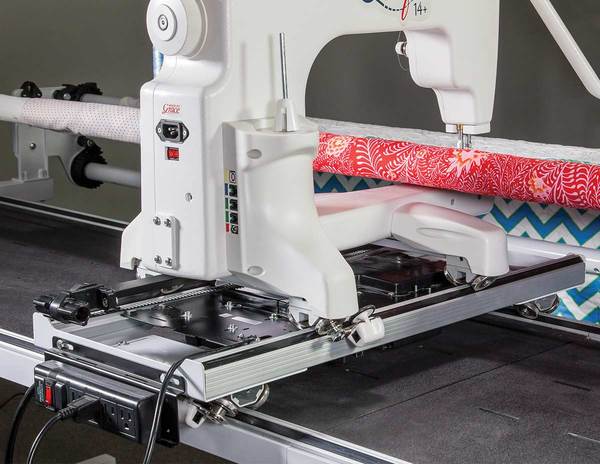 Precision Controlled Movements. The included motor plate attaches to the machine carriage and accurately controls the motion of the sewing machine for precise pattern stitching. Let QCT5 do all the stitching for you and you'll get the perfect pattern, stitched exactly the way you imagined it every time!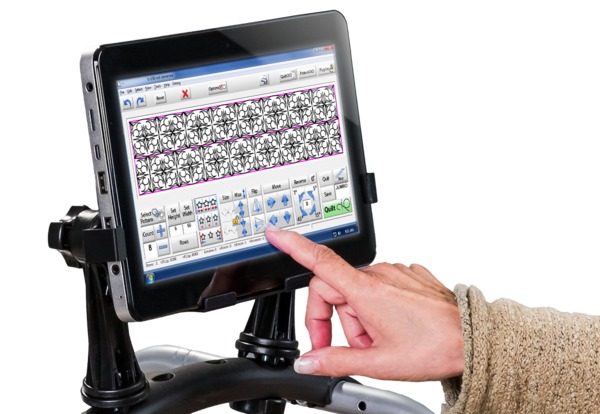 EASY, USER FRIENDLY DESIGN. Tablet Shown not included. The software will only work with devices running Windows 7, 8, 10 or higher. It will not work with any version of Windows RT. This latest Upgrade of Quilter's Creative Touch features a newly improved interface that's more powerful and easier to use. More features have been added, and the software has been carefully re–designed to make pattern quilt design easier.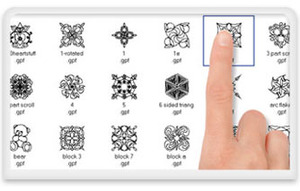 Included Library Of Over 200 Patterns Quilter's Creative Touch Software is loaded with a library of over 200 patterns: to choose from. You can always import new digital patterns from other sources, or design your own quilt patterns on your tablet!
Font Stitcher: Add unique elements to your patterns by including text and fonts from your system!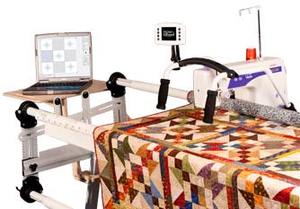 Automated quilting system for editing and precisely stitching your patterns. Simple but powerful pattern software. Included motor plate and hardware to control your sewing machine Runs on Windows 7 through 10 PC's and laptops. Must be connected to a PC or laptop while in use.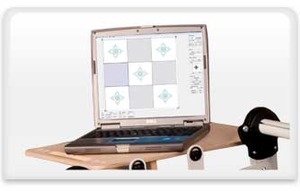 Powerful Quilting Software: QuiltMotion takes you seamlessly through the pattern design software to the finished quilt. Design and layout blocks, pantographs, and whole quilts, and the automated quilting software will quilt them for you!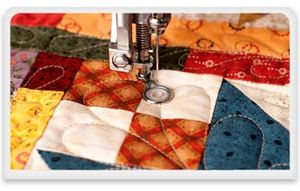 QuiltMotion Quilts Your Patterns With Precision QuiltMotion comes with a motor plate and hardware that attach to your sewing machine and quilting frame. QuiltMotion controls your sewing machine to accurately stitch your quilt designs.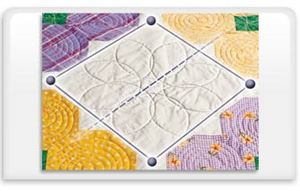 Precise Placement Methods: QuiltMotion lets you place your patterns on quilt the exact way you want, even if you have to stretch or skew a pattern.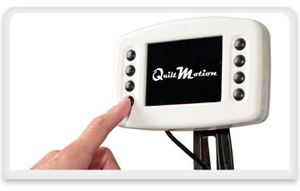 Included LCD Screen For Easy Control: An 8-button LCD display is included to give you control right at your sewing machine.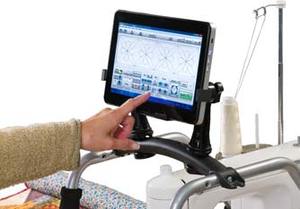 Optional Software with added functions and features like Panto Stacker, Font-Stitcher, and Virtual Longarm. Even more powerful and easy to use Works on any Windows 8 through 10 tablet or PC. Designed to work on Windows tablet right at the machine, with no computer or laptop needed. *QuiltMotion must be installed on your system in order to use Quilter's Creative Touch Software.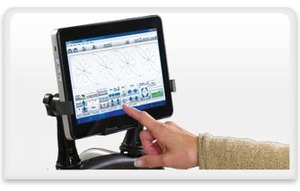 User-Friendly Design Is Easier To Use: The Intuitive Quilter's Creative Touch Software has been designed to work on tablets running Windows 8 through 10 to put all the creative power right at your sewing machine. No PC or laptop is required when you have this easy-to-use software on a tablet. Even take the tablet and software with you, to edit-on-the-go!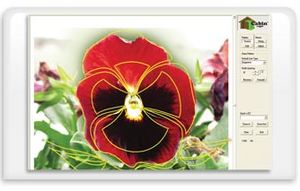 Optional Quilt Motor Pro: Trace New Patterns From Photographs: Create quilting patterns from your favorite photographs! QuiltMotion lets you trace them and save them as quilting patterns.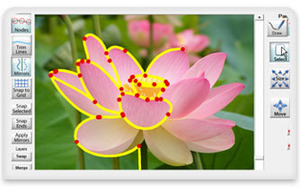 Optional Quilt Motion Pro: Trace New Patterns From Photographs: Create quilting patterns from your favorite photographs! QuiltMotion lets you trace them and save them as quilting patterns.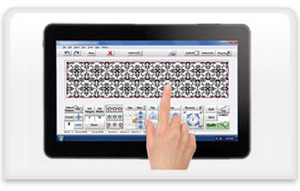 Optional Panto Stacker: Simplified Pantograph Creation: Creating and editing pantographs is even easier with Panto Stacker! Alternate rows, sizing, and number of patterns can all be edited in a few simple clicks.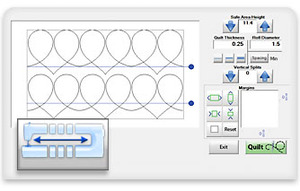 Optional Virtual Longarm (Patent Pending.): Quilt larger patterns, no matter the size of your sewing machine! Virtual Longarm splits and prepares patterns to be quilted by machines with various sized throats.
Not interchangeable with Grace or Brother Gold Cards.