* Synchrony Bank Sewing & More Fixed Payments 0% No Interest Financing with approved credit!
Click HERE to Apply Online for Synchrony Bank Sewing and More Credit Card Approval to use for Online Checkout or in AllBrands stores
for Domestic Home Sewing Machines, including longer arm Brother PQ1500, Babylock Jane BQLP, Juki TL's, Janome 1600 6500, 6600, Elna 7100, 7200, 7300; Viking Mega, Pfaff Grand portables.
Must add Optional Top Plate Carriage Platform and Handles under Recommended Accessories below if you are going to use any portable home sewing machine that is not a longarm quilter like Grace Qnique 15R or Brother DQLT15*
*You must add the Optional Top Plate Carriage Platform and Handles under Recommended Accessories below if you are going to use any portable home sewing machine that is not a longarm quilting machine like Grace Qnique 14+ or 15R . Specify Your Machine Brand and Model Number on this page before Adding to Cart.
The Q-Zone Hoop-Frame is perfect for cross-brand compatibility and made to work with many quilting machines, from domestics to longarms with up to a 19-inch throat space. The Hoop-Frame features a small, space-saving footprint, but can still be used for quilts of any size, even queen, king, or larger!
The Q-Zone Hoop-Frame is a whole new type of machine-quilting frame that easily manages fabric like a simple hoop. With its small space-saving form factor you can set it up in any room and still quilt even the largest projects! for Quilting Machines with up to 19 Inch Arm Space.
The Q-Zone Hoop Frame is a 4 ½ foot frame that will fit in any room and no quilt size is to large, you can quilt any size quilt using the Q-Zone Hoop Frame. This frame is perfect for those customers who don't have the room for a larger frame and is looking to use their domestic machine. They are already familiar with the sitting down process, so everything about this screams comfort. The Q-Zone Hoop Frame includes height adjustable legs so you can quilt standing or sitting.
Q-Zone Hoop Frame has steel square poles and, combined with the white quilt clips, gives the customer precise ratcheting. As a quilter they can grow with the frame because the arms can extend out in front to accommodate up to a 19" throat machine. The ability to have the customer start with their home/domestic machine and finish with a long arm on the same frame is not common. Customers who are looking to save money by using their own machine, and don't have space for a standard frame, will love the Q-Zone Hoop Frame.
Dimensions of the Q-Zone Hoop Frame:
54" length (left to right)
Expands 37" - 42.5" wide (front to back)
Adjusts 32.5" - 45.5" tall
Manufacturer's US warranty 5 year limited warranty on defects in materials and workmanship.
Non-US Warranty: To view the warranty for this combo, please view specific warranty information on the individual product pages.
Other Images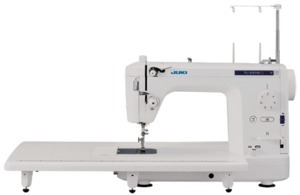 INCLUDED: Juki TL2010Q, New LED Lights, Sub Tension (Pre Tension Knob for Consistent Thread Delivery), 1 Foot Pedal for Auto Thread Trimming and Speed Control, Speed Limit Control Slider Knob On Front of Machine, (like TL2000Qi and TL98 + 4 New Features). All have Knee Lift and Hand Lever for Presser Foot Lift, Automatic Needle Threader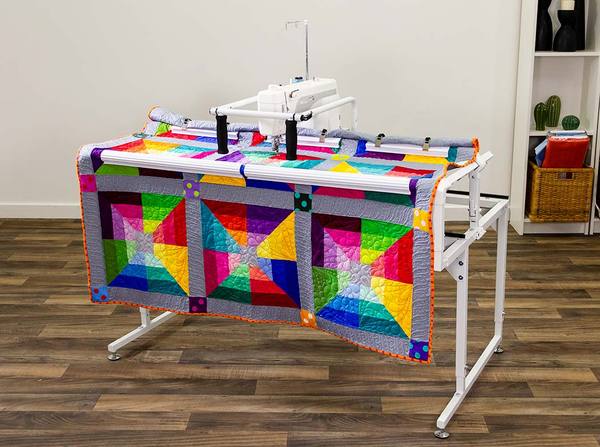 INCLUDED: Juki TL2010Q +Grace Q-Zone 4.5' Hoop Quilting Frame, Top Plate Platform Carriage and Handles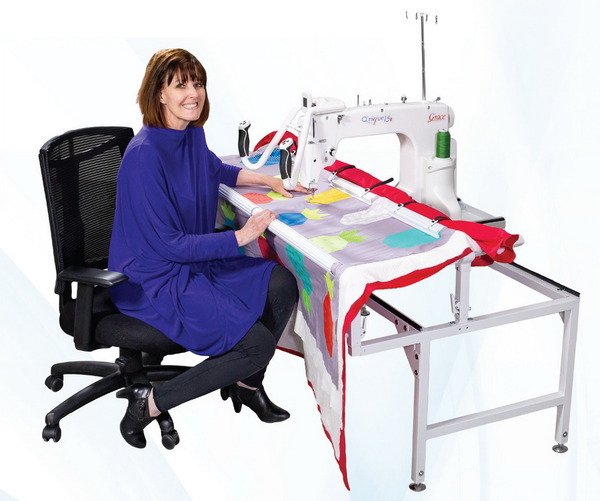 Work sitting or standing. For any quilting machine. Height-adjustable. Budget-friendly.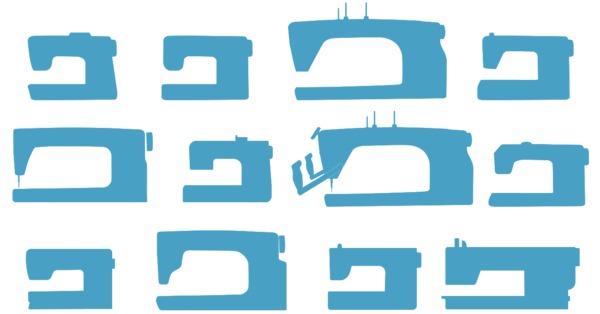 BUILD THE PERFECT QUILTING SYSTEM USING YOUR OWN MACHINE The Q-Zone Hoop-Frame is perfect for cross-brand compatibility and made to work with many quilting machines, from domestics to longarms with up to a 19-inch throat space. See more detail about machine compatibility in the Maximum Home Quilting Machine Size section farther down. Perfect for quilting/sewing machines of any brand!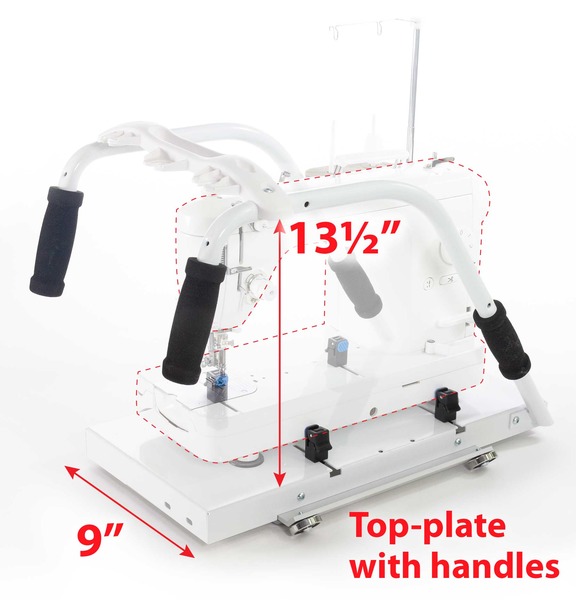 MAXIMUM HOME QUILTING MACHINE SIZE If you're planning on using any quilting machine besides the Q'nique quilting machines, you must make sure your machine fits in the area on the top-plate, between the handles Width: 9 Inches Height: 13 Inches (From the top of the head to the bottom.) Maximum Throat Length: 19 inches If you are planning on using a Q'nique 15 with your frame, you will not need the top-plate and handles. The Q'nique will sit directly on the bottom plate of the carriage.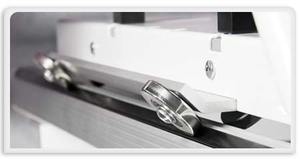 SMOOTH CARRIAGE SYSTEM The "G-Series" track and carriage system on the Hoop-Frame enhances quilting machine motion and precision.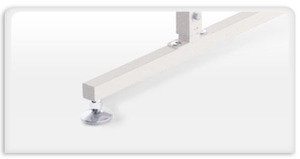 LEVELING FEET No matter what floor your frame is on, these feet are an easy way to make sure it's level and balanced.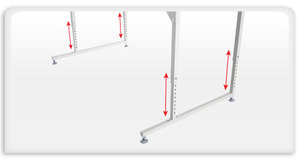 HEIGHT-ADJUSTABLE LEGS For attaching the fabric layers to the take-up rail, the Fabri-Fast™ slots and tubing make it easy, without the use of tacks, ties, or tape! Complete it with our time-saving cloth leaders to help you attach your fabric to your frame easily, and accurately.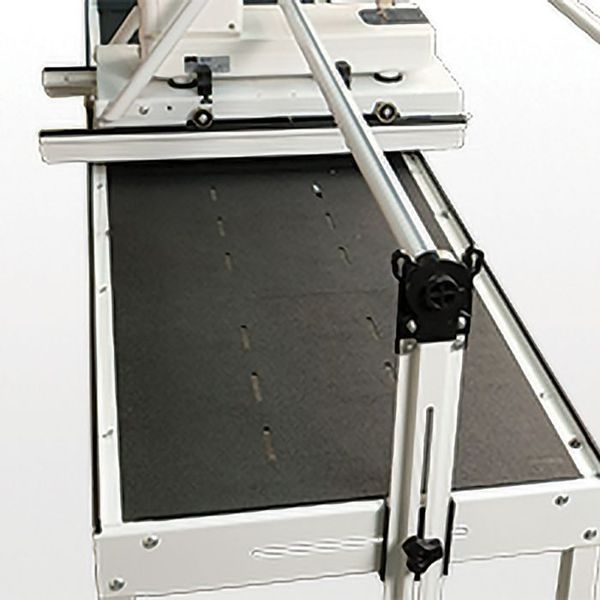 Adjustable height quilt sandwich take up rail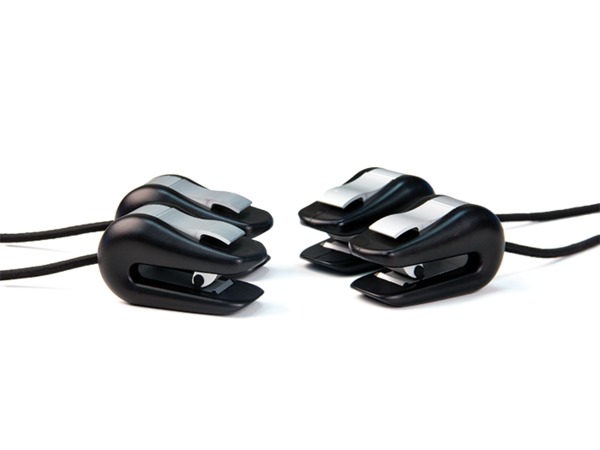 BUNGEE CLAMPS For Perfect Side Tension The Bungee Clamps provide excellent and even side tension at the edges of your quilt. These new and improved Grace Company Bungee Clamps have been designed with a sleek new profile to make attaching and removing them even easier!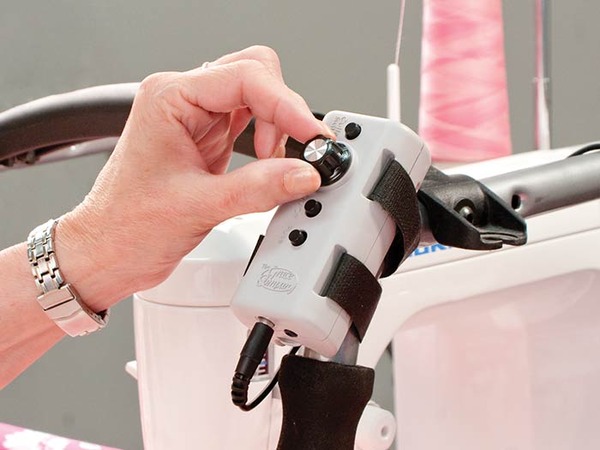 SPEED CONTROL for Compatible Machines. Quilting power at your fingertips The Grace Speed Control is a foot pedal replacement. Use the dial to set the speed of your sewing machine as you quilt. It works with many sewing machines on the market. Check the compatibility list to see if it will work with your quilting or sewing machine!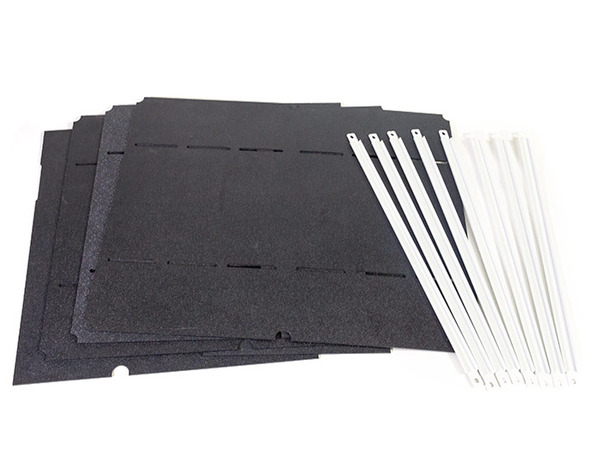 Optional TABLE INSERTS Add a table-top surface to your Q-Zone for pantograph tracing and other uses from the back of your frame.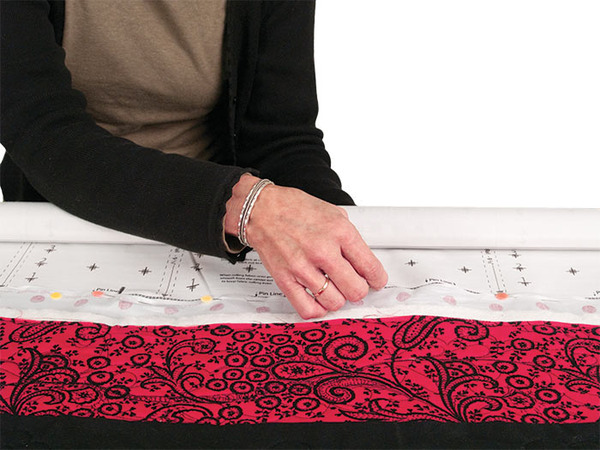 Optional CLOTH LEADERS A time-saving product to help you attach the fabric to your frame easily and accurately. Includes three king size cloth leaders printed with precise guide marks and pin lines. It includes a Velcro® attachment kit that is used to secure the cloth leaders to your frame.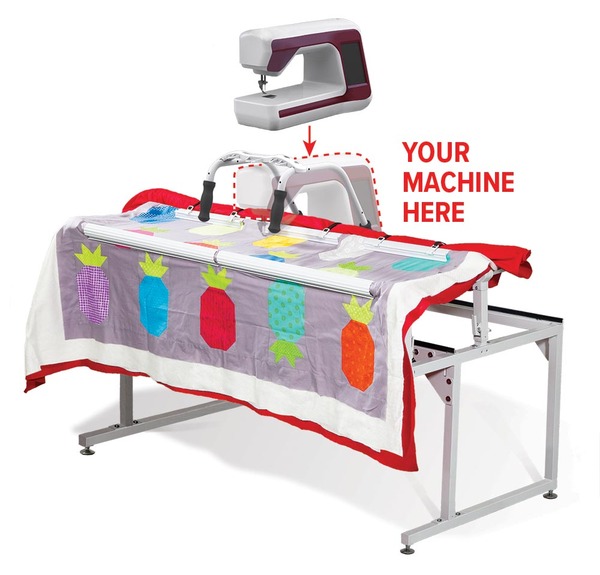 The Q-Zone Hoop-Frame is perfect for cross-brand compatibility and made to work with many quilting machines, from domestics to longarms with up to a 19-inch throat space.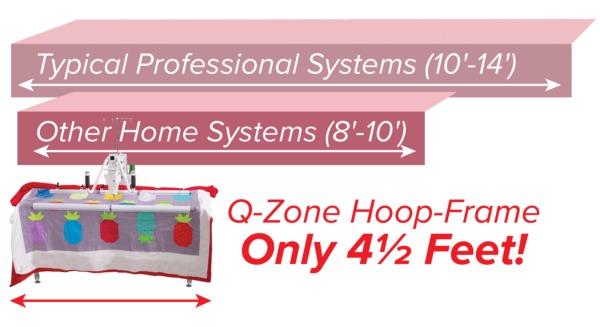 Now the size of your quilt is no longer limited by the width of the frame! The Q-Zone Hoop-Frame works similar to a large quilting hoop, letting you quilt one section at a time. Quilt as large as queen, king, and larger quilts, all on this space-saving 4½ foot frame, using the zone-to-zone quilting method.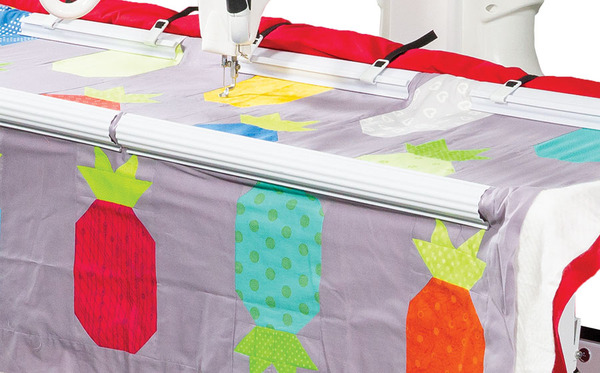 INCLUDED QUILT CLIPS For easiest ever fabric tension and control Quilt Clips are the easiest and fastest way to control and adjust the layers of fabric on your quilting frame! They hold the fabric to the rails and can be rotated to adjust fabric tension.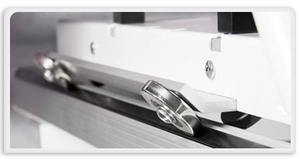 SMOOTH CARRIAGE SYSTEM The "G-Series" track and carriage system on the Hoop-Frame enhances quilting machine motion and precision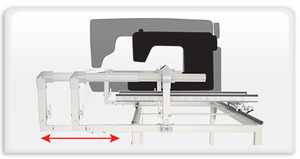 ADJUSTABLE DEPTH Adjust the working area of your quilting frame to give you the ideal comfortable reach. You can make it shorter for home sewing machines, or longer for midarm machines. The frame is compatible with machines with up to a 19 inch throat.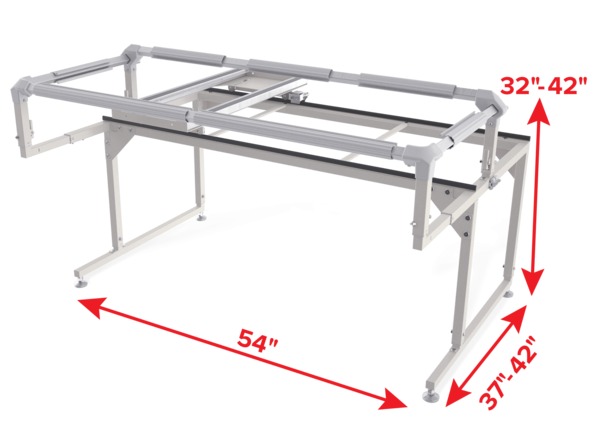 Machine Quilting Frame Comparison Table
Grace Company quilting frames The popular Grace Company motto, "We provide the tools, you create the masterpiece" rings true for quilters when commenting online about user friendly machine quilting frames. For example, today's clever quilter needs all sorts of frames to help them create projects that require a good foundation and tools to get the job done. Grace frames are credited with having all the bells and whistles to compliment the hand or machine sewing process. For instance, Grace quilting frames feature easy to adjust rails for both needed height and adjustments. At the same time, the Grace Company "Fabri-Fast" frame quilting system is featured in all of the company's rails. The manufacturer notes that its machine quilting frames allow the quilter to have more freedom during the creation of quilts. The features include: Quilting system that frees one from needing the usual quilting ties, tape or tacks. A true user friendly system for sliding fabric into the quilting machine rail slot to secure it without worry. Frames that are credited with having a fluid and really smooth "feel" when working on a creation. Frames made with solid metal construction and really smooth gliding on its quality and proven plastic track that never lets a quilter down. Frames designed for accurate movement and perfect for precise work with tools for intricate stitching on small or large stitching surfaces. Various clamps and slots that allow for all types of quilting work styles via the manufacturer's many additional quilting notions or accessories that make this process really fun and enjoyable. In general, The Grace Company is the gold standard for creating high quality machine quilting frames that are priced reasonably and backed up with great product support, warranties and customer service. Quilting frame for machine & hand quilters At a time when many quilters are looking for a high quality quilting frame for either machine process or to help hand quilters with their creations, Grace Company frames meet the need with high customer ratings. For instance, a longtime quilter explained online that without a good machine quilting frame that features such things as height adjustable rails or legs, "one's job is much more difficult." The quilter said she needed fame for hand quilting that is easy to examine when working on various layers of her quilt creation. Meanwhile, Grace Company features a "no-baste, no-fuss" system that includes aluminum rails featuring precision ratchets that translates to a quilter being able to use the best machine tools to get just the right amount of tension. In turn, hand quilters say they appreciate such things as easy fabric attachments, the unique Grace Company "flip-up rail" and other adjustable features that make quality with this frame very successful. Quilting made easy with Grace Company The machine quilting frames on offer from Grace Company are not only fun to use, but are considered to be very nice to look at as well. For example, both the Gracie King and Gracie Queen models include special rails for batting, stunningly lovely looking wood craft construction that says "high quality." In addition, there is no worries about being able to move around a quilt creation because these high quality machine frames feature adjustable legs, leveling fee, strong rails for big quilts and specialized bungee clamps to keep one's creation properly secured for detailed quilting. Frame quilting at home made easy Machine quilting frames are not made alike. There are the gold standard Grace Company models, and there is everything else. However, one sets Grace Company apart is a true quality customer service support system that compliments the company's top of the line quilting frames that are priced for every budget. The company's online catalog and website offerings are impressive when it comes to a keen knowledge and understanding of what today's modern quilters really need when talking true machine quilting frames that never let you down. For instance, the company's trending SR2 machine quilting frame offers any quilter a great looking and working machine at an affordable price. Overall, the modern quilter needs a machine quilting frame that compliments his or her unique quilting style and process. The Grace Company "gets" this fact, and is credited with designing its machine frames with the quilter in mind. The result is a family of Grace quilters who share their appreciation of these top of the line machine quilting frames with friends and family. The beautiful quilts produced with the aid of Grace Company machine quilting frames is the result.