*Up to 60 Months Synchrony Bank Sewing & More Card, Fixed Payments, No Interest Financing with approved credit! Transaction Code Click HERE to Apply Online for Synchrony Bank Credit ApprovalTHE Dream Quilter 15S
Sit-Down Mid Arm Quilting Machine
THE Dream Quilter 15S is the perfect machine to dedicate to free-motion quilting due to its larger than average sewing machine throat. With up to 1,800 stitches per minute and a large LCD touch screen, THE Dream Quilter 15S will allow you to grow your passion especially when paired with THE Dream Carousel Sit-Down Cabinet. When you're ready to move to THE Dream Frame, THE Dream Quilter 15S can transition to a Brother quilt frame with the optional Frame Kit.
FEATURES:
15" W x 8" H workspace

Up to 1,800 stitches per minute

5" LCD touch screen display with front or side mount options

Foot Pedal with programmable Heel Kick

Manual needle threading

Dual-cone thread holders

Built-in bobbin winder for large capacity M-class bobbins

6 bright LED lights

Machine includes a free-motion quilting foot and 10 quilting machine needles

Quilt In Comfort
Enjoy the freedom to do your free motion quilting sitting down from a side or front-facing position with THE Dream Carousel Sit-Down Cabinet! Easily pivot your machine to a front- or side-sewing orientation, a unique Brother-exclusive feature that lets you quilt in the position you find most comfortable. The contoured laminate and folding leaf for extra surface area are great features for utilizing the full throat space of THE Dream Quilter 15S mid-arm machine will fit perfectly in THE Dream Carousel Cabinet. Speak to your dealer about other compatible models.
US Warranty 1 year limited warranty on defects in materials and workmanship.
Extended US Warranty: Extended Warranty Available
Non-US Warranty: 30 days parts and labor
Other Images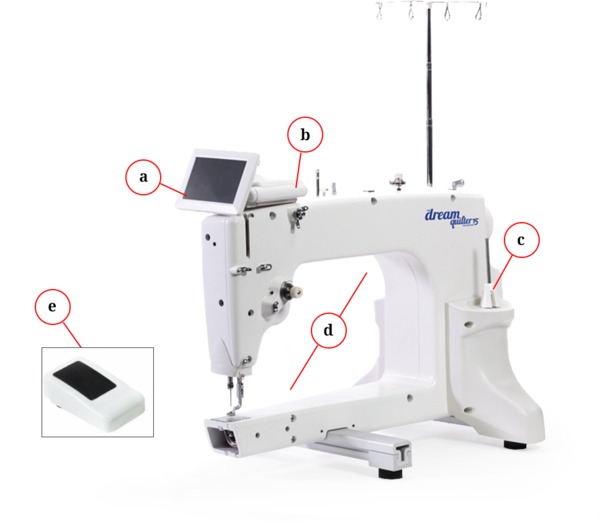 a. 5" LCD Touch Screen Display Vibrant, easy to read screen can be adjusted to your viewing angle, including front and side mount options. Choose your baste length and manage your machine settings. b. Accessory Ports Plug in with the included laser stylus. c. Dual Cone Thread Holders Place a cone or spool of thread on each side of the machine. d. Large Workspace 15" x 8" workspace gives you room for bulky quilts. e. Included Foot Controller THE Dream Quilter 15S comes with a foot controller with a programmable heel kick.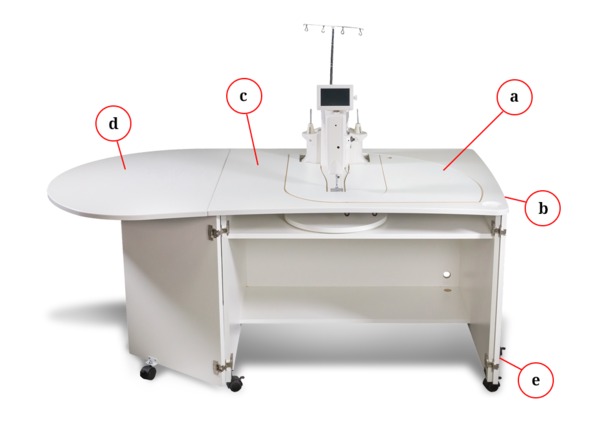 a. Carousel Feature Easily transition to a side or front-facing free motion cabinet - a Brother-exclusive feature – new to the industry. b. Sleek Design Modern curved design with rounded edges and no corners for a "no-snag, no-drag" operation. c. Smooth Surfaces State-of-the-art contour smooth laminate for easier quilting. d. Foldaway Leaf The foldaway leaf allows you more room to quilt by extending your work area, or fold it away when not in use. e. U-Casters Wheels make moving the cabinet easier across hard or carpeted surfaces.