You can Add to Cart and checkout online with 0% interest financing OAC on your Synchrony Sewing and More Card, without having to call into our order desk at 800-739-7374.
* Synchrony Bank Sewing & More Fixed Payments 0% No Interest Financing with approved credit!
Click HERE to Apply Online for Synchrony Bank Sewing and More Credit Card Approval to use for Online Checkout or in AllBrands stores
*15M head also has a foot control plug in port for sit down operation on a table as well as free motion on a frame.
The Q'nique 15M is a manual quilting machine designed for those who like to have manual control over their stitching, at a low introductory price point. Built with the same specifications as the original Q'nique 14+, the Q'nique 15M forgoes stitch regulation to focus on the simple manual stitch mode, which many quilters prefer.
The low price of the Q'nique 15M will bring the possibility of owning a professional quilting machine to a whole new market and a new generation of quilters.
Qnique 15M features
Stitch-speed adjustable with quick-access handle buttons

15" Throat length

Easy-to-read display

Top speed of 1,800 SPM

LED work lights

Built-in bobbin winder

Additional accessory ports

New to quilting machine reviews, the top of the line quilting machine is the Grace Company's Qnique Quilter quilting machine. With this machine being the most economical model out there and the best performance for the buck, this machine is awesome. The company that makes this machine, The Grace Company, has been in business for 25 years and leads the industry in quilting machines and accessories. This machine takes the features of the the long-arm machine and combines it with the size and price of a mid-arm quilting machine. The Grace Company's Qnique quilting machine has state of the art sewing technology along with a high grade aluminum body that has everything you need at the touch of a button. It has been built to make even the most difficult of quilts easy to make whether you are an experienced quilter or are just getting started. It doesn't get any better or easier than this. This state of the are machine makes the very best of quilts out there.

State of the Art
This machine has a state-of-the-art bobbin system with a bobbin winder that is built into the machine. It has high speed that works automatically as you need it. When you need to refill the bobbin, you just use one of the threads from the tower and it winds itself. It turns on automatically and turns itself off when you are done. This machine also has an easy-access bobbin case that just pops open and makes it easy when you need to change or adjust your bobbin. The bobbin is larger than the usual size on most machines, so that you can quilt longer without stopping.

You now have more control of your work space with six buttons on the handle to work with, to make things faster and easier. This machine also and has a hand dual thread tensioner to help when quilting. It has 6 LED lights that light up your needle area for easy visualization of your work space and the stitching that you are doing. It has two thread holders with the fastest sewing speed possible of 1800 stitches per minute.

Biggest and Best Quilts
This machine is made to make the biggest and thickest of quilts and makes sewing faster than any other machine. You also have a manual speed control to be able to control the speed of the stitching yourself. This quilting machine comes with large throat space that has the most room for the largest and highest quilting material for stitching on the market today. This makes quilting so much fun to do at home and it couldn't be easier.

Qnique Laser Stylus
Did you know that the Optional Qnique Laser Stylus accessory can be easily attached to the machine to help you trace patterns or pictures while you are quilting on a quilting frame? You have the choice of attaching the laser to the front or rear handles, or even to the bottom of the machine, between the wheels.

The easiest way to trace a pattern when you are quilting is to use the Qnique Laser Stylus. Using this accessory, you can just put the pattern you wish to trace to the side and trace it with the laser as you quilt. The Laser stylus plugs right into the Qnique's accessory port for power, so you do not have to buy any batteries. The laser is designed to be versatile and can work while attached to the front or rear handles. It will also work near the bottom of the quilting machine. You can angle the laser in any direction, the way you want it to work.

Grace Qnique Quilting Machine
The Grace Qnique Quilting Machine is made with quality and performance and cost in mind. These machines are industrial strength and have industrial strength performance. They make the making of quilts so easy, even a beginner could get started right away. This really is the best quilting machine out there for the money. The Grace Qnique Machine includes several accessories such as the lubricating oil to keep it running smoothly and correctly, quilting needles to sew with, and bobbins to use to help make those gorgeous quilts. Quilters are a great group of quilters who recommend this machine with an 89 percent rating.

There are also a lot of blogs, and websites like (www.quiltingindustry.com) where you can get information on the newest accessories, quilting clubs, news, and see what all the other quilters are making. You will find out about their newest tricks, the newest on material, what is selling, and reviews, tutorials, classes and all about when the next quilting shows are.

This machine only uses 300 watts of maximum power and its LCD light automatically shuts off after 15 minutes if not in use. It even has four plugins; for use of other quilting machine accessories that you might want to use. The Grace Qnique works easily with any frames that you might be already using. There are also many frames designed that are available to work specifically with this machine such as the SR-2 Quilting Frame and the Qnique 14+ Quilting Frame. The 14+ is a king size frame which handle the larger quilts.
The extended length and height of the work area on the Qnique quilting machine gives you the freedom to quilt larger patterns or blocks. The Qnique features a 15 inch throat space from the needle to the back of the work area.





View Qnique Warranty Information Here
US Warranty 2 years parts, 90 days labor
Extended US Warranty: Extended Warranty Available
Non-US Warranty: 30 days parts and labor
Specifications
The Grace Q'nique 14+ Long Arm Quilting Machine will take your quilting to a whole new level. With a 15 inch throat space theGrace Q'nique 14+ Long Arm Quilting Machine gives you the freedom to quilt larger patterns or quilt blocks. TheGrace Q'nique 14+ Long Arm Quilting Machine includes extended throat space, easy grip handles, and increased stitch speed. The Grace Q'nique 14+ Long Arm Quilting Machine is brought to your by the Grace Company, which had been manufacturing and distributing quilting frames and accessories for over 25 years.
Features of the Grace Q'nique 14+ Long Arm Quilting Machine:
Included Accessories
Grace Grace Q'nique 14+ Long Arm Quilting Machine Includes:
Electronic Display

Front Handles

Power Cable

10 Needles

3 M class bobbins

Oil

Allen wrench

Screw Driver

Lint Brush

The Grace Q'nique 14+ Long Arm Quilting Machine is compatible with all Grace Quilting Frames
Other Images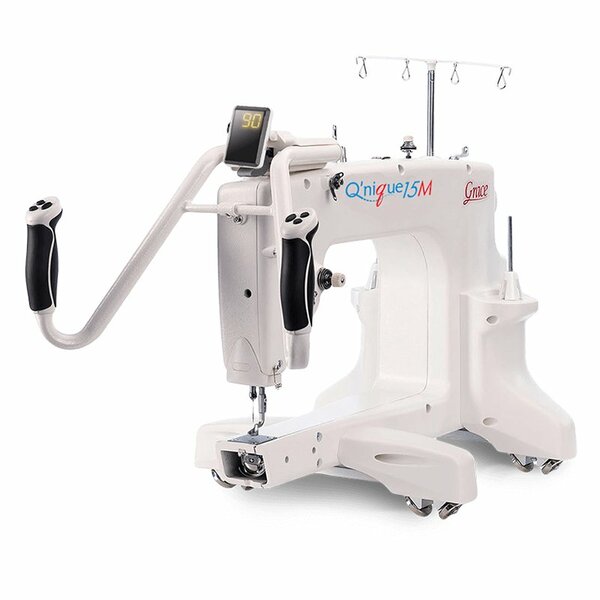 Grace Q15M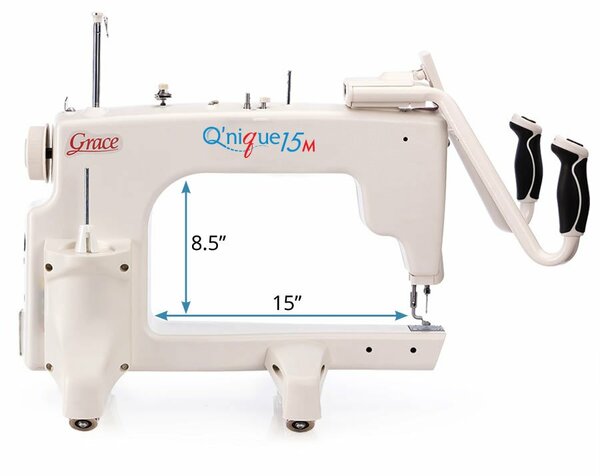 Grace Q15M side specs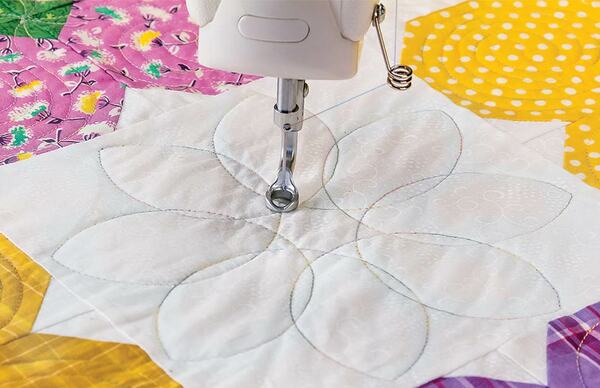 Superior Manual Comfort:
The Q'nique 15M is a manual mode only machine without stitch regulation that starts at an amazing price point for the quilting enthusiast. It offers an excellent stitch quality with simple manual speed control. Move at your own pace and create detailed and intricate stitching.

The included LCD screen displays your stitching speed.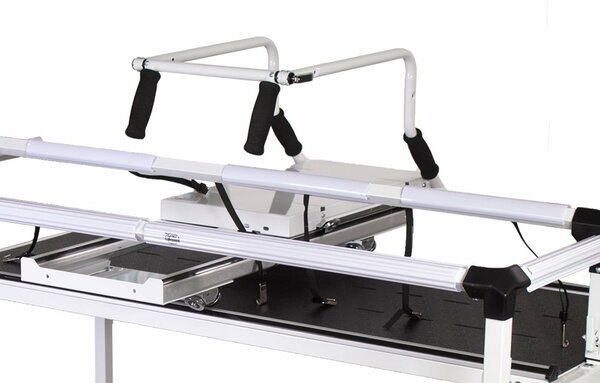 Combine and Save:
Complete your quilting system and save hundreds when you purchase a qualifying frame with your Q'nique 15M Quilting Machine. Qualifying frames includes the Q'one Hoop-Frame, Q-Zone Hoop-Frame Pro, Q-Zone Queen, and our revolutionary new Cutie Tabletop Fabric Frame.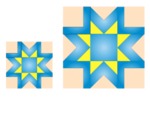 The extended length and height of the work area on the Qnique quilting machine gives you the freedom to quilt larger patterns or blocks. The Qnique features a 15 inch throat space from the needle to the back of the work area.
Bundle & Save
Get additional savings when you purchase any of these items along with this product.