RE-THINKING THE IRON
NO SPITTING! NO LEAKING! NO KIDDING!
The all new Velocity 200IR compact vapor generator iron is the ultimate expression of our iron know how. The Velocity 200IR thinks (and more importantly acts) like a pro iron. Water is heated internally so it turns into steam before it even reaches the sole plate (like our pro models). The end result is a steam iron that doesn't leak and doesn't spit water and delivers continuous steam that will astonish you.
THIS IS WORK?
The goal of all irons is to get out of the way and let you get your ironing done. No other iron allows you do this better than the Velocity 200IR. From its easy to use sensor touch handle to its super glide and scratch resistant anodized aluminum soleplate, the Velocity 200IR is the finest home iron you can invest in.
FEATURES
Patented continuous steam technology

Sensor "touch" technology

Hard anodized aluminum soleplate

Bypass for auto shut-off

360° swivel cord

The Magic
With a patented two heating elements design, the Velocity 200IR pre-heats the water before it reaches the heated soleplate. This guarantees continuous steam even at low temperatures which means delicate fabric like wool can be ironed safely.

Coffee Breaks
Our advanced auto shut off bypass feature allows the user to bypass the built-in 8 minute auto shut off and use the iron continuously. This is a great feature for our sewing & quilting project friends.

How Easy Is This?
By simply placing your hand on the handle (and having the steam button in the on position) the Velocity 200IR springs to life with the most wonderful, voluminous steam you have ever seen in a steam iron.

You Will Be Tempted To Cook With It
Like the finest cookware, the Velocity 200IR features a next generation anodized aluminum soleplate which enhances gliding on all types of fabric.

One Smart Iron
Making a the most technologically advanced iron in the world doesn't mean it needs to be complicated. An illuminated dial displays the selected temperature and two buttons control the power and steam volume functions.

The Cord Swivels So You Don't Have To
Our cord swivels 360º allowing better maneuverability and reducing those frustrating "dances" trying to get the cord to unravel.

Effortess Fill
Refilling the 200IR is quick and easy. With a large, wide-angle opening, the Velocity prevents any unnecessary spilling.

Everyday Endurance
The Velocity 200IR will press garments like a pro and it will help manage even large workloads in little time. Who said ironing had to be a chore?

Dare To Steam Vertically
With no need to worry about spitting, the Velocity 200IR irons curtains, hanging garments and more.
US Warranty 1 year limited warranty on defects in materials and workmanship.
Extended US Warranty: Extended Warranty Available
Non-US Warranty: 30 days parts and labor
Specifications
Specifications Sheet for Reliable VELOCITY 200IR Iron
Electrical:
110V
Water capacity:
1.26 cups – 300 ml
Wattage:
1800W
Elements:
2
Steam pressure:
15 g/min. or 30g/minute
Eco-Intelligent:
Yes
Anti-scale cartridge:
Built-in
Power consumption:
15 amps
Cord length:
8.2'
Net weight:
3.75 lb – 1.7 kg
Shipping: weight:
4.5 lb – 2. kg
Product dimensions:
13" x 5" x 6.5"
Shipping dimensions:
14" x 5.75" x 7.75"
Country of origin:
China
Electrical approval:
cETLus
Warranty:
Limited 1 year
Reliable Velocity 200IR Steam Iron - Reveal
Irons: Reliable V200IR Compared to Other Brands
Other Images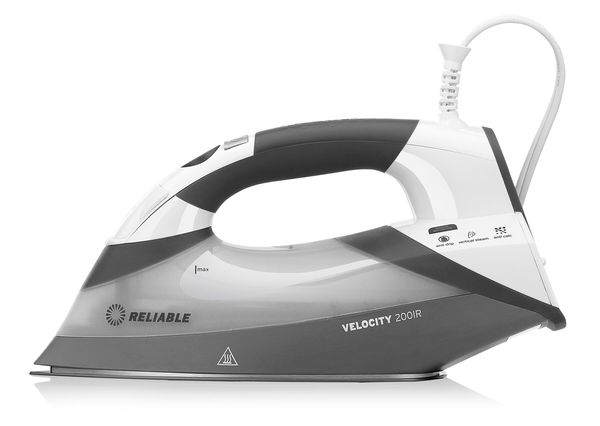 Reliable Velocity 200IR Continuous Steam Iron 1800W, Bypass Auto Shut-Off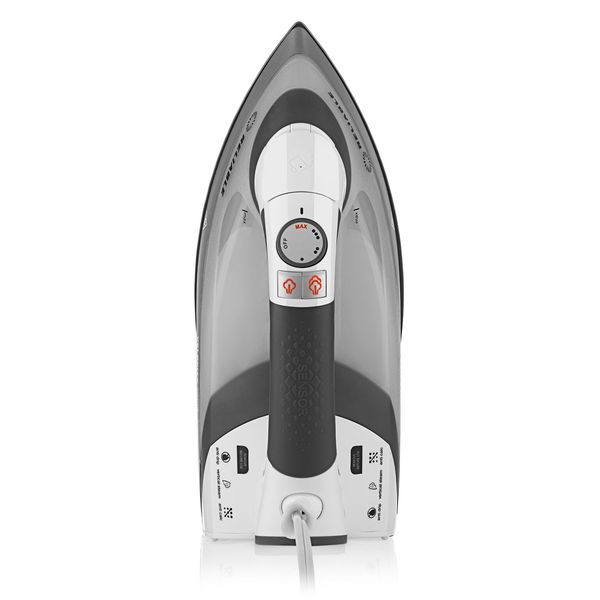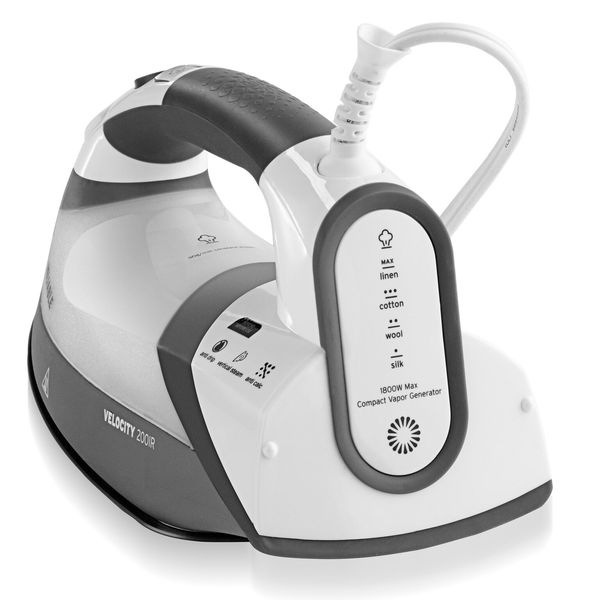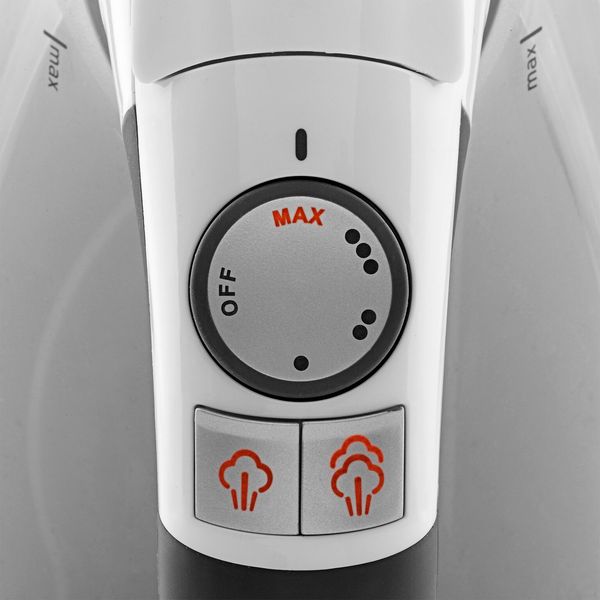 Advanced Auto Shut Off Bypass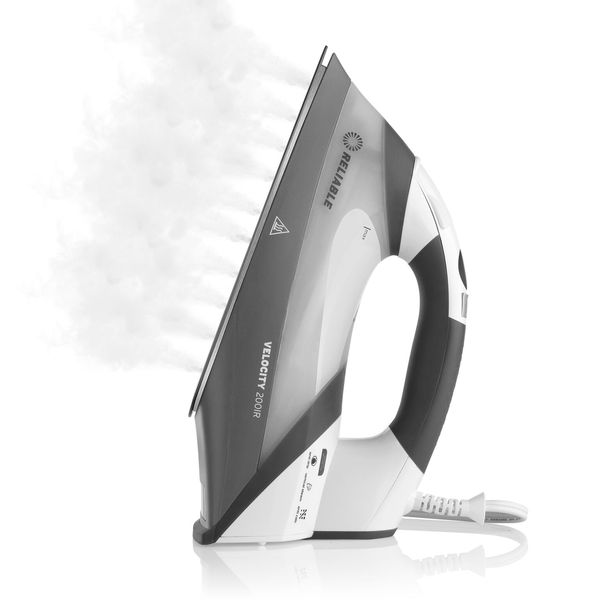 Easy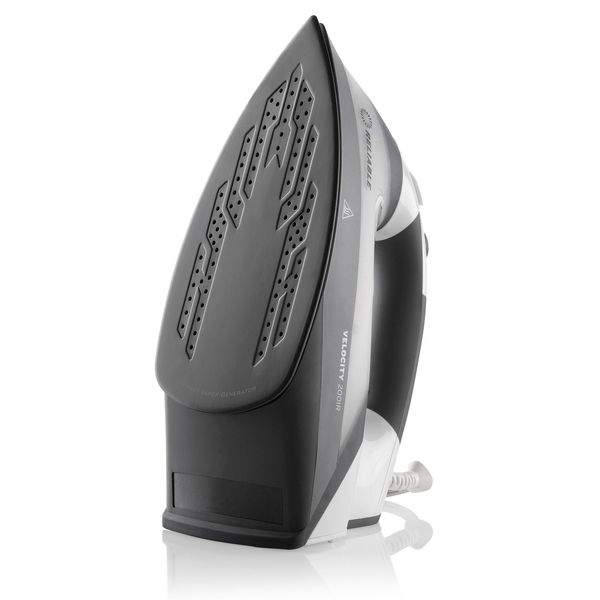 You Will Be Tempted To Cook With It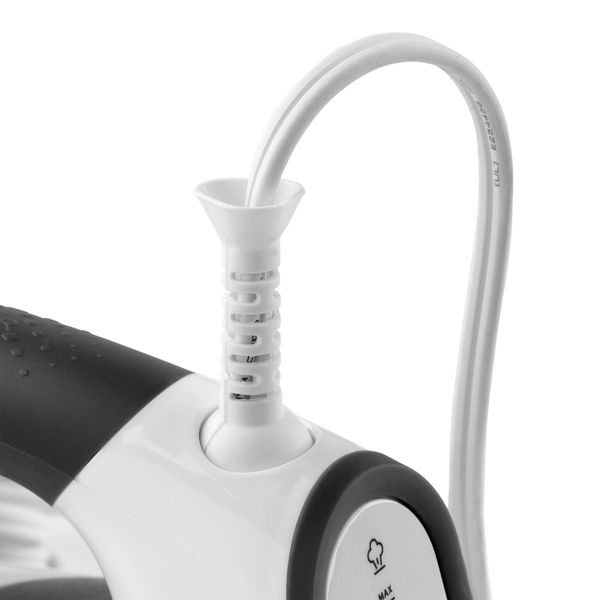 The Cord Swivels So You Don't Have To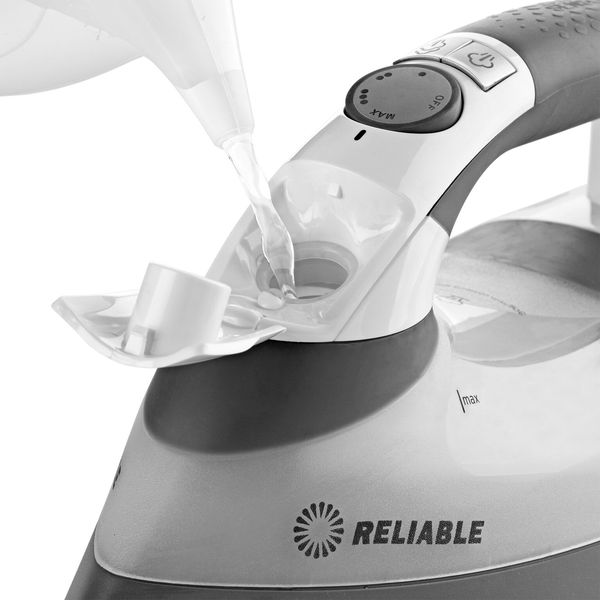 Effortless Fill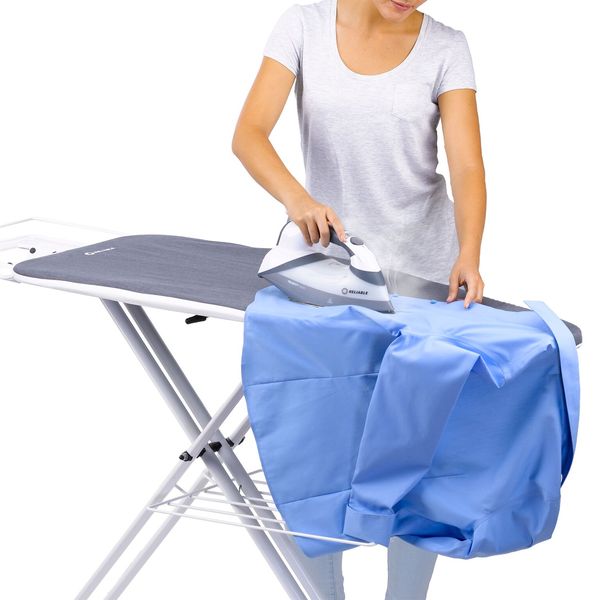 Everyday Endurance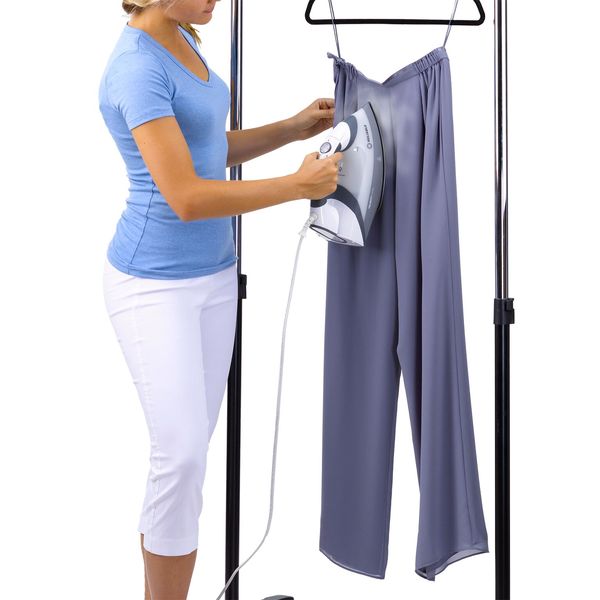 Dare To Steam Vertically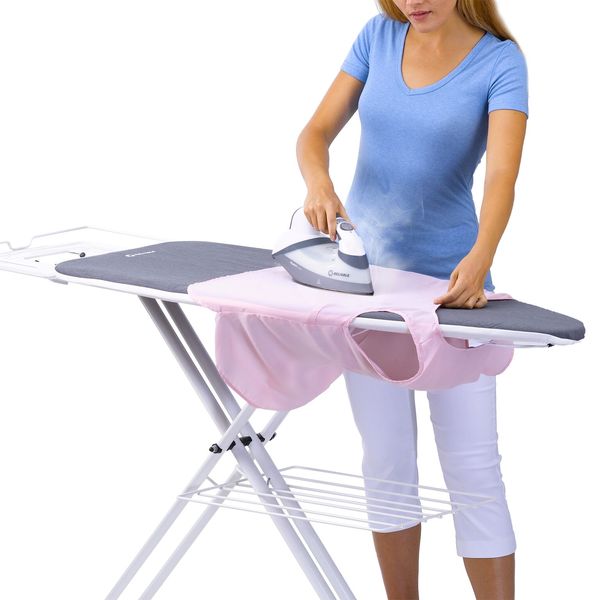 See Reliable's Ironing Board Selection under Recommended Accessories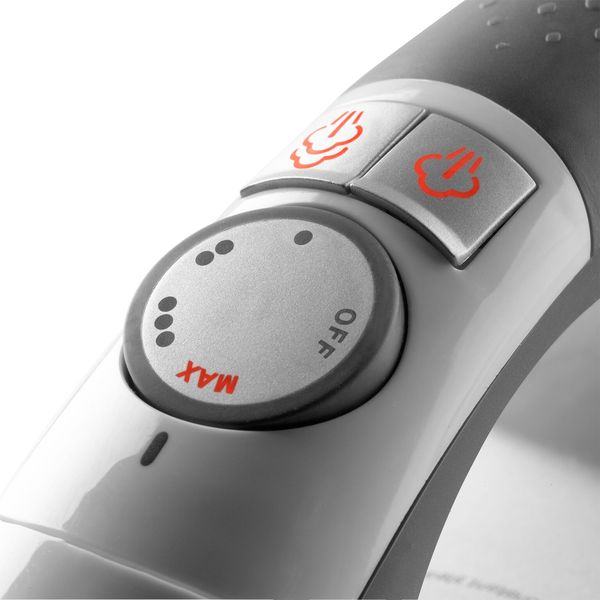 Sensor Touch Handle for Steam Activation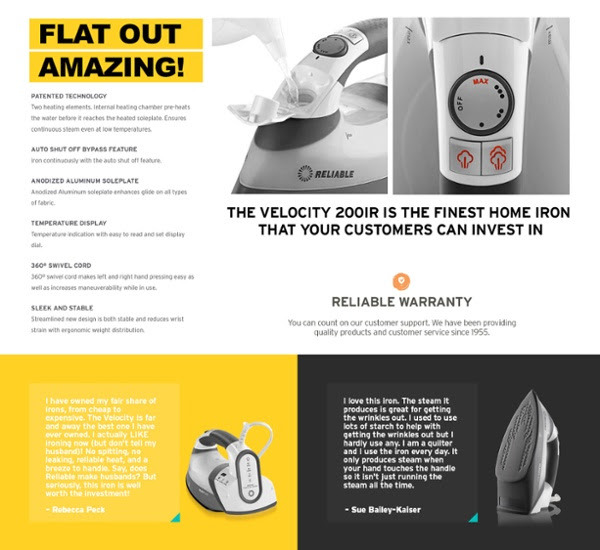 Reliable Velocity 200IR Continuous Steam Iron 1800W Auto Shut-Off Bypass
Donna C, So Cal
Three words...Worth -Every -Penny! I really hesitated before I pulled the trigger due to the price, but I'm so happy I did! I've had nice Rowenta irons and I bought the Panasonic cordless as I'm a quilter and sewist but neither one was exactly right. The Panasonic doesn't get hot enough and the Rowenta steam feature just didn't cut it. It ran out way to quickly and was constantly losing peak temperature while ironing. I'm saving it for my last child when he leaves home! The Reliable Velocity holds a gallon of water ( well it seems like it!)! I found that when I filled the reservoir to full capacity the iron was unwieldy and too heavy. I fixed that by putting less water in! This iron is so efficient that it doesn't release steam unless you have your hand on the handle where the sensors are. I purchased the silicone irest and can leave the iron flat on the sole plate and no leaks and no steam loss! Plus it's way more convenient when ironing clothing. It's super well made, and has the ability to disable the auto off which is really great...just don't forget and walk away and leave it on! Took a while to receive as it is a drop ship item, but AllBrands had a great coupon for $20 off so a little extra wait was fine!

Ruth M, Warren MI
Excellent service, Reliable Velocity is an excellent product, I am happy with this product. I am a member of a sewing group and I will be recommending your products at a future meeting. Thank You again!! Ruth M.


Bundle & Save
Get additional savings when you purchase any of these items along with this product.