* Synchrony Bank Sewing & More Fixed Payments 0% No Interest Financing with approved credit!
Click HERE to Apply Online for Synchrony Bank Sewing and More Credit Card Approval to use for Online Checkout or in AllBrands stores
Brother Standard Limited Warranty Statement: 1 Year Parts and Labor, 2 years Electronics, 25 years Casting/Chassis
"AllBrands is a Brother Authorized Dealer and ASC Authorized Service Center for any repairs including warranty parts and labor. We give unlimited technical support by email, fax and phone. We service machines in our stores and/or refer to nearest ASC centers nationwide. Mass merchants do not have tech service or repair departments for your equipment. They are unable to help you directly, only referring any operational, mechanical or electronic questions back to the manufacturer instead of taking care of problems themselves. Manufacturers and customers should expect that any problems will be taken care of by the dealer or merchant who sold you the equipment, not just by referring your requests back to the manufacturer." John Douthat, Owner & Tech
Do you love fashion? Dream of recreating your favorite runway looks? The CE1125PRW can be your guide. This Project Runway licensed, computerized sewing machine features a wide array of professional features in a portable, lightweight package. The CE1125PRW features 100 unique built-in sewing stitches including 8 styles of 1-step auto-size buttonholes to finish your look. This machine features a gorgeous metallic faceplate, so that you can sew in style. Selecting your stitch is as easy as pressing a button with the easy stitch selector and LCD display screen. Sewing in low light? Not a problem, the CE1125PRW features a super bright LED-lit workspace. This machine is packed with included accessories, including all of the sewing feet you'll need to get started on your collection; Buttonhole foot, Zipper foot, Button sewing foot, Overcasting foot, Blindstitch foot, Monogramming foot, Zigzag foot. The possibilities are endless, let your creativity run wild with the CE1125PRW computerized sewing machine from Brother
Brother CE1125prw Review – Features, Comparisons, Pros & Cons
By
Aly from SewingMachineFun.com
US Warranty 25 Years Mechanical Parts, 2 Years Electrical Parts, 1 Year Service Labor on defects in material or workmanship.
Extended US Warranty: Extended Warranty Available
Non-US Warranty: 30 days parts and labor
Specifications
User Guide, Quick Reference Guide, Accessories, Catalog
NEW Brother accessories online catalog by machine model numbers
Basic Features
Accessory Storage Yes
Adjustable Screen Brightness No
Branded Series Project Runway
Built-in Languages No
Built-In Memory No
Display Type LCD
Feed Dog Points 7
Memory Card Reader No
Mouse Capability by USB No
Needle Position Key (Up/Down) No
Needle Stop Position Up/Down No
Presser Foot Leveling No
Quick Set Bobbin Yes
Realistic Preview No
Screensaver No
Stitch Selector Type Shift Key
UL/CSA Listed Yes
UL/CSA Listed Voltage 110v
USB No
Wide Table Included N
Sewing Features:
Automatic Height Adjustment (AHA) No
Back to Beginning Key No
Built-In Stitch Selections (Stitches) 100
Button Hole Styles 8
Color-Coded Thread System No
Knee Lifter No
Media Type USB No
Multi-Directional Sewing No
My Custom Stitch Feature No
Pivot Function No
Quick Reference Stitch Guides Yes
Reinforcement/reverse Stitches Yes
Sideways Sewing No
Speed Control No
Stitch Length (mm) 5
Stitch Width (mm) 7
Dimensions:
Carton Dimensions (W" x D" x H") 10.6" x 19.0" x 15.25"
Carton Weight (lbs) 13.8
Included Accessories
Brother 5300A Sewing Machine Hardcase

Plastic Bobbins for Sewing & Embroidery - 8 Pcs.

Walking Foot, 5mm

Bobbins, clear plastic, 8-pack, 11.5 size

1/4" Piecing Foot


CE1125prw sewing machine unit, power cord, and foot controller

7 presser feet

3-piece needle set, 1 twin needle, and 1 ballpoint needle

4 bobbins

Extra spool pin and 3 spool caps

Seam ripper

Cleaning brush

Screwdriver

Operation manual and quick start guide

Zigzag foot: your everyday presser foot you will use on most projects requiring a straight or zigzag stitch
Buttonhole foot: use in conjunction with one of the eight automatic one-step buttonhole stitches to sew perfectly sized buttonholes
Button fitting foot: sew on the buttonhole
Zipper foot: sew a zipper on
Overcasting foot: use with the overcasting stitch to finish fabric edges and can also create a seam at the same time
Blind stitch foot: create almost invisible hems on garments and more
Monogramming foot: use in conjunction with some of the decorative stitches


Other Images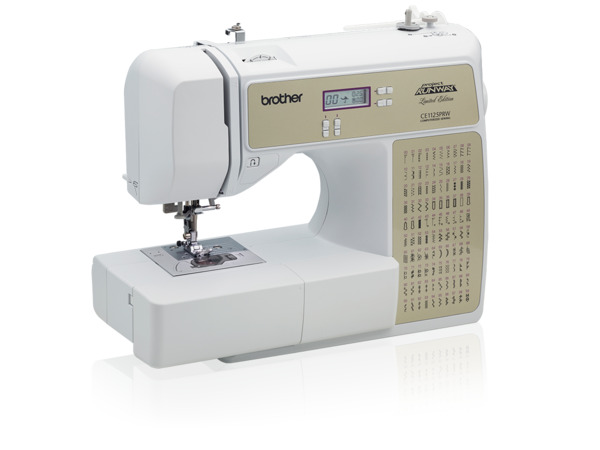 Brother RCE1125PRW Computerized Project Runway Sewing Machine, 100 built-in sewing stitches and 8 one-step buttonholes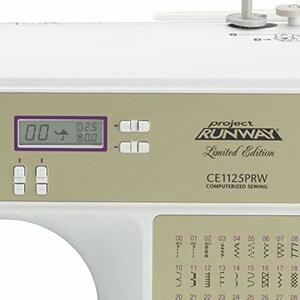 This sewing machine features 100 stitches, which is an incredible amount for a sewing machine of this cost. You select the stitch number and adjust the length and width using an LCD display on the front of the sewing machine.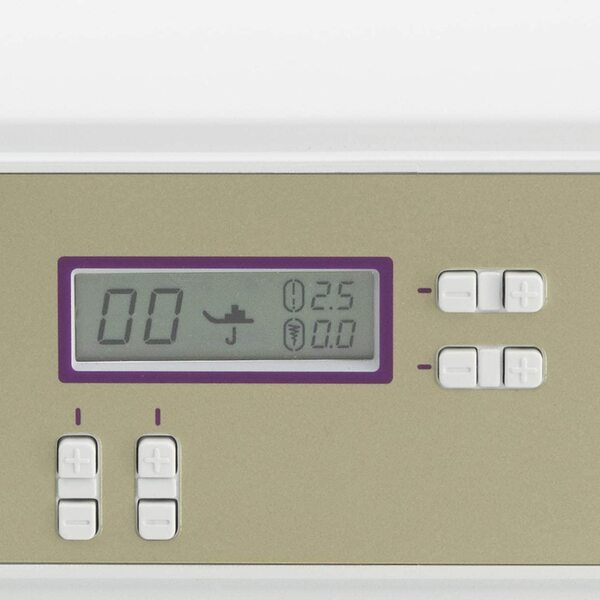 Easy stitch selector and LCD display screen.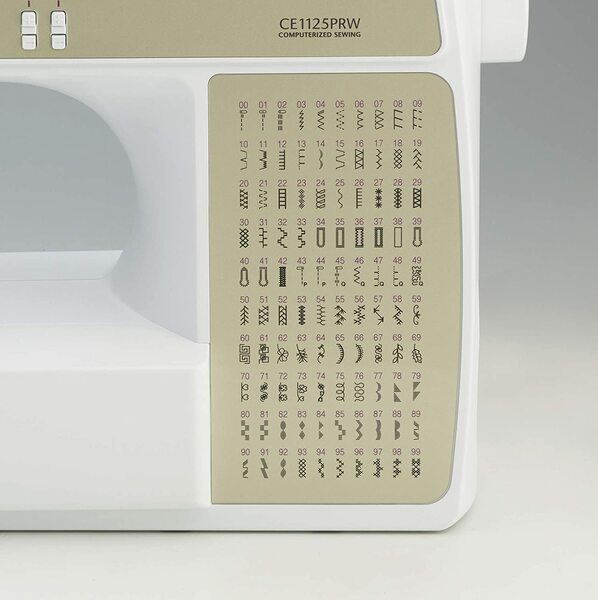 RCE1125PRW features 100 unique built-in sewing stitches including 8 styles of 1-step auto-size buttonholes to finish your look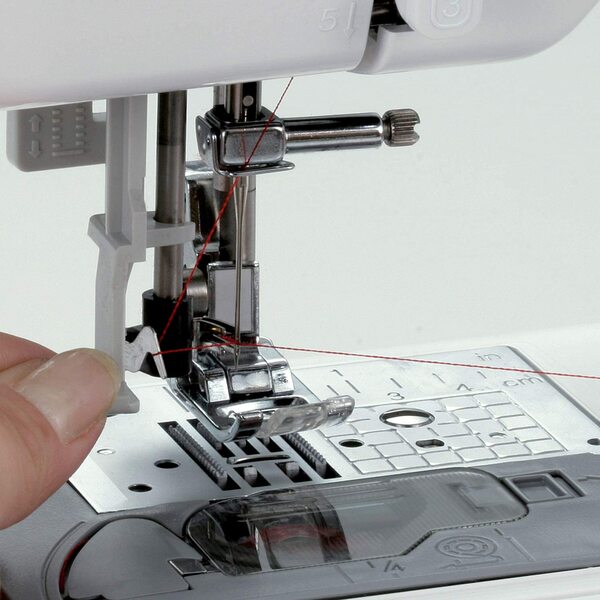 Includes all of the sewing feet you'll need to get started on your collection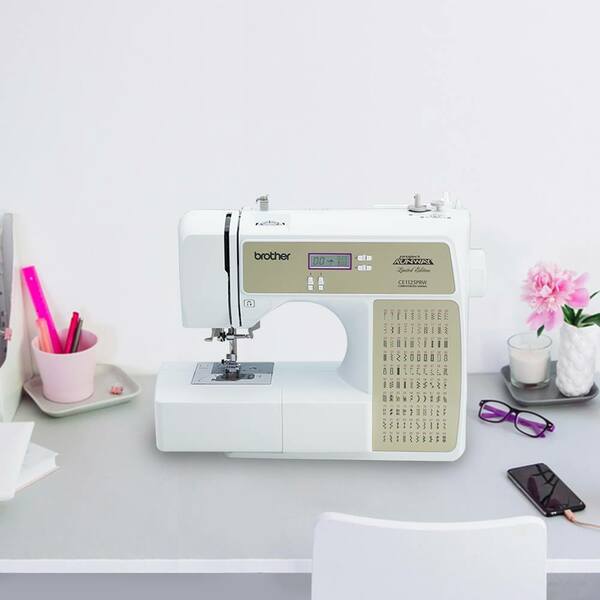 RCE1125PRW
Bundle & Save
Get additional savings when you purchase any of these items along with this product.