Recipes for Embroidery Perfection!
Just like in cooking, recipes can make or break a dish. Without the correct ingredients and knowledge of the techniques cakes, sauces, and other dishes will not turnout as we hoped.
Creating perfect embroidery is no different. Varying digitizing and editing techniques as well as selecting the right stabilizers and toppings can make all the difference.
Learn to perfect your embroidery creations from 5th generation embroidery creator Walter Floriani as he shares with you his family's specific recipes for the ultimate embroidery experience.
Learn from the Master:
New Hooping Techniques
The perfect Stabilizer Solution for any application
The latest in embroidery equipment capabilities
How to save money with Walter's embroidery business secrets
How-to optimize your embroidery files for any home and commercial machines
Editing Essentials and more!
Plus all attendees receive a $300 gift from Floriani and Allbrands!
Who is Walter Floriani?
Walter Floriani is the fifth generation of the "Floriani Embroidery Legacy". He is known as "The Embroidery Guru". Walter Floriani is a world renowned embroidery creator, educator, speaker, author and entrepreneur. His families' history spans back to the beginning of the mechanized embroidery.
Walter has owned and operated the family business since 1981. The Floriani products include training, designs, software as well as his current venture, in partnership with RNK Distributing, of a line of stabilizers and threads created specifically for the home embroidery process.
A Note from Walter...
"For five generations my family has lived an embroidery life, dealing in every phase of the process. Our philosophy is simple, "You have to give to get". Our goal is to offer a proven method of embroidery education with the finest embroidery, sewing & quilting products in the industry. Our pledge is to provide you these products and services with a positive, productive, friendly and motivational attitude. Our desire is to enhance your knowledge in order to help you attain the optimum level of creativity. Our hope is to become part of your sewing family by making you part of ours."
Hugs & Stitches,
Walter Floriani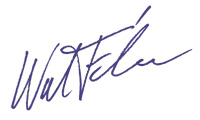 FIVE Event Locations!
(To register, click a time below for the class you wish to attend)