QDW is a software for beginning quilters and beginning computer users. It is an inexpensive way for you to try quilt designing on your computer for the first time. If you only need simple pieced blocks, straight/horizontal layouts, on-point layouts, and want to play with color, then Quilt Design Wizard is for you.
US Warranty 30 days replacement if defective.
Non-US Warranty: 30 days parts and labor
Other Images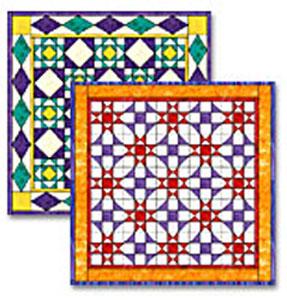 Start by selecting a layout style, mattress size, and block size. Then add borders. Quilt Design Wizard™ guides you step-by-step using an easy point-and-click method. Select from 200 quilt blocks colored with beautiful fabric and ready to set into your layout. Blocks are color-coordinated in color families to help you choose blocks that work well together. You'll be an instant designer with the Wizard's help.
Color the borders and you're ready to print! Quilt Design Wizard™ prints fabric yardage estimates, rotary cutting charts, and sewing instructions for each block. If you prefer templates or foundation piecing patterns, Quilt Design Wizard™ prints those too! You'll save hours because Quilt Design Wizard™ does all the computing, calculating, and scaling. You just click print!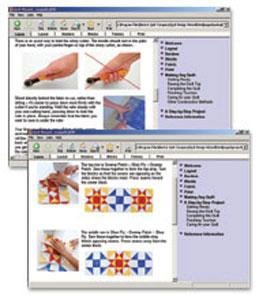 The designing is done. The patterns and yardage estimates are printed. You're ready to sew! Quilt Design Wizard™ is loaded with every bit of information you'll need. From buying supplies and fabrics, to assembly and quilting, to finishing and storing your quilt – Quilt Design Wizard™ has it all.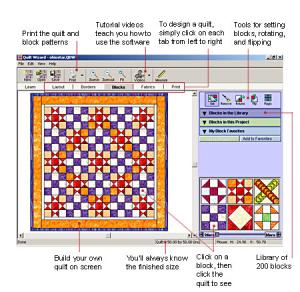 200 Blocks Whether you prefer the traditional charm of the Log Cabin block or the whimsical fun of a pictorial Tractor block, you're sure to find somthing to suit your taste. 3000 Fabrics Varied and vibrant fabrics invite you to play with color. Experiment with hundreds of color combinations on screen before you ever cut the fabric. Versatile layouts and borders From simple wall quilts to large bed quilts, try out your ideas. Create hundreds of different combinations of horizontal and on-point layouts. Add as many borders as you like. Perfect for beginners or seasoned quilters.
Janet, Missouri
You are one of my favorite online shopping experiences. Thanks for everything and I will be back.

Brenda, Florida
Thanks for a speedy delivery & everything was received in great condition.

Joyce, New York
I have ordered from you before and have always been very satisfied. You have great selection and also great prices. I will be ordering again. I'm also enjoying my Quilt Design Wizard. Thank You.