* Synchrony Bank Sewing & More Fixed Payments 0% No Interest Financing with approved credit!
Click HERE to Apply Online for Synchrony Bank Sewing and More Credit Card Approval to use for Online Checkout or in AllBrands stores
Brother Standard Limited Warranty Statement: 1 Year Parts and Labor, 2 years Electronics, 25 years Casting/Chassis
"AllBrands is a Brother Authorized Dealer and ASC Authorized Service Center for any repairs including warranty parts and labor. We give unlimited technical support by email, fax and phone. We service machines in our stores and/or refer to nearest ASC centers nationwide. Mass merchants do not have tech service or repair departments for your equipment. They are unable to help you directly, only referring any operational, mechanical or electronic questions back to the manufacturer instead of taking care of problems themselves. Manufacturers and customers should expect that any problems will be taken care of by the dealer or merchant who sold you the equipment, not just by referring your requests back to the manufacturer." John Douthat, Owner & Tech
Explore the creative possibilities of custom embroidery with the affordable, reliable, and feature-rich PE535 embroidery machine. The PE535 comes with features that help make embroidery fun and easy. The large color touch LCD screen allows you to see your designs in color before stitching them out! Also featured are tutorial videos and an easy needle threading system to help you get started. Add new, fashionable embellishments to clothing in your closet, personalize a child's belongings with custom designs and lettering, or turn everyday pillows and blankets into customized gifts for friends and family. With the PE535, the options are virtually limitless. The PE535 features a 4" x 4" embroidery area, 80 built-in designs, 10 frame patterns, and 9 font styles for lettering and monogramming. Included with this machine is a 25-year limited warranty and free customer phone and online technical support for the life of the product.
Main Features
4" x 4" embroidery field

Large color touch LCD screen

80 built-in designs

9 font styles

Built-in tutorials

Built-in memory for importing embroidery designs from USB

English/Spanish manual included

Brother PE525 Embroidery Machine Overview - YouTubeThe Brother PE525 is an affordable and easy to use embroidery-only machine that offers a variety of ways to customize fabrics with embroidered designs and lettering.
Other You Tube Videos
US Warranty 25 Years Mechanical Parts, 2 Years Electrical Parts, 1 Year Service Labor on defects in material or workmanship.
Non-US Warranty: 30 days parts and labor
Specifications
Operation Manual Brother PE545 Embroidery Machine
Quick Reference Guide for Brother PE545 Embroidery Machine
Pattern List Embroidery Designs Guide for Brother PE545 Embroidery Machine
Basic Features
Accessory Storage: Yes
Built-in Languages: No
Feed Dog Points: 7
Lighting Type: LED
Needle Position Key (Up/Down): Yes
Needle Threading System: Automatic
Presser Foot Leveling: No
Quick Set Bobbin: Yes
Realistic Preview: Yes
Screensaver: No
Specialty Feet Included: Yes
Start/Stop Button: Yes
Thread Sensor On/Off: No
UL/CSA Listed Voltage: 110v
Wide Table Included: No
Dimensions
Unit Dimensions (W" x D" x H"): 7.756" x 16.5" x 12.08"
Unit Weight (lbs): 14.99
Embroidering
Adjustable Embroidery Speed Settings: Yes
What's Included
Carton Contents: Bobbin (3pcs+1pcs is on machine), Needle set (3pcs=75/11x3, 90/14x1), Cleaning brush, Seam ripper, Bobbin Cover , screwdriver (small), Screwdriver (large), Disk shaped Screw driver, Spool Cap (small), Spool Cap (medium), Spool Cap (large), Spool cap mini, Spool net, Scissors, Embroidery bobbin thread, Accessory Bag, Dust Cover, Manual in English/Spanish
USB Cable: Not Included
Warranty: 1/2/25 Year Limited Warranty
Warranty Statement
Included Accessories
Included Accessories
Package Contents:
4" x 4" Embroidery Machine with Large Color Touch LCD Screen
Bobbin (3pcs+1pcs is on Machine)
Needle Set (3pcs=75/11x390/14x1)
Cleaning Brush
Seam Ripper
Bobbin Cover
screwdriver (Small)
Screwdriver (Large)
Disk Shaped Screw Driver
Spool Cap (Small)
Spool Cap (Medium)
Spool Cap (Large)
Spool Cap mini
Spool Net
Scissors
Embroidery Bobbin Thread
Accessory Bag
Dust Cover
Manual in English/Spanish
Accessories Catalog
Other Images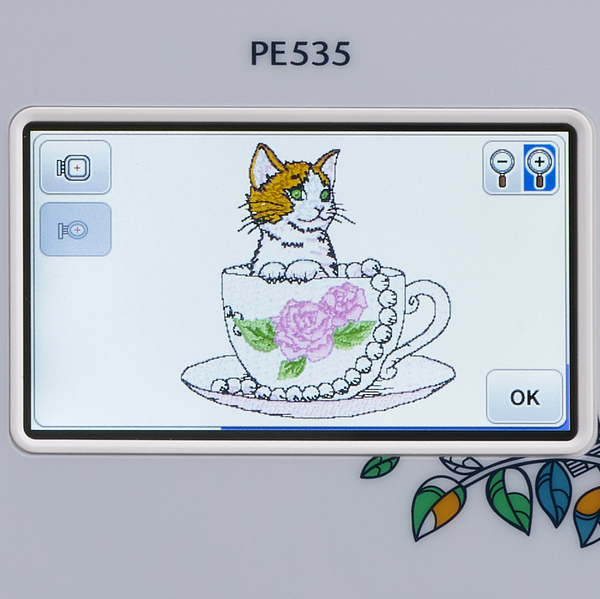 The large, 3.2" Sew Smart color LCD touch screen display allows you to view your embroidery designs in full color. Easily change individual embroidery thread colors using the built-in color palette, and then preview before stitching.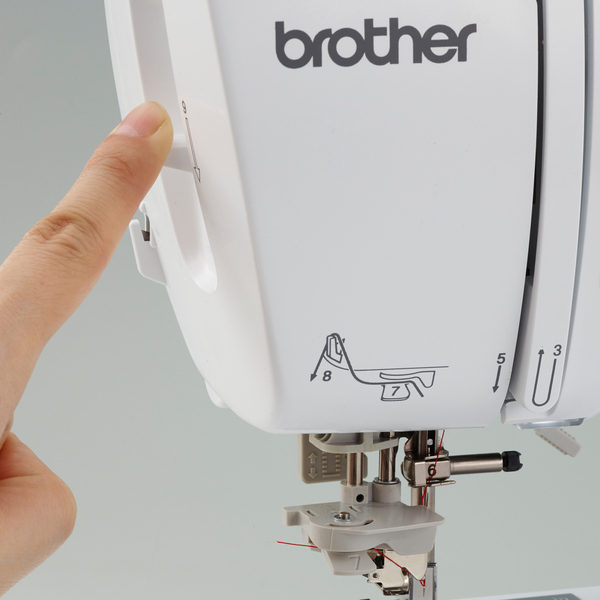 The automatic needle threader takes care of threading the needle for you, with just a touch of a lever. A real eye saver, and especially useful when embroidering designs that require multiple thread changes.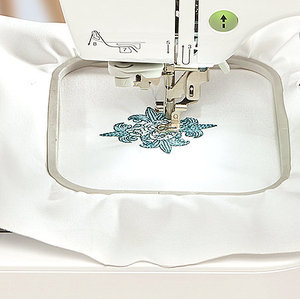 Embroider designs up to 4"x 4", the most popular embroidery design size. The included grid sheet and built-in alignment tools help you align your design and needle position for precise placement on your fabric.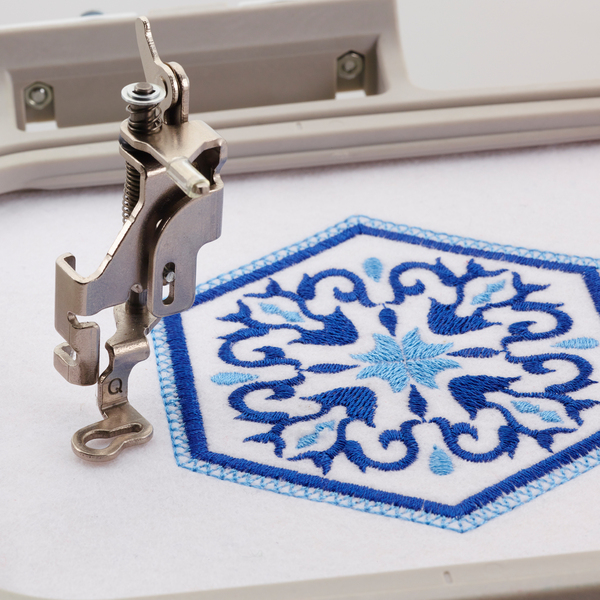 Choose from an amazing selection of 80 high quality built-in embroidery designs, including decorative alphabet, borders, floral, kids and holiday designs. Scroll down on this page to view projects created with a few of these designs.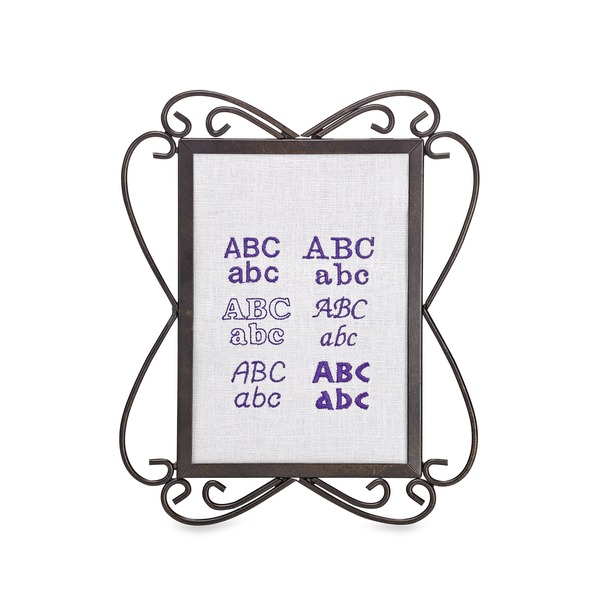 Personalize your creations with the selection of 6 built-in embroidery lettering fonts. Select from capital, lower case, numeric and symbol characters. Each of the fonts is available in small, medium and large sizes, to suit your project.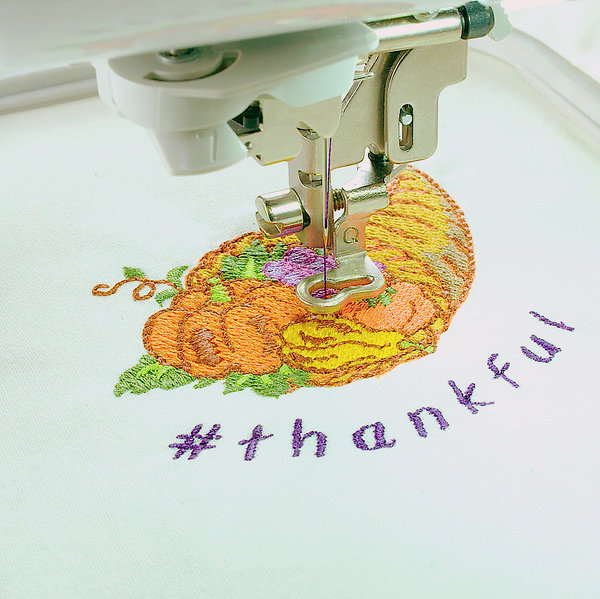 Adjust the 6 built-in embroidery lettering fonts in multiple ways: Align text at an angle or in curves, place text on multiple lines, increase and decrease the spacing between letters, and more.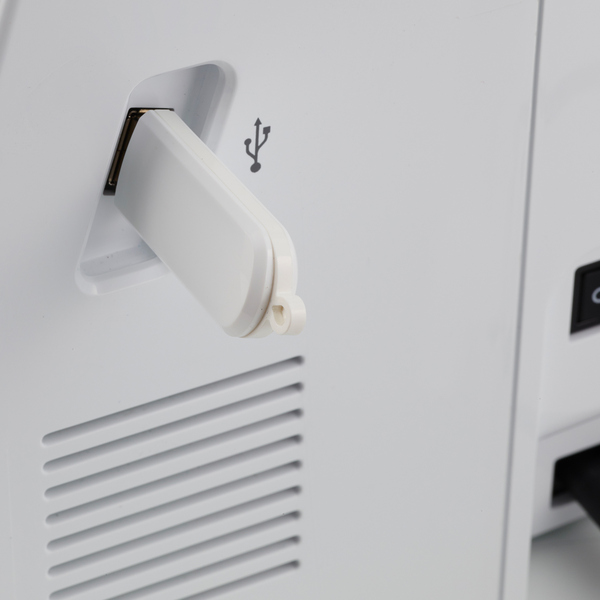 Import your own .pes embroidery design files using the built-in USB port, for virtually unlimited embroidery design options. You can also save edited designs to your machine's memory or to a USB stick.* *USB stick not included.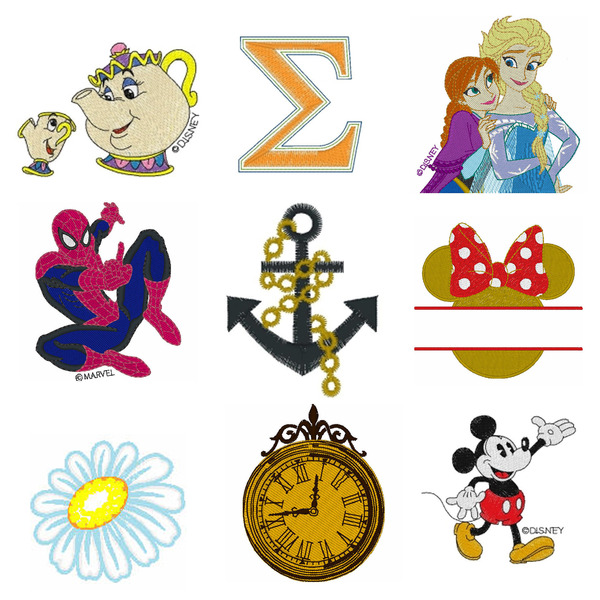 Visit iBroidery.com for 1000's of embroidery designs, exclusively for Brother customers. Here you'll find Disney, Disney-Pixar and Marvel designs, plus a wide selection of other high quality designs. *Additional purchase required for iBroidery.com designs. ©Disney. ©Marvel.