Secure your Kaffe Special Edition with a $500 deposit by calling your nearest AllBrands store or click here to place a deposit online and pick up your machine in store.
*Financing Available*
*Up to 60 Months Bernina Credit Card Fixed Payment No Interest Financing with approved credit! Click HERE to Apply Online.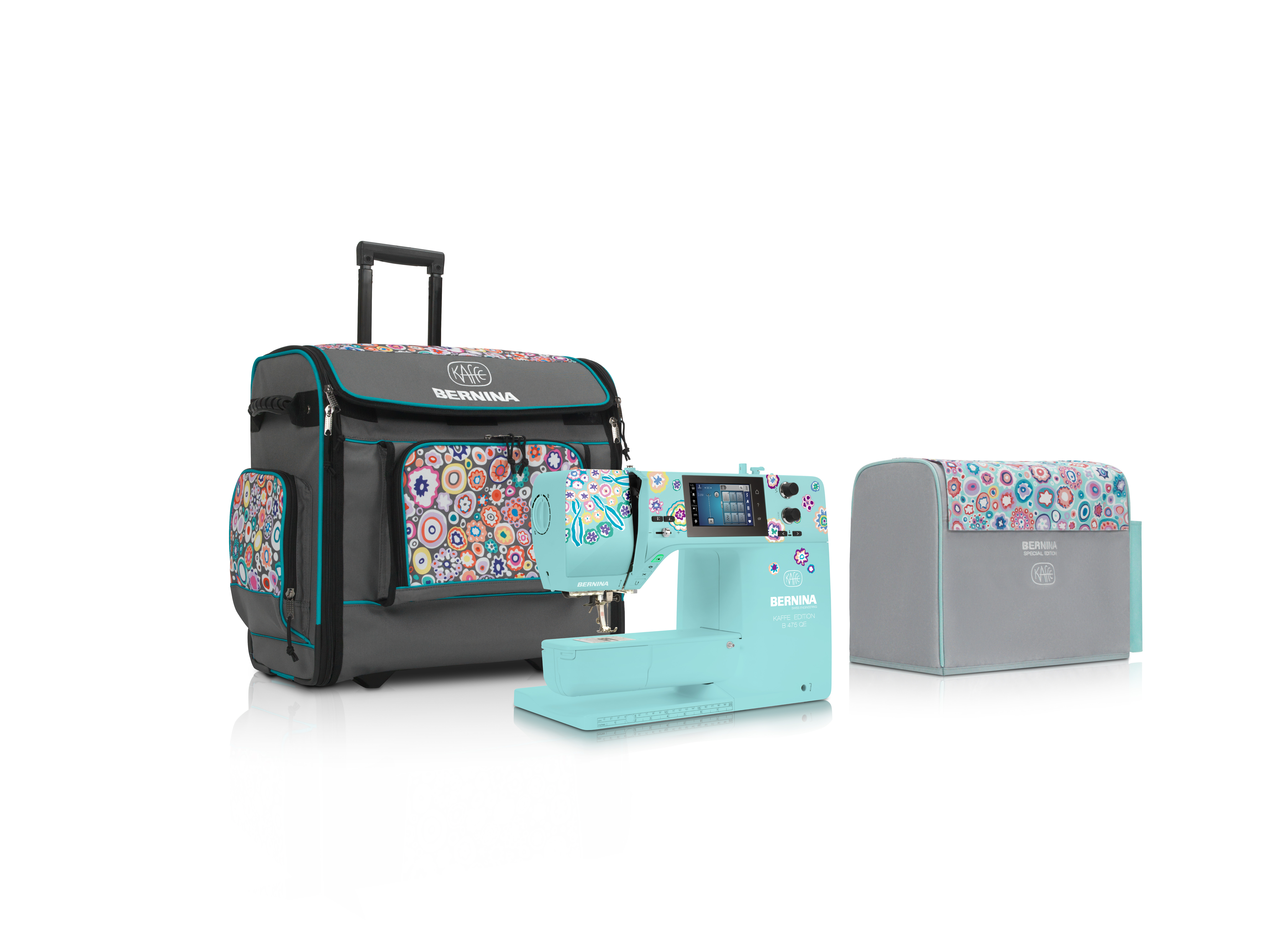 Click here to download Bernina's app. View products, promotions, and new Accessory/Foot Organizer!
BERNINA 475 QE Kaffe Edition – Come celebrate color
Dare to be different! Throughout his career, Kaffe Fassett has inspired and encouraged people to trust in their color instinct. The BERNINA 475 QE Kaffe Edition, proudly presented by BERNINA in cooperation with Kaffe Fassett, is a tribute to his art and an invitation to commit to the power of color.
Be bold, break rules – and you will discover something wonderful!
Color up your sewing studio
Machine design by Kaffe Fassett

Inspired by the Millefiore fabric print

Dare to stand out!

This first completely colored Special Edition is just the right splash of color your creative space has been waiting for! The design was inspired by Kaffe Fassett's Millefiori fabric print and by his love for pastel.

Enjoy embellishing your projects

With 21 exclusive additional stitches

Hand-drawn by Kaffe Fassett

Have fun exploring

Whether you want to quilt your quilt sandwich with decorative stitches or to apply your binding - the BERNINA 475 QE Kaffe Edition offers 221 decorative stitches including 21 unique stitches based on the hand-drawing of Kaffe Fassett himself.



More creative time

Automatic features for your ease

Press a button to cut your thread

Secure your stitches automatically

Threads are cut automatically, or if you prefer, magically. Even the needle lifts leaving your hands free to keep on creating.

Keeping your hands on the fabric

Raise or lower the presser foot and the feed dog at the same time

Convenient operation with the knee

Hands remain free to guide the fabric

The BERNINA Free Hand System (FHS) lets you lift or lower the presser foot using only the knee lifter, allowing hands to guide your projects to bigger and better things.

Adjustable presser foot pressure

Sew any material perfectly with ease

Increase pressure for thin materials

Reduce pressure for thick materials

Individual adjustment is easy to make, ensuring the ideal pressure is achieved for any and all materials no matter how thick or delicate.

Nice, easy perfect stitches

Sew perfect stitches with 5.5 mm width

Sew even longer with the jumbo bobbin

Conveniently, front-load bobbin

Perfect precision is achieved with each stitch thanks to the BERNINA Hook. Plus, projects are done faster with speeds up to 900 stitches per minute.

Included Patchwork Foot #37

Designed for straight-stitching

Ideal for sewing ¼" seam allowances

Extra insurance for experienced piecers

Every quilter appreciates the Patchwork Foot #37 for its accurate feeding and stitching when piecing patchwork blocks with perfect precision.

Easy to navigate touch screen

Modern color touch screen

Easy to use with simple navigation

On-screen support when needed

Always ready to be of assistance, the Sewing Consultant helps find the right settings. And suggested tips are easily made with the Multi-function knobs.

The B 475 QE is the perfect size for small spaces. But don't let its size fool you. It's powerful enough to handle the thick layers of even your biggest quilts. Consistent thread tension means every stitch is unbelievably perfect. Plus, little extras like the thread
cutter keep projects moving towards completion. Time and time again, the consistent quality of BERNINA rises to your highest quilting standards, exceeding all expectations.

SPECIAL QUILTING STITCHES
With 40 quilting stitches plus 29 utility stitches and 4 sewing alphabets pre-loaded and ready to go, the B 475 QE is well equipped for all your creative needs. PATCHWORK FOOT #37 What kind of quilter's edition would the B 475 QE be without the foot of all quilting feet, Patchwork foot #37? We wouldn't dare to speculate.


Easy-to-use 4.3" color touch screen

Jumbo Bobbin with 70% more thread

Adjustable presser foot pressure

Convenient Automatic Thread Cutter

Patchwork foot #37 included

BERNINA STITCH REGULATOR (BSR)
The BSR regulates perfect, equal-length straight and zigzag stitches at variable sewing speeds during free-motion quilting. BSR is optional for models B 475 QE and B 480 and is not available on the B 435.

BERNINA HOOK INSIDE
The BERNINA Hook changes everything. It's fast while also being quiet. It's efficient while housing a Jumbo bobbin. Keep in mind, this is no ordinary bobbin. It holds up to 70% more thread than standard bobbins and is front-loading for convenient, fast changes. That means fewer interruptions. Plus, with speeds up to 900 stitches per minute, projects get done in record time


Tiffany Pratt, a designer, maker and BERNINA expert for the B 475 QE.


This promotional price is set to expire at the end of the month
US Warranty 25 years head, 2 years electronics, 1 years labor
Extended US Warranty: Extended Warranty Available
Non-US Warranty: 30 days parts and labor
Specifications
Hook system: BERNINA Hook

Maximum sewing speed (stitches per minute): 900

Sewing space to the right of the needle: 7"

Color touch screen: 4.3" / 10 cm

Adjustable presser foot pressure

Automatic thread cutter

BSR functionality, straight stitch and zigzag

Sewing tutorial

Exclusive machine design by Kaffe Fassett

Programmable Securing Function

Free Hand System (FHS)

Exclusive decorative stitches, inspired by Kaffe Fassett's designs: 21
Included Accessories
Bernina 475 QE Kaffe Edition
4 Bobbins in the accessory, 1 bobbin in the bobbin case
1 Foam pad
Selection of needles
Soft Cover with pocket
3 Spool discs
Screwdriver red
Accessory bag
Seam ripper
Height compensation tool
Brush
Power cable
Foot control
Reverse Pattern Foot #1
Overlock Foot #2
Buttonhole Foot with Slide #3A
Zipper Foot #4
Blindstitch Foot #5
Patchwork Foot #37
Freearm Slide-on Table
Knee lifter/Free-Hand System (FHS)
Sewing Machine Oil
Bernina Accessory Box

*Free gifts over $900*
Kaffe Edition Trolley
Kaffe Edition Dust Cover
Exclusive decorative stitches
Kaffe Fassett fabrics (15 1/2 yards)
Additional Kaffe Fassett decorative stitches and embroidery designs
The BERNINA Kaffe Edition Trolley is specifically built to safely and beautifully take your machine wherever you go. The 21 exclusive decorative stitches inspired by by Kaffe Fasse's designs will give your creativty a real boost. Also, the ornate dust cover, slipped over the machine, gives a hint of what a unique machine is concealed underneath.