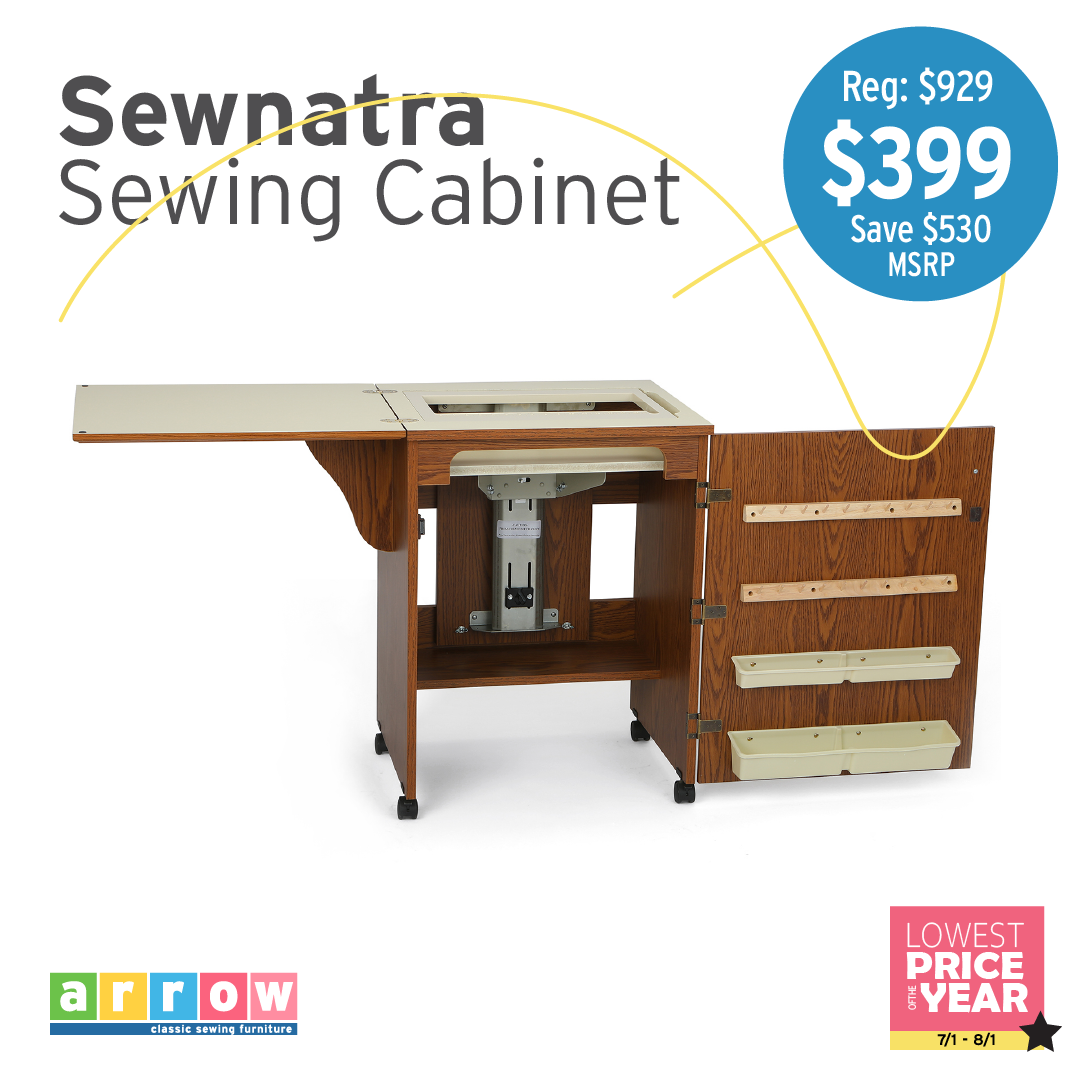 Arrow 98503 SewNatra Black Sewing Cabinet
EZ Air Lift Machine Platform
Open 68-7/16" Wide x19-5/8" Deep x30-1/2" High, RTA Ready to Assemble. When customers see the 503 series cabinet one word always pops out of their mouth "CUTE". Besides being a cute cabinet this cabinet offers most of the features our larger cabinets have, but in a compact size. The cabinet's air-lift mechanism raises and lowers your sewing machine into place with a simple push. The mechanism is adjustable for all types of sewing machine base heights. The cabinet also comes with a unique universal insert to create a flush sewing surface when the mechanism is in the flatbed position.
We have upgraded the Sewnatra in black so that the door now swings open to the right instead of to the left. We have had a lot of customer feed back about this issue, and we decided it was best to make a change.
The cabinet can be used for your sewing machine or serger. The cute shuttered door has 2 thread spindles and 2 trays for your sewing accessories. When closed the shuttered door gives the cabinet a cottage look and could be used as a night stand or other fine piece of furniture in a room. The jet black finish and furniture edges allows your cabinet to fit into any contemporary floor plan.
The cabinet ships in 2 boxes and is assembled using a hammer, a screwdriver, a wrench and about 1 hour's worth of time. Arrow's toll free number is just a dial away if you need help. (800) 533-7347
Please note: Janome 6600 and 6600P does not fit into the Arrow 98500 series cabinets.
Click Here to View the Arrow Sewnatra Instruction Manual
(.PDF)
If you want to use a knee lift with the Sewnatra you would have to verify measurements prior to placing the order for the standard custom insert placement. csrgroup@allbrands.com
US Warranty 1 year replacement on defective or missing parts.
Non-US Warranty: 30 days parts and labor
Specifications
When your sewing area is tight on space but you still need a fully functional sewing table, the Sewnatra Sewing Cabinet is just what you need. This stylish, mid-size sewing cabinet has all the must-features of a full-size table, including a 3-position hydraulic lift, four storage cubbies, and a side leaf to extend your sewing worksurface. The Sewnatra is available in three finishes and has heavy-duty casters that make it secure and easy to move throughout your sewing area

Cabinet Dimensions:
Open: 68-7/16" wide x 19 5/8" deep x 30 1/2" high
Closed: 23" wide x 19 5/8" deep x 31" high

Open 68-7/16x19-5/8x30-1/2"H Closed 23x19 5/8x31"H, RTA Ready to Assemble

This cabinet will accommodate sewing machines no larger than:
12 9/16" front to back
18 7/8" wide
13 1/8" tall

Sewnatra Assembly Videos:




AirLift: