by JoAnn Gagnon, 24 Projects, 96 Pages, Heirloom sewing is exquisite...fine fabrics and delicate stitching combine to create the most beautiful of pieces. The purpose of Pintucks & Lace is to teach how these lovely stitches that can be made by machine, replicating the true heirloom look. You can then use these techniques to make baby dresses, wedding gowns, special occasion outfits, and more!

Pintucks & Lace shows you how to create gorgeous heirloom look clothing and accessories that you can use and enjoy every day! Use these delicate, detailed stitches and techniques to add a touch of femininity and beauty to your projects in a fraction of the time it took our ancestors. Bring a bit of the past into today!

Once you are familiar with such techniques as puffing, turned appliqué, endredeaux, sharks teeth, pintucks and more, you will put your new knowledge to work creating distinctive works of art.

Twenty-four projects, complete with sewing patterns, include items you will be proud to wear and use yourself, give as gifts or display in your home. You will create everything from an heirloom gift bag to a tiered skirt to a tea cozy and an entire baby ensemble. Showcase your newfound skills with showy blocks on an heirloom quilt – sure to be a treasure for generations. You'll utilize every last scrap by making bookmarks from your leftovers!

Pintucks & Lace takes a lost art that can seem intimidating and out-of-reach and brings it firmly within your grasp. You will delight in the ease with which you are able to recreate the fine skill of heirloom sewing with your machine and incorporate it effectively into today's styles.
Other Images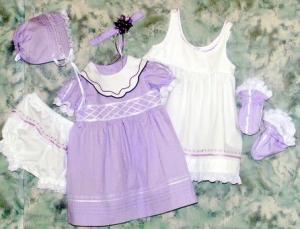 A few of our projects:
Dress baby from head to toe - literally! Sew up an adorable baby ensemble including everything from headband to booties. This set will be a true treasure for any new Mom. Includes patterns for infants size 0 to 9 mos. You will sew a bonnet, headband, dainty slip, pinafore, fancy panties, booties, a sweet dress and even frilly socks! Techniques include fancy laces, embroidery stitches, ribbons & more.
Pillows and quilts adorned with fine heirloom detailing allow you to showcase your newly learned skills and adorn your home in beauty.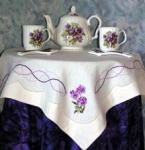 In sewing heirloom you will be making the fabric using the heirloom techniques first, and then cutting out your pattern. You will be using lighter weight fabrics, special sewing machine feet, starch, stabilizers, and completing a lot of precision details. Heirloom sewing is not difficult once you know the stitches and procedures, but takes time, patience and skill at the machine. The end result is well worth the time and effort to learn the techniques!