These photos show the 920 in the NEW Sunset Cherry color. You can see in the open image, that the new color is both inside AND outside. An image of the cabinet closed also shows you how compact it folds away.
The 920 is designed by sewing professionals and offers a large sewing cabinet with lots of sewing
surface that is affordable, well built with built‐in drawers for organization.
An optional drop‐leaf (#917) is available for this model as well as an optional machine insert to allow the bed of the machine to sit flush with the surface.
Sylvia 920-1050-1520 Product Brochure
(.PDF)
Please click here to view further warranty information.
Sylvia Cabinets General Operational Instructions Download
(.pdf)
The Sylvia Design sewing machine cabinet model 920 has been designed by sewing professionals for the home sewer. Engineered with you in mind, the 920 is a wider model which accommodates a larger range of sewing, quilting and embroidery machines with an impressive machine opening of 24" Wide x 12.5 in Depth.
No worries about snagged fabric because of the high quality workmanship with rounded corners and edges, and top quality hinges that are flush with the cabinet top. This model comes complete with 4 spacious drawers to keep your notions organized and a flip top to the right of the machine to keep your notions within reach.
The starlet of the show is our patented Rudersburg 3-step hydraulic lift. This lift allows the machine to sit flush with the cabinet for a smooth sewing experience. The Rudersburg lift on the Sylvia 920 also allows the machine to be dropped within the table, closed and keeping it safe and dust free when not in use. When closed, the 920 can be used as a desk, craft table, or set aside non-discretely with its smooth rolling wheels.
The 920 comes fully assembled except for the commercial grade casters which are easy to install and even pre-drilled for you. Every sewer has different needs at different times. The Sylvia 920 will grow your needs through time with Sylvias' seemingly endless combinations of modular furniture and life time warranty. The 920 also has an optional drop leaf which can easily be attached to the rear of the desk if additional space is needed.
US Warranty 1 year parts, 90 days labor on defects in materials and workmanship.
Non-US Warranty: 30 days parts and labor
Specifications
Model 920 Sewing Cabinet Dimensions:
Open: 78¾"W x 19⅞"D x 29¾"H
Closed: 39⅜"W x 19⅞"D x 30½"H
Machine Opening: 24"W x 12½"D
Open
Width: 78 3/4″
Depth: 19 7/8″
Height: 29 3/4″
Closed
Width: 39 3/8″
Depth: 19 7/8″
Height: 30 1/2″
Machine Opening
Width: 26″
Depth: 12 1/2″
Please review our Freight LTL Shipping Policies
Ships Ground Freight only.
*
For delivery please select options. "Lift Gate" which means a goods lifting platform installed at the rear of the delivery truck that facilitates the unloading of cargo from truck bed to the ground. Most shipments will require a lift gate, if there is not a loading dock, or fork lift available for delivery.
Other Images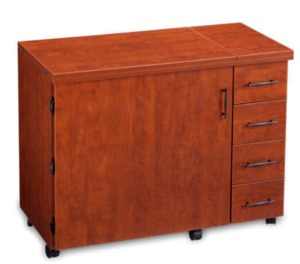 Shown Closed in Sunset Cherry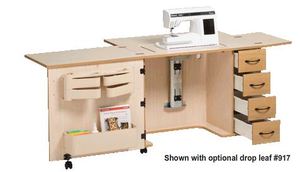 Castle Oak Shown with optional drop Leaf #917. Storage trays on front left door are no longer available.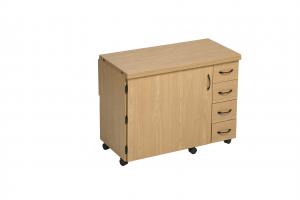 Shown Closed with Optional Drop Leaf #917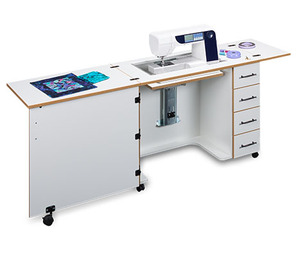 White with Oak Trim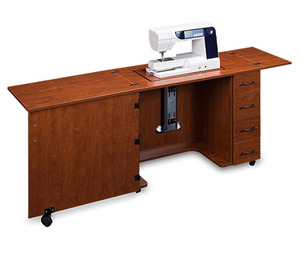 Sunset Cherry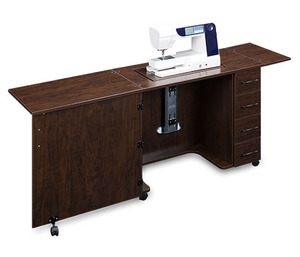 Brown Pearwood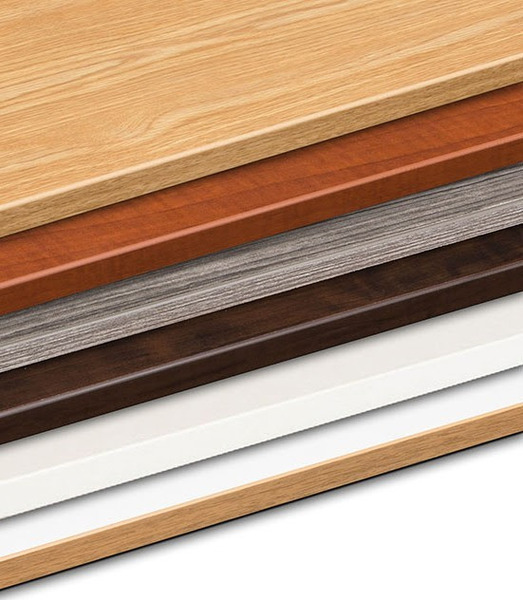 Current Colors Available:

Castle Oak
Sunset Cherry
Twilight
Brown Pearwood
White with White Trim
White with Oak Trim

More About Sylvia Sewing Cabinets Made in Canada
Sylvia Sewing Furniture is the only furniture manufacturer that designs and manufactures modular furniture. This allows the perfect combination of cabinets and storage chests to be created for today's quilter and sewer. Begin with one piece of furniture and add drawer stacks for a variety of combinations. Some cabinets even have an optional Quilter's Extension for extra surface area.

Integrate your workspace with Sylvia Sewing Furniture. Sylvia Sewing Furniture is the only furniture manufacturer that designs and manufactures modular furniture. Our sewing furniture allows you to sit centered in front of the needle for accuracy and sewing comfort. Let the 3-step patented Rudersburg Hydraulic Lift effortlessly raise or lower the sewing machine or serger for ease of use. Flush-mounted hinges will never snag your delicate fabrics or large quilts.

Solid Construction - Our glued and doweled construction provides strong, tight joints for years of trouble-free sewing and oversize steel-sided drawers protect your supplies. Our furniture has gently rounded edges and corners that are durable and smooth to the touch with a distinctive look. The extra thick top and base of our products give strength and stability, and cabinets fold away to protect the machine.

Easy to Use, Easy to Move - each model has Commercial-grade locking casters (wheels) for easy movement and positioning. Sylvia sewing furniture comes with a Lifetime warranty, and is fully assembled with the exception of the wheels.