We've made it easy for you by putting the needles most commonly used in different applications into affordable collections. These needles are for household sewing machines using the 130/705 H (15X1) needle system.
Includes:
Metallic Twin Needle, #1744, size 2.0/80 (one card with one needle)

Twin Needles, #1788, Assortment sizes 1.6/70, 2.0/80, 3.0/90 (one card with three needles)

Double Needle Hemstitch Wing, #1773, size 100 (one card with one needle)

Stretch Twin Needle, #1774, size 2.5/75 (one card with one needle)

SCHMETZ "ABC" Brochure

SCHMETZ Paper Bag


Specifications
This is know as a twin needle or double needle. A twin needle is two needles joined on one flat shank. The double needles create two rows of parallel stitching lines and can be used in almost any home sewing machine with zigzag sewing capabilities. Be sure you machine has a zigzag foot and a needle plate with a horizontal hole to avoid needle breakage. Check your owner's manual for double needle threading instructions.
Other Images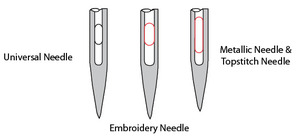 The most popular needle, the Universal, has an eye that is 40% the width of the blade. Really! There are three other needles with larger eyes, the Embroidery and even more pronounced is the elongated eye of the Metallic and Topstitch needles. Now what does a larger eye mean? There is less friction on the thread as it passes through the eye. Ever sew with a thread that breaks or tends to shred? Guess what, use a needle with a larger eye. If you have old thread or maybe a poor quality thread, use a needle with a larger eye. The thread and needle work hard and fast. Help them out when you can with a larger eye.
Loesje S, Cedar Rapids IA
Best source for almost everything sewing-related. Thanks so much.