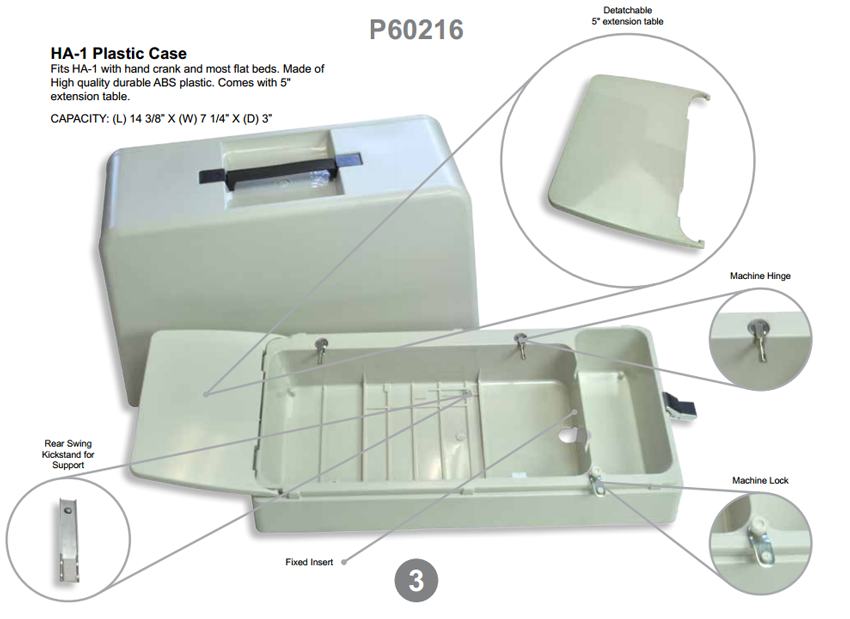 *Note. The gap between two pins to hold a machine onto a flatbed cabinet or carrying case is 9 9/16" inches or 24.3cm from center of left hinge pin hole to center of right hinge pin hole. John
Hard White Plastic Case is sturdier than traditional wood flatbed cases, or plastic cases with plastic latches.

Will fit standard 14.5W x 7"D flatbed sewing machines, except portable walking foot machines whose motors stick out the back beyond standard flatbed dimensions. John

Does not fit old square corner flatbed, all metal Sears Kenmore, White Rotary, Westinghouse or Domestic sewing machines from 1940's to 1970's that had off standard distance between hinge pins sockets on back of machines.

Does not fit Singer longer bed 16 5/8" x 7" Singer Class 15, Slant O Matic 401 401A 403 403A 404, 500 500A 503 503A , or Touch & Sew 600 to 649, 700 to 758. (it has a fixed insert, not a removable insert)

Does not fit Rex 607

Has a built in handle on top.
US Warranty 30 days replacement if defective.
Non-US Warranty: 30 days parts and labor
Frank Palmer, Duluth, MN
Well made, and I was pleasantly surprised. These are very hard to find for flatbed vintage machines, so I jumped on them as soon as I saw them. I ordered two of them, as I have two vintage Morse machines that had badly damaged cases and I couldn't restore them. The machines fit perfectly in the opening, and the pins hit the hinge points exactly where they needed to be. The latches closed evenly and the top fit snugly, and cleanly. Lifting with the handle was easy, and it's very strong. I carried each machine easily, without rattling, and could not be more pleased. Thank you. Please continue carrying these, as I know many people who can't find them.

Dave Zeller, Ashland, KY
I have bought several of these cases for refurbished sewing machines. This case is the ONLY, repeat ONLY one available that will hold a 35+lb. cast iron sewing machine and not fall apart. All other cases sold on the market are junk for I bought and tried them all! Plus: It holds a heavy machine and will not self destruct from the weight! Negative: The mounting pins could be made of heavier duty metal.

Ruby W, Grovetown GA
I could not find the case anywhere. And your website popped up on Google. I was so happy and thankful to see I could still buy this type of sewing machine case.

Walter T , Bellingham WA
Case fit my Pfaff 130-6 Perfectly. Broken knob where bottom rubber bumper was screwed in. Managed to fix it with super glue

Lynn, Arizona
Needed a temporary enclosure for an old all metal White. This case will work in a pinch, but the it feels super fragile with such a heavy machine.

Sandra Payne, United States
I just received my P60216 Portable Carrying Case today and I cannot express how elated I am. The case if exactly what I've been looking for and my vintage New Home sewing machine fits in perfectly. I'm so happy that you had it. Not only that, I received it in record time. Thank you, thank you, thank you!

Pamela, Tennessee
I was thrilled to find a case in the size I needed. Your customer service rep was very helpful and I could not believe how quickly it was received.

John, Pennsylvania
The support person, Vernique Williams, who answered my email question and helped with the order over the phone was excellent. She steered me to the right item.

Marilyn, Pennsylvania
your site was the only site that i could find the sewing machine case that i was looking for.