Because of the current situation we've stopped all orders to prioritize any of our essential customers such as a hospital or transit commission. Dupray
We're currently out of stock on almost all products on our store. We have shipments arriving in the next 3-weeks but unfortunately many items are already sold to primary care facilities. We're working hard to get everything back in inventory for everyone by the end of June. Dupray

The Hill Injection™ is a commercial-grade steam cleaner designed for both home and professional use, producing unmatched steam temperatures up to 347°F / 175°C. It is, without question, the most effective portable steam cleaner of its category. The Hill Injection™ excels at any heavy-duty cleaning tasks such as floor cleaning, car detailing, grout and tile cleaning, general sanitation and much more. For particularly grimy surfaces, a unique function injects a burst of ecologic detergent into the steam to help dislodge grease, dirt and stains. More power means better cleaning results – in less time!

Highest temperature portable
commercial steam cleaner.
Refill while in use.
Add a jet of detergent into the steam for faster cleaning.
US Warranty 1 year parts and 1 year labor on defects in materials and workmanship
Non-US Warranty: 30 days parts and labor
Specifications
A Portable Steam Cleaner With Unrivalled Power

The Hill Injection's impressive steam pressure, steam temperature and power is conceived from a small 1.5L / 2qt stainless steel boiler allowing for steam to be produced at a much faster rate than larger boiler units. The small boiler in the Hill Injection allows for a more consistent steam production and truly maximizes the potential from a standard north american power jack. With a higher weight than the majority of competitor units it's easy to see the quality of solid construction and components being used inside this machine, but only weighing 23lbs without accessories means that it is still an easily portable and versatile unit, able to be carried by almost anyone and packed in small trunks without any problems.

The combination of class leading performance and it's small size make the Hill Injection an incredible solution to many of the maintenance industry's most demanding cleaning applications. The incredible power packed behind the jet of steam produced by the Hill Injection makes blasting years of ground in dirt and grime on ceramics, tiles and cleaning grout exceptionally easy providing results that are beyond belief.
The Most Efficient Portable Commercial Steam Cleaner

With steam temperatures reaching temperatures that have never before been seen in such technology reaching up to 175ºC / 345ºF, the Hill Injection is able to achieve unprecedented effectiveness for extermination and getting rid of bedbugs. With temperatures more than doubling the lethal temperature for bedbugs it's easy to see why the Hill Injection has a proven perfomance of eradicating bedbug infestations naturally without the use of any chemicals, signifying the ability to use the Hill Injection in areas that are chemically sensitive, such as in childrens' bedrooms or around the elderly, providing the only successful treatment for such areas.

The unrivaled 121psi of steam pressure from a 110V steam cleaner makes the Hill Injection a spectacular tool for auto detailing and steam car washes. The high level of steam pressure enables steam to effectively dislodge the hardest to remove stubborn residues including; brakedust, carbon, engine oil, salt stains, diesel smoke and fuel. The unique overheated water injection feature, that permits the injection of boiling water to the steam to aid in rinsing away dislodged dirt is indispensible in commercial auto detailing, this feature is highly time saving as it reduces greatly the time required to clean a surface. Professional auto detailers unanimously agree that a commercial vapor steam cleaner is essential for properly detailing a car as they provide quick results in areas that are otherwise extremely lengthy and laborious.
Robust Accessories for a Non-Stop Steam Cleaner

Commercial grade vapor steam cleaners are the most versatile cleaning tool available as they provide the user the easy ability to complete 100s of cleaning tasks ecologically, solving many difficult applications that are traditionally exhausting and ineffective with conventional methods.

The Hill Injection provides it's powerful steam production continuously 24/7 thanks to it's patented automatic refill technology. This technology implements various components to constantly add small amounts of water as to keep the boiler at it's optimum water level for a more consistent steam temperature and pressure, providing you with a more dependable steam cleaner that you're able to use without any downtime. Of course this technology also means you will never have to risk burning yourself dealing with a pressurized steam filler cap, creating a safe work environment for yourself and your employees.
Save money while going green!

The Hill Injection vapor cleaner only needs basic tap water to be able to produce the powerful steam that allows for all of your cleaning application, this means no toxic chemical film or pollution, there is no greener solution than steam. With the Dupray steam cleaning systems you do not need chemicals, and our brushes cost a fraction of competitors reducing your operating costs to pennies!
Dupray's Tecnovap® Technology:

Replaceable Heating Elements:Save money with replaceable elements; typical steam cleaners require the whole boiler to be replaced when a heating element loses it's efficiency after years of operation, replacing a steam cleaner's boiler is laborious and costs almost as much as replacement machine. Tecnovap® Steam Cleaning machines are designed with simple twist out elements, allowing for quick, easy and inexpensive replacement, effectively restoring your steam cleaner back to the same efficiency as it was when it was delivered to you.

Automatic refilling steam cleaners: allowing for not only continuous use but also a special technology that provides a constant water level, resulting in constant pressure and temperature, meaning a more consistent steam production.

Self Cleaning boilers: Tecnovap® machines are designed with an electromagnetic float system to effectively clean scale, calcium and mineral build up from hard water sources, allowing you to use regular tap water. This action occurs thousands of times during your routine operation, resulting in next to no maintenance being required on the unit. This system only needs to be drained and rinsed out (a quick 60second procedure) every 50 hours of operation.

Variable pressure control on the handle: One of the most crucial and useful technologies provided by the Tecnovap Hill Injection is the variable steam pressure control integrated on the control handel, quickly allowing for easy use various steam pressures between minimum, medium and maximum, depending on the desired application. This is absolutely essential in some applications where no pressure is required, such as getting rid of bedbugs where just an exposure to the high temperature is needed to kill the bedbugs, in fact the use of higher pressure settings will blow away the bedbug infestation as opposing to eradicating it. The High pressure setting is always available for such applications that you must use higher pressures like degreasing kitchen equipment where the high pressures blow away the caked on grease and dirt buildup.

Stainless steel body and boiler: The Hill Injection is designed and built with quality, and durability in mind, this is the exact reason the steam cleaner is built with a fully stainless steel exterior to withstand years of commercial use. The Tecnovap boilers are built with the highest quality AISI 304 Stainless Steel implementing TIG welds, the same technology used in aircrafts, to provide you with the most dependable and safe steam cleaner boiler available today. No expense was spared in order to build the best steam cleaner possible.
Important

Do not be fooled by similar equipment, Dupray is the only one to offer you the highest quality in not only equipment but the best service after sale in North America. Dupray offers you Tecnovap® steam cleaners built in Italy, the original steam manufacturer with over 20 years of experience. Do not be fooled by cheaper equipment with less experience and service.

Skip re-branding and middlemen Dupray Equipment is the most direct to the Manufacturer you can get, resulting in quality service and equipment.




Included Accessories
Hill Injection Steam Cleaner Specifications

Power 110V

Current 1600W

Pressure Up to 121psi / 8bar

Maximum Steam Temperature 175ºC / 345ºF

Water Reservoir 3L / 3.2qts

Steam Production 62g/min

Heating Time 7 minutes

Continuous Refill Yes

Pressure Control Yes

Boiler Material Stainless Steel AISI 304

Body Material Stainless Steel AISI 304

Dimensions 16"L x 12"W x 10"H

Weight 13Kg / 28lbs

System Warranty 3 Years on Parts

Boiler Warranty Lifetime

Stainless Steel Casing Warranty Lifetime

Life Expectancy
15y

Professional Exterminator Approved Yes

Origin Made in Italy
Other Images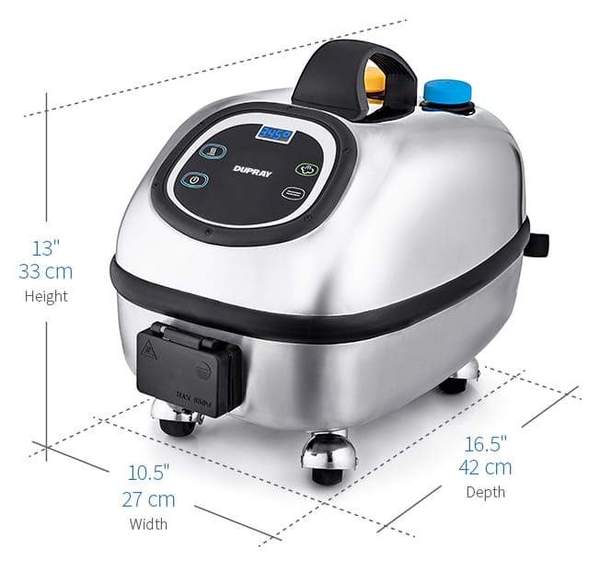 STEAM TEMPERATURE UP TO 347°F / 175°C Unlimited cleaning time. Add detergent FOR HEAVY-DUTY CLEANING.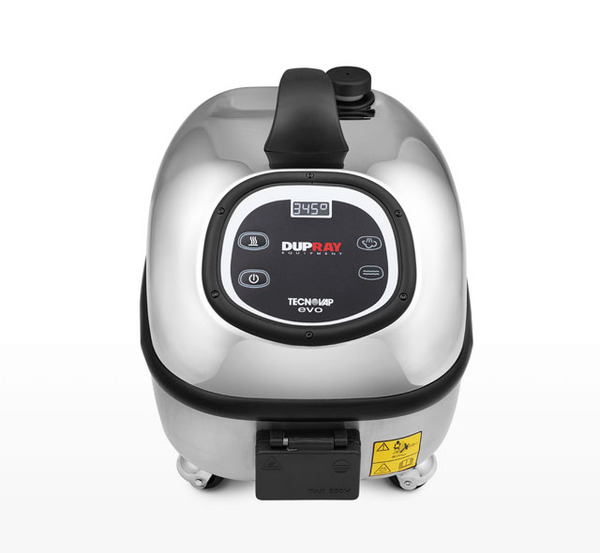 CST™ Continuous Steam Technology A dual-tank system allows the user to refill the steam cleaner with water at any time during operation, effectively eliminating downtime.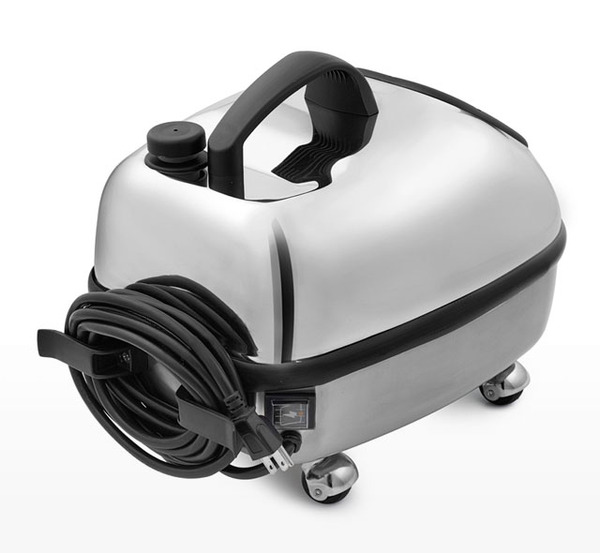 EVERY 30 HOURS OF USE. Be reminded to do your 2-minute boiler cleaning.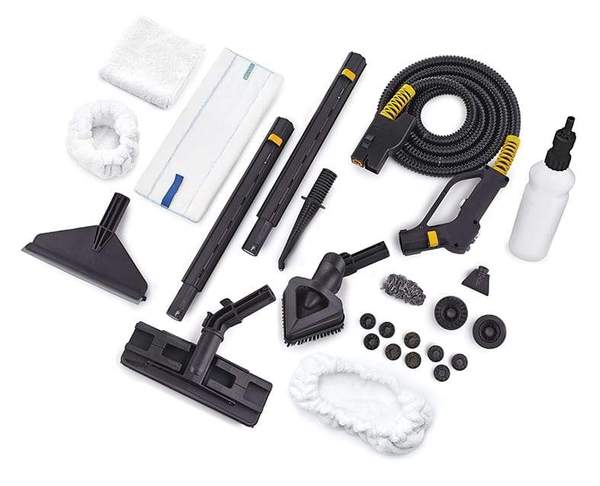 Premium accessories for the Hill Injection™ steam cleaner. The Hill Injection™ steam cleaner is completed by a 27-piece, commercial-grade accessory kit, providing you with the perfect tool for every job. Each tool was carefully designed to be durable and to help you get the most from your steam cleaner.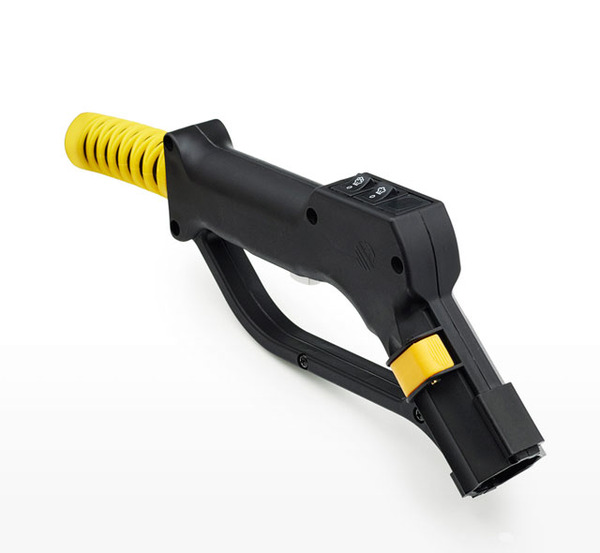 Nozzle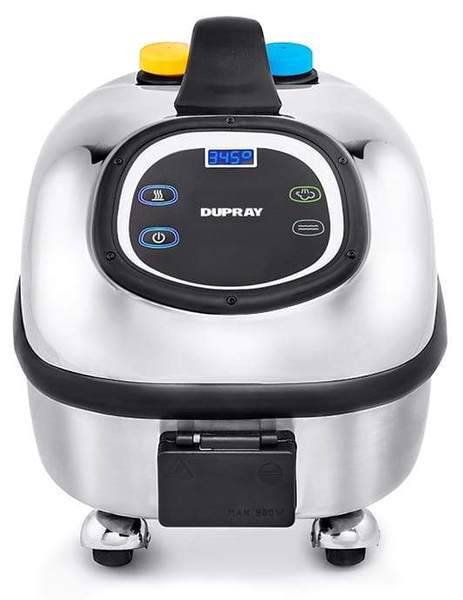 ADI™ Accurate Digital Interface The Hill Injection™ features a vibrant digital interface that provides vital information about the machine, such as the operating temperature, the steam pressure, and when a quick boiler rinse is required.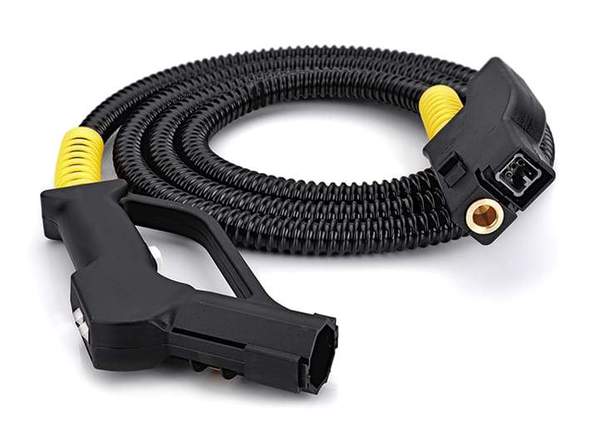 9'10" / 3 M detachable hose with steam pressure control and detergent injection.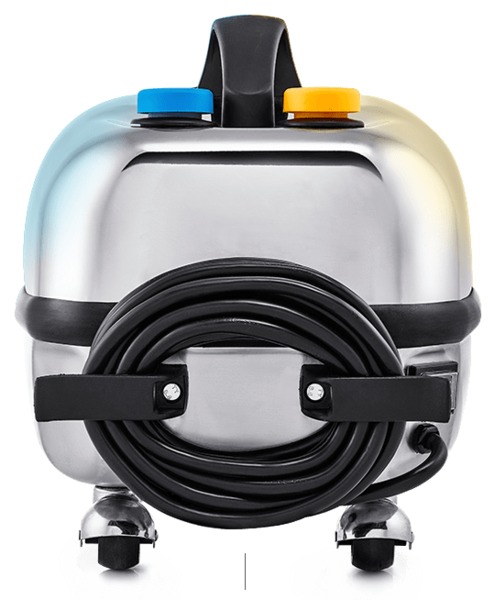 14'9" / 4.5 m electrical cord Clean anywhere, without restraint.