"The Hideaway 400 In Wall Mount Ironing Board is great for my dorm. Mom and Dad put one in their walk-in closet." AllBrands customer.
Raised panel oak door, storage shelf, hot iron heat shield, recessed in-wall with swivel board.
Beautiful unfinished cabinet, designed to be recessed in-the-wall, with raised panel door and swivel ironing board. Includes a heat shield for safe hot iron storage. Hide-Away® cabinet and board includes garment hook for hanging clothes, ironing board cover and pad and all necessary hardware.
Supreme Series 400 (Unfinished Oak)
Unit Dimensions: 47 3/4"L X 16"W X 7"H
3 Year Limited Warranty
From the date of purchase on all defective parts returned to factory for replacement. This warranty does not include labor for installation or replacement.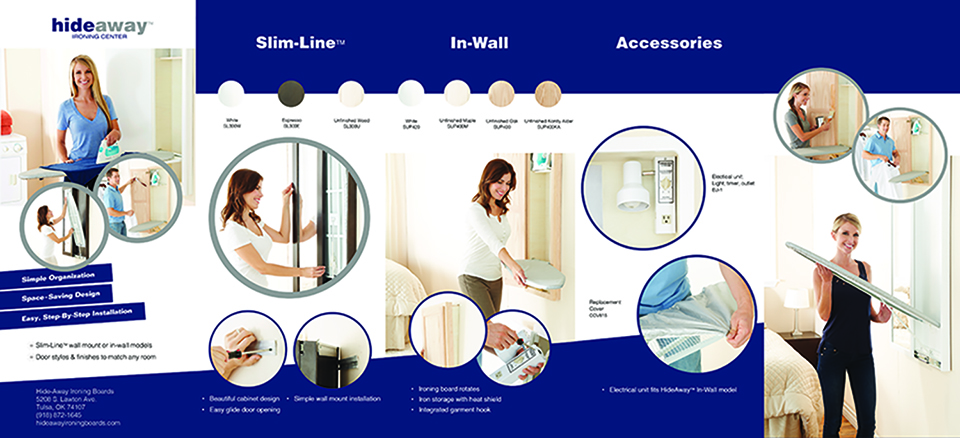 US Warranty 3 Year Warranty
Non-US Warranty: 30 days parts and labor
Specifications
Installation Instructions for
Hide-Away Recessed Ironing Boards Models: SPA100, SPA150, COL200, SUP400 and SUP420
Installation Instructions for Hide-Away® Recessed Ironing Boards Models: SUP 400, SUP 400M, and SUP 420
Tool Required
Tape measure

Phillips screw drive

Stud finder

Sheet rock saw or utility knife

The Hide-Away® ironing board is designed to be easily installed between two normal 16" center studs. First determine the desired height of the ironing board from the floor. The mounting hole dimensions indicate the standard height of 36" above the floor. This can be obtained by cutting the base of your wall opening 27" above the floor. You may adjust higher or lower according to your preference.

When selecting the exact location for your cabinet, remember to leave room for your door to open. The door can be mounted on either side of the cabinet. It is recommended that you allow at least 56-¼ inches wide and 44 inches deep clearance around the Hide-Away® Ironing Board. The Supreme Series ironing boards will swivel to either side so you will not need to be concerned about blocking a walkway. Make sure the location you choose is free of all electrical and mechanical services.


Included Accessories
Parts List
Quantities are in parenthesis:
(1) Ironing board cabinet.
(1) Cabinet door.
(1) Ironing board cover and pad
(2) Door hinges.
(4) Cabinet mounting screws.
(1) Garment hook. [SPA150, COL200, SUP400 and SUP420 only.]
Door hinge mounting screws:
(8) Models SPA150, COL200, SUP400 and SUP420.
(10) Door hinge mounting screws for model Model SPA100
Optional Accessories:
EU-1 Electrical Unit For use with Supreme models only. UL Listed electrical unit which includes 30 minute timer, plug unit and light fixture.


Designer Ironing Board Covers 14.5"W x 42"L
Available in a variety of colors and patterns. Enhance your Hide-Away board with our attractive fabric
Valeri H, Ft Meyers FL
This is a terrific product at a reasonable price--the same as the company price, but a better deal on shipping. I was grateful that you were running a special on FedEx shipping--daunting to pay shipping in a free shipping world. However, it is an excellent product and I am completely happy with the product and Allbrands.

Lorraine C, Uniontown PA
I have not tried out this product yet. We are in the process of installing it. But so far it appears to be well constructed and exactly what I was looking for. The price was within my budget.


Bundle & Save
Get additional savings when you purchase any of these items along with this product.