*Free $200 10Year Extended Warranty, Repair Parts & Labor, Power Surg, Transfer Owner, No Lemon, Replace Buyout

Due to increased demand by medical organizations and professionals during the COVID-19 pandemic, inventory is limited for all IQAir products. IQAir is proud to support healthcare professionals and medical staff working on the front lines in the fight against COVID-19. We thank you for your patience and understanding – our relationship with you is important to us, and we will continue to support your business in any way we can.

New Edition GC™ MultiGas:

Rated #1 for multiple chemical sensitivity and smoke
The GC MultiGas combines the best filter media in the industry with superior design to provide an unequaled level of protection against gases, odors, chemicals, and particles.
US Warranty 10 years on materials and workmanship
Extended US Warranty: Extended Warranty Available
Non-US Warranty: 30 days parts and labor
Other Images

The IQAir GC MultiGas air purifier is designed to clean the full spectrum of airborne pollutants with the very best filtration technology available at each of four stages. Air is drawn into the GC MultiGas through the bottom of the system by a powerful IQAir fan, then sequentially cleaned in a step-by-step process that delivers the purest air possible. In addition, IQAir's unique no-leakage design prevents air from escaping back into the room without being drawn through the GC MultiGas filters. The four filtration stages include:
Micro- and nano-particle filtration: The first stage of filtration features a powerful HEPA pre-filter that eliminates micro- and nano-particles such as allergens, smoke, bacteria and viruses.
Cartridge-based activated carbon adsorption: Eliminates volatile organic compounds (VOC), which are responsible for odors.
Cartridge-based chemisorption: Destroys harmful chemicals, such as formaldehyde, by an oxidation process inside a chemically active alumina pellet.
Micro-charged filtration: Eliminates activated carbon and chemisorption abrasion particles through a charged fiber structure.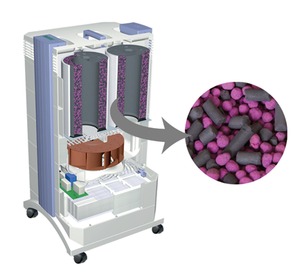 Best media, superior performance best carbon you can get The game-changing performance of the GC™ MultiGas begins with the quality of the activated bituminous-coal carbon in its gas-phase filtration cartridges. This is not the lower-cost, high-dust carbon from coconut shells that many others settle for. That's good news if you're allergic to coconut. IQAir uses only the highest grade, exceptionally porous bituminous coal for its activated carbon. And IQAir does not use zeolite, another less effective and less expensive filtration medium. The GC™ MultiGas features only the highest-quality adsorption media available. The superior activated carbon media in the GC™ MultiGas is blended with chemisorbers that target other volatile organic compounds in the air, including formaldehyde. IQAir activated carbon in the GC™ MultiGas system is complemented by pelletized aluminum oxide. The alumina pellets are impregnated with potassium permanganate, forming a powerful combination to protect you beyond activated carbon alone.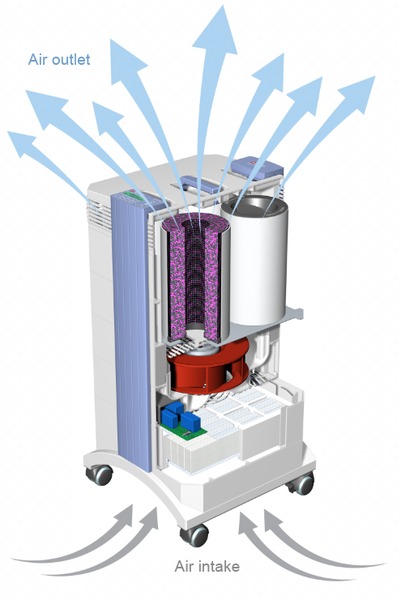 Up to 21% more clean air The New Edition features the most powerful fan ever used in a residential room air purifier. And that power translates into even better air cleaning results. The new three-dimensionally optimized design now uses state-of-the-art aerodynamics to convert energy into more air and less noise. And by improving further on the HyperHEPA pre-filter pleating design, we were able to increase loading capacity up to 21%. This translates into higher airflow while increasing filter life – and this higher efficiency also saves you money by lowering filter replacement costs.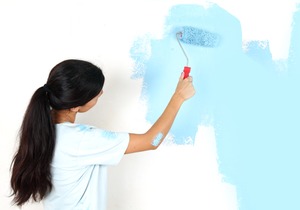 50 Gas masks 50 gas masks With 12 pounds of high-quality granulated carbon combined with activated alumina pellets, the GC™ MultiGas gives you the equivalent protection of breathing through 50 gas masks! This is protection you can rely on when gases, odors and chemicals in the air are your concern. Highest amount of micropores highest amount of micropores The activated carbon used in IQAir GC™ MultiGas filter cartridges is activated in a way to preserve the maximum number of micropores. Only these very smallest pores in carbon filtration media are effective in removing odors and chemicals from the air you breathe, and IQAir's filters contain the maximum micropore coverage to help protect your health.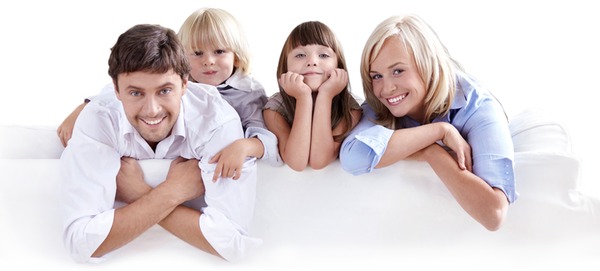 Our HEPA filtration technology is the safest, healthiest and most effective way to clean the air. 100% healthy technology The GC MultiGas particle filters work in tandem to remove more than 99 percent of all airborne particles (0.3 microns and larger) without using unsafe or unproven technologies such as ozone generation, ionization, ultraviolet radiation. And the micro-charged filtration post-filter in the GC MultiGas system eliminates any particles that might be released from our carbon and alumina gas, odor and chemical filtration stage. Why risk your health on less effective gimmicks when IQAir's unique design offers proven protection without harmful byproducts?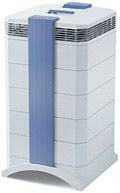 Compact Particulate, Chemical and Odor Control
The GC Series is the world's most effective compact room air purifier for the control of gaseous chemicals. Just like a professional gas mask, the GC Series relies on an interchangeable cartridge design for optimized gaseous pollutant control. And while molecular control is a particular strength of these systems, the GC Series also offers excellent filtration efficiency for particles. Thanks to its selectable cartridges, the IQAir GC series is able to meet almost any moderate gas phase removal need in residential or commercial environments. Currently there are four specialized gas phase media configurations available:
GC VOC
(for control of volatile organic compounds, solvents, etc.)
GC MultiGas
(for control of wide range of gaseous organic and inorganic chemicals)
GC ChemiSorber
(for control of formaldehyde, hydrogen sulfide, sulfur dioxide, etc.)
GC AM
(for control of ammonia and ammonia compounds)
In applications with higher concentrations or where longer filter life is desired GCX Series units should be considered.
Applications
| | GC VOC | GC MultiGas | GC ChemiSorber | GC AM |
| --- | --- | --- | --- | --- |
| VOCs | | | | |
| Formaldehyde | | | | – |
| Ammonia | | | | |
| Ozone | | | | |
| Particles | | | | |
Featured HEPA Filtration Technology
Micro- and Nano-particle Filtration (HEPA)
Eliminates micro- and nano-particles such as allergens, smoke, bacteria and viruses. This thorough particle pre-filtration is essential for extending the life of the gas phase control media by preventing its pores from clogging with particulates.
Specialized Cartridge-based Molecular Control (GC Cartridges)
Four filter cartridges hold up to 17 lbs. of granular and/or pellet-shaped gas phase control media. The cylindrical shape of these cartridges allows for optimum contact, which ensure high removal efficiencies. The large surface area of the cartridges enables high airflow rates.
Micro-charged Filtration (Post Filter Sleeves)
Eliminates activated carbon and chemisorption abrasion particles through a statically charged fiber structure.
Bundle & Save
Get additional savings when you purchase any of these items along with this product.