Specifications
Iq Air Perfect 16 Video
On a cold day in February 2012, Deanna Devaney of Roslindale, Mass., was sick and tired of being sick and tired. Her years of struggling with asthma filled her world with too many emergency department visits, respiratory-tract infections and a medicine cabinet full of antibiotics, corticosteroids, rescue inhalers and over-the-counter medications.
Now her doctor was suggesting a new asthma treatment plan. She would have to get rid of her pets and move out of her new apartment. Devaney was overwhelmed. The former half-marathon runner was often struggling just to breathe. But giving up her new apartment and her beloved pets?
"At that point, I couldn't run, I was overweight, depressed, I couldn't breathe … and now I had to move and get rid of my pets!" says Devaney. "Well, I came home and spent the rest of that day sobbing. Then, the next morning, I picked myself up and began researching like crazy. That's when I called IQAir."
Even after reading the third-party reviews of IQAir's HyperHEPA technology and the hundreds of testimonials online from asthma sufferers who found relief with the HealthPro Plus, Devaney was skeptical. Over the years she purchased plenty of so-called "HEPA" air purifiers that never made a difference.
"I wish I didn't waste so much money and time – it was years – following bad advice regarding HEPA filters which did nothing," says Devaney. "This time, I decided to try the air purifier that others said actually worked for them."
When it arrived, she immediately unpacked her new IQAir HealthPro Plus and turned the fan up to speed 6. Within minutes she could feel the difference.
"I honestly started crying just after getting it and realizing it was working," she says. "I could feel the difference in my breathing almost immediately. Since that day, I've been able to slowly taper down my meds, keep my pets (whom I LOVE) and keep that new apartment I had just moved into. My asthma has improved so much I've started running again." In fact, she is already planning her next half-marathon.
"I guess you can see I'm a little passionate about my HealthPro Plus," says Devaney. "The physical and emotional benefits I've received from my IQAir system are worth their weight in gold. Thank you IQAir."
Other Images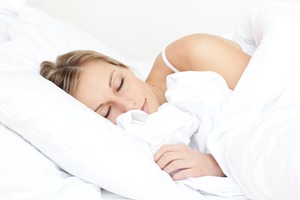 Absolutely silent absolutely silent The Perfect 16® is absolutely silent. There are no electrical motors, fans, belts, or moving parts of any kind. And because it is installed in a utility room, basement, attic or HVAC room, you will hardly know it's there, though you will breathe the difference continuously.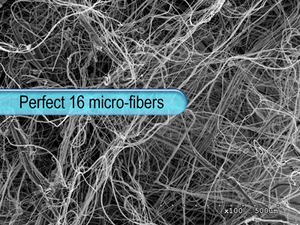 Advanced microfiber filtration technology microfiber filtration The Perfect 16® is the first whole-house air cleaning system to utilize Advanced Micro-Fiber filtration technology. Filter fibers are 10 times thinner than those used in standard air filters. This allows air to easily pass through the filters, while the ultra fine threads create an almost impenetrable barrier for pollution particles. What that means to you is the air in your home will be the cleanest it can possibly be!
V2 design V2 design Our revolutionary V2 Design allows the Perfect 16® to use over 170 square feet of filter media! The IQAir Perfect 16® delivers up to 50 times more filtration power than other ordinary filtration systems. The more collection area the better the filtration and allows more air to pass effortlessly through the system.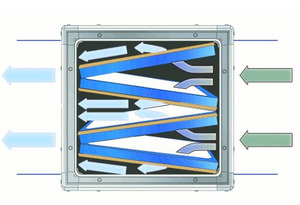 Ultra-low air restriction Ultra-low restriction plays a key role in making your Perfect 16 system energy efficient (see above). This unprecedented level of air filtration sophistication is accomplished through the use of state-of-the-art advanced microfiber filtration technology. Conventional whole-house air cleaners can impede the air flow of your central heating and air conditioning system by as much as 50%. ultra low air restriction Filter fibers in the Perfect 16 are 10 times thinner than standard air filters. Air easily passes through the Perfect 16's V2 filter design, even though the actual surface area contains up to 50 times more filtration media than typical filters. Meanwhile, the ultra-fine threads create an almost impenetrable barrier to pollution particles. The result is an ultra-efficient and ultra-low restriction filter that sets a new standard for whole-house air purifiers.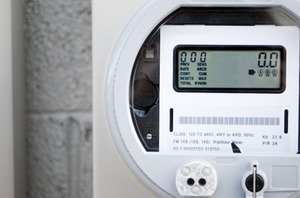 Energy efficient The Perfect 16 is an energy-efficient marvel: It outperforms other air purifiers by far but uses absolutely no electricity. energy efficient And while electrical consumption is an important part of the story, there's even more. The Perfect 16 has one of the lowest air restriction levels in the industry, so it keeps your HVAC system running smoothly and efficiently without forcing it to push air harder. In fact, the Perfect 16 actually improves the performance of your heating and cooling system when compared to conventional air cleaners. As a result, the Perfect 16 can lower your energy bill while attaining a MERV 16 rating, the highest filtration rating possible.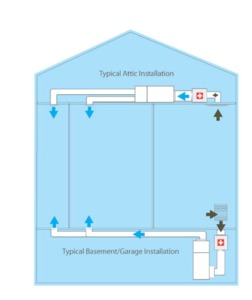 How it works Unlike other cleaning systems, the IQAir Perfect 16 whole-house air purifier is seamlessly retrofitted into your home's existing heating and/or air conditioning system. It cleans 100% of the air in your home, not 10% - 20% of the circulated air like other HEPA bypass systems do. Air is drawn through your home's return grill, how it workstypically located in a common area such as a hallway. The air is then filtered through pleated micro-fiber filtration panels placed in our V2 design. With 170 square feet of filtration media, these filters give you 50 times more filtration than ordinary filtration systems. This traps harmful micro-particles each time the system heats or cools your home up to 125 times per day. The result is your home is filled with the cleanest air possible!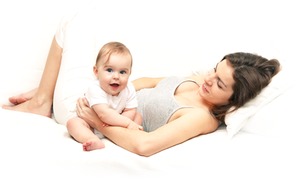 100% Healthy technology 100% healthy technology IQAir HEPA filtration technology is the safest, healthiest and most effective way to clean the air. Only IQAir is proven through rigorous independent testing to effectively filter the air down to the 0.003 micron level. And we do it without using unsafe or unproven technologies such as ozone generation, ionization, ultraviolet radiation, chemicals or other unhealthy byproducts. In addition, IQAir's Perfect 16 achieves an unrivaled level of filtration without risky electrostatic charges that can waste energy and produce ozone that irritates your lungs. Why risk your health on less effective gimmicks when the HEPA filtration of the Perfect 16 offers proven protection without harmful byproducts?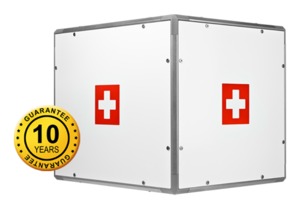 10-Year guarantee The IQAir Perfect 16 is an investment in clean air for many years to come. Each Perfect 16 is manufactured at our factory in Switzerland to demanding standards that are the highest in the industry. And each system is thoroughly tested and its performance verified before it leaves the factory. As a result, IQAir is proud to cover the Perfect 16 in the US and Canada for a full ten (10) years against defects in parts and labor. Filters are consumables and exempt from this warranty.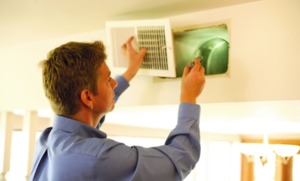 Lifetime clean duct guarantee IQAir is so confident of the Perfect 16's performance that we guarantee your home's heating, lifetime clean duct guarantee ventilation and cooling ducts will remain free from any significant accumulated dust or dirt for as long as your Perfect 16 remains installed and operational. Not having to clean your ducts will save you money annually. As a Perfect 16 owner you will also have peace of mind knowing the air in your home remains clean and healthy year after year, guaranteed.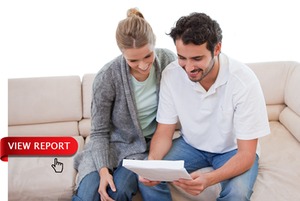 The Perfect 16 is the only system that is rated a perfect MERV 16, the highest rating possible. Intertek Report Intertek/ETL SEMKO submitted the Perfect 16 to rigorous testing based on the toughest industry standards and certified it as MERV (Minimum Efficiency Reporting Value)16. No other system has a higher rating! The MERV system was created by the American Society of Heating, Refrigerating, and Air Conditioning Engineers (ASHRAE) to independently verify how well an air filtration system really cleans the air. This independent test report proves that the IQAir Perfect 16 cleans the air with a minimum efficiency of 95% for particles 0.3 microns and larger, and more than 85% of all ultrafine particles down to 0.003 microns, the smallest particles that exist.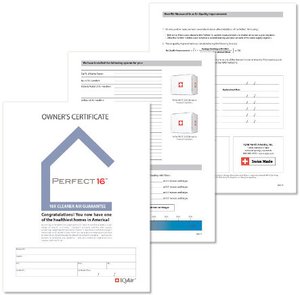 Unrivaled performance We promise and deliver a more than 90-percent reduction of airborne allergens, or your money back. That includes dust, pollen, mold spores, bacteria, viruses and pollution particles. Each Perfect 16 is tested at our factory in Switzerland, but IQAir sets a new industry standard by certifying your Perfect 16's performance after it's been installed in your home. unrivaled performance Your installer will use an IQAir handheld laser particle counter to ensure the system is removing at least 90% of all particles 0.3 microns or larger. And your system's performance is documented in your own Perfect 16 Clean Air Guarantee that your installer signs and dates.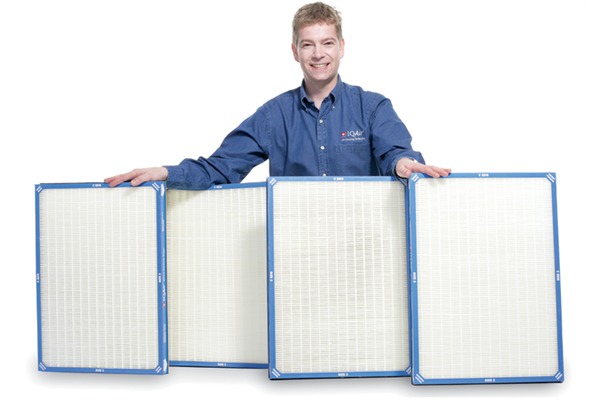 Most air filters have a single flat surface for filtration. But IQAir's Perfect 16 features a revolutionary "Double V" design that increases filter surface to more than 170 square feet of filter media! This unique design enables the IQAir Perfect 16 to deliver up to 50 times more filtration power than other ordinary filtration systems. The more collection area the better the filtration and the more air is allowed to pass effortlessly through the system.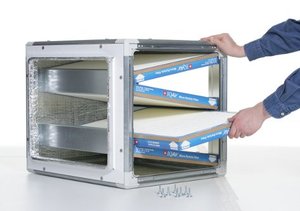 Easy maintenance 3 years filter life Most whole-house air cleaning systems and filters require monthly replacement and even weekly cleaning. The extra large filter surface of the Perfect 16® is so efficient and long lasting that you won't need scheduled service or filter replacements for up to three full years with average usage! And, when the time comes to finally replace your V2 filters, the Perfect 16® is a snap to open and the filters slide easily in and out. The Perfect 16® will help keep your ducts cleaner than ever, and because it has no moving parts or electrical devices or connections you can count on it performing year after year with no required service other than filter replacements.
 
3-ton Perfect 16
5-ton Perfect 16
 
Model
ID-2225
ID-2530
Capacity Rating
3 ton (1200 cfm)
5 ton (2000 cfm)
MERV Rating
MERV 16@492 fpm
Rated Airflow
1400 cfm
2000 cfm
Composite Average Efficiency
E1 (0.3-1.0 µm) = 96.7%
E2 (1.0-3.0 µm) = 97.7%
E3 (3.0-10.0 µm) = 98.5%
E1 (0.3-1.0 µm) = 95.9%
E2 (1.0-3.0 µm) = 97.3%
E3 (3.0-10.0 µm) = 98.3%
Pressure Drop
0.18 in H2O at 1,200 cfm
0.22 in H2O at 2000 cfm
Media area
170 sq.ft.
210 sq. ft.
Filter Life
3 years (50% duty cycle)
Dimensions (L × W × H)
25.25" × 21.25" × 21.25"
29.25" × 25.25" × 21.25"
Weight
59 lbs. (27 kg)
74 lbs. (33.5 kg)
All technical specifications are subject to change without prior notice.