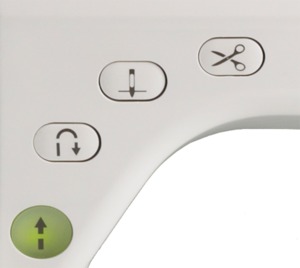 Pictured from left to Right Start/Stop Button Allows your start and stop sewing at the touch of a button. You can use this button or the standard Foot Control.

Reverse Stitch for finishing the end of stitches to prevent unraveling.

Needle Up Needle Down Allows you to raise and lower the needle without having to turn the hand-wheel

Thread Trimmer Simply press the scissor button to cut the threads at the end of your stitch. No more thread tails!