Designed to provide maximum storage and function in minimal space. The
Eclipse features multiple fabric, thread and notions storage boxes and bins. . Call 1-800-SEW SERG or 800-739-7374 for details.
The
work surface can expand as needed, and there is plenty of storage space for a
second machine or serger. When closed, the cabinet footprint is only 43-1/2" W
x 19-3/4" D.
The Eclipse features Tailormade's largest 3-position machine lift platform. The
lift opening measures 24-1/4" wide by 12-5/8" deep. (Consult your retailer for
your machine lift opening and acrylic insert requirements.)
Design Features
1. Thread and notion storage boxes
2. Removable accessory and notion trays
3. Removable fabric bins
4. Optional serger storage compartment
5. Front leaf extension and optional serger platform (Extension measures 16-1/2" W x 18-7/8" D)
6. Machine platform is supported by a heavy-duty, 3-position, touch release airlift.
7. Easy-roll, lockable casters are attached to a reinforced base frame.
8. Right leaf extension (Extension measures 26-3/4" W x 19" D)
9. Back leaf extension with finished, rounded corners to prevent fabric snagging (Extension measures 43-1/4" W x 15-3/4" D)
10. The back leaf extension can be raised or lowered and is supported by two gate legs.
11. Flush-mount hinges to prevent fabric snagging
12. A custom sized acrylic insert for flatbed sewing is available for most machines.
13. The machine platform is supported by a heavy-duty, 3-position, touch release airlift that allows for ergonomic center needle position sewing.
The Tailormade Design Advantages:
Fully assembled. Simply add the casters, handles and accessory storage

Extra-stable construction

Easy-rolling, locking casters

Specially designed reinforced frame

No-snag flush mount hinges prevent fabric catching or snagging

Mar-resistant finish

3-position hydraulic lift positions the machine for flatbed sewing, free arm, embroidery, or storage

Includes convenient thread and notions storage Thread and Notions Boxes Included with Eclipse and Compact Models

Air Lift Adjustment Instruction (.PDF)





US Warranty 1 year replacement on defective or missing parts.
Non-US Warranty: 30 days parts and labor
Specifications
Machine Opening:
24-1/4" Wide
12-5/8" Deep
Cabinet Dimensions
Closed:
43-1/2" Wide
20" Deep
30" High
Fully Opened:
70-1/4" Wide (With Right Extension positioned)
53-3/4" Deep (With Front & Back Leaf Extensions positioned)
29-1/2" High
Extension Dimensions:
Front Leaf Extension: 16-1/2" W x 18-7/8" D
Right Leaf Extension: 26-3/4" W x 19" D
Back Leaf Extension: 43-1/4" W x 15-3/4" D
*Ships and Packaged Fully Assembled
Add the casters and drawer handles
Please review our Freight LTL Shipping Policies
Ships Ground Freight only.
*
For delivery please select options. "Lift Gate" which means a goods lifting platform installed at the rear of the delivery truck that facilitates the unloading of cargo from truck bed to the ground. Most shipments will require a lift gate, if there is not a loading dock, or fork lift available for delivery.
Other Images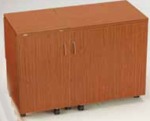 Shown Closed in Teak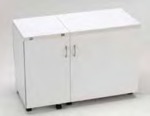 Shown Closed in White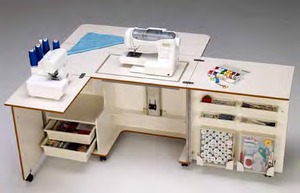 Shown Open Front in Teak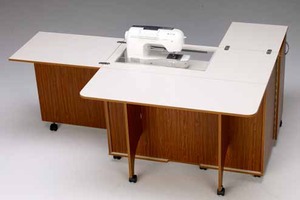 Shown Open Back in Teak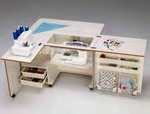 Shown in Storage Position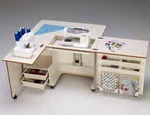 Shown in Sewing Flatbed Position (Sew Steady Insert, and Machine Sold Separately)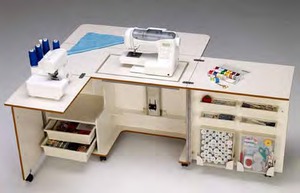 Shown in FreeArm/Embroidery Postition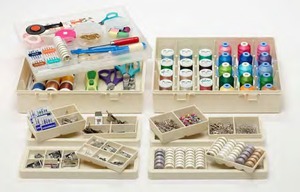 Includes Convenient Thread and Notions Storage (Thread and Notions sold separately)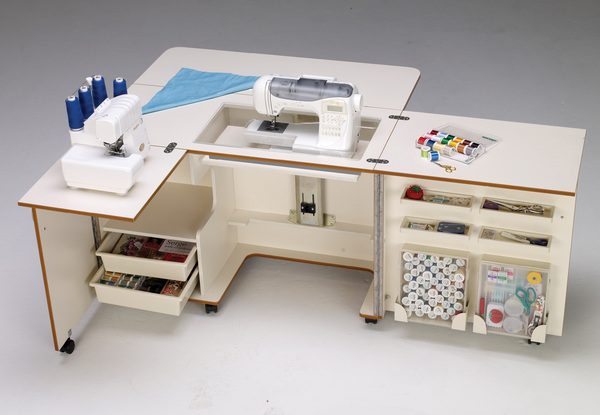 Tailormade Eclipse Sewing Cabinet White E-W001, Teak E-T001 Assembled