The DualMax™ has more than twice the power of the ProShield® Plus Air Purifier and is more compact than our tower air cleaner. Recommended for rooms up to 200 sq. ft, the 15.7 pound DualMax® was designed with portability in mind. Not sure whether to use it in the master bedroom, playroom or den? Then try it out in your own home, in all those rooms, and smell the difference it can make.


Oreck's air cleaner, The DualMax® Air Purifier, features two fans that produce twice as much airflow as our leading air purifier. That's double the power to move the air, draw it in and capture pollen, dust, pet dander, cigarette smoke and other allergens that pass through the filter. Perfect for rooms up to 200 sq. ft
US Warranty 5 Year Warranty
Extended US Warranty: Extended Warranty Available
Non-US Warranty: 30 days parts and labor
Specifications
Recommended for medium rooms up to 200 sq. ft.^

CADR of 130 (Clean Air Delivery Rate) for a 10" x 20" room.^

Power of our Tower in a compact, contemporary design. DualMax measures 11.8"D x 9.5"W x 18.4"H

The Truman Cell® captures allergens from the air that passes through the filter and is ¼ lb. lighter than Oreck's tower filter.

The Helios Shield®, an odor absorber that reduces odors from the air that passes through it

Two high-performance fans produce double the CADR with less noise as compared to our previous top-selling air purifier

Three speed settings, including low which incorporates Silence Technology®. (The lowest setting is only 37 decibels — a level somewhere between a whisper and the hum of your fridge.)

5-year limited warranty**

Remote control turns the purifier on, adjusts speed levels and turns night light on or off

Indicator light lets you know when purifier needs to be cleaned


Warranty 5-year limited warranty**

Dimensions 11.8"D x 9.5"W x 18.4"H

Weight 15.7 lbs.

CADR 130

Filtration Truman Cell, Odor Absorber

Cleaning Function Air Purification

Recommended Room Size Rooms up to 200 sq. ft.

Speed Settings Three Speeds

Type of Odor Filter Helios Shield® permanent odor absorber

Type Air Purifier

Truman Cell

Surface Area Air

Energy Star Qualified Yes
Other Images

Double the airflow. Twice the power. Oreck's new air cleaner, The DualMax® Air Purifier, features two fans that produce twice as much airflow as our leading purifier. That's double the power to move the air, draw it in and capture pollen, dust, pet dander, cigarette smoke and other allergens that pass through the filter.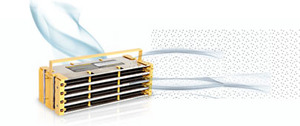 Advanced engineering in a quiet, compact design

How does this unique filter system work? Oreck's patented Truman Cell® captures dust and allergens from the air that passes through it, pulling them out of the air like a magnet. At the same time, the Helios Shield® is working to reduce common household odors as well as chemical fumes such as paint smells, the gases put off from new rugs and furniture, aerosol vapors and cleaning supply odors from the air that passes through its filter. The dual fans then push cleaner, fresher air back out into the room. Easy to use, durable

Most air purifiers rely on expensive filters that have to be replaced and can eventually end up in a landfill. The Oreck DualMax® Air Purifier features a permanent Truman Cell® that never needs to be replaced. Simply wash with soap and water, rinse clean and let dry. The odor filter, what we call the Helios Shield®, is permanent as well (it doesn't even come out of the unit) and does not require any maintenance. So not only do you get cleaner air with a DualMax®, you get to feel good about making a less wasteful choice.
Bundle & Save
Get additional savings when you purchase any of these items along with this product.