*DELUXE Longer Sweeping and Mopping Running Times, Pro Clean Reservoir Pad, 2 Hour Turbo Charge, Furniture Guard on Bumper
Extend iRobot's 1 year manufacturer warranty to 5 or 10 Year Parts and Labor Warranty Repair Service through BWG Bankers Warranty Group Insured Nationwide Agency. Check box under Recommended Accessories below and save 50% if you want to add peace of mind for 5 or 10 times longer than the manufacturer's warranty.
The new iRobot Braava 380t is the next step in floor mopping robots. Designed to systematically cover your entire floor in one pass, cleaning your floors has never been easier. All it takes is a disposable cleaning cloth, placing the Braava 380t on the floor, and pressing either the Mop or Sweep buttons. Just like that! Once the machine has returned to its original position and completed the cycle, simply dispose of the cleaning cloth, or if you've used the included microfiber cloth, wash it for later use.
A dry sweeping cycle allows the device to cover up to an
1000 square foot area in a single sweep
. Furthermore, the machine can clean up to
350 square feet in a single mop
to focus on properly cleaning the area while the attached cloth is still wet. Disposable cleaning cloths make clean-up a breeze. Simply attach, then toss out when the device is finished!
The Braava 380t's advanced NorthStar Navigation System operates much like an indoor GPS. By projecting a signal that it uses to calculate and map out its location within the chosen room, it uses the navigational system to build an ongoing map as it cleans. This allows it to understand and avoid obstacles such as walls, drop-offs, furniture legs, and more as it encounters them, letting it clean more efficiently with each repeated use in a room. The NorthStar Navigation System keeps track of where the Braava 320 has been and where it needs to go, which allows it to thoroughly clean your entire floor without hassle.
The iRobot Braava 380t.
Revolutionize your boring chores with the latest in robotics!
Upgradable: Purchase additional Northstar Navigation cubes to double the dry-mopping space!

Longer-Lasting 2000 mAh NiMH Rechargeable Battery: Cleans for up to four hours dry mopping or two and a half hours damp mopping on a single charge

Whisper-quiet operation: Turns itself off when finished, back where it started

North Star Navigation System: Methodically clean open areas, around furniture, and along a room perimeter

Cleaning Cloths: Uses dry or damp disposable cleaning cloths, or Braava's specially designed, reusable microfiber cloths

Floor Types: Braava cleans all hard-surface floors including tile, vinyl, hardwood and laminate

Magnetic Multi-Purpose Cleaning Pad: Cleaning cloths are easy to attach and remove with pad

Compact Size: Braava can clean under sofas and tables and get into tight areas where other cleaners can't

Wall-Following Technology: Braava cleans dust and dirt right along walls, baseboards and edges

Soft-Touch Bumper: Bumper cushions the contact made between Braava and walls, furniture and other objects

Smart Sensors: Sensors, including cliff-detection, help Braava avoid stairs, rugs and raised transitions to carpets

Pause/Resume: Retains a map of the area, so you can replace the cleaning cloth mid-cycle and it won't miss a spot

Return: When the device is done, it returns to where it started and powers down automatically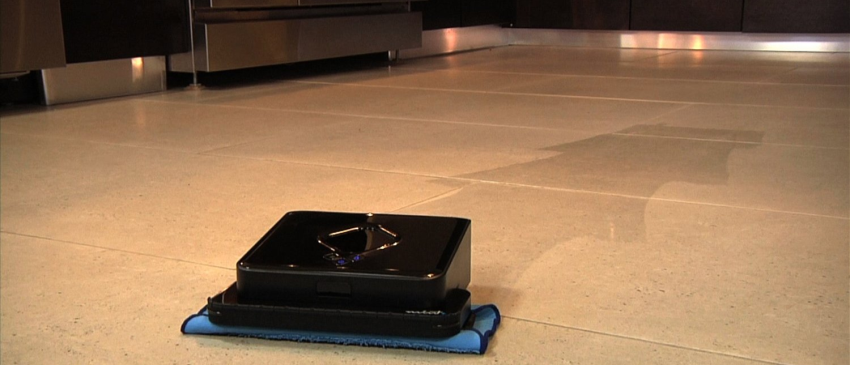 Dry And Damp Mops Hard-Surface Floors Using Cleaning Cloths
Braava has two cleaning modes to choose from depending on the job you need done. In sweep mode, Braava dry mops your floors moving in straight lines using dry cleaning cloths. In mop mode, Braava uses a special back-and-forth mopping action and damp cleaning cloths to lift surface dirt and grime off your floors.
Tracks Where It Cleans, So It Doesn't Miss A Spot
The NorthStar® Navigation System works like an indoor GPS that helps Braava keep track of where it has been and where it needs to go. The NorthStar Navigation Cube projects a signal that Braava uses to determine its location. As Braava cleans, it builds a map of the area, mapping walls, obstacles and drop-offs as it encounters them.
Makes Floor Mopping Hassle-Free From Beginning To End
Getting your floors clean has never been simpler. Cleaning cloths are easy to attach and remove with the removable magnetic multi-purpose cleaning pad. With the cleaning cloth attached, just press the Sweep button for dry mopping or Mop button for damp mopping.
Turbo Charge Cradle
Charge the iRobot Braava 380t in as fast as two hours, providing convenient storage space out of the way, and ready to sweep your floor for up to four hours, or two and a half hours damp mopping on a single charge.

US Warranty 1 year limited warranty on defects in materials and workmanship.
Extended US Warranty: Extended Warranty Available
Non-US Warranty: 30 days parts and labor
Specifications
Package Dimensions: 15 x 4.5 x 13 inches
Package Weight: 8.7 pounds
Robot Dimensions: 3 x 8.5 inches
Robot Weight: 4 pounds




Included Accessories
1 iRobot Braava 380t Floor Mopping Robot
1 NA Adapter
1 2000 mAh NiMH Rechargeable Battery
1 NorthStar Navigation Cube, Channel 4 (requires 2 C batteries, included)
1 Microfiber Mopping Cloth, 1 Microfiber Damp Mopping Cloth
1 Multi-Purpose Cleaning Pad
1 Pro-Clean Reservoir Pad
1 Turbo Charge Cradle

Other Images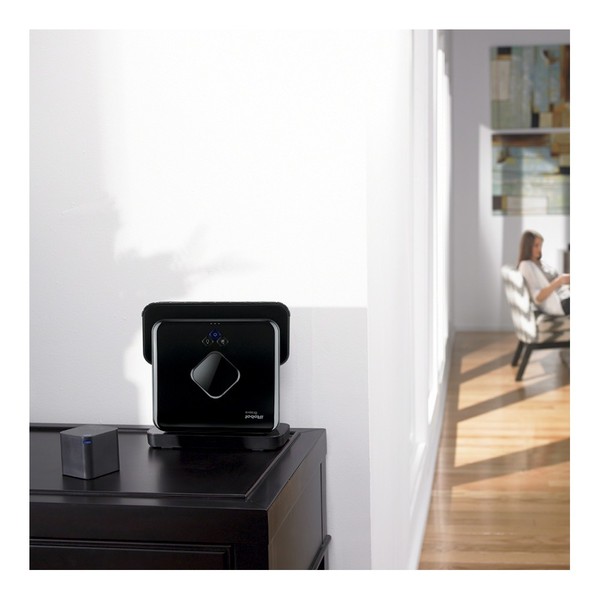 Included charger cradle allows for a two-hour charge positioned out of the way of your living area. You'll barely know it's there!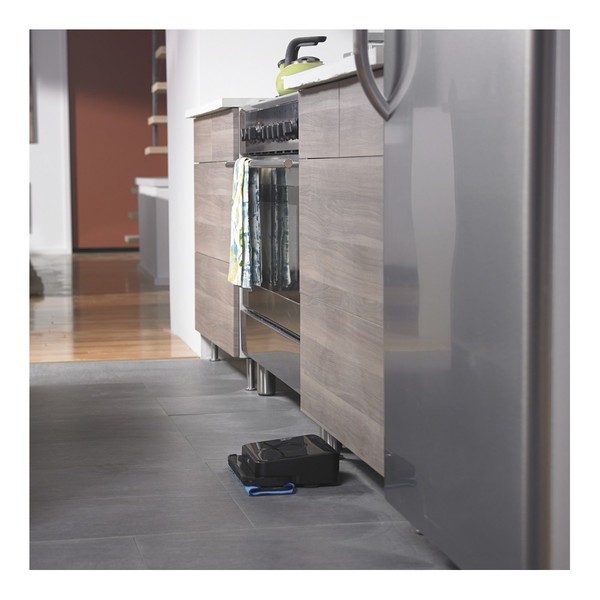 Works quietly, and turns itself off when finished. The cycle won't disturb your sleep or daily routine.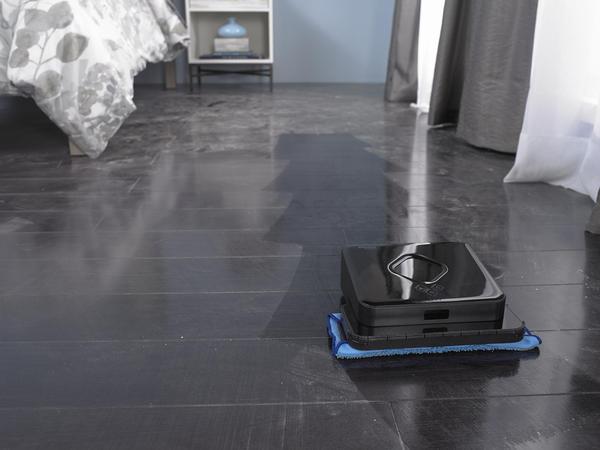 Cleans all manners of hard surface flooring, from tile, to vinyl and laminate.
Bundle & Save
Get additional savings when you purchase any of these items along with this product.