It is on back order and scheduled to ship out once the container comes in.

Q'nique Hopping Foot Upgrade Set!

Set of three hopping feet for the Q'nique machine quilter.

For those of you that have been asking and waiting, the new hopping feet are finally available!

These feet are made from the same aluminum your original hopping foot is made from.

Also compatible with the Block Rockit 15.

Open Toe Foot
Allows full visibility of the needle
Great for appliqué, thread painting, & artistic quilting

Ruler Foot
Thicker toe for use with rulers & templates (sold separately)
Heightened bend in foot clears most quilting rulers

Micro-Stippling foot
Used for micro-stippling
Allows for very fine, detailed stitching
Easier background quilting

Specifications
These are the new feet included with the set:
Ruler foot - for quilting with rulers and guides.

Micro Stippling foot - allows you to quilt with tiny detail

Open toe foot - easier to see what you are quilting

Adjusting the Grace Qnique hopping foot height with needle in all the way down position

Other Images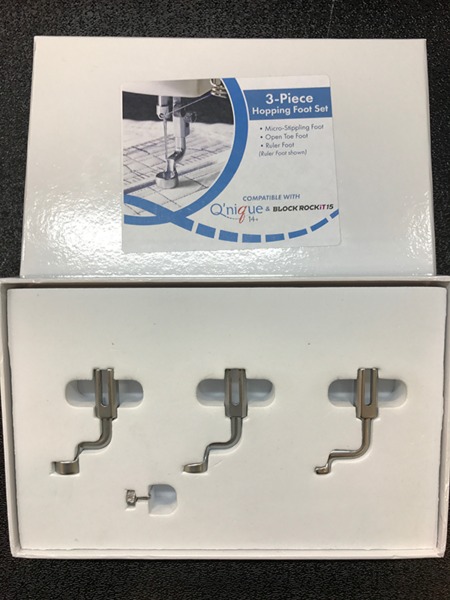 Hopper Feet
Q'nique Hopping Foot Upgrade Set for 14+ and Brother DQLT15 Quilting Machines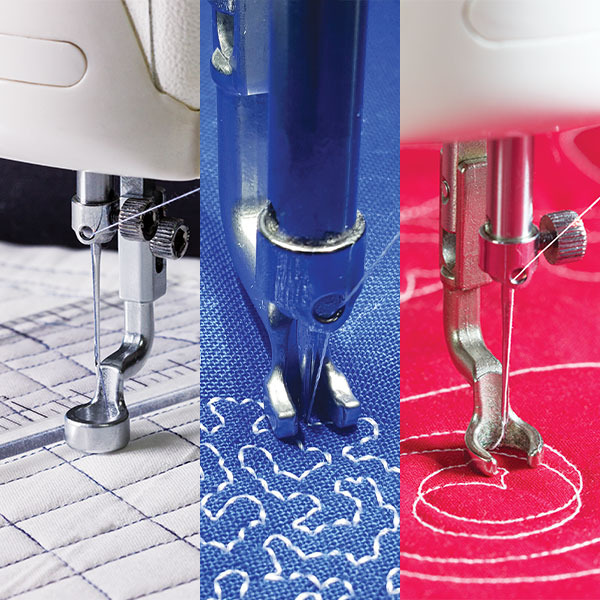 Open Toe foot: Allows full visibility of the needle Great for appliqué, thread painting, & artistic quilting. Ruler foot: Thicker toe for use with rulers & templates (sold separately) Heightened bend in foot clears most quilting rulers Micro-Stippling Foot: Used for micro-stippling Allows for very fine, detailed stitching Easier background quilting.
Linda H, Tampa FL
I had to call customer service as I could not bring up the product I was looking for on the website. However, the lady who helped me was wonderful and she guided me in the right direction.

Jeanne S, Canon City CO
So glad I found you guys ... I was looking for supplies.. Thank you