Exclusive Wood Crate to resist shipping damage, Rotary Cylinder Press Arm is Open at Both Ends for Easy Insertion and Removal of Garments, Folds up on Roller Casters for Storage, Takes Up The Same Storage Space As A Chair! Weighs 85 Pounds, 1.3L 2.74 Pint Water Reservoir Tank Lasts 4 Hours, 1800 Watts, 5 Temperature Settings, 3 Steam Settings, Continuous Feed 33" Wide Roller, 1.4-6.8 RPM. Same as Pfaff 580 Press in Europe but 110V instead of 220V operation.
AllBrands Exclusive! Heavy Duty All Wood Crating is added by AllBrands at no additional charge, to prevent damage in shipping to cardboard box and machine inside which weighs 85 pounds.

Important Choice! Miele B990 and Singer 580 rotary presses only come in 110V versions.
If you need 220V please select Miele HM16-80 33" Wide Rotary Steam Ironing Press with Continuous Feed and 220V

Advantage over Miele HM16-80 Rotary Steam Press is that the Singer 580 uses 16-20 Amp 120V power supply outlet for Household Operation instead of 220V Laundry Room Power Supply Requirement for the Miele HM1680. Singer 580, 110 volt machine designed for United States and Canadian use 110V Use Only.

With the SINGER 580 Rotary Steam Press you can experience the ultimate in ironing comfort as you perfectly press garments, bedding, and tablecloths from a seated position—in half the time of traditional ironing. Simply lay your fabric in the board and press the foot pedal. Immediately the 33"-wide rotary steam iron presses the fabric while steam powerfully eliminates even the most stubborn creases. Choose from any of the five temperature settings and three steam settings for perfect fabric control. Once you're finished perfectly pressing your items, simple fold the rotary steam press and roll it out of the way.


SINGER 580 ROTARY STEAM PRESS
Roll Through Extra-Large Ironing Projects. Everyday household tasks are made easier with the new SINGER® Rotary Steam Press.







Experience the ultimate in ironing comfort as you perfectly press garments, bedding, and tablecloths from a seated position—in half the time of traditional ironing. Simply lay your fabric in the board and press the foot pedal. Immediately the 33" wide roller begins to move and press the fabric while steam powerfully penetrates to eliminate even the most stubborn creases.

Additional Features & Benefits
1800 Watts. Delivers more steam

Five Temperature Settings
Linen, Cotton, Wool, Silk, Synthetic

Three Steam Settings
Low, Medium, High, plus Continuous and Burst of Steam buttons! No need to dampen anything before you iron!

Soft, Flexible Roller
Button-Down Shirts pose no problem.

Two Open Heating Shoe Ends
Allows you to iron all of the conventionally challenging ironing spots like cuffs and waistbands. Tubular pieces like t-shirts and skirts are manageable too!

Freshen High-Pile Fabrics like a Wool Sweater
Turn on continuous steam and pull the item over the steam slot. One pass is all that is needed to raise the fibers. Freshen a variety of fabrics including wool, velvet, corduroy and towels.

Use Tap Water or Distilled Water
If tap water is used, please use in conjunction with the included Lime Descaling Granulate.

Burst of Steam
Press the Burst of Steam button for on-demand steam at your fingertips

Continuous Steam Button
When this button is activated, constant steam is generated, even without the foot controller.

Auto Off
If the foot pedal is left untouched for 8 minutes, the heater and steam generator are automatically turned off.

Convenient Wheels
Allow you to move to any room

Iron Comfortably While Sitting Down
No more tired legs or back.

Complete Roller Control
You control the roller speed, steam and ironing pressure

Washable Ironing Pad
Keeps surface clean, allowing fabrics to flow smoothly

1.3L (2.74 Pints) Water Tank
Fill up the water tank and you can iron for up to four hours! The indicator level on the control panel alerts you when water is low.

Dimensions in Working Position
36.5" Length x 13" Width x 41" Height

Dimensions in Folded Position
20.5" Length x 17.75 Width x 39.5" Height

Weight 39kg or 86 pounds

Consumer's Choice
More people own SINGER machines than all other brands combined.

Its longer 33.5" 850mm roller, meaning a larger pressing surface, makes it particularly convenient for pressing larger laundry items such as towels, tablecloths and bed linen. Of course it can handle more complex pieces in your wardrobe too, such as shirts, blouses, and perfectly pressed trousers
US Warranty 30 days replacement if defective.
Non-US Warranty: 30 days parts and labor
Specifications
Product Brochure from Singer or Pfaff 580 Rotary Steam Press
Instruction Manual for Singer Pfaff 580 Rotary Steam Press
List of Spare Parts for Singer Pfaff 580 Rotary Steam Press
Service Manual for Singer Pfaff 580 Rotary Steam Press
TECHNICAL SPECIFICATIONS
Dimension, Working Position: 36.5" W x 13" D x 41" H

Dimension, Folded Down Position: 20.47" W x 17.75" D x 39.40" H

Weight 39kg or 86 pounds

Weight: 85 lbs

Roller Size: 33"

Water Tank Capacity: 2.74 pints

Excess Temperature Fuse: 421/500 F
(steam generator / heating shoe)

Nominal Voltage (60 Hz): 120V

Power Consumption ( max.): 1800 KW

Fuse ( home wiring ) 421/500 F at least: 16 A

Ironing Speed (rpm): 1.4 - 6.8


33" Soft-Sided Roller

Tablecloths and sheets are done in no time, garments are a snap

Open Roller

Easy access to the heating element and roller from either side

Complete Roller Control

Speed is easily adjusted

Five Temperature Settings

Safely press fine silk to heavy wool

Perfect Steam Control

Control of the amount of steam emitted, even if it's none!

Burst of Steam

Stubborn wrinkles will disappear

Continuous Steam

Quickly freshen velvets and sweaters

Washable Ironing Pad

Keeps surface clean, allowing fabrics to flow smoothly

Easy to Move

Rolling castors make the unit easy to roll out of the way when finished

Folds for Storage

Rotating roller unit allows storage in a small square foot area

1800 Watts

Water Tank holds 1.3L

Watch Hayley West demonstrating how easy it is to iron a shirt using the same Pfaff Roller Steam Press. Once you have mastered the basics, we are confident you will be ironing shirts in less than 2 minutes and all in the comfort of your chair!


Do you remember the Original Mangle press from the 50's? Singer 580 Rotary Steam Press now with Steam, has adopted the same exclusive and original features of open on both ends of roller and bottom instead of top ironing shoe placement as Ironrite had before they were discontinued.
Original Mangle Press by Ironrite Ironer Co. of Detroit, Mi.


Parts List for the Singer 580 Rotary Steam Iron
1 Ironing roller
2 Heating shoe with steam slot
3 Operator's console control buttons
4 Filler opening with lime descaling cartridge
5 Support plate
6 Manual release lever
7 Free heating shoe ends
8 Bolt for unfolding
9 Water tank
10 Drain plug
11 Collecting table
12 Foot pedal
13 Power button
14 Heat Setting buttons with red LEDs
15 Continuous Steam button with blue LED
16 Demand Steam button with blue LED
17 Steam Setting buttons with blue LEDs
18 Power On button with green LED
19 Remaining Water button with blue LED
20 Descaling Granulate Used button with blue LED
21 Locking lever for unfolding
22 Identifi cation plate
23 Power cable
24 Cable hook
25 Spare lime descaling cartridge
Other Images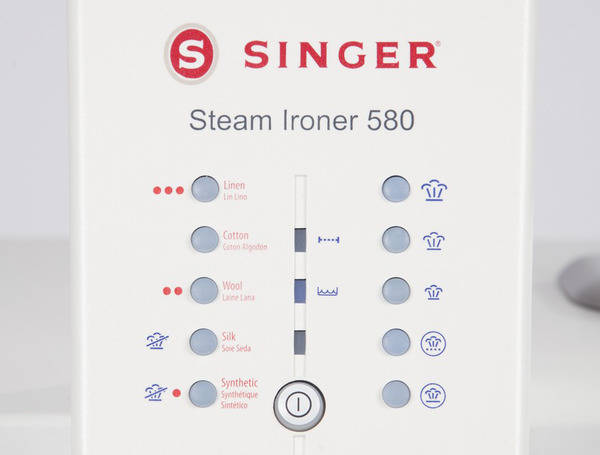 Five Temperature & SteamsSettings Safely press fine silk to heavy wool with just the right amount of steam for Linen, Cotton, Wool, Silk, and Synthetic Fabrics.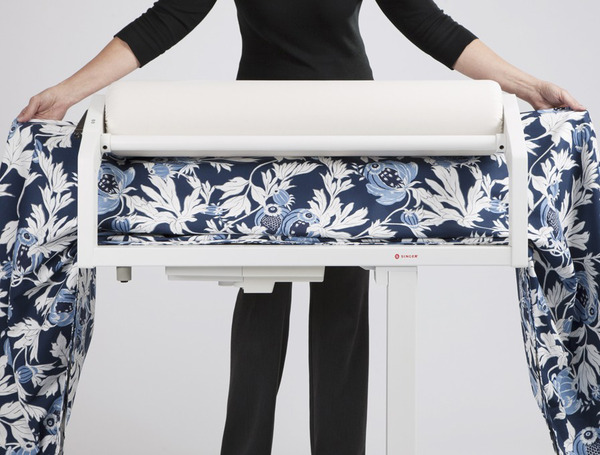 Two Open Shoe Ends. Right or Left. Allow you to tackle wide projects with ease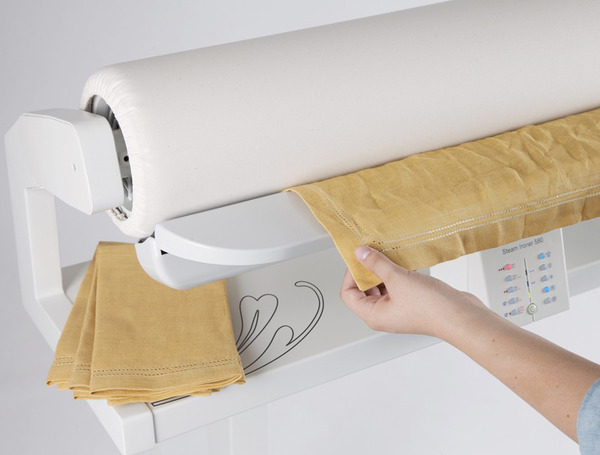 Hassle-Free Linen. Preset with the optimal linen settings. Three Steam Settings: Low, Medium, High, plus Continuous and Burst of Steam buttons.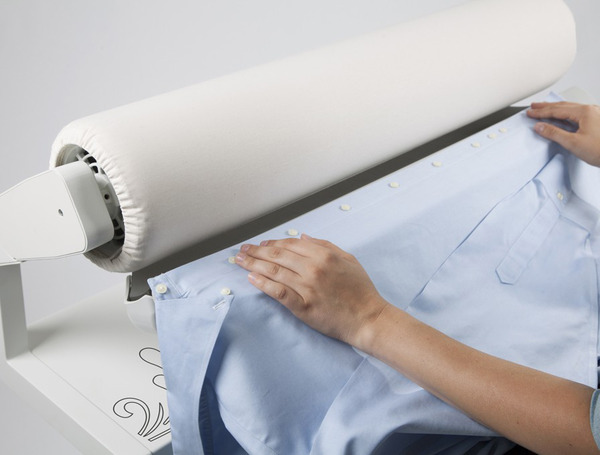 Perfect for Dress Shirts and Blouses. Iron shirts or blouses faster and better than with a standard iron. With a little practice, you can even iron a shirt in less than three minutes.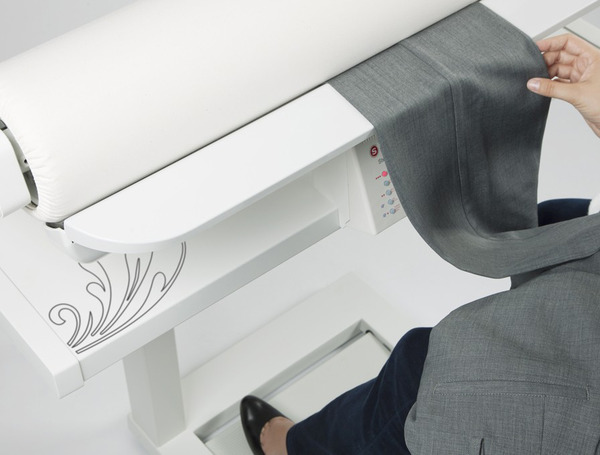 Professionally Pleated Pants 1800 watts deliver more steam so your garments look fresh from the dry cleaner's.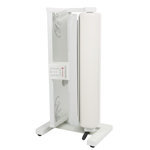 Easy Storage. When folded, the SINGER Rotary Steam Press doesn't take up any more room than a chair! Unfold in one easy step, and it's ready to iron.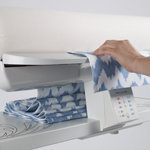 Large Collecting Table. Your laundry almost folds itself.
Vladimir, what can we advise customer to do to prevent the damage to Singer 580 Ironing Press? John
In my first opinion the lever was pushed to the service position and the owner pressed the pedal, which must be avoided as written on page 9 of the manual. The power must be Off and roller must be in upper position to push the lever to the service mode. Page Nr. 9 of manual: Manual Release for service Case " ………. You can raise the iron roller to this position only when the power is turned Off. The roller must be in non-ironing position( roller up)…..". This is not a manipulation lever used during the standard ironing. This lever should be used only during blackout when the roll is down to release the washing. Or in a service mode. Otherwise it should not be touched at all. I have discussed the issue with our technicians and they have confirmed my above comments. The user must have pushed the SOS lever to the service position, although the machine was not Off and having the roller up.